Redbubble, Society6, Teepublic? Which Print-on-Demand sites deliver the best income for T-Shirt designers?
Last Updated: January 22, 2020
I am currently 3 years into my print-on-demand T-Shirt 'career' (if you can even have such a thing).
In that time I have gone from one design on one site (Redbubble) to almost 1000 designs across several sites…and from $50 profit in my first month – to $7000 in the current month (July 2016).
(Fair Warning / Disclaimer: This post features affiliate links to each of these companies.)
I started with Redbubble because it seemed like the 'place to be' for pop-culture style T-Shirts (Which was my focus).
I had maybe 3 or 4 designs up by the end of my first month on Redbubble, and made around $50.
To me that was encouraging.
My philosophy when it came to adding my designs onto additional print-on-demand sites was 'it can't hurt' – and so in the first year I put every design up pretty much everywhere I could.
Here is a list of those sites, ordered by my average monthly earnings; (brackets show the rough percentage that site represents)
As you can see, Redbubble and Teepublic are the pair of gorillas that dominate, at least for me.
DesignByHumans flutters around bringing in various amounts depending on the month.
Every other site is pretty insignificant, and I would only recommend you upload to these sites once you've got everything on the first 3.
Keep in mind the nature of my designs (pop culture). If your work is more intricate, artistic, original stuff then you might find Society6 actually works for you.
Bottom Line: Test everything – it doesn't hurt to throw a few designs up on all sites: however, as your design catalog grows, you'll want to focus your time where you get the highest return. For me this is Redbubble and Teepublic – for you it may be somewhere else entirely.
Quick Tip: Redbubble allows you to alter your royalty percentage – I had mine at 15% for a long time, but recently changed it to 25% with no loss of earnings (If anything, earnings increased). So don't be afraid to raise your rate on Redbubble if you have regular sales. For more Redbubble tips checkout my article: How To Sell On Redbubble
Finally, if you want to make more than circa 25% from a T-Shirt sale, you will need to look beyond print-on-demand sites like those listed above.
You need to have your own store, either on your own website, or selling via a marketplace like Etsy or Storenvy.
This is surprisingly easy to setup, and using print-on-demand T-Shirt fulfilment companies like Printful and Printaura, you can see your profit-per-shirt double or triple – without charging higher prices to your customers.
---
Supercharge Your T-Shirt Sales With My Top Strategies, Tips & Tricks!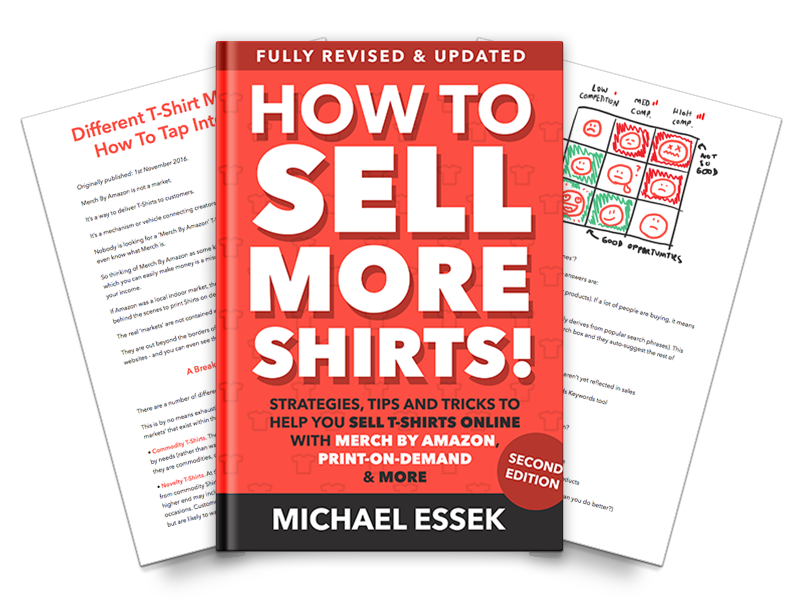 If you want to sell more T-Shirts online, then you'll love my book 'How To Sell More Shirts'.
You can get the first 3 Chapters for FREE when you subscribe to my newsletter today!
Get them here:
Alternatively you can check out the full book (along with my other books) right here
---
Further Reading
Comments
comments