How To Market Your T-Shirts Without Spending Money
by Michael Essek · Updated: April 10, 2017
If you've been following my blog for any time at all, you probably know that I do almost no paid advertising for my Shirts.
Instead I rely on 'organic traffic' to drive my sales – the searching habits of customers who actively seek out the kind of designs I am selling.
This organic traffic can come a number of ways, but will usually be from direct searches on websites (eg. the search bar on Amazon.com or Redbubble.com) or via search engines such as Google.
There are pros and cons of relying exclusively on organic traffic, but the big pro is that you don't need to spend any cash to make sales.
But organic traffic does have it's limitations.
Firstly, it can be very hard to stand-out and get noticed in crowded niches and within the search results pages.
The low barrier to entry means everyone is trying to pick up sales via organic traffic, so to get a leg-up on the competition you have to start looking at other ways of getting your products in front of potential customers.
Let's take a look at some of those ways now…
1. Optimisation For Organic Traffic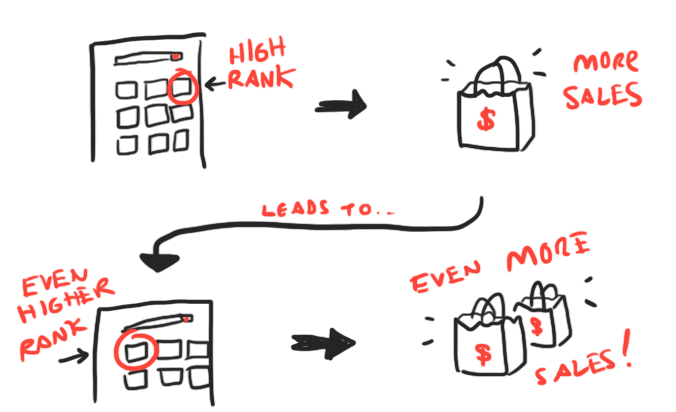 Optimisation or SEO refers to the practice of using certain tactics to help your products show up higher (or 'rank' higher) in search results pages – usually on Google, but of course this also applies within Amazon itself (and any other websites with a search function).
You may be thinking "hey, this isn't a way to market Shirts, I already know about optimisation" – and maybe (hopefully) you do – at least to some degree.
But let's get one thing straight: Optimisation of your product listings is a form of marketing.
Marketing simply means communicating to your potential customers about your product. If your listings aren't optimised and don't rank within the search results, then you aren't communicating with your customers. But if they are optimised – and your products are getting seen – then you are communicating! (or – marketing!)
I am emphasising this point for one simple reason:
Many people whack up their designs on various websites (Amazon, Redbubble, whatever) and do some basic level of optimisation (eg. they include some related keywords in the design Title, bullet points, descriptions etc. – basically they take a few seconds to think about it, and rush to get it live as soon as possible.)
Then they sit back and wait for sales.
If no sales arrive, they immediately begin to look for other ways to market their Shirts – because hey – the organic thing just isn't working.
But maybe with a few tweaks or improvements to their listing information and keywords they could begin to see sales. It's just that they don't consider making edits to their listing data once live – and instead think that if it didn't pick up organic sales straight away, it's time to try something else.
Listen: I'm not saying you will pick up sales on badly chosen or badly designed Shirts simply by tweaking keywords.
What I am saying is that you should at least take the time to review your keywords and listings regularly – to consider if there are improvements you could make – because of the power of organic traffic.
The reality is that, depending on the design or niche, a few improvements to your listing data can result in better rankings – which can lead to more sales – which in turn leads to better rankings – and more sales! (which can lead to good reviews – which means even better rankings – and even more sales!)
A design that gets caught up in that snowball effect can make sales for months or even years into the future.
In my opinion, that makes reviewing your optimisation techniques and keywords a very sensible and potentially highly productive use of your time.
So – big takeaway: Don't just dismiss the possibility of making organic sales simply because you haven't gotten any yet. Review your rankings – and tweak and test your keywords regularly – because making improvements in this area can have a real impact on your sales figures – way into the future.
2. Build Real Fans And Treat Them Well

Most people approach marketing completely backwards.
First, they create a design for a T-Shirt.
Then they list the design and hope people will buy it.
Then they get sick of waiting, and go looking for places they can promote it. They post it in facebook groups, or on reddit, or twitter…and a few days later feel frustrated that no one is interested.
This is 100% backwards.
If you want people to buy something, you need them to want what you are selling. And just because someone is a member of a Facebook group about 'craft beer' – does NOT mean they want to buy your 'I love craft beer' T-Shirt!
The truth is that such efforts to 'market' your Shirts are basically just spam – and they come across as such (spam doesn't just exist within email).
So let's outline the right way to market something.
Identify a market, niche or group of people you will eventually be selling to. (Even better is to identify a single individual or 'avatar' that represents the people you want to reach).
Begin to acquire the attention of this group by giving them something they want (or need or like) for free. (eg. If you are an artist, you can give people daily images of your work or works in progress. For people who like your work and are attracted to it, this represents a form of value).
After you have built trust and developed a relationship with this group for some time, you can introduce your products (eg. a T-Shirt) and let them know where they can get it.
It's really not much more complicated than that. Give value, develop fans, turn those fans into customers.
This may sound like bad news for you, especially if your designs are spread over very different niches and you don't really have a unifying 'brand' or identity.
But this is good news for those who are artists or illustrators first and foremost, and T-Shirt sellers second. People like to support independent creative people – and the 'individual' angle is often much better received than is the 'faceless brand' model.
So what should you do?
Well, if you really are a designer/illustrator/artist and you don't already have some kind of online presence and/or brand identity, now would be a good time to create one. (And don't worry about 'not looking polished enough' yet – people like to see and follow the progression of talented individuals).
I would focus my efforts on a primarily visual social network like Instagram – and begin growing a following based around your work. The most important thing is to post regularly – at least daily – and to be authentic and genuine with what you create and share.
People are not interested in seeing an online catalog replicated on Instagram. But they will pay attention and follow those who create original designs, post genuine and funny content, and interact like a real, true human being.
And what if you aren't a designer, and so can't do the above for some reason?
Well the same principles apply, you just replace 'personal identity' with 'a brand'.
Eg. pick a name, create a logo, and post regular content that is of a consistent quality, delivers value and targets your specific niche or group (that could be as broad as '18-25 year old guys' or as specific as '45 year old moms from Vermont who love knitting' – but the more specific the better, usually).
And BTW – this doesn't apply to Instagram only – that's just an example. You could use any platform to reach your people; as long as they congregate there, and as long as you can deliver the kind of value they are looking for within that platform.
It's important to remember that what you are doing here is developing a following and growing trust between you and them (your potential future customers). Without that trust and relationship, you will not be able to sell successfully, or repeatedly.
But once you do have the attention, trust and good-will of your followers, selling something (and it doesn't start and end with T-Shirts) becomes a whole lot easier. And it doesn't need to be limited to a single sale.
Building a following is no short-term fix (nothing I share ever really is – I don't do short-term) – but it is an incredibly valuable asset.
I know you would rather hear about some secret tip, website or forum that can deliver millions of qualified customers your way, but the simple and honest truth is that this does not exist. The days of super-easy money from T-Shirts through manipulation of algorithms, ad platforms or lazy quick-wins is almost completely dead, if not already long dead.
The future belongs to those who produce valuable, quality content and can deliver it to an engaged and receptive audience. Building that audience for yourself is one of the best ways to secure this profitable future.
3. Build Your Own Website

This ties into the previous point, as it really only makes sense to have a dedicated website if you are an individual artist or a brand.
Having a dedicated website that features your T-Shirt designs (and lets people know where to get them) has a number of potential benefits.
It's an opportunity for you – and your designs – to rank organically within Google for relevant search terms. This can help deliver relevant traffic (primed customers) that may convert into sales – either directly on your website or through your Print-On-Demand accounts.
Your designs can now have a home outside of Amazon or Redbubble or wherever. If Amazon were to remove one of your Shirts for some reason – and it was previously ranking in Google for example – then you might be about to lose a whole bunch of sales. But if you have a webpage dedicated to that design – which ranks in Google and delivers traffic – it won't matter what your other marketplaces do. You have the traffic, and you can therefore make the sales somewhere else (eg. on your own site directly, or through another platform).
You can make extra income. Generating sales through your own site has the added benefit of potential affiliate income (making money by sending the customer to the product) – or the much more significant factor of being able to charge high prices (or have lower costs – or both!) than most Print-on-demand platforms – by selling directly to customers on your own website.
You further strengthen your personal or business brand, and help to develop trust from your customers – because you show them you aren't just some faceless account on Amazon or TeeSpring. Instead you're the 'real deal' – with a consistent marketing message and some attention to detail. In other words, you actually care about your products and you care about your brand.
Building a website is not a super-simple process, and getting your pages to rank within google is certainly not a push-button task – but it is an area where a little bit of knowledge (mixed with some hard work) can go a long way. And of course you don't need to actually build it yourself, you could hire someone else to do that for you.
The important thing here is to give yourself an increased chance of making a sale – of ranking organically and getting ahead of the competition by driving traffic through your own, self-controlled website.
What we're really talking about here is building a true 'brand' – whether as an individual or as a business – that attracts and retains the attention of potential customers, and is ultimately able to convert those into actual customers.
Final Thoughts
If you were looking for advice on how to make sales by posting in Facebook groups or on Reddit, then I'm sorry to disappoint you.
Nothing worth having comes quickly or easily, and making a few sales from a random Facebook or Reddit post does not often lead to long-term growth or success. It's short term thinking!
I don't want a spattering of sales here or there. I want regular, recurring, reasonably predictable sales from a steady source – like a group of customers who know and trust me and my work – or like a website that ranks well and delivers organic traffic.
Nothing I have outlined in this article is going to lead to sales tomorrow, even if you started today (well maybe improving your keywords and optimisation might).
But over time, the regular and consistent output of valuable content – both in the form of actual T-Shirt designs AND as social media posts – should attract an audience that you can convert into a steady stream of customers.
If you want to reap the rewards, you have to put in the hard work. Most people won't do these things, and won't take the time to learn how. But for those who will – you can become a marketing powerhouse with a T-Shirt empire that has multiple flows of income and generates money for you for years into the future.
Let's go get it!
---
Supercharge Your T-Shirt Sales With My Top Strategies, Tips & Tricks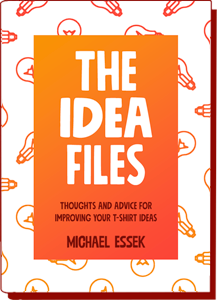 The best way to improve your T-Shirt sales is to improve your T-Shirt design IDEAS.
In my free eBook 'The Idea Files' I show you how to improve your Idea ability, and profit from trends using exclusive techniques and strategies you won't find anywhere else!
Get it free, here:
Comments
comments