How To Sell On Redbubble (& Actually Make Good Money)
by Michael Essek · Updated: June 10, 2022
This is my new and updated guide on how to sell art on Redbubble.
If you want to learn how to sell on Redbubble – and how to make money on Redbubble – then this guide is for you.
I'll explain exactly how Redbubble works, how to sell on Redbubble, and give you some practical Redbubble selling tips.
These are the same tactics I've used to grow my Redbubble sales income from zero to $1000+ dollars a month, every month.
I've been selling art on Redbubble since 2013, and in that time I've learnt a lot about what works and what doesn't.
So in this Redbubble tutorial I'll spell out the mistakes to avoid, and give you everything you need to help your Redbubble store make regular, repeated sales, month after month.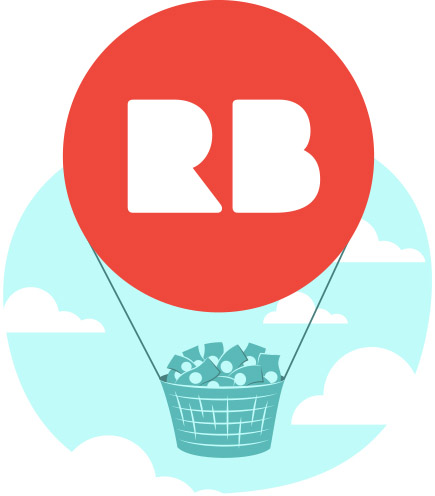 ---
---

Free Download
No Time To Read It Now?
Download a Free PDF of this article, and get my FREE 7-day Redbubble mini-course straight to your email.
---
What Is Redbubble?
Redbubble is a leading Print-On-Demand (POD) online marketplace.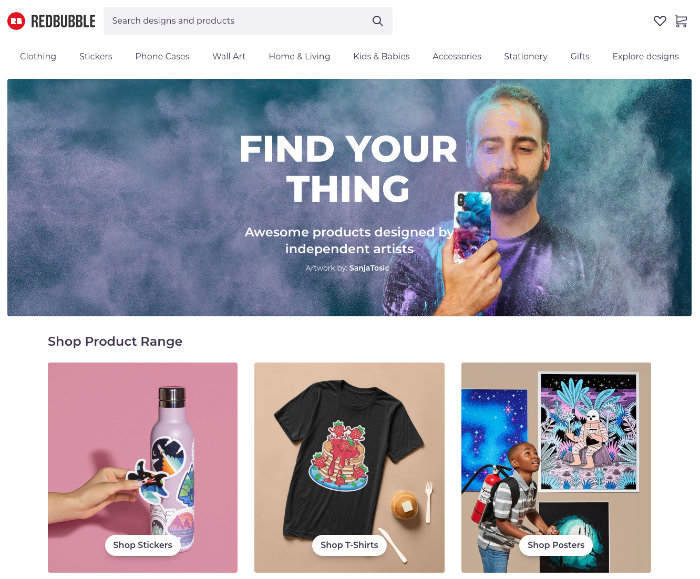 Redbubble's products come from the thousands of independent designers and artists who upload their artwork onto the site.
When a customer makes a purchase, Redbubble will print the artwork onto the product and ship it to the customer (on demand).
The designer will receive a royalty*, usually between 10%-30% of the purchase price (designers have a degree of control over their royalty margins).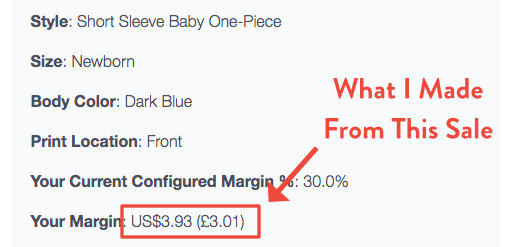 *Royalty Note: Technically, Redbubble does not pay 'royalties', nor does it use the term 'royalties' – instead it refers to 'Artist Margin'. But For the sake of ease I will be using the terms 'royalty' and 'artist margin' interchangeably in this article, but just remember that technically, it's not a royalty.
Selling on Redbubble is completely free and open to anyone. Redbubble artists and designers pay nothing to open an account, upload work, or receive a royalty payment.
When your royalty account reaches $20, Redbubble will send your money to you via Paypal, or directly into your bank account. (paid monthly).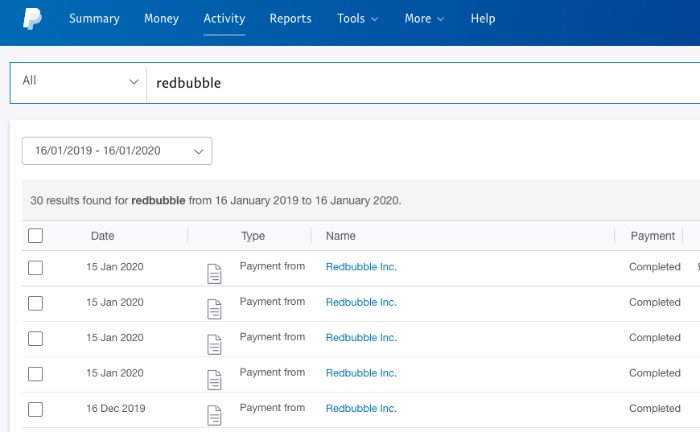 Redbubble has a large audience of visitors and customers. The site ranks well in Google and also lists products on Google Shopping Ads (at no additional cost to you, the designer), which boosts your chances of being found and making sales.

Assuming you have good ideas, good artwork and good descriptive data (titles, descriptions and tags – we'll cover this in some detail later) you simply upload your designs and let Redbubble do the rest – and within a short time you should begin to see sales and royalties building up.
---
Things You May Not Know About Redbubble
Redbubble is an Australian company, publicly traded on the Australian Stock Exchange. You can view financial reports and updates on the Redbubble shareholders site.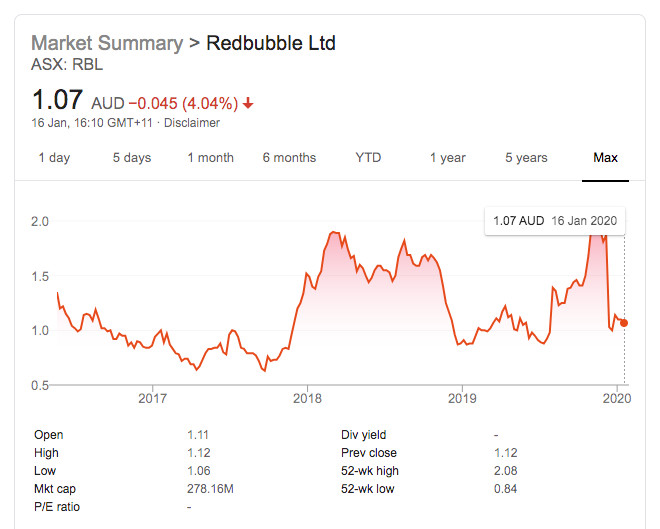 Redbubble also has a mobile app (Apple and Android), though as of writing it is fairly basic and doesn't offer the full functionality available on Redbubble.com.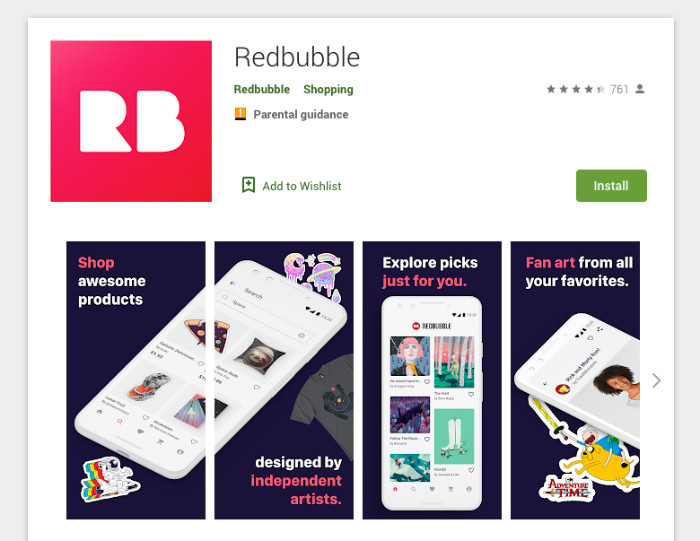 Redbubble is probably the biggest standalone POD website by organic traffic, which means it has a bigger organic reach than any similar such site (eg. Zazzle, Cafepress, Spreadshirt, Teepublic, Teespring, Society6, Threadless etc.)
Redbubble has grown consistently over the past several years, and acquired Teepublic in 2018.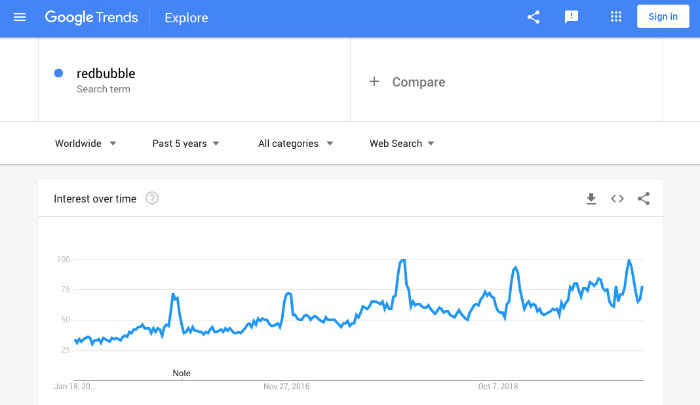 ---
How Does Redbubble Work?
Here's exactly how Redbubble works, from a seller or designers point of view:

You sign-up for a Redbubble account and upload your artwork.
You decide what products to list that artwork on – including deciding on the colours, position etc.
You give your design a title, a description, and include as many relevant tags (keywords) as possible.
You publish your product: it is then available for sale on Redbubble.
Then this happens (the customers point of view):

A customer searches for their favourite thing on Redbubble, and sees your design.
The customer likes your design, so purchases your design on a T-Shirt (for example).
Redbubble prints your artwork onto the T-Shirt and ships it to the customer. Redbubble credits your account with a royalty (a percentage of the sale price) – and once a month Redbubble pays out your royalties to your Paypal or bank account.
Of course there's a lot more detail we could go into, but that's the basic process.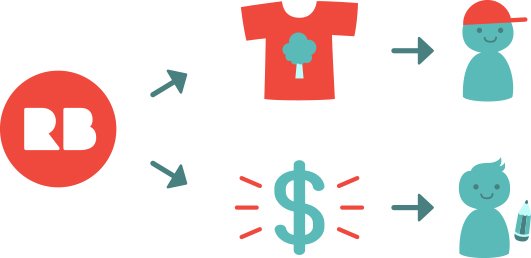 You create and upload – customers buy – and Redbubble does the rest (and you collect your royalties every month).
Do You Have To Promote Your Redbubble Store To Make Sales?
Whilst it is helpful and advisable for Redbubble artists to promote their store and designs, that isn't a necessary step to generating sales.
That's because Redbubble already has organic traffic from search engines, and has an audience that regularly searches on Redbubble directly to find products they are interested in.
So provided your write effective Titles, Descriptions and include relevant tags for your design – it's perfectly possible to make sales without ever promoting your work.
---

Free Email Mini-Course
7-Day Redbubble Crash Course
Learn how to sell on Redbubble the right way with my FREE 7-day exclusive Mini-course.
---
How To Sell On Redbubble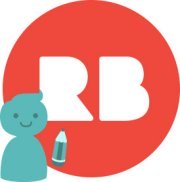 So now you understand what Redbubble is and how Redbubble works…but how do you actually use it?
The process is relatively straightforward, but it always helps to have a step-by-step Tutorial to walk you through everything.
So here it is – the nitty gritty on how to sell your art on Redbubble…
---
Uploading Artwork To Redbubble
Everything starts with some artwork – a design you have created.
This should ideally be a transparent .png file, which will be uploaded to Redbubble, and applied to over 60 potential products.
Here's mine: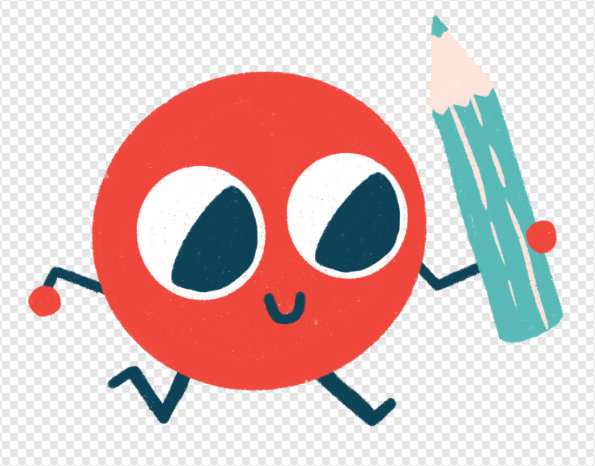 So once you have a Redbubble account – you simply go to the 'Add New Work' page – which looks like this: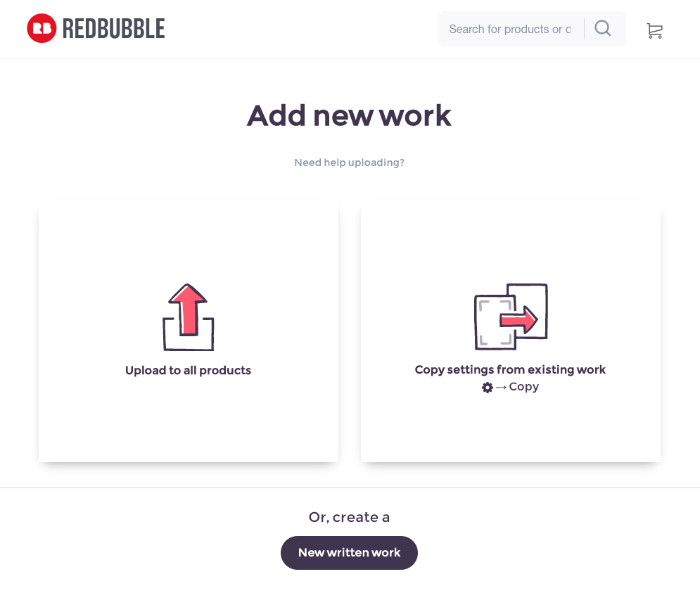 Unless you have an existing work you want to copy, you'll want to click on 'Upload To All Products' – or just drag and drop your artwork over that box.
You'll then be presented with the product editing page, which looks something like this: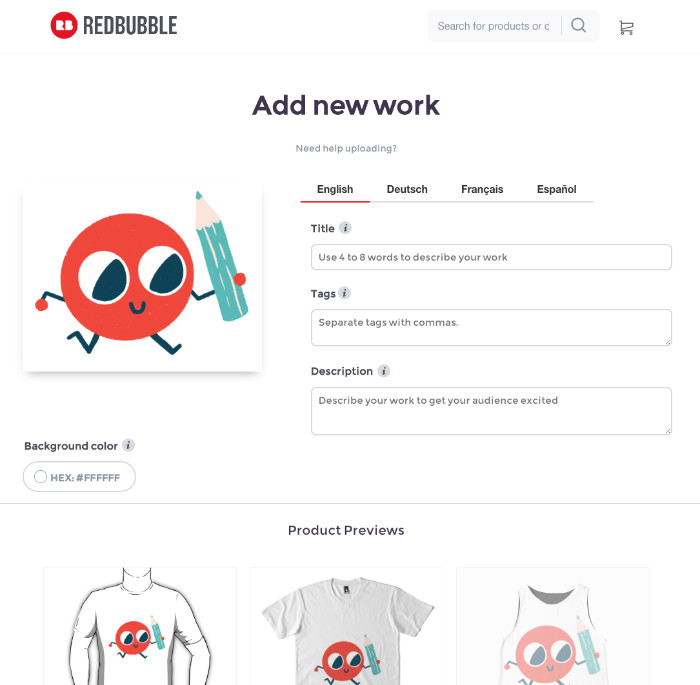 On this page you can set the background colour and default product colours, adjust the positioning of your artwork, and most importantly: give your artwork a Title, a Description and relevant Tags. (We'll return to this subject later).
Play around with the positioning and background colours until you're happy with how things look – and click the '+ Disabled' button to turn it to a green 'Enabled' button to make that product available.
In this example, all the shown products will be enabled, except for phone cases: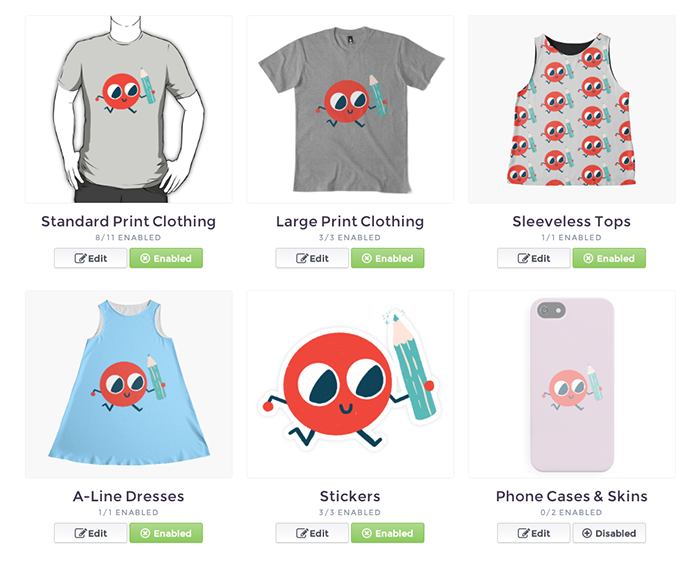 Next I'll add my Title, Description and Tags: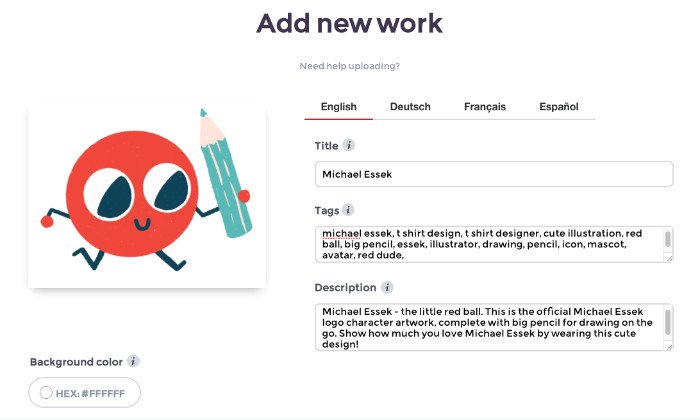 Your Title should include the most important, most-likely-to-be-searched-for words or phrases that describe your design. (BTW – you don't need to add 'T-Shirt' or anything in the title, as Redbubble will add that later).
Tags are short phrases and words that relate to your design. We'll talk about those later.
Your Description should again include your most important descriptive words and phrases – but most importantly it should describe and explain the design to potential customers.
Once that's done, scroll down to the bottom, and you'll see something like this: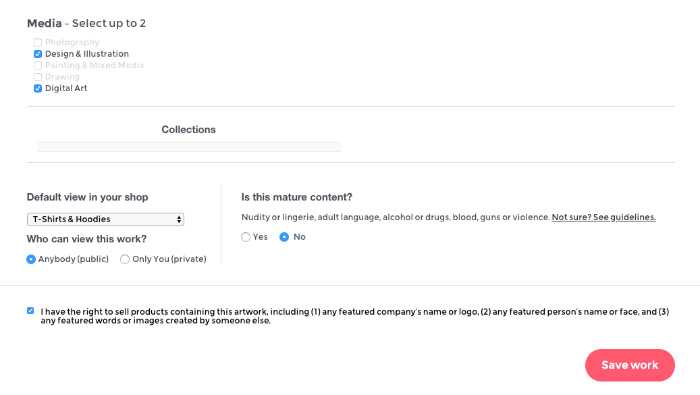 Here we can specify:
Media (Select Up To 2): This doesn't really matter either way, but as my design is an illustration and is 'digital art', I've selected those two options.
Collections: Collections are groups of designs that are related in some way. As I haven't created any collections, I don't have anything here. But if you have created collections already, then you have the option to add this new design to those here.
Default View In Your Shop: This determines how your new design will show up on your profile and shop. Again, this doesn't matter hugely, but as I think my design looks great on a T-Shirt, I'm choosing 'T-Shirts & Hoodies'.
Who Can View This Work?: Simple really – if you want the buying public to be able to find and buy this design, you should select 'Anybody'.
Is This Mature Content?: Again pretty straightforward – Redbubble explains what constitutes 'mature content' – so tick as appropriate. (Mature content is allowed on Redbubble, but isn't publicly visible by default).
Affirm Your Rights: You must affirm that you have the right to sell products of this design. As long as you have created the design yourself and it doesn't reference any IP owned by anyone else – you should be good.
…and that's it! Just hit 'Save Work' and your design will go live on Redbubble.
---
What Happens Once Your Art Is Up
Once published, your design will have a product page that looks something like this: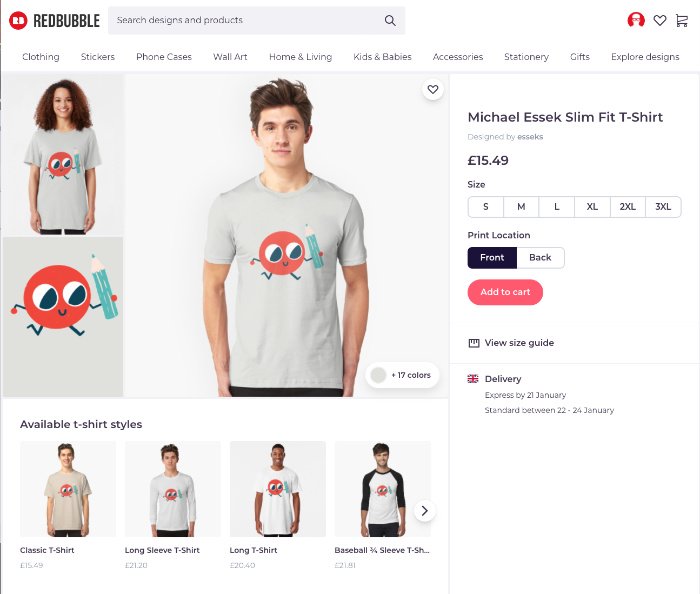 Note: You won't be able to sell your work until you have confirmed your payment information with Redbubble – by providing a (verified) Paypal Account, or supplying direct bank deposit details.
Your design should shortly show up in Redbubble's search results – meaning you should be able to find your work when you search for it, or search for relevant terms you included in your title, description or tags: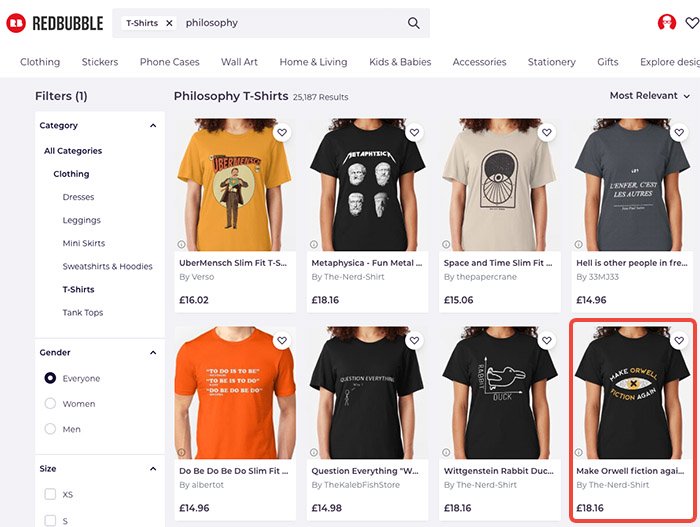 Your design may also show up in Google Shopping Ads when someone searches directly on Google. Those look like this:

Redbubble's search results and tag pages often rank well in Google, so people may find your work by following such a link from Google – e.g.: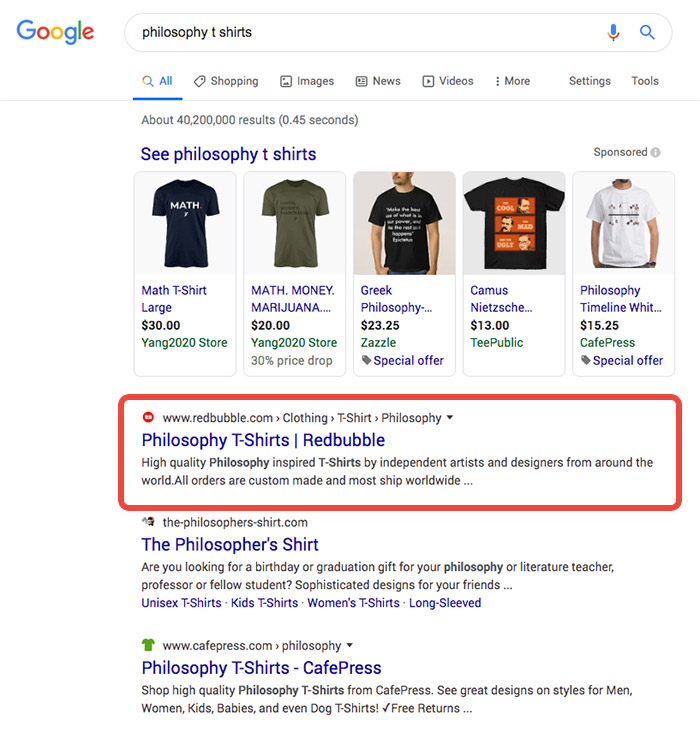 …and depending on your title, keywords and market competition, your product page may eventually rank directly on Google, driving more traffic.
You also have your own storefront on Redbubble, where visitors can see all of the designs in one place, plus information about you, and any collections you've created. (you can find this by going to redbubble.com/people/yourname or at yourname.redbubble.com )
---
Customising Your Redbubble Store
If you intend to use Redbubble as a 'storefront' for your designs (i.e. a place you will send fans or followers who want to check out your work) – then Redbubble provides that feature, and gives you a degree of customisation and control over how things look.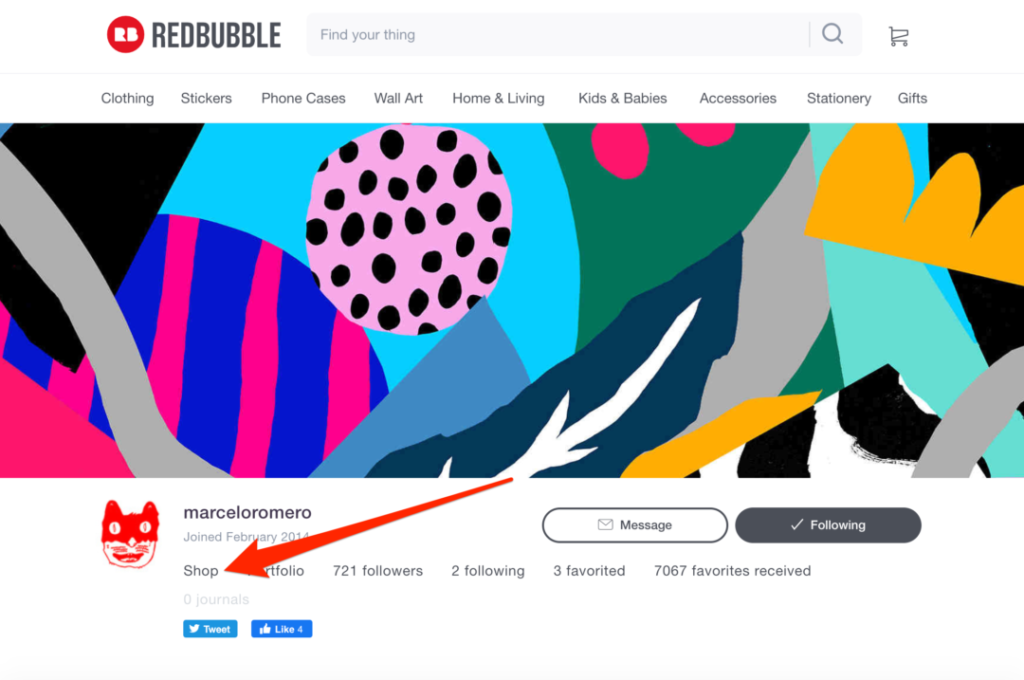 For a start you get a custom store name domain – eg. yourname.redbubble.com – to direct people to.
And you can customise the following elements:
artist banner (header image)
thumbnail
about us details
links to your social media / website / portfolio
This allows you to create a more personalised store that will look and feel more familiar when your fans or followers check it out. It may also contribute to increased sales – as it tells potential customers that you're a real person who has made some effort in branding their Redbubble account.
---
Tracking Sales On Redbubble
Now that your products are available for sale, you can sit back and watch the orders roll in (hopefully…more on that later).
By default, Redbubble will email you whenever you make a sale. The email will contain details of which design sold, on what product, and how much of a royalty you made. It will look something like this: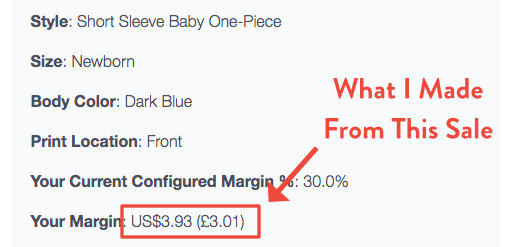 Redbubble also has a helpful dashboard which displays your earnings, top-earning products, and tells you where your traffic (the people that viewed your work) came from.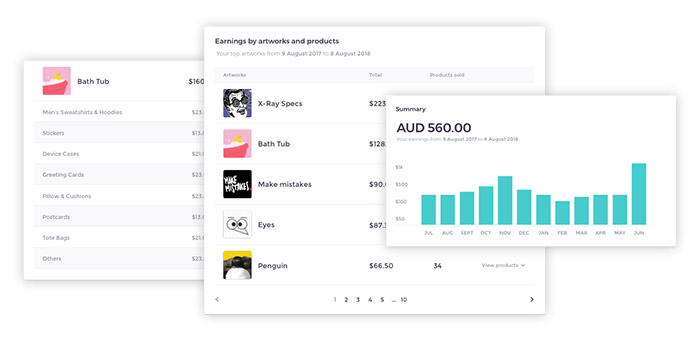 You can learn more about the Artist Analytics Dashboard and how to use it here.
---
How much does Redbubble take?
One of the main things artists want to know is 'what percentage does Redbubble take?'
Well the answer is pretty simple: it's up to you (to an extent…)
Redbubble has a base price for each product – which is what it costs them to produce and print the product.
Then there is your artist margin (what you make as a royalty per sale) – which is set at 20% by default – but you can change this.
The base price + the artist margin = the final retail price paid by the customer.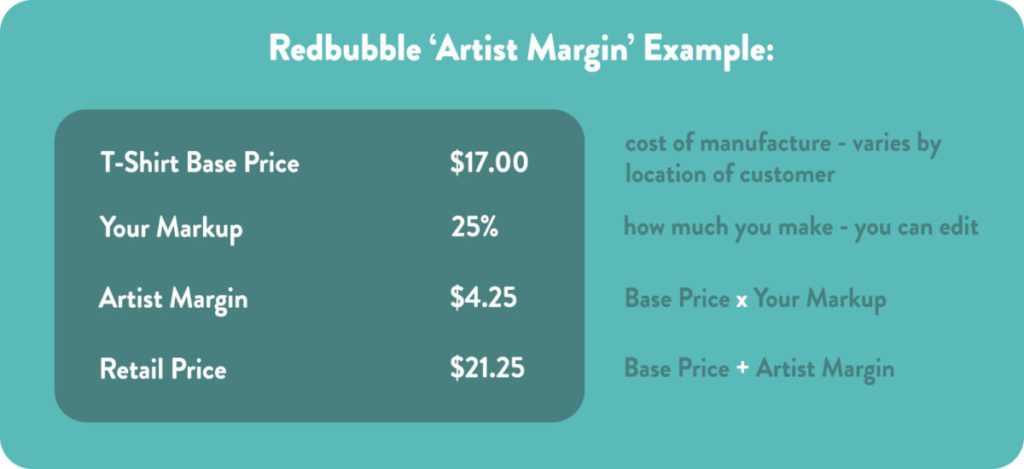 There's no limit to the artist margin – but remember that it effects the retail price.
So you don't want to set your Markup too high – as that will deters potential buyers.
So the answer to the question: 'how much does Redbubble pay?' is – whatever you want them to! (assuming you can make sales at that price point)
I personally have my artist margin set to 30% across most products, and 100% on stickers.
---
How You Get Paid On Redbubble
Getting your money from Redbubble is simple enough – it happens automatically around the 15th of every month (as long as you have over $20 in royalties accrued in your account).
Redbubble will send your royalty payments out to your Paypal account, or to a bank account via BACS (it's up to you).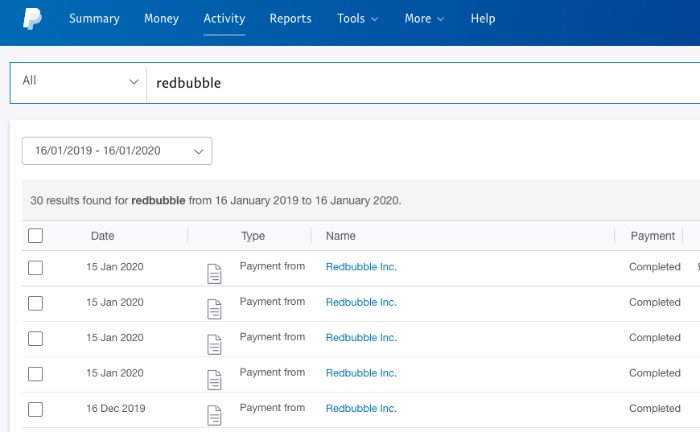 Redbubble will also send you a Remittance Advice email once a month, which lists all your individual royalty incomes.
---

Free Mini-Course & PDF
How To Get Great Ideas For Redbubble Designs
Find out what really makes the difference on Redbubble with my FREE 7-day Mini-Course.
---
Redbubble Selling Tips: How To Make Money On Redbubble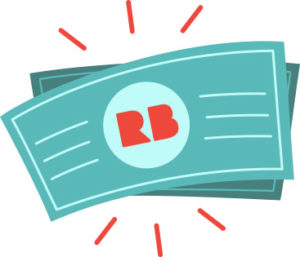 So we now understand what Redbubble is and how to sell on Redbubble.
But how can you make money on Redbubble?
Like actual real money – regular, repeatable, reliable sales…is that even possible?
It's not easy – but yes, it is possible.
In this next section we'll get into some practical Redbubble selling tips so you can actually make money on Redbubble, the right way.
But rather than hit you with one big list of tips, I'm going to break this down into three main sections:
so…let's get to the tips!
---
1. How To Get Found On Redbubble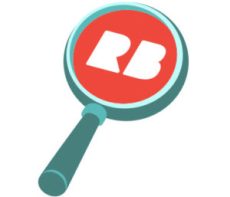 It doesn't matter how great your designs are – it all means nothing if they aren't getting seen.
Redbubble is a free platform that can get your work in front of the right people – as long as you use it the right way.
So here are some tips and techniques to improve your visibility on Redbubble – and increase your chances of being seen and making sales…
---
Use 'Search Friendly' Keywords In Your Titles, Descriptions And Tags
One of the biggest mistakes Redbubble Artists make is not giving their designs appropriate, relevant and search-friendly titles.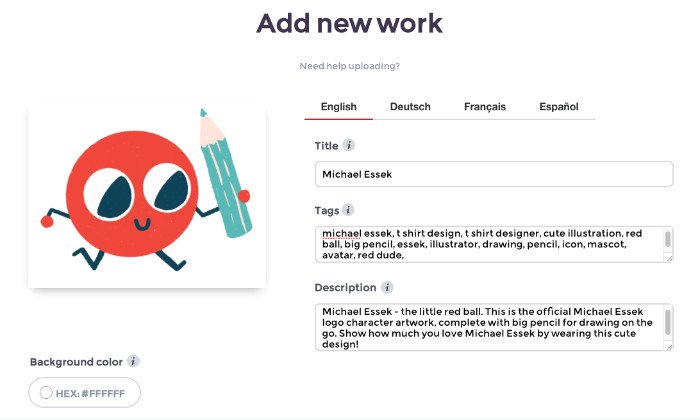 Redbubble can't determine what your design is about by looking at it – they need you to tell them what it's about.
They also need you to tell them who it's for, and what terms and phrases people might use to search for it.
This is how Redbubble decides where to show your designs – on what pages, and how it will promote your designs on Google.
So if you want your designs to be seen by Redbubble customers, you must describe it using words and phrases that potential customers are likely to search for.
You should include these words in your title, description and tags.
Quirky titles and inside jokes may be cool for art exhibitions – but they won't help you make organic sales on Redbubble.
Instead, stick to appropriate, specific titles that describe your design.
In General you want to keep Titles specific and short – using your Tags and Description to include other key phrases and category level terms.
For Example, for this 'Grin and Scare It' Halloween design…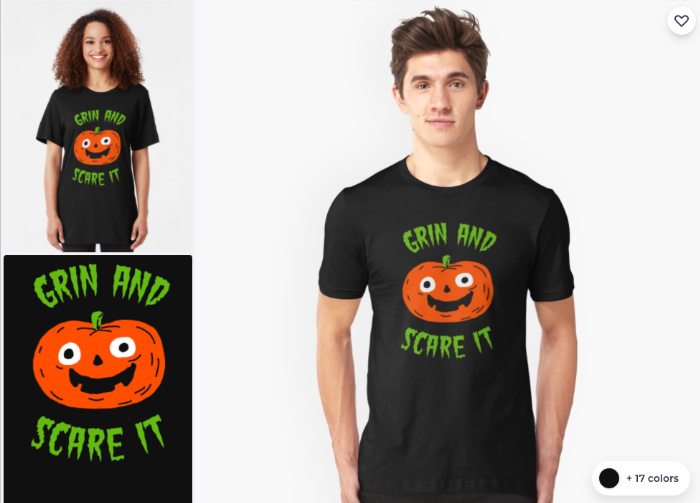 …my title, tags and description would look like this:
Title: Grin And Scare It Halloween Pumpkin– here I want to include the main title (Grin and Scare It) – but because this is unlikely to be searched for directly, I'm including "Halloween" and "Pumpkin" to describe the design and make it easier to find.
Tags: Halloween, pumpkin, pumpkins, jack o lantern, trick or treat, halloween party, funny halloween, funny pumpkin, funny, pun, puns, halloween pun, halloween puns, party, halloween costume, fall, scare it, grin and bear it, grin and scare it –  any relevant or related terms that people might search for. These include references to the design itself, but also to things like where you might wear it (eg. Halloween party).
Description: 'Grin And Scare It' with this funny Halloween Pumpkin design! This Halloween pun shirt features a cute Jack O Lantern, perfect for your next Halloween party or for trick or treating. A great Halloween design for kids and adults alike. – This is an opportunity to repeat the key words and phrases, but in a readable fashion.
Note: If your design is targeted at only a specific product, you should feel free to name that in the description – eg. 'Halloween pun Shirt'.

However, if you're trying to attract visitors looking for a variety of different products -you may want to leave out any product references. If that's the case, then use terms like 'design', 'artwork' and  'graphic' in place of 'shirt' or 'sticker', for example.
---
List Your Design On As Many Redbubble Products As Makes Sense
Redbubble offers over 60 different products, which can be overwhelming if you have to tweak the position, colours or other details for each and every one.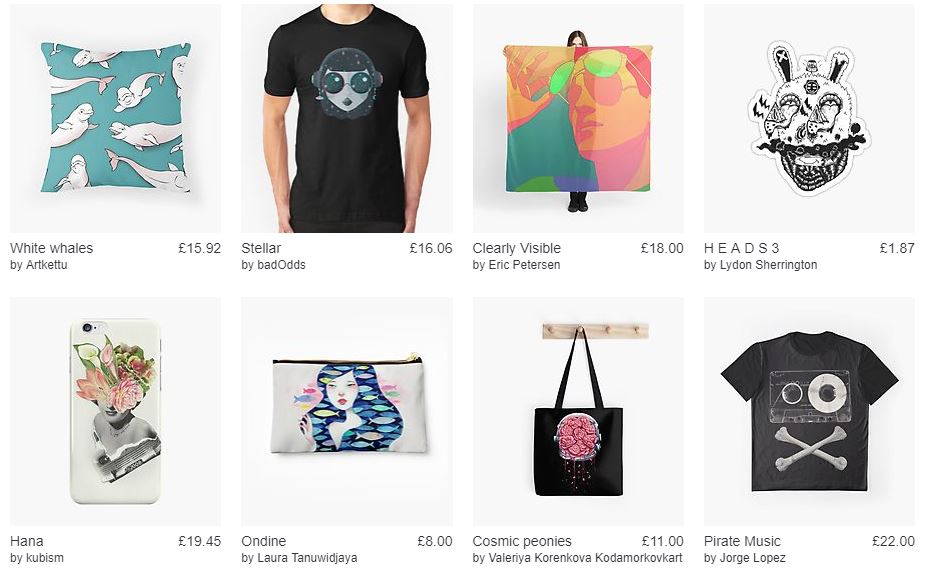 As the upload process on Redbubble is not exactly efficient, it can be tempting to simply enable just a few basic products (T-Shirt, Tanks, Phone Cases) – and forget about the rest.
But there are a few reasons it makes sense to list on as many products as you can:
More products generates more product images, which in turn get indexed by Google. This can help your designs show up multiple times in Google Image searches, and can therefore drive more traffic and sales.
You never know who is looking for that specific product. You may not think there's much chance of anyone wanting your design on a shower curtain – but trust me – it happens. Considering the products you create here will sit on Redbubble for the foreseeable future – what's a couple more minutes spent adding the weird products you don't think will ever sell?
Whilst I recommend adding as many products as makes sense – I don't suggest you put every design on everything.
There are certain cases when it clearly won't make sense – eg. a adult design that isn't appropriate for a kids shirt, or a design that simply doesn't translate to a phone case (eg. because it includes the word 'shirt').
So use your common sense – but don't be lazy.
---
Create Appropriate Collections (With Search-Friendly Names)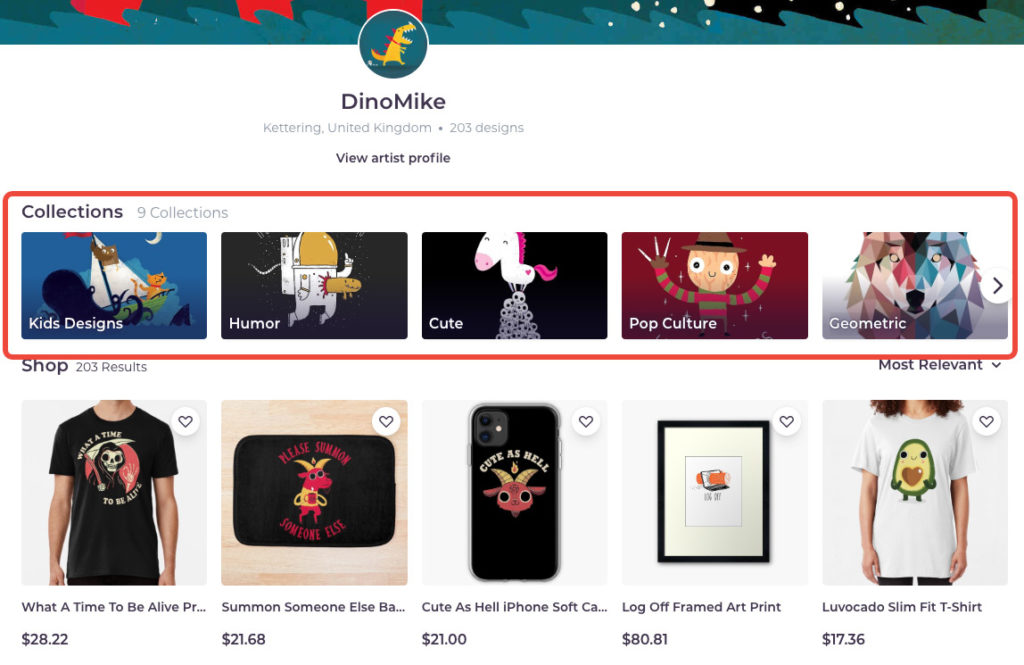 If you have several designs (or more) about a certain topic or made in a similar style, then take a few minutes to create a 'collection' around those designs.
(You can find out how to create and add work to collections on Redbubble here.)
This creates another web page with a relevant title and relevant key terms, which could rank in Google – and may help Redbubble better identify and promote your work.
It also helps customers find similar designs that they might like.
Don't overthink it though. If you don't have obvious designs that lend themselves to a collection, don't worry about it.
---
Make The Most Of Your Tags
Redbubble Tags are incredibly important, because they allow you to take a single design and have it appear on hundreds of different Redbubble search results pages.

Based on the tags you provide about your design, Redbubble will show that design to anyone searching for those terms (at least in theory – in practice you are up against millions of other designers – so you are unlikely to show up across all terms).
And along with the title and description you choose, they'll determine where and when your work appears, both on Redbubble and on other platforms: (eg. Google and Google Shopping Ads.)
I like to list as many relevant tags as possible.
To help come up with relevant tags – ask yourself:
what is the subject of this design? (eg. halloween skull -> halloween, skull)
what is the style or feel of this design? (eg. creepy, spooky, vintage, scary)
who is this design for? (eg. kids, metal heads, motorcyclist, tattoo fan)
if someone was trying to find this design, what words would they use? (eg. cool halloween skull shirt, creepy halloween skeleton)
what are similar words (synonyms), plurals or related words for the tags I've already used? (eg. skeletons, death, grim reaper )
How To Find Related Redbubble Tags
If your design is likely to make sales, it's because you created something appropriate for a given audience.
As such, it shouldn't be difficult for you to come up with relevant search terms related to your design. (After all, if you know about bitcoin mining, you will be aware of relevant, appropriate terms that other bitcoin miners will be familiar with and are a likely to use and search for).
But if you feel like you need some more tags and you're hitting a brick wall, here's a few easy ways you can find additional tag ideas:
Google Autocomplete. Start typing out your key word into the search bar, and see what Google suggests. In the following example you could use the words 'tattoo' or 'costume' as tags for your Mexican Sugar Skull design.

Google Search. Put your primary keyword into google, hit search, and see what comes up- scanning the results for words or phrases you missed. Google also usually displays suggested searches at the bottom, and they can often include relevant similar terms.
Use a LSI keywords tool like LSIGraph. This provides you with similar or related words.
Search your keyword or phrase on Redbubble, then scroll to the bottom of the page. Here Redbubble lists out some 'Related Searches' – which you can consider adding to your design, if relevant.

Search your keyword on Redbubble, and check what tags the top designs are using. Chances are they'll have something you missed. (The 'All Product Tags' screenshot at the top of this list shows all the tags from the top ranking design for 'bitcoin' on Redbubble).
Note: You shouldn't 'tag spam' by including irrelevant terms, or just copying someone else's tags wholesale. The idea is to find relevant terms that are appropriate for your specific design, and to ignore any that aren't.
How Many Tags Should You Use On Redbubble?
Whilst Redbubble allows up to 50 tags for any artwork, that is almost certainly going to be excessive. I would say a maximum of 30, and a minimum of 10. If you can't think of 10 relevant keywords related to your design (by using the questions posed above) – then you probably have a problem with your design or your understanding of your intended audience.
---
2. How To Make Sales On Redbubble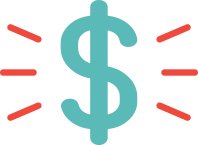 Getting found on Redbubble is step one, but if your work doesn't match what a customer is looking for, then it won't matter (Because you still won't get the sale).
To actually make sales on Redbubble you need to understand your target audience and what they are looking for.
You can also help increase your chances of making sales by taking the time to do a few simple things that most Redbubble sellers won't…
---
Use Your Redbubble Dashboard Data To Inform Decisions
Redbubble gives you a dashboard showing your top-selling designs, and you can dive down deeper into this on your 'payments' page.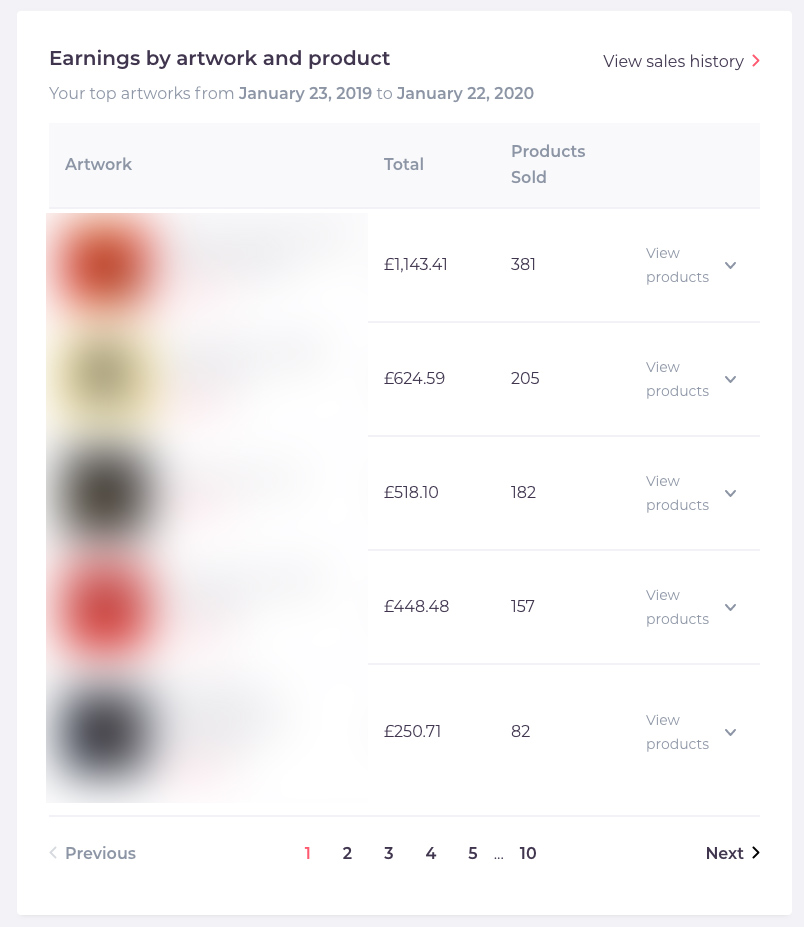 For example, if you click 'Sales History', then 'Sales By Work' – you'll see something like this: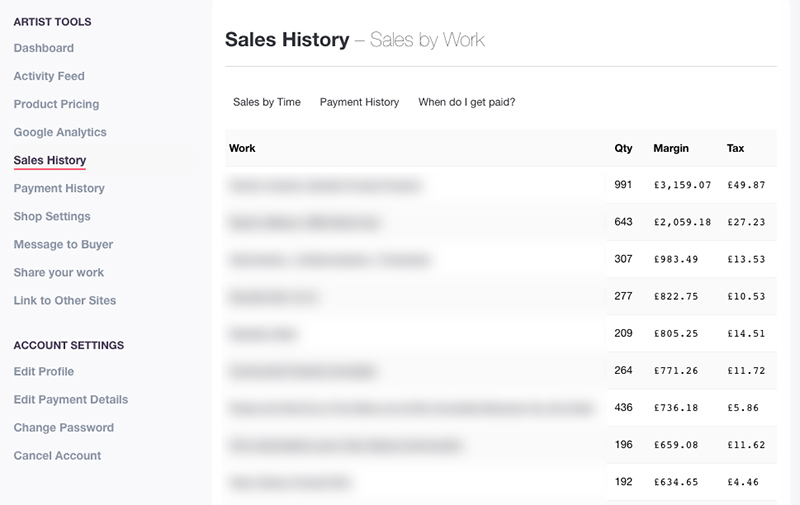 This is valuable information, because it's private between you and Redbubble.
This can provide valuable clues as to what it working for you, and what makes sense for you to double-down on.
For example, if you have a single design that starts selling well, you should  check that all the possible products are enabled.
You may also want to do some research around your design subject on Redbubble – to see what other such designs there are, if any.
You may discover that you are selling well in this category because there is very little competition – so you can start increasing your sales by offering similar designs to the same market.
For example, if your 'funny koala bear' design is selling well, create more 'funny koala bear' designs.
And if you notice a design has stopped selling – check for copycats (just search the title on Redbubble and see if anyone has stolen your design). If you find a copycat, you can report them to Redbubble by sending a Notice and Takedown Report.
---
Make Your Artist Profile Stand Out
Many designers treat Redbubble as a dumping ground – they just upload their artwork and then cross their fingers and hope for sales.
But Redbubble is like any other e-commerce site – customers are looking for trust signals before they purchase, and they often like to know that there is a real human behind what they are buying, rather than just an algorithm or bot.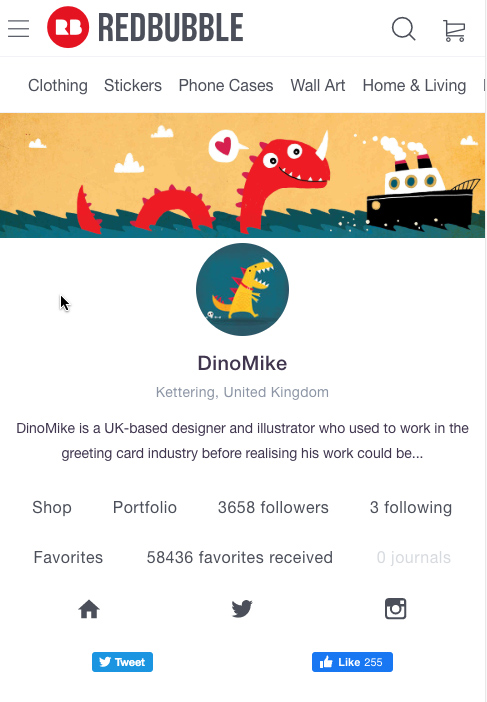 So with that in mind – do everything you can to make your Redbubble account look like it belongs to a real human.
Create a custom banner image, a cool, custom thumbnail, write an 'about us' section, and link to your social media. You're a designer after all – so this stuff should be easy and fun to do.
(Above is a shot of DinoMike's Artist profile – it includes a great thumbnail, header image, 'about us' paragraph, and links to his website, twitter and Instagram.)
The idea here is to make a casual browser want to check out your profile, perhaps follow you, and at least feel more comfortable buying one of your products.
(You can find more information about how to make your profile pop here.)
---
Think Product First, Artwork Second
The only way you'll make a sale on Redbubble is if a customer wants to buy your design on a product.
Customers want products, not designs.
Some designs look great on certain products – but may not work at all for others.
For example – a simple, front-chest-print text-based designs may look great on a T-Shirt, but look boring and unappealing when applied to a poster (eg. with lots of boring, dead space around it).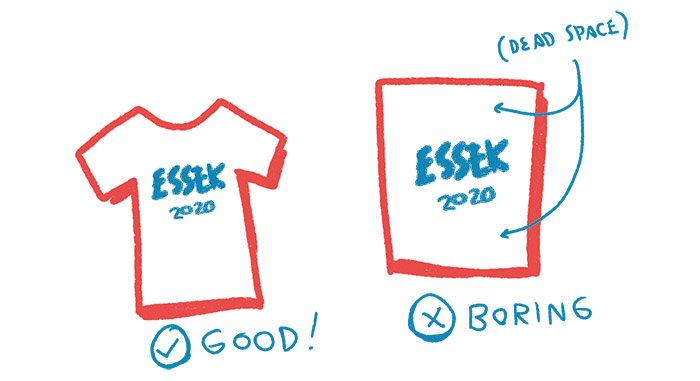 You can solve this problem by creating dedicated poster artwork (Redbubble allows you to upload different artwork files for different products).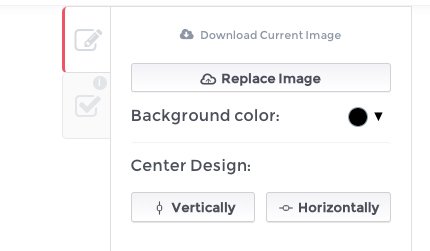 For example – you can take your T-Shirt artwork – but instead of putting it on a simple solid background colour to make it a poster – you create some additional design elements and produce a more exciting background, so that your posters look more appealing.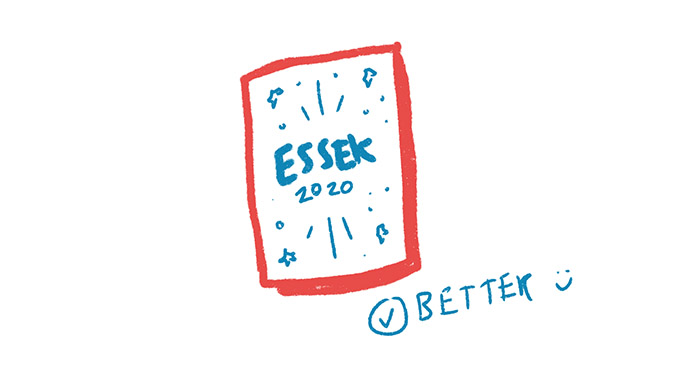 Posters as a medium lend themselves to much more detail that a T-Shirt design – because the artwork will be printed on a much bigger canvas, and can have more colours, gradients and other effects that won't translate well when printed on a shirt.
You can even go one better by taking a step back and asking – 'If a customer wanted a poster about this subject – what would that ideal poster be'?
For example – let's say you have a Bonsai Tree T-Shirt design that is selling well.
From that info we know a few things:
There are people out there who are into Bonsai Trees
They like Bonsai Trees so much they will buy a Bonsai Tree T-Shirt
They are discovering and purchasing my Bonsai Tree design through Redbubble
So – if you're into Bonsai Trees, is it only Bonsai Tree T-Shirts that you'd be interested in purchasing?
Of course not. The Bonsai Tree obsessive would also be interested in other Bonsai Tree products – like a Bonsai Tree poster for their office wall, or a Bonsai Tree phone case.
However – (and this is the important part) – a poster is not the same as a T-Shirt.
They perform different functions. We've already established that the artwork may not work for both – but go one further with me and ask whether you could create a completely different, more poster-friendly concept.
For example – instead of the same Bonsai Tree Illustration slapped on a poster – you create a 'Types Of Bonsai Trees' poster – featuring several illustrations of different types of bonsai tree – including detailed text descriptions and information about each one (like an information chart or cheat sheet).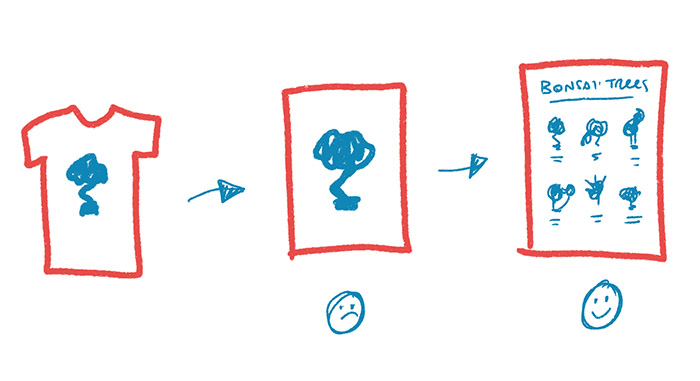 Now THAT is a poster a Bonsai Tree obsessive would love.
I don't recommend you carry out this exercise for all of your designs – but it's worth doing for your best-sellers – because you already know the market exists, and you know you can reach them through Redbubble.
By thinking this way you'll create designs that are much more appropriate for certain products – which in turn will lead to excited, inspired customers – and more sales for you.
---
Focus On Less Saturated, Less Competitive Products
Most Redbubble artists will list their designs on T-Shirts and little else (see the number of 'results' for each product type below: )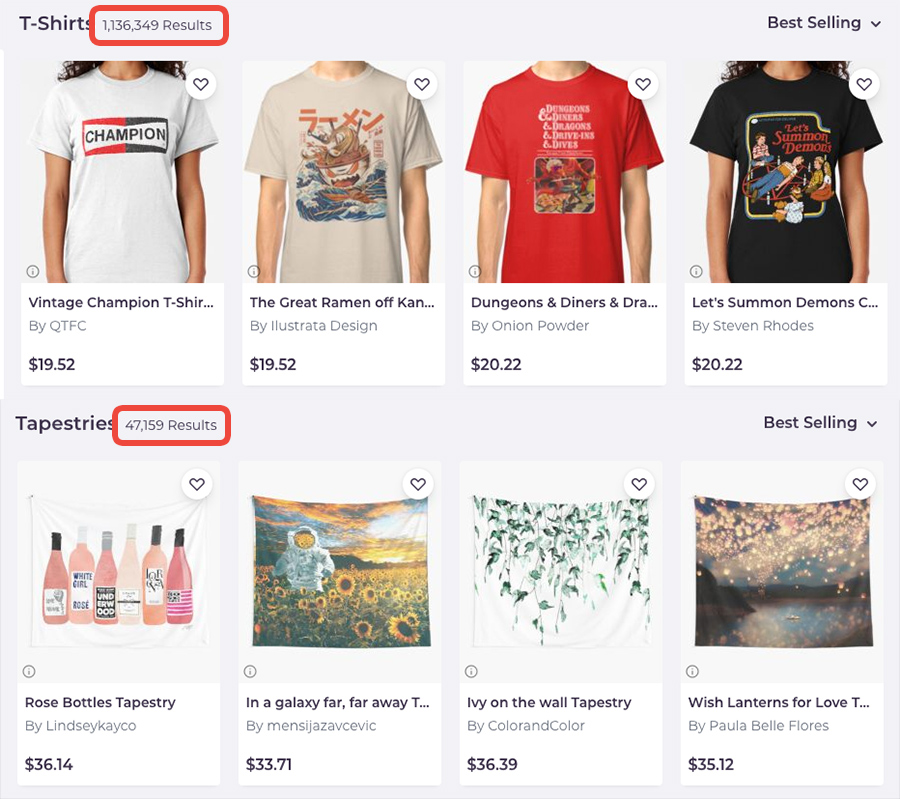 Relatively few Redbubble designers will be enabling their designs on the less popular products – and fewer still will customise their artwork to be as appropriate and attractive as possible for that product.
So instead of just creating designs and throwing them up wherever – you could investigate some of Redbubble's lesser known product categories to see what sells well (sort by 'bestselling') – and thinking about how you could create artwork or designs that work for these products.
---
Think (& Act) Like A Redbubble Customer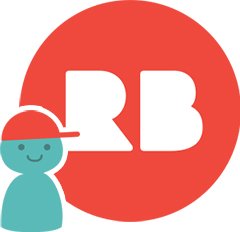 If you put yourself in the shoes of your potential customers, you become much more likely to understand things from their perspective – and this leads to some useful insights.
I recommend searching on Redbubble to try and find your own designs – as this will allow you to see things from a customers view.
Then ask questions like:
Does your work appear on the search results page?
If not, what kind of designs do?
Are the results relevant to the search phrase you used?
What do you notice about them?
Does anything stand out or catch your attention? why?
One quick example tip – search results pages can often throw up lots of identical looking designs. You can help your designs stand out from the crowd by choosing a different default shirt colour. (Eg. If most of the products are on a black shirt, make yours red).
---
Drive Traffic To Your Designs From Your Blog Or Portfolio
One of the best things you can do for your Redbubble designs is send some of your own traffic.

Sending your social media followers is fine and will hopefully lead to sales – but it's unlikely to contribute much when it comes to ranking on Google and inside Redbubble.
So if you have your own website – a blog or portfolio for example – then link to your Redbubble designs from there.
This can improve your rankings and create a flywheel effect that constantly improves your sales.
It works like this:
you link to a design from your blog using relevant keywords
google sees that as a 'vote' for the page
therefore google moves your redbubble design page (the one you linked to) up the rankings for relevant search terms
this drives more Google traffic to your design's page – increasing sales
those increased sales cause Redbubble to move your design up the rankings – leading to more sales
Having a portfolio website or a blog for your designs is a great idea for a number of reasons – and one of the best is the impact it can have on your designs search rankings.
---
Understand Redbubble's Existing Audience, Design Accordingly
Redbubble's best selling designs tend to be pop and internet culture based, or about trending topics and viral stories.
It's not the best possible audience for your super-random, highly-specific, inside-joke designs that only you and your friends understand.
If you want to make sales organically (ie. by relying on the traffic that Redbubble currently has, not by doing your own marketing or promotion) – then it makes sense to understand that audience, and the current trends and tastes that they have.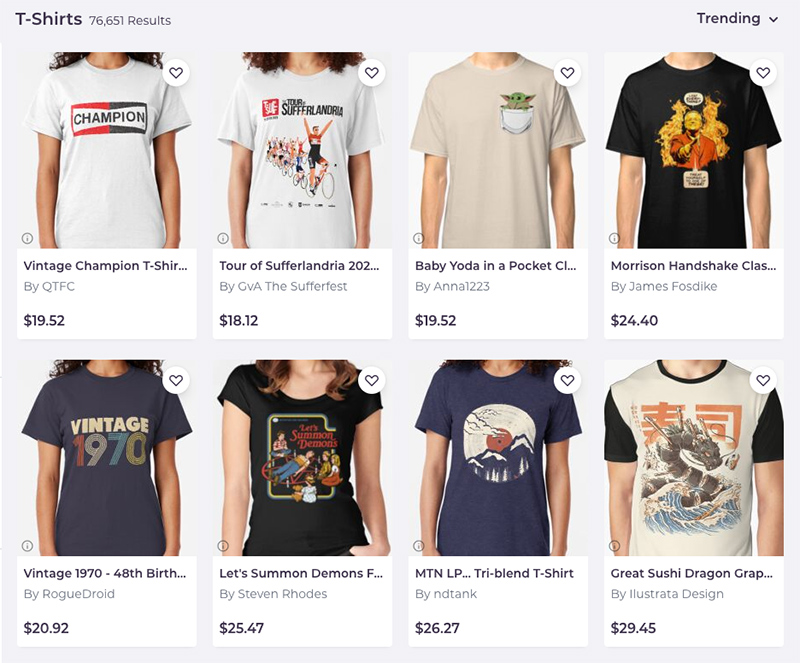 So take some time to regularly check in on the current trending designs on Redbubble, as this may inspire you to create something that appeals to the proven Redbubble audience.
Just remember that Redbubble is still wrestling with lots of copyright and IP infringing designs – so don't assume that Redbubble bestsellers are safe subjects to create designs around (like Pocket Yoda above).
Also – understand that any single design that starts to appear on Redbubble's best-seller list is likely to be copied very quickly – which means that the market is likely to get saturated soon.
So instead of trying to compete with current best-sellers, use the information you glean from looking at the bestsellers to inform your original work.
For example – don't look so much at the specifics of a best-selling or trending design – but rather at the trend, topic or style that it relates to.
Eg. – If a NASA design is on the list – don't think about creating another NASA design – think about how you could create a space or astronomy related design.
If you see Godzilla designs, think about how you can create Japanese culture related products – and so on.
---
3. Redbubble Mistakes To Avoid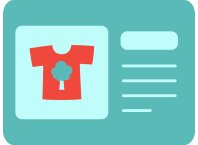 If you're completely new to Redbubble, then there's a few quirks and techniques you need to know about.
These tips will help ensure you don't miss out on potential sales or maximum royalties.
Read on and swerve these simple, avoidable errors…
---
Increase Your Artist Margin, Especially On Lower Cost Items
By default, Redbubble sets the artist margin to 20%.
This is a pretty decent margin  – but I found no decrease in income after I increased mine to 30%.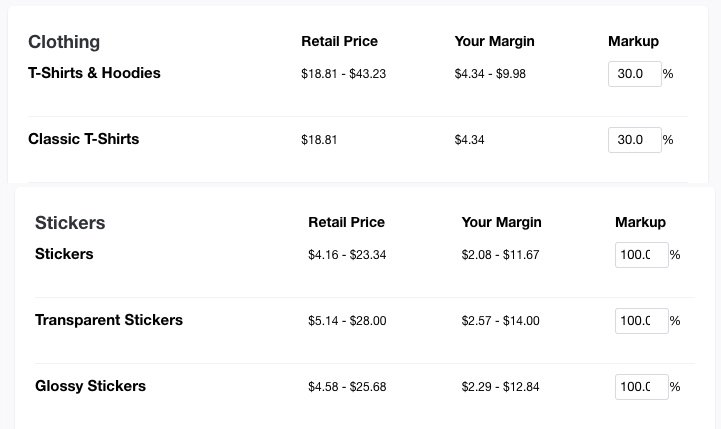 I recommend you play around with this – once you have a reasonably steady number of sales coming in each month – and slowly raise it to judge the impact.
Make sure you take a look at competitors prices on Redbubble – if you are significantly higher than the competition then that is going to hurt sales, but you don't want to be needlessly cheaper.

And increase your sticker margins to more like 100% – again take a look at your competition or top-selling stickers to judge the prices. Other low cost items like cards and posters may be able to tolerate higher margins too (so play around with it).
---
Manually Enable Kids T-Shirts (Where Appropriate)
By default Redbubble doesn't list your design on kids apparel products.
If you want to enable your design on kids products, you need to manually do so by clicking 'Edit' under 'Standard Print Clothing' – then clicking the tick box icon on the right: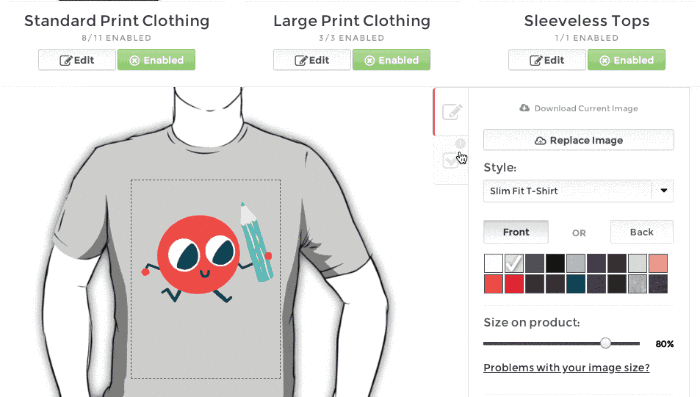 You can also click 'Defaults' (next to the 'Kids Clothes' option) to set the kid clothing default colours (otherwise your design will be shown on white kids shirts by default).
Once done, customers will then be able to buy that design on a number of kids apparel products.
(Obviously don't do this if your design is not appropriate for children.)
---
Make Sure You Aren't Missing Out On Potential Sales
The size of your initial artwork file will affect the products it can be printed on.
For example – if your artwork file is below 5000 x 7100 pixels, then it won't be suitable for large size posters: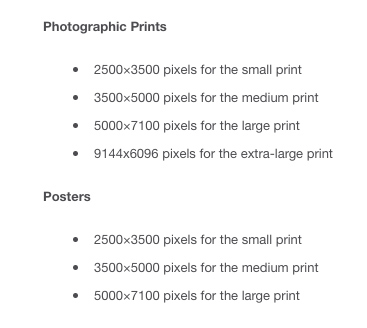 This is worth investigating, especially if you are trying to sell a particular type of product.
Typically I use my 'original' T-Shirt art file for Redbubble – which is only 4500 x 5400 pixels.
As such, if I want to offer that design on the largest possible posters or photographic prints, I must create a new artwork file specifically for those products.
So if you want to handle everything with one single art file, you need it to be big:

You can check the dimensions for all Redbubble products right here.
---
Is Redbubble Worth It?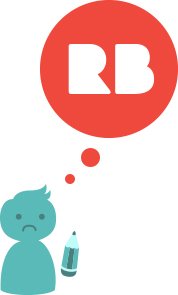 Redbubble allows artists to make money for free – as long as they are willing to upload their artwork and configure their products.
Redbubble will not make you rich, but it can help you generate good money from your artwork – given enough time and effort.
If you're trying to judge whether it's worth it for you – I'd say the only way to know is to upload some designs and see for yourself.
But here's a few final thoughts on why I think you should sell your art on Redbubble:
1. You'll Learn New Skills.


 

If you're a graphic designer, you probably spend most of your time designing the same things: logos, printed materials, websites, apps.

Print-On-Demand sites allow you to design for something completely different: physical products.

You may think that the process of designing a logo and a t-shirt are almost identical – but whilst there are similarities, there are also major differences. For example, you will find out that certain print colours do not work well on the some shirt colours. Or that the method used to print the shirt means that certain designs and techniques make for ugly t-shirts.

Through the process of uploading your designs to Redbubble you will see (thanks to real-time mockups) what designs work on what kind of products.

Should you ever want to launch your own product range or clothing line, this kind of information will give you a head start and keep you from making expensive mistakes.

2. You'll Learn What Does And What Doesn't Sell.


 

There are no guarantees when creating designs for sites like Redbubble, so the only way to get concrete data and information about what works and what doesn't is by trying.

Once you've spent some time on Redbubble and made some sales, you'll begin to get a sense of what kind of designs work best – and this increases your chances of improving your sales conversions in the future.

This kind of 'hard data' and on-the-job knowledge is invaluable and applies across many different platforms and markets. In other words, Redbubble can make you a better designer – especially when it comes to designing for products.

3. You'll Learn About SEO.


 

As we've discussed – in order to make sales from your designs you need your designs to 'rank' highly on the search results pages (Including Google, but also on the internal search pages of Redbubble).

As you apply yourself to the problem of discovery, you'll learn about the skill of SEO (Search Engine Optimisation) – how it works, and why it matters for making organic sales online.

Experimenting with these factors will improve you knowledge about what does and doesn't effect your rankings – and how that ultimately effects your sales. This knowledge is applicable to other POD sites, and can be helpful if you want to rank well in Google and other search engines.
---

Free Training
FREE Redbubble Mini-Course
Get my 7-day Redbubble Mini-Course via email – when you join my newsletter today.
---
So there you have it – I hope you found this new Redbubble guide helpful.
Do you have a Redbubble tip or technique to share, or perhaps an update on something that I've missed?
Please let me know in the comments below so I can keep this guide up to date, and can keep adding the best Redbubble tips and advice for artists.
Thanks for reading!

– Michael Essek
Michael Essek is a full-time T-Shirt Designer and Print on Demand expert. Join Michael and 10k+ readers on MichaelEssek.com to learn how to generate better ideas, turn them into winning designs, and sell more of your art online. Michael's guides and tutorials have been recommended by Redbubble, Teepublic and top Print on Demand Companies such as Printful. 
Click here to join my free weekly tips & tricks newsletter
p.s. – Whilst you're joining Redbubble, you should join Teepublic too. (affiliate link)

 

Teepublic works exactly like Redbubble, and is my next-best performing print-on-demand site after Redbubble. I find that both sites have similar customers, which means if something is likely to sell on Redbubble it's probably likely to sell on Teepublic too.


For a comprehensive guide to selling on Teepublic, checkout my article – How To Sell On Teepublic.
p.p.s. If you'd rather sell direct to your fans via your own website, then you can use companies like Printful or Printify. Checkout my Printful Review and Printify Review in this post: The Best Print-On-Demand T-Shirt Fulfillment Companies In 2022