How To Sell On Teepublic: The Definitive Guide [With 8 Top Selling Tips]
by Michael Essek · Updated: January 5, 2023
Welcome to How To Sell On Teepublic – my comprehensive guide to selling your art on Teepublic.
Whether you're just getting started with Teepublic – or if you're a succesful Teepublic designer already – this guide has something useful for you.
I'll explain how Teepublic works, why it's a great place to sell your artwork, and give you 8 practical Teepublic selling tips that will help grow your sales.
So let's dive in!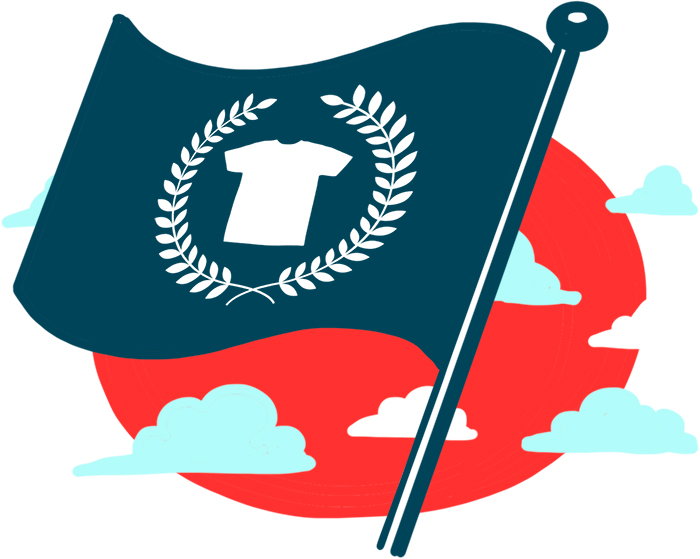 ---
What Is Teepublic?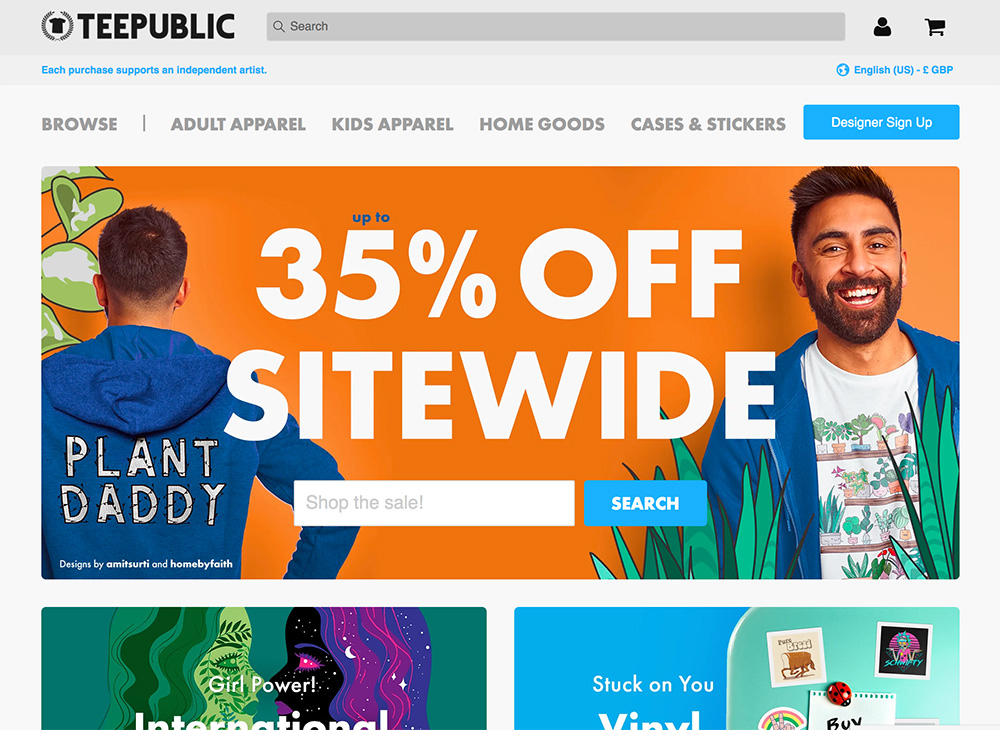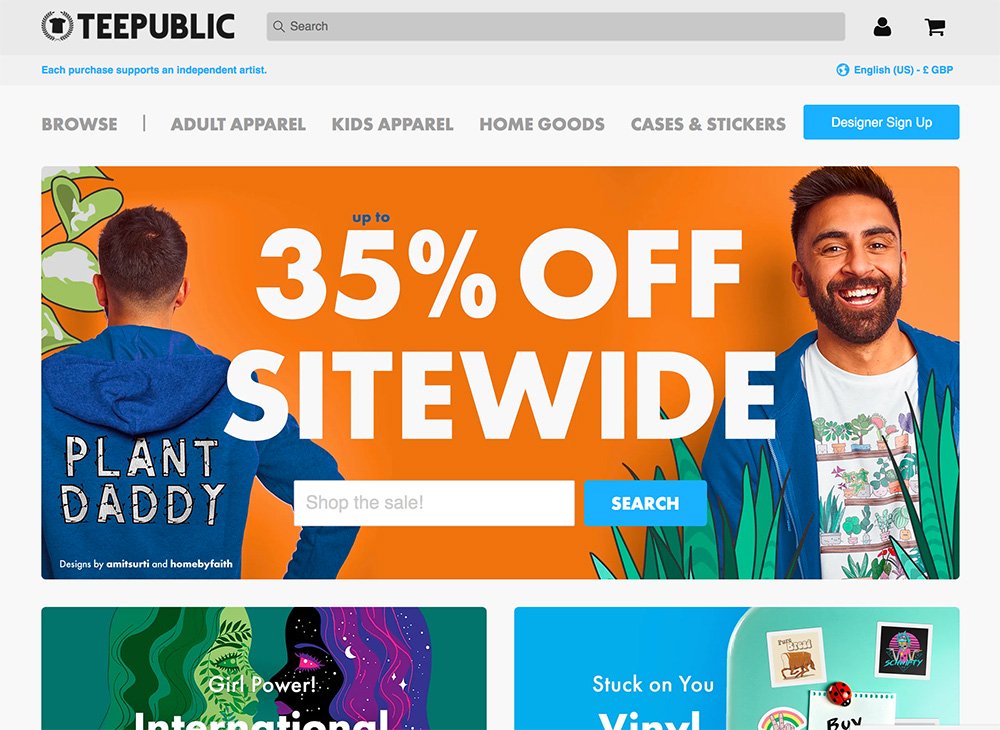 Teepublic is a Print on Demand site, selling a variety of products – from T-Shirts and other apparel items through to stickers and mugs.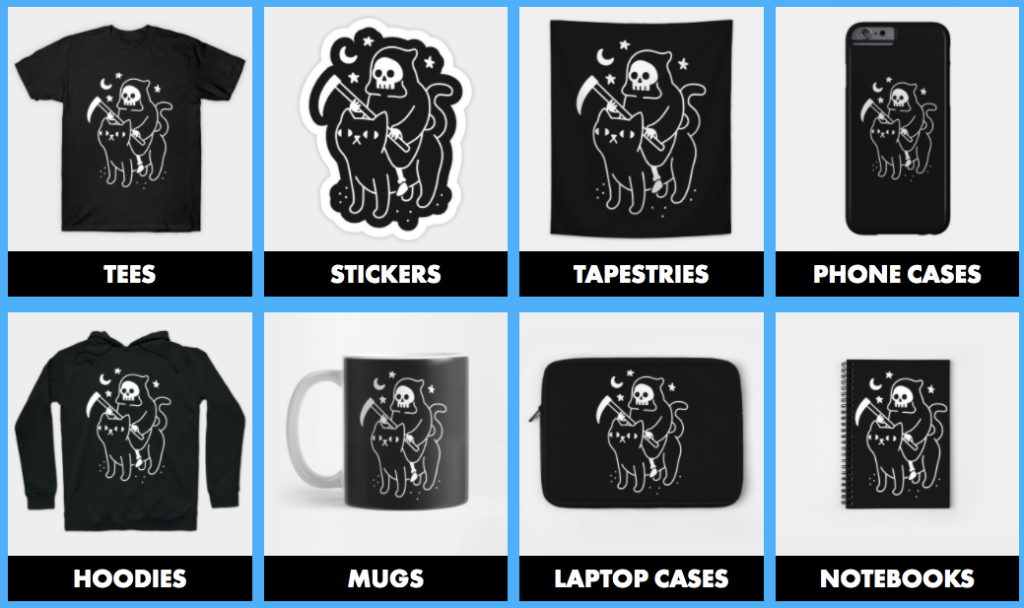 Teepublic is powered by thousands of independent designers who sell on Teepublic, and every sale generates a royalty for a designer somewhere in the world.

…and that someone could be you!
If you don't have a Teepublic account already – what are you waiting for?
It's completely free, and uploading is as easy as can be. You can sign by clicking the button below: (affiliate link)
Sign Up For Teepublic
---
Is Teepublic Good For Artists?
Yes! Teepublic is one of the largest and fastest growing Print on Demand platforms, and there are plenty of reasons why it's a great place to license your designs.
Here's some stats on Teepublic's audience size:
| | | | | |
| --- | --- | --- | --- | --- |
| Monthly Traffic* | Organic Monthly Traffic* | Percentage Organic Traffic | Organic Traffic Rank | Social Media Following |
| 6.49M | 3.6M | 55% | 2 | 188,771 |
*Note: For a full explanation of the above numbers and where the data came from – check out my detailed guide to The Best Print on Demand Sites. (and scroll to the bottom for notes on the data).
Here's a quick run through of some of the things that make Teepublic an attractive site for independent artists and designers: (most of these are explained in more detail in my Print on Demand Sites Guide)
Teepublic's Solid Growth
Teepublic has been growing strongly over the past several years, increasing it's brand recognition and it's organic traffic reach. (As you can see in this Google Trends graph, showing Google searches for 'Teepublic':)

Rapid SEO indexing
Teepublic is the second best POD site when it comes to gathering organic traffic (ie. visitors coming from Google). This chart shows how Teepublic's Organic traffic has grown over the past 12 months: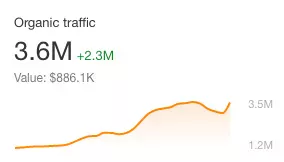 Their strong organic reach is because of their effective Search Engine Optimisation. This means your designs have a good chance of ranking on Google via Teepublic, and often very quickly.
A new design I recently published took just one day to appear on the front page of Google – within the top 5 results.
This is a difficult feat to achieve via almost any other platform – and it's why I would recommend Teepublic as one the ideal platforms for hot, trending and viral based designs – or for micro-niches with low competition.
Easy Upload Process
Teepublic has a super fast and easy upload process, which means you can get more designs added in less time – making it super easy to sell on Teepublic.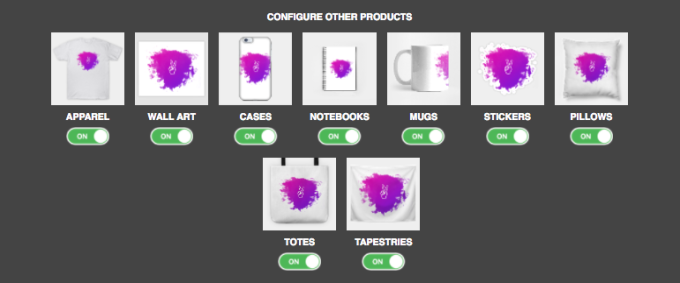 Less Copycat Problems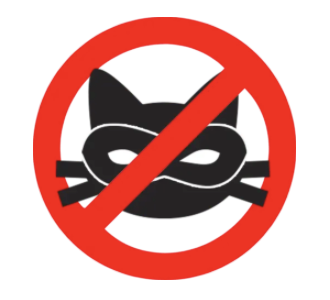 Teepublic has fixed royalty rates, meaning there is less of an incentive for copycats to steal your designs (because they cannot undercut you on price).
However, Copycats are still a significant problem on Teepublic, and Teepublic does need to do more to resolve this (along with almost every other Print on Demand site).
Fast International Shipping & Production
Teepublic has worldwide shipping, and dedicated websites for several different countries around the world. Teepublic makes a point of highlighting their shipping from Europe – which means customers get their products faster.

Bulk Uploader Tool
Unlike many Print on Demand Sites, Teepublic offers the ability to upload multiple designs at once. It isn't quite as convenient as uploading via a CSV, but it's still a nice feature and can make the always painful uploading process a little bit quicker.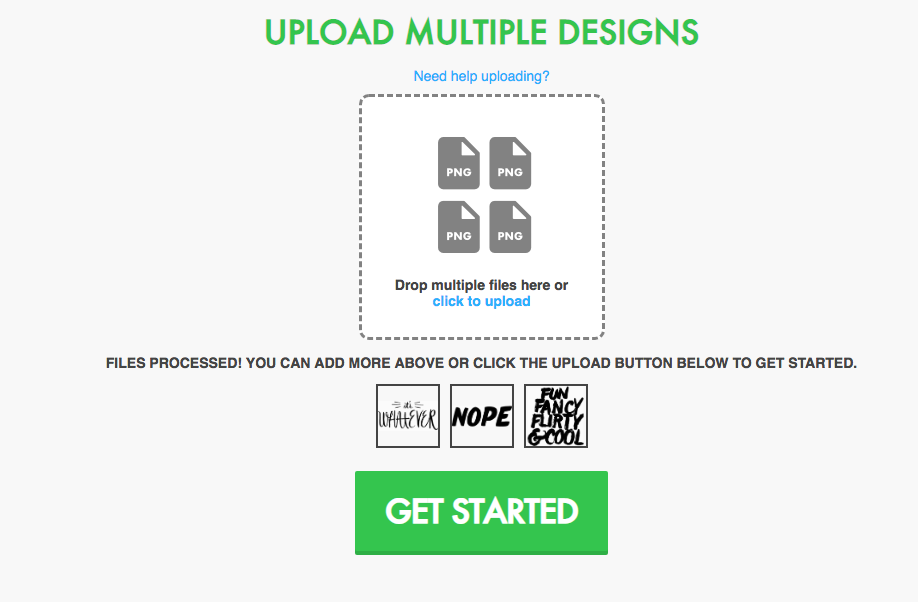 ---

Free Download
30 More Sites Like Teepublic!
Get free access to exclusive data on over 30 more POD Sites, and find the right one for your designs.
---
How Much Do You Make on Teepublic?
Artists receive $4 per T-Shirt sale on average, reduced to $2 per Shirt during sales times.

You can see the Teepublic profit margin breakdowns for every product right here: Teepublic Earnings Chart.
Teepublic's royalties may not seem overly generous, but because of Teepublic's effective marketing campaigns, regular sales and high conversion rates – you can actually end up earning much more than on other Print on Demand sites.
My personal Teepublic income has grown from zero to over a thousand dollars a month on average. While it took over 3 years to hit that mark, my Teepublic income is holding steady, even whilst other print on demand sites are starting to stall.
---
How Do Teepublic Artists Get Paid?
Your Teepublic income earnings will be paid monthly, either to a paypal or payoneer account.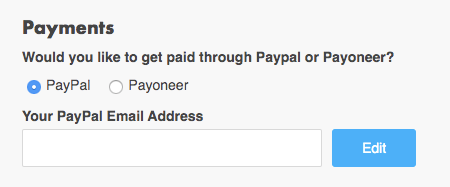 Teepublic also lets you know every time you make a sale, by sending out an email with the sale information. You can see exactly what was sold, and how much you earned.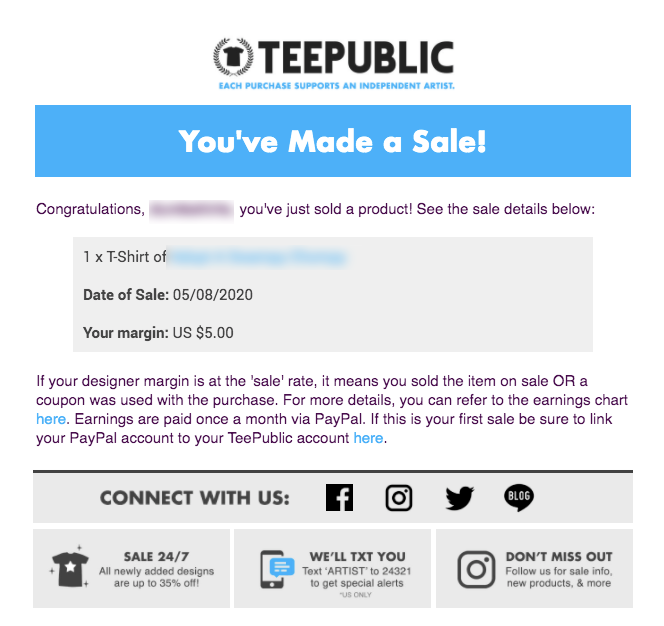 For a more detailed look at your sales, you can download a CSV of your earnings anytime from inside your Teepublic account: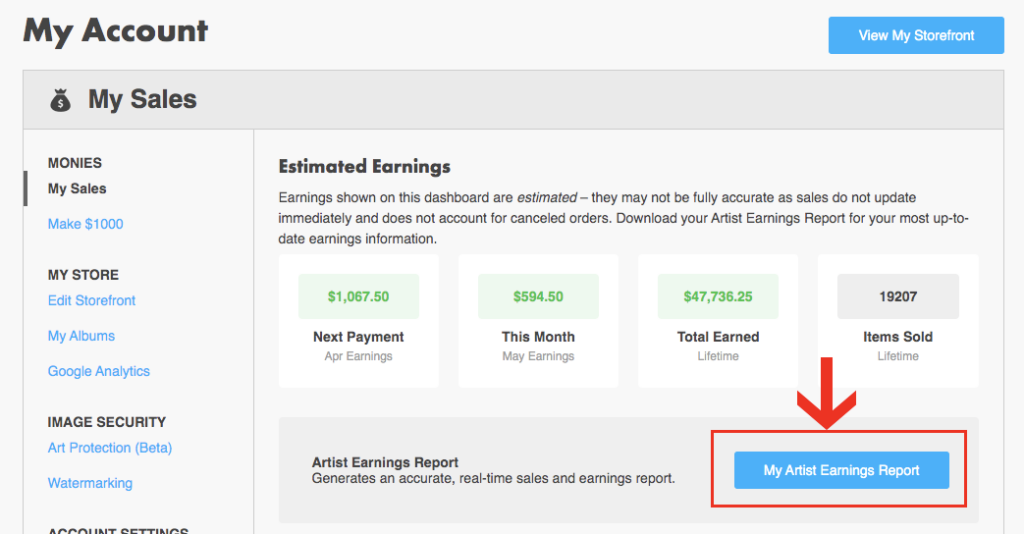 ---
How Does Teepublic Compare With Other POD Sites? (Teepublic vs. Redbubble vs. Teespring etc.)
Teepublic is a strong contender when facing up against other POD sites.
Teepublic is second only to Redbubble in terms of organic traffic, beating other big names like TeeSpring, Zazzle and Spreadshirt.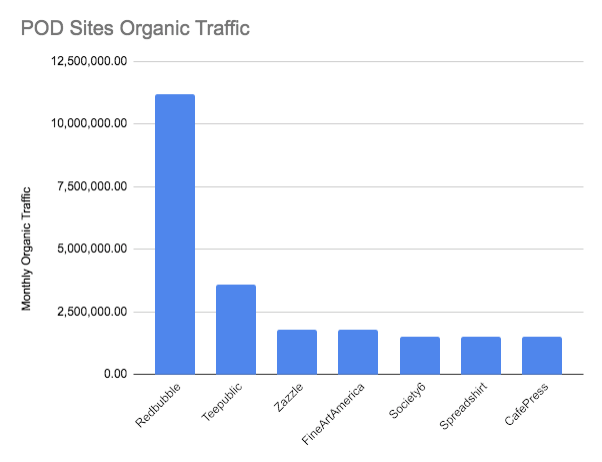 Note: For a more detailed look into other sites like Teepublic and how they compare on the major metrics, click the 'Download Now!' button below to gain access to my exclusive POD Sites Airtable Base – which contains data on over 30 different T-Shirt selling sites:
---

Free Download
30 More Sites Like Teepublic!
Get free access to exclusive data on over 30 more POD Sites, and find the right one for your designs.
---
Is Teepublic Legit?
I've been selling my designs on Teepublic for over 6 years, and in that time I've never had a missed payment or any other significant issues.
So in short – yes, Teepublic is legit and safe to sell on (in my experience).
Teepublic also maintains a high Trustpilot score, which implies they are keeping customers happy.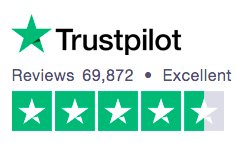 ---
Things You May Not Know About Teepublic

Teepublic was acquired by Redbubble in 2019 for $41m (source), but so far Redbubble and Teepublic have continued to operate as separate businesses.
Teepublic has an official 'Fan Art Program' (much like Redbubble's) – allowing you to create and submit designs for various brands and IP from Jurassic World to Fall Out Boy. If accepted, you'll be able to sell your officially licensed work via Teepublic.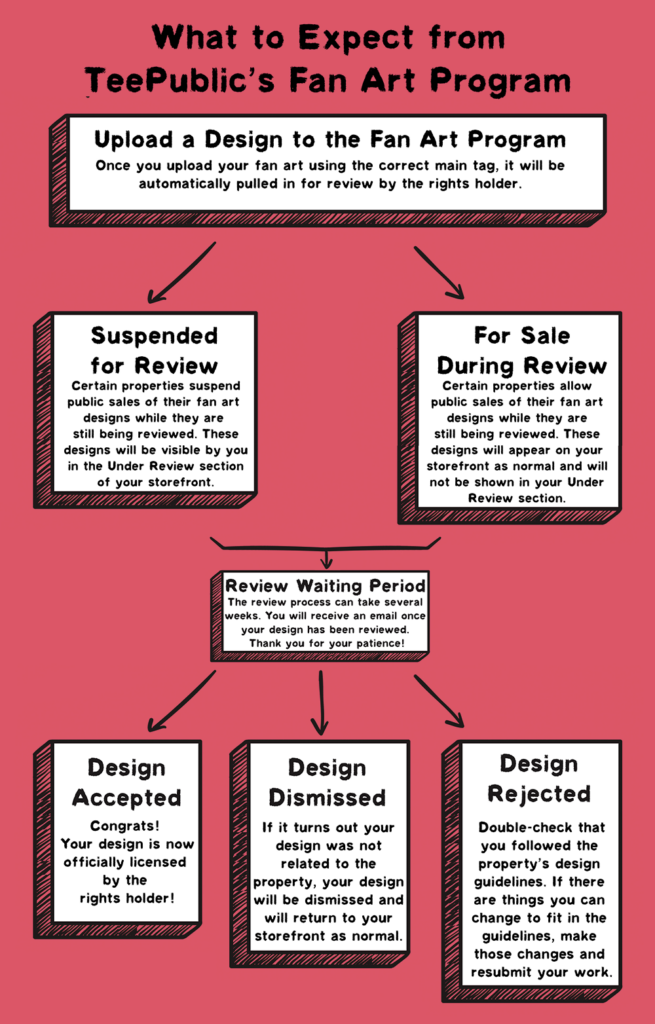 You can see all of Teepublic's Current Brand Partnerships here.
---
Teepublic Selling Tips: How To Make Sales On Teepublic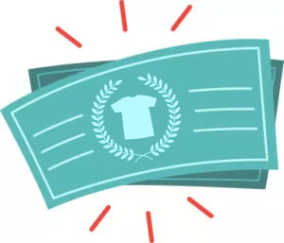 So now you know how Teepublic works and why selling on Teepublic makes sense – how do you actually make sales and grow a sustainable income?
First off, understand that growing a decent income from any POD site takes time – there are no shortcuts. You must have a lot of designs uploaded to your account, and those designs need to be a good fit for your intended customers.
Note: As both Teepublic and Redbubble dominate the organic-search driven Print on Demand space, tips for selling on one are almost always going to apply to the other also. So for that reason, be sure to check out my Redbubble Selling Tips, because a lot of those tips also apply to Teepublic.
That said, there are some specific things about Teepublic that are handy to know – and some tips and tricks that will improve and increase your chances of being seen and making sales.
Let's dive into them…
---
1. Pay Attention To The 'Main Tag'
When you upload artwork to Teepublic, you'll see various fields for describing your design.
As you can see highlighted below – one of those options is your 'MAIN TAG'.

Teepublic describes this as the one tag a user would search for to find your design.
After the Title of your design, the 'Main Tag' is the most important thing to focus on if you want your designs to be seen.
This is because Teepublic uses this tag in several ways – and places it in locations on their website that contribute significantly to where your design will end up being shown to potential customers – not just on Teepublic, but also on Google.
For example, here's a current top-selling design on Teepublic – which, as you can see – uses the Main Tag of 'Stay Home': (note how it is followed by 'T-Shirt')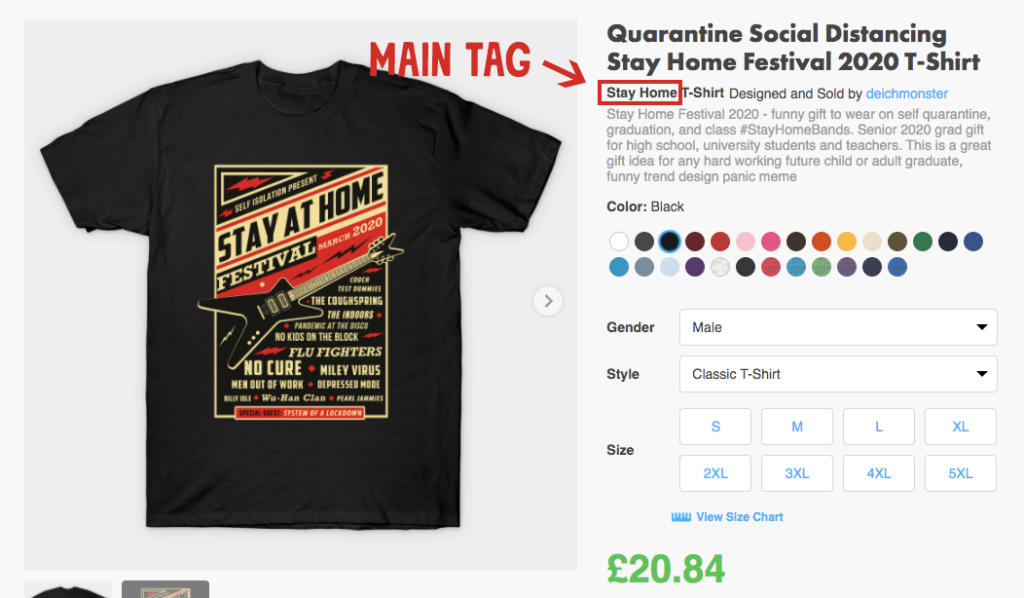 That Main Tag is also used in the Page Title and the Meta Description of that design's page: (both these elements are significant ranking factors for Google)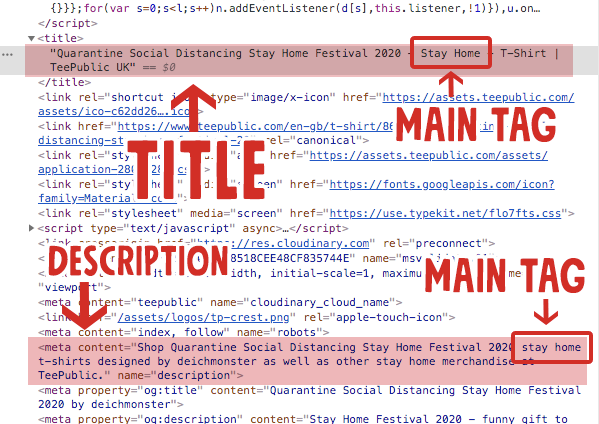 …it also shows up as a H2 tag within the page itself (It's assumed Google pays attention to heading tags like this when ranking web pages):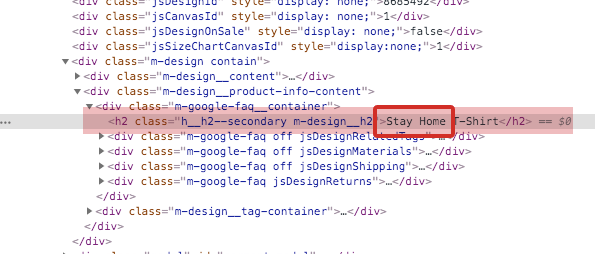 All these factors contribute to where and when your design will be shown to customers searching such terms.
Eg. If you put 'Funny Dog' as your main tag, you are telling Teepublic and Google that this design should be shown to people searching for 'Funny Dog T-Shirt'.
So to make the most of your main tag, follow these tips:
Append your Main Tag with 'T-Shirt' in your head when deciding what to write in there. Does your Main Tag make sense when followed by the word 'T-Shirt'? (Because this is what Teepublic is going to add). If so, go ahead. If not, re-think it.
Your Title should contain the most relevant description of your design, including important key words and terms that you think potential buyers will search for. You can think of the Main Tag as a condensed version of the title – such as in the example above – where 'Quarantine Social Distancing Stay At Home Festival 2020 T-Shirt' has been condensed to just '[Stay Home] T-Shirt'.
Your Title should be specific, and can be long where necessary (such as the example above) – but your Main Tag should be short and to the point. Imagine a potential buyer isn't looking for your specific design (if they were, they would have typed in something similar to your Title) – but is rather looking to find designs like yours – designs on the same theme, topic, subject or niche. What does that potential buyer search for? Answer: '(blank) T-Shirt'. Whatever (blank) is, should be your Main Tag.
---
2. Get Specific In Your Tags & Descriptions
As we've already seen, Teepublic is a master at gathering organic traffic – largely because it serves the 'long tail' of searches.
Here's what Teepublic's Director of Marketing Adam Lasky had to say about this: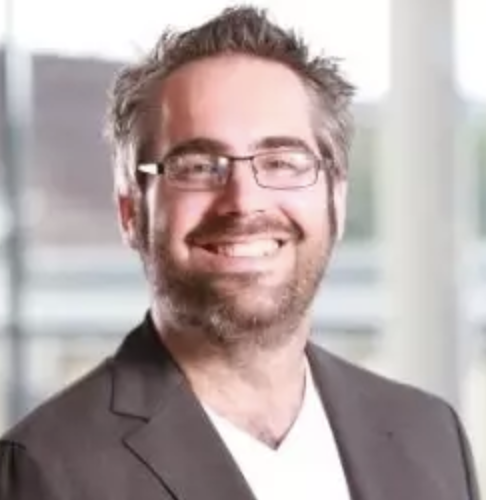 "The real power behind our SEO isn't so much the big terms like Harry Potter or Star Wars, but more the long tail," says Lasky. "Because we are so specific and we have such breadth of content, we get people coming to the site for super specific things like 'rainbow unicorn blue t-shirt' because we're one of the only platforms that have the content to support those [niche] searches, and we have a pretty high visibility in Google, because we have the breadth of content—we have literally tens of millions of SKUs."
(emphasis mine. Source: Teepublic Follows Trends and Marketing Metrics – Chief Marketer)
So what does this mean for you?
It means you shouldn't be afraid to get specific in your tags and descriptions. As long as it is relevant and describes your design – try to cover as much ground as you can.
For example, you could:
Describe the style of your design (vintage, cartoon, retro, 90s?)
Mention every element featured in the design itself. Are there stars? rainbows? clouds? trees? Give as comprehensive a description of the design as you can – hitting all the potential elements someone might include in a Google search.
Include demographics where appropriate. Is this design best for kids? boys or girls? Age? Location? These are all potential categories of keywords you could include in both your descriptions and tags.
Mention colours if they are significant or relevant. These could be colours used in the design or the colour of the shirt that the design works best on (like the example Adam gives above – 'Rainbow Unicorn BLUE T-Shirt')
However: don't go overboard. Keep it relevant, and don't keyword spam. But wherever there are relevant descriptive words, include them. You never know who is searching for what.
---
3. Your Teepublic Secret Weapon: Google Analytics
Unlike Redbubble and some other POD sites, Teepublic doesn't have a handy stats dashboard to help you track your sales.
Sure, Teepublic sends you an email every time you make a sale – but it's hard to get a birds-eye view of your account just from that info.
So what if you want to see which of your Teepublic designs are getting the most views? Or where the traffic is coming from? Or whether you're getting more or less eyeballs than last month?
The answer is: Google Analytics.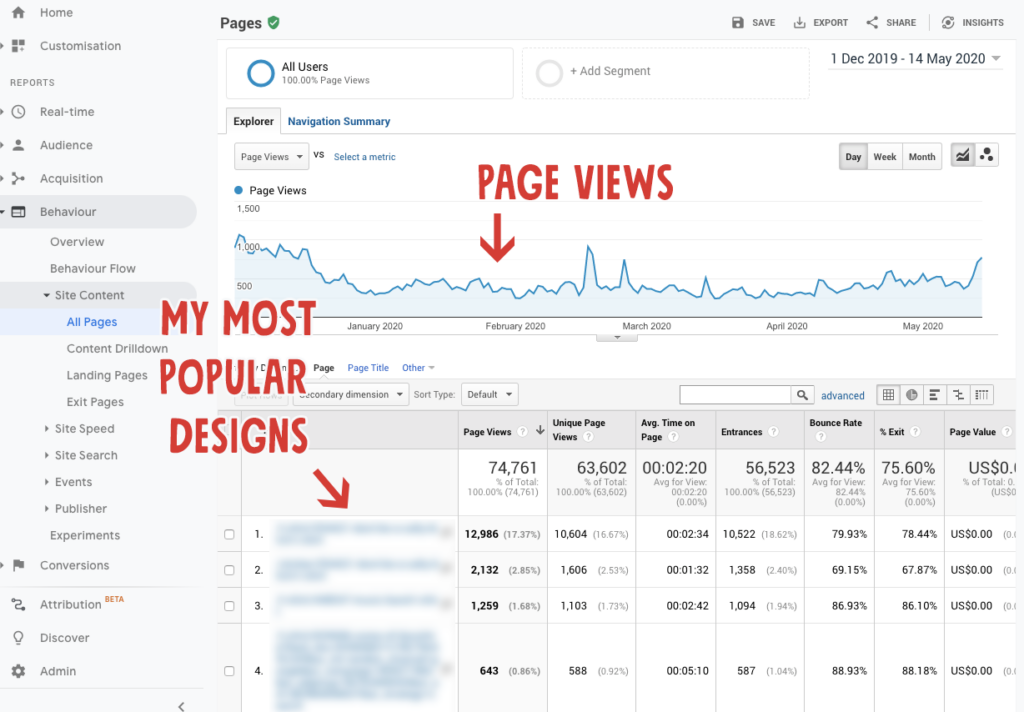 Teepublic allows you to hook up a Google Analytics account to your Teepublic account – and once hooked up, you can track a wealth of information, such as…
How many people viewed your designs
Which of your designs receives the most views
Where your visitors came from (Google…Paid Search…Social Media…)
…and more besides!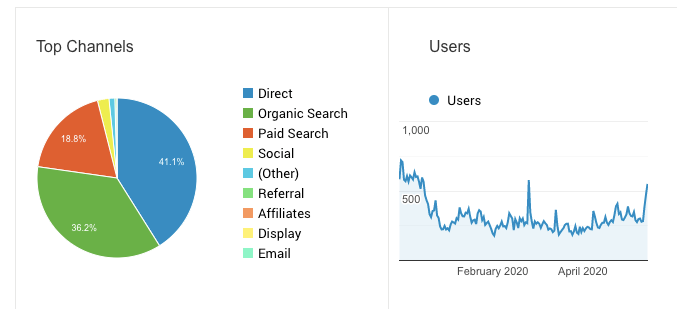 Perhaps the best thing about this data is this: no-one else has it.
(Ok sure, Teepublic also has it, but apart from that, it's real-world data that only you know about)
So if you have a design that suddenly gets a ton of views – you can spot that within Google Analytics… and no one else needs to know.
You can see it ahead of the competition, create more and better designs for that market, and maximise your sales.
Here's couple of other use cases:
If you see that you're getting a lot of views to a particular design, but no sales – you can deduce that your design is not hitting the mark for some reason – and improve it.
If you see that views to a particular design suddenly start to fall – you can go and investigate, and see if a copycat or infringer is drinking your milkshake.
From a month to month basis, you can see if your views across Teepublic are growing or not. If you're regularly adding new designs, but aren't seeing growth, it tells you something is wrong with your strategy – either with your target market or your keywords.
You can investigate the traffic sources for your bestselling designs, so you can better understand why and how you are getting sales. If it's from Google – you can take steps to sure up or improve your rankings on Google. If it's from a referral site, you can investigate why this site is linking to you (and perhaps reach out to them to suggest more designs they might want to link to).
…that's just a taste of how you can make sure of this data – but the bottom line is this: this data is available, it's free, and it's yours alone – so use it!
Oh and the sooner you get your Google Analytics account hooked up, the sooner you'll have some data to track – so go do it asap.
All you need is a Google Analytics account (free). For step by step instructions, checkout this article on Teepublic.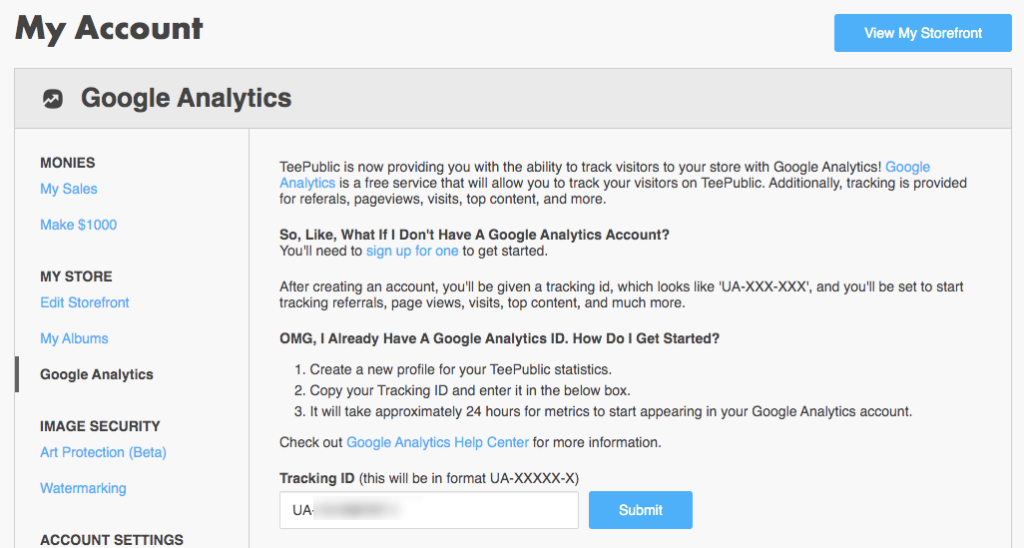 Note: Redbubble also offers Google Analytics integration, and you may also find it offered on other Print on Demand sites too – so it's well worth checking and hooking it up wherever available.
---
4. Repeat Your Keywords In Your Title, Description & Tags
This tip is simple enough, but I like to make sure I have my key terms in the title, repeated in the description, and in the tags as well.
('Key terms' – or keywords – just means the words or phrases that are most relevant to my design, and most likely to be searched for. )
Notice how 'Stay Home' is included here in the Title, Main Tag, Description and in the Designers Applied Tags: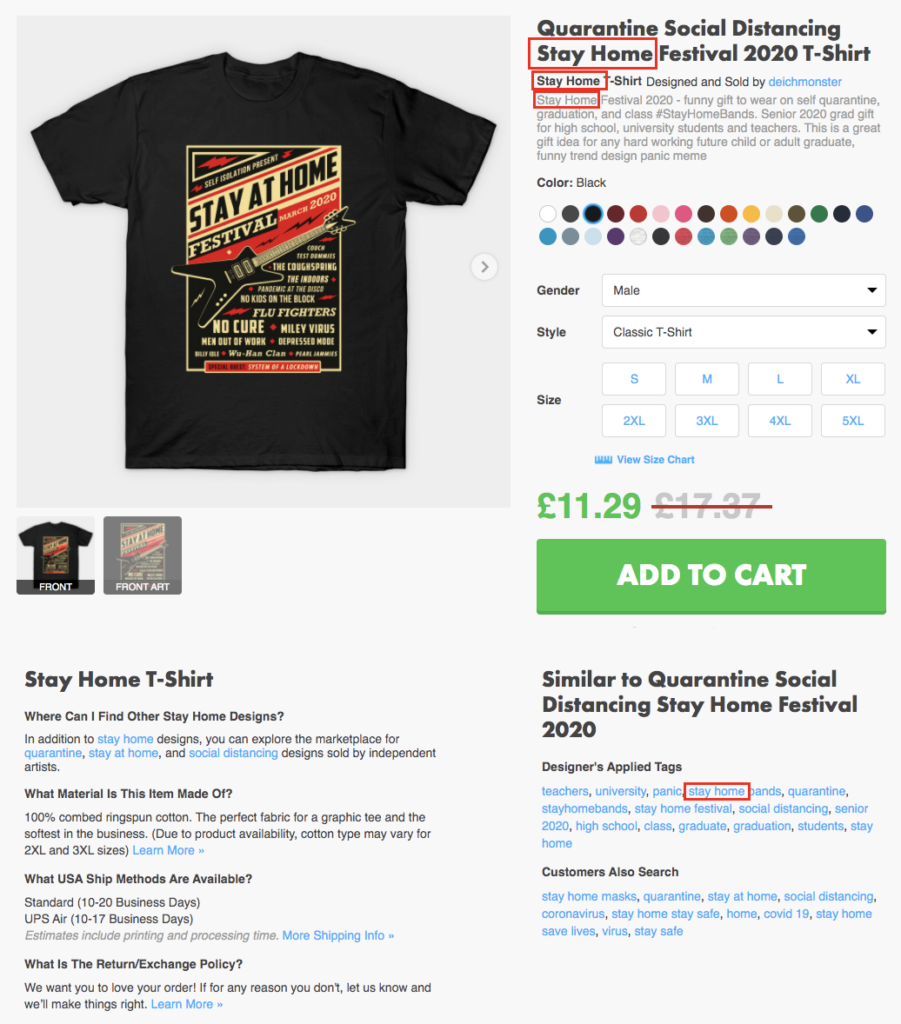 Many designers will include their key terms in the title, but will forget to include it in both the description and as a tag.
You want to give Teepublic as much information about your design as possible – and by repeating your keywords several times in different places you are just hammering home your message: THIS DESIGN IS ABOUT (X) SUBJECT. SHOW IT TO PEOPLE SEARCHING FOR THINGS LIKE (X), (X) and (X).
---
5. Get More Relevant Keywords From 'Customers Also Search'
Once you've uploaded a design, Teepublic will include some relevant terms beneath your own tags, in the 'Customers Also Search' area: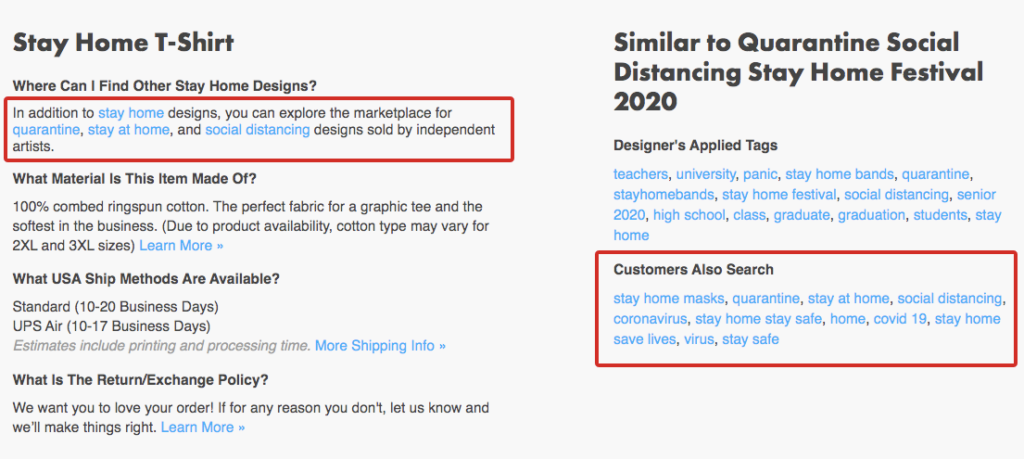 So after you've uploaded a new design, go and check this area for any relevant terms you might have missed. You can then add those in to your own tags, or work them into your descriptions or Title if they are especially strong.
---
6. Don't Rush The Product Setup
Teepublic strips any padding from your original artwork file, so be sure that the position of your artwork on each product looks as it should. I often have to fine-tune mugs and notebooks to ensure the design looks right.
For example, the highlighted products below obviously need attention: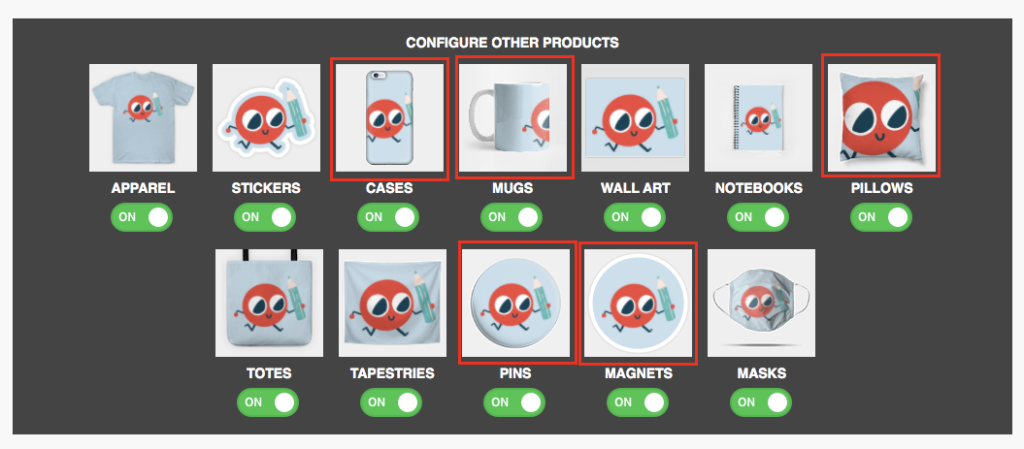 Also be sure to select the best possible primary background colour for your Shirt – because this is how your artwork will be shown in the search results, and how it will appear in Google Images.
Consider choosing a primary background colour that will 'stand out' against the competition, where possible. A lot of designers will default to black or navy – so if you can create a design that works well on a bolder or lighter colour, you could draw a customers eye that way.
---
7. Target Less Popular Products & Categories (not just T-Shirts)
This is a tip I shared in my Redbubble Guide too, but it bears repeating here.
Teepublic sells a lot more than T-Shirts – and the best-selling designs for T-Shirts are often different from the bestselling designs on Mugs or Stickers.
By focusing on a product category other than T-Shirts, you may find lower competition opportunities.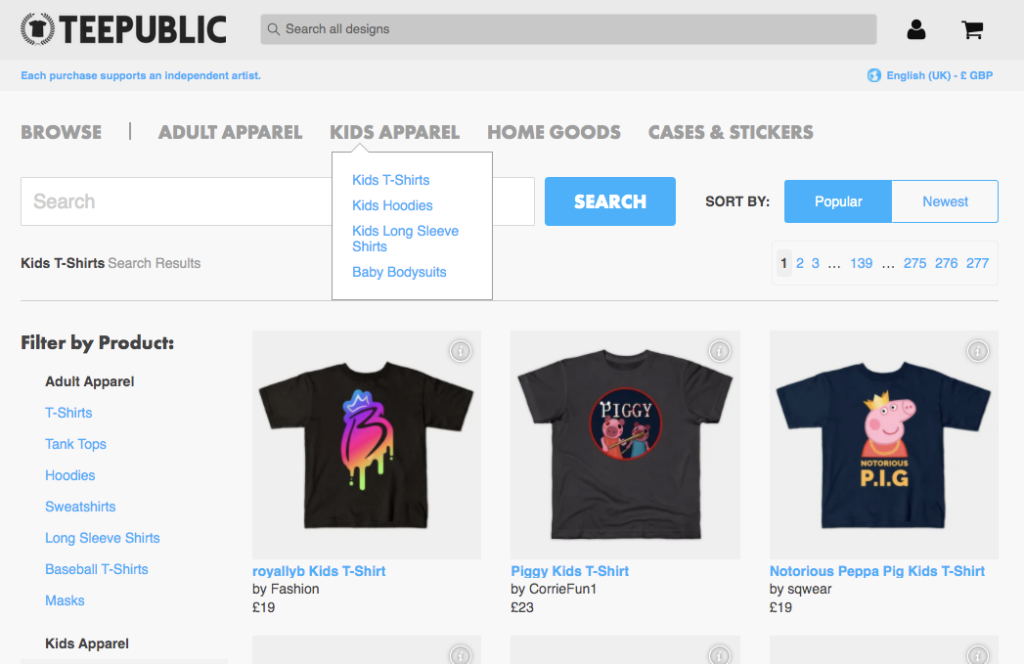 By taking a good look at the bestsellers in any given product (eg. as above in the 'Kids T-Shirts' Category) – you can get a better picture of what kinds of designs are working best for each product.
---
8. Design For Teepublic's Market
If you want to make regular sales on Teepublic – then you need to create designs that are a good match for Teepublic's customers.
To get an understanding of Teepublic's customers, you can look at the following sources: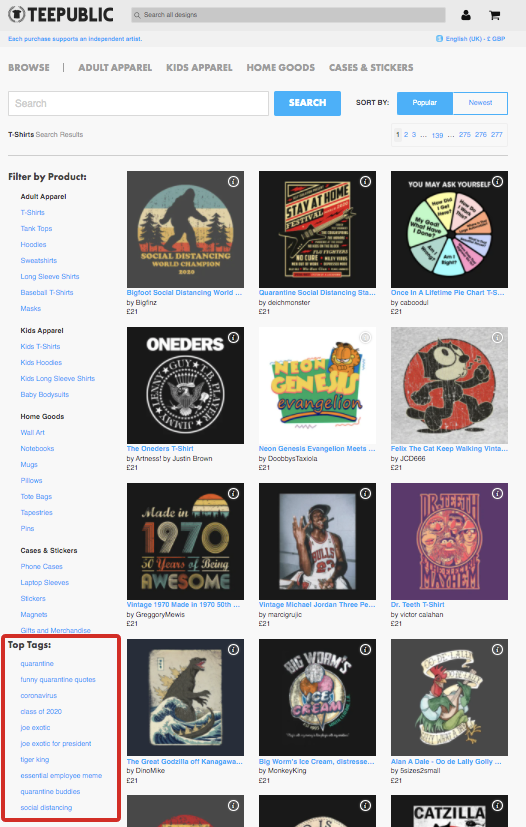 ---
Update: Teepublic has begun hiding designs by default from it's marketplace. This seems to affect new users in particular. For more on this issue, see my article here: Why aren't my designs showing up in the Teepublic marketplace?
---
So there you have it – my complete guide to selling on Teepublic.
If you've discovered a new tactic that you're going to try right away, please let me know by leaving a comment below.
And if you don't already have a Teepublic account, sign up now via the button below (affiliate link) to get started selling your art on one of the best and fastest growing POD sites:
Sell On Teepublic
---

Free Download
30 More Sites Like Teepublic!
Get free access to exclusive data on over 30 more POD Sites, and find the right one for your designs.
---