My 11 BEST Print On Demand Companies & Sites (December 2023)
by Michael Essek · Updated: December 4, 2023
If you're looking for a POD T-Shirt fulfilment company to hook up to your Shopify or Etsy store, I'm going to dive into each one in detail – in particular Printful vs Printify.
So read on to find out which Print on Demand company is best for your business – whether you're an independent artist just finding out about Print on demand drop-shipping – or a seasoned seller looking for the best Printful alternatives.
---
---
Printful Review
Latvian owned but now operating worldwide, including facilities in the UK and Canada – Printful have risen fast to become the dominant force in Print-On-Demand fulfilment.
Let's take a look at how they shape up on the big questions…
How Does Printful Work?
Printful works as the 'backend' for your store – handling the printing, packing and shipping of a product to your customers, on-demand.
You can submit orders to Printful manually, or you can use one of their many integrations that allow orders to be sent to Printful automatically, directly from your Shopify, Amazon, Etsy or Woocommerce store.
Printful's Quality Of Products
If you asked me which company consistently produced the best quality prints, then I would have to say it's Printful.
Printful do also offer a great range of products to choose from – almost every type of apparel product you could imagine and plenty more besides.
Printful's Cost Of Goods
Answering the question 'How Much Does Printful Cost?' is not straight forward, but in general they are amongst the more expensive of Print-on-demand fulfillment companies.
What you gain on the quality swings, you lose on the pricing roundabouts.
Printful may be producing great quality products, but they certainly aren't doing it at bargain basement prices:
Printful are usually the most expensive when it comes to Print-on-demand T-Shirts – with a Bella & Canvas 3001 costing $12.71 plus shipping. Yikes!
However you can get a Gildan 6400 from Printful from $8.98…which is not bad. It's just a shame they only offer that shirt in very limited colours…especially as Printify and others can give you the Bella + Canvas 3001 for the same price.
Printful's Integrations
More thumbs up here for Printful. They have more integrations than anyone else, and are adding new ones all the time…
The Best Print on Demand Company for Shopify?
Printful have become known as the 'go-to' Print on Demand company for Shopify users – currently being the most installed and most reviewed of all Shopify Print on Demand apps. (and maintaining a decently high review score aswell).
But their total list of integrations extends far beyond just Shopify, and is longer than that of any competitor.
Here's what they currently have on offer:
So no matter how you plan on selling your stuff, Printful will almost certainly have you covered. And of course they offer a simple manual ordering process as well, if you'd prefer to do things that way.
How Long Does Printful Take To Ship?
Printful stated turnaround is 2-7 days, and I can say from personal experience that they seem to be getting closer and closer to that 2 day mark, or faster – I now regularly see orders leave same day, even during busy periods.
Overall I'd say I'm happy with Printful's ability to turnaround orders in a timely manner.
Where Is Printful Located and Where Does Printful Ship From?
Printful have their own facilities in the USA, Mexico, Latvia, Spain, Canada and the UK, and partner facilities in Brazil, Japan and Australia. This means they can reach most of my customers within a few days.
Note: Printful have now launched their Print on Demand UK base in Birmingham. For a detailed review of the products from there, checkout this article: Print on Demand UK: Is Printful The Best Choice?
If you have set your "selling region" as "worldwide" your orders will be automatically routed to the closest facility. This is a big bonus when compared with a company like Printify – who have no such ability right now.
Any Other Things Worth Mentioning
Printful's ownership of everything from top to tail means their customer service is usually snappy and able to resolve things quickly. This is not the case with all providers – because others like Printify outsource the printing to others.
Printful grew out of a technology company – and that shows in their site design and ordering process. Everything is slick and easy to use, which makes it ideal for beginners.
Printful also offer additional features like inside labels and pack-ins – which allows you to look much more professional (for an additional fee). These features won't matter to most people starting out – but it's good to know you have those options as your business grows.
They also offer the option to include a personalized gift message with your order, which is a great feature especially if you're selling on gift specific marketplaces such as Etsy. This is another feature Printify currently does not offer.
Printful have also invested heavily in education and training to help users get the most out of Printful and grow their businesses online.
They also offer sample orders at a discounted rate (20% off) – and with free shipping – which is a great incentive to try them out.
(If you want to test Printful's quality without hooking up your entire store straight away – checkout my full guide to placing a Printful Sample order).
Printful Review Verdict
It's not difficult to see why Printful are regarded as the top dog right now.
They've invested heavily and continue to do so, and it makes for probably the most user-friendly of print-on-demand fulfillment options. They cover all the bases, have a great product range, and deliver great quality goods.
Printful are somewhat more expensive compared to other providers – but if you want a consistent result in your prints or you want to include branding options like custom packaging or inside-label printing, this is a price worth paying.
With Printful's locations expanding so rapidly, you're likely to be well covered for all the major product groups. But if you can't find the products you're looking for – Printify would be the next best bet. But if you're looking for quality products, custom branding, easy integrations and a super-easy workflow (plus great support) – Printful are the place to start.
---
Printify Review
Printify is perhaps the biggest Printful competitor, and they differ from Printful in one significant way: they don't do any printing 'in house'.
Instead Printify works with various printing 'partners' across the world to actually produce and deliver the goods. Printify essentially acts as the middle man, where all orders are centrally managed.
Printify currently partner with 65 printing facilities all over the world including America, Europe, Canada and Australia.

Having such a large number of partners means that on Printify you can find almost any product you would like customize – from the usual apparel and homeware to the more unusual; scented candles, yoga mats and outdoor bluetooth speakers.
Printify may be using a slightly different model to Printful, but they are still big players in the space – and have some serious backers.
Let's get into the nitty gritty with Printify.
How Does Printify Work?
As with Printful, printify works as the 'backend' for your store – handling the printing, packing and shipping of your orders.

They also accept manual orders, or have integrations available for some of the big players including Shopify, Etsy or Woocommerce store.

The biggest difference with how Printify works, is that you have to select a particular print facility when creating your product. Every time you create an order for that product it will be sent to that specific printing facility. This brings with it it's own pros and cons, which we will look into in this review.
Printify's Quality Of Products
You might get tired of hearing this – but because Printify aren't actually a printer themselves – the quality of goods differs across their various providers. (See a full list of providers here).
The amount of print providers available on Printify has boomed recently so choosing who to go with can be overwhelming.

Printify provide a ranking score for each provider which may help your decision – this is calculated from product reprints and production times from the last 30 days. Alongside this is the average production time for the last 30 days, which I have found to be mostly reliable but can be out of date during peak season.
The Printify providers I have most experience with are The Dream Junction, MyLocker, Monster Digital and T-Shirt and Sons (UK).
All these printers produce good quality prints – though I often go with The Dream Junction or Monster Digital by default as they are snappier on the turnaround and offer more colour options.
Judging the quality of prints between these providers and Printful is difficult – as quality seems to be improving across the board at a solid pace. I doubt most people would be able to notice any significant difference whatsoever between the average Printify and Printful-based print – and we receive very few complaints regardless of who we use.
As so many print providers are now available on Printify I am unable to offer detailed thoughts on all of Printify's individual providers – but I have no problem recommending either The Dream Junction, Monster Digital or T-Shirt and Sons for T-Shirt printing.
Note: Printify have created the option to switch print providers on your existing products – which means if your current provider starts lacking you can easily switch to another – without affecting your existing product listing on Etsy, Shopify or damaging your SEO. More details on that feature here.
Printify's Cost Of Goods
This is where Printify really begins to shine.
Using SwiftPOD, we can get a Bella + Canvas 3001 printed for $8.75. That's at almost $4 less than Printful.
And you can get those prices down further by signing up to Printify's monthly premium plan – which at $29/m saves you a few more dollars per shirt…so if you sell around 14 shirts a month it pays for itself.
In fact all of Printify's Print Providers will ship a Bella Canvas 3001 to a US mainland address for less than Printful.
So if competitive pricing is your thing, Printify will probably be where you want to look first.
Printify's Integrations
Printify are catching up on Printful here, but still lagging a bit behind.
Printful do have all the major e-commerce bases covered though, with integrations for:
Chances are you have what you need here…but again if you're using a more niche platform you'll need to figure out how to use that with Printify. (They do of course also offer an API, as do almost all other POD Companies).
Printify's Turnaround Time – The Fastest Print on Demand Company?
Once again this depends on the specific provider used – but despite some ups and downs, I have found The Dream Junction and Monster Digital largely keep to their stated production time of around 1-2 days (non-peak) – but you should certainly test this yourself to get the most recent, accurate results.
To be honest there's probably not much in it – during normal times- between that and Printful. But right now Printify take my award for current fastest Print on Demand company by a whisker.
Everyone seems to have upped the turnaround time in the past year and I hope that doesn't revert back anytime soon. But if you're using another provider, it's always best to place some test orders to get an accurate picture of turnaround times.
Printify's Fulfilment Locations
Printify does boast Print Providers around the world – at the time of writing they have providers in Australia, Canada, China, Czech Republic, Germany, Latvia, Poland, United Kingdom, and of course The United States. (Click here to view all the Printify providers right now.)
This is good news for us international sellers who want to produce and ship products as close to our customers as possible.
The bad news is that each product in Printify must be associated with only one provider – so there is no 'auto-routing' of orders to the closest fulfillment partner to the customer. (unlike Printful).
For example, if your US Etsy store receives an order for the UK you will have to manually "copy" the product and "replace" it with a UK provider – and then add it to the order. You can find more about how to do this here.
Printify does now have an order-routing feature, but this only works when your initial print provider doesn't have the item in stock and will not necessarily route to the provider closest to the order destination.
But if you're looking for someone to get started with and you'd like to have some international options – Printify does has you covered.
Any Other Things Worth Mentioning
Like Printful, Printify have built an easy to use interface which makes creating and ordering a breeze.
And because they work with a variety of providers, they are adding new and unique products all the time – some of which you won't find at Printful.
On the negative side – customer service is somewhat lacking with Printify. Although, in their defence they are trying – They have improved their customer service offering over the past year, offering a "chat" option and speeding up their response times.
They also have now included "cancel order" and "upgrade shipping" buttons on orders which has made managing orders quicker and easier.

However, as they are still just the middle-men, getting up-to-date information regarding orders and stock levels (especially during busy periods) can be frustratingly slow.

Printful on the other hand (because they print in-house) are able to act on most things immediately.
Order routing:
A recent update from Printify is their order routing option. If this is selected (in the settings tab) your order will automatically be routed to an alternative facility if the item is out of stock/ discontinued, or if they have reached their daily order capacity.

The algorithm will select the cheapest alternative print provider with the same fulfilment options – you can set a maximum additional cost, and choose to only replace with the exact product.

I have found this to be a useful feature and have it selected on most of my Printify stores. However, I did switch it off during quarter 4 after an experience I had, where a large number of my orders were routed to a facility who also didn't have stock and therefore substantially delayed. (Instead I would manually re-create the products with a facility I knew I could rely on).
Printify Overall Verdict
What Printify have really going for them is the competitive prices and range of providers and products – this makes them a true Printful competitor, and a great choice for those just starting out.
However, if you want to grow your brand with features like custom labels, pack-ins or warehousing – you won't be able to do that with Printify – and in general, if you need your hand-holding, Printful may be a better option.
But in 2023 – I can personally recommend Printify as a great place to start – as they offer you the most competitive prices. Just remember that Printify don't do anything 'in-house' – and that means you'll have to test with each supplier you use – plus customer service issues may take longer to resolve.
---
Gelato Review
Gelato has been quietly gaining momentum in the POD world over the past few years, and entered my radar late 2020 when I started selling more art prints.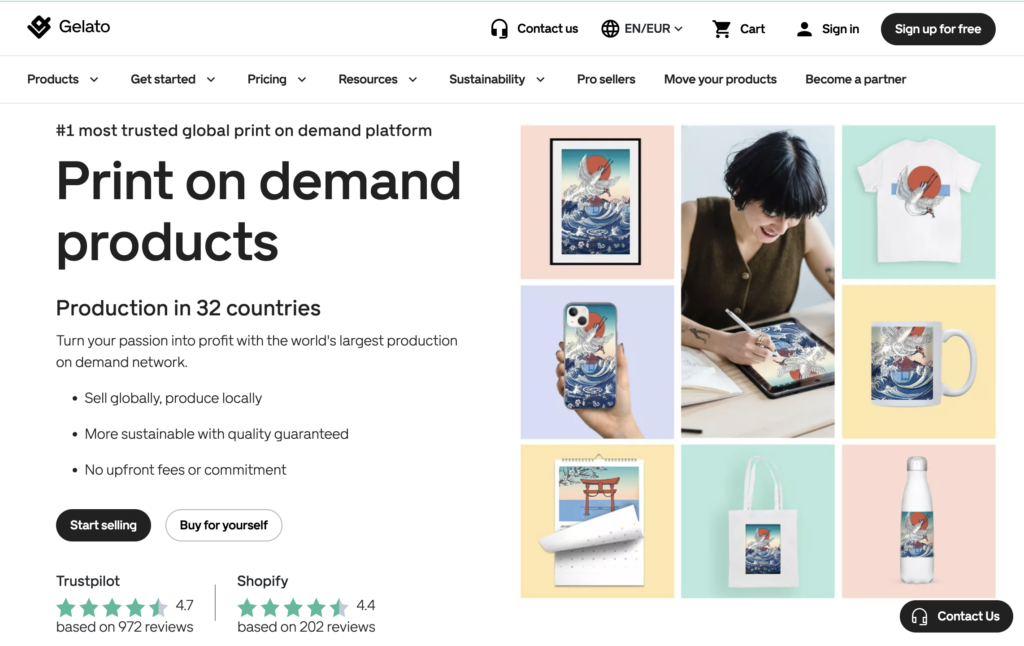 They proudly claim they are a "software company" who "do not own any printers" – They act as the middleman between you and the print fulfillment facilities, so more closely related to Printify than Printful.
The big difference between Gelato and Printify is that Gelato controls and optimizes which print provider your order is sent to based on the destination it has to be delivered to – Whereas with Printify you manually select your provider. Additionally, they have software integration with their network partners, offering better control on how items are produced.
Gelato does this by using their "advanced routing algorithm" to decide where your order will be printed. This comes with pros and cons which we will get into later in the review.
Gelato's Quality Of Products
Gelato started out with only paper based POD products (posters, cards, calendars etc) but have been slowly introducing more products and now offer a healthy range of apparel and merchandise.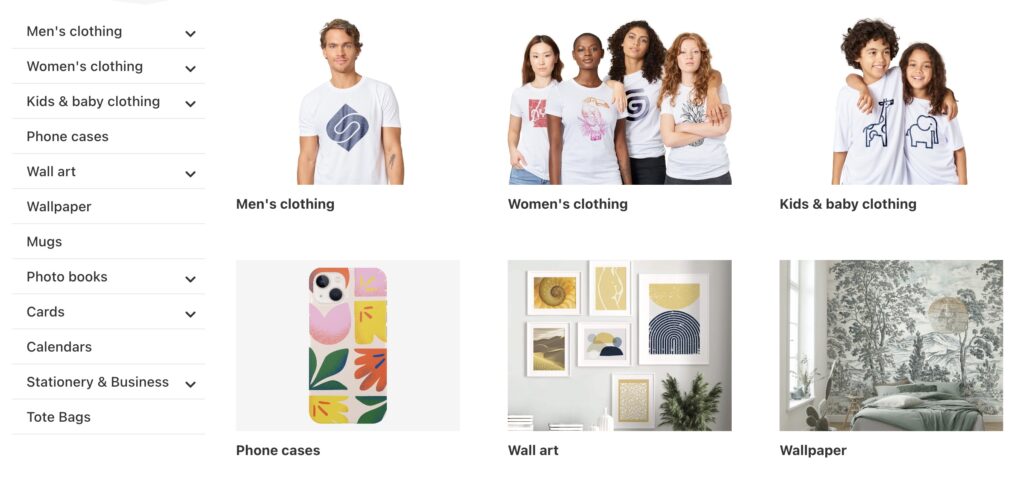 As mentioned previously I have mostly used Gelato for art prints and posters. They use good quality, thick (but not too thick) poster paper and produce good looking clear and bright prints.
Since their recent introduction of Bella and Canvas T-shirts I have also used Gelato on occasion for t-shirt printing, and every shirt I have received has been good quality – a nice clear print with bright colours.
I will note however that, in my experience the quality and finish of products can vary between orders – I can only presume this is due to the fact that they outsource the printing process to various print providers, who have varying degrees of quality.
In the most part this isn't a problem as my orders are generally one-offs, and go direct to customers – so they wouldn't notice any difference in quality or print from one order to another (and Gelato offers a 100% guarantee on their orders if you do encounter a problem). However I can imagine this could cause an issue if product continuity is important to you and your brand.
A new feature which I think sets Gelato apart from all other POD companies right now is their pack-in option.
If you sign up for Gelato or Gelato+ Gold, you now have the option to include custom pack-in cards and branded labels to your packaging e.g a thank-you note, info about your store and socials or a discount code for future purchases.
This is a great move from Gelato and something I highly recommend including if you are trying to build a brand – it gives a personal, hand-made feel your orders and will make your store more memorable. Plus it can be a lot easier selling to past customers than trying to find new!
Each add on will cost 0.70USD (0.69EUR) and can be activated per store on your gelato account. They are currently only available on 3 products (various art prints) and in 4 countries (UK, USA, Germany, Sweden) but they are hoping to expand these options soon.
Gelato's Cost Of Goods
Gelato's products are cheaper than Printful but more expensive than Printify, (in most cases at least). However, since its algorithm assigns the orders close to the final destination, Gelato may result in savings on shipping and in turn producing savings on your overall order cost.
A Bella Canvas 3001 (medium size) works out at $10.15, with shipping to US mainland at $3.18. That's $13.33 all in, still cheaper than the $17+ you're looking at with Printful.
However, it is worth pointing out that Gelato can work out the cheaper option in certain countries, especially those outside of the US.
For example, if you are based in the UK then Gelato is the cheapest POD option I have found for both art prints and t-shirts (Bella and Canvas).
A Bella and Canvas 3001 will cost you £3 GBP less (inc shipping) than the UK Printify equivalent.
Gelato also offer a number of further discounts:
quantity discounts (when you order more than one of the same product)
Gelato+ member discounts (30% off all standard shipping*) and Gelato+ Gold subscription (30 days free shipping with annual plan* + Up to 50% discount on shipping + 30% off branded labels and packaging inserts)
Gelato's Integrations
Gelato have easy to set up integrations with the majority of big players:
And they have API options or integration via orderdesk.com for other platforms, so some sort of integration with most sites is possible.
Gelato's Turnaround Time
Production times will vary from product to product but the predicted times for most, are slightly faster than Printify or Printful. However, the exception is apparel – with a predicted turnaround slightly slower than their top two competitors.
Cards: 1-3 days
Posters, Canvas and Frames: 1-4 days
Mugs: 2-3 days
Acrylic and Metallic: 2-4 days
Photobooks: 3-4 days
Calendars: 2-3 days
Apparel: 2-6 days
Having said that in my experience, the majority of orders are shipped within 1-4 days (well within Pritify/Printful standards). With posters rarely taking more than 48 hours.
Gelato's Fulfilment Locations
Gelato has partnered with over 100 local printers in 34 countries, so there's a high chance your area will be within reach of Gelato.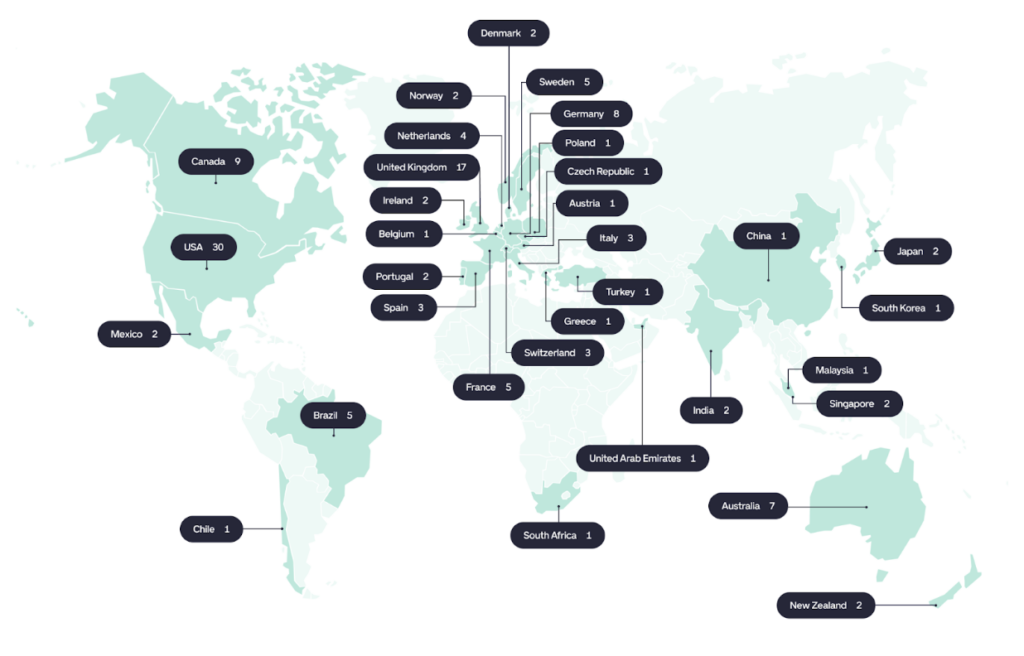 It's worth noting that not all of these locations print all of their products – for example, Bella and Canvas 3001 are fulfilled in only 9 of these countries. They make it very clear and easy to see which countries a product is fulfilled via a drop down selection tool on the product page.
I mentioned earlier that Gelato uses an "advanced routing algorithm" to select the production location for each order – In most cases, products are fulfilled at the closest production centre, although sometimes orders can be shipped internationally if there are stocking issues etc. According to Gelato, they manage to produce ~90% of orders in the country of destination.
Gelato Support
Gelato offer 24/7 support via their live chat, and have an extensive FAQ and support section. I have found that most queries can be resolved via their support articles.
Any other issues I have encountered with specific orders have been quickly resolved via the "report problem" button on the order page or via the live chat option.
Gelato Overall Verdict
Gelato's easy to use system, speedy customer support and growing product offering makes for a great Printify alternative. In fact, I would go as far as saying if your store sells more internationally than in the USA or if art prints and posters are your thing, then Gelato would be a better option than Printify.
They have ultimately solved Printify's biggest flaw – having to manually route orders to different providers when shipping internationally, or when stock issues arise. And they offer this alongside reasonable prices.
However, this lack of control comes with its own problems – mainly the inconsistency of the quality of the products.
A serious contender against Printify? Yes, in certain circumstances.
A better option than Printful? Not yet…
---
Scalable Press
Scalable Press are another early bird in the Print-On-Demand white label world – and they handle fulfillment for some big brands.
Their pricing is competitive (circa $9 for a Bella Canvas shirt plus shipping) and their order process is fairly straightforward, but their turnaround times can vary wildly.
Overall it seems Scalable Press are more focused on large brands and even bulk order production, rather than serving the independent seller market.
However – for posters I have found Scalable Press to be the most competitively priced, and very fast on turnaround times. I have been using them for at least 12 months for all my posters, without any complaints and with low prices and fast turnarounds throughout the year.
So whilst I can't really speak to their T-Shirt printing quality, I can say I'm happy to recommend ScalablePress as a cheap and fast print-on-demand poster fulfillment company.
---
The 7 Best Print On Demand Sites:

First up, here's my list of the best Print on Demand websites right now:
(click the name to jump to my in-dept review of each)
In this guide I'll discuss each of these Print on Demand site in detail, explain why you should use them, and share my personal experience with each site.
Then I'll cover some other Print on Demand sites (Zazzle, Spreadshirt etc.) – and give some recommendations for artists looking for a Print on Demand Storefront.
The Best Place To Sell T-Shirts Online? (Redbubble vs TeeSpring vs Society6 vs Zazzle etc…)
I've done some research and gathered data for each site – looking at their total monthly visitor numbers, organic traffic, social media followers and more.
What Is A Print on Demand Website?
My definition of a 'Print on Demand Site' is any e-commerce website that;
The best print on demand sites (from an artist's perspective) will have lots of visitors, good organic reach (traffic from Google), and make it relatively easy for artists and designers to upload and make sales from their designs. Such sites make it possible for you to get paid for your drawings, illustrations, artwork and designs without doing much more than uploading.
Print on Demand Sites vs. Print on Demand Companies (Redbubble vs Printful)
A Print on Demand Site is not the same as a Print on Demand Fulfillment Company.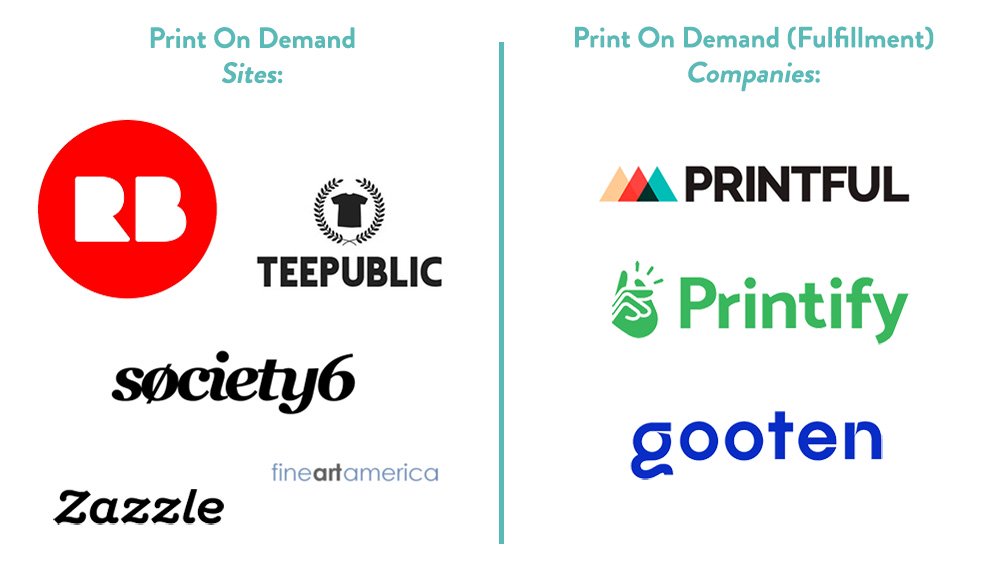 Print on Demand (Fulfilment) Companies (like Printful) act as a white-label 'back-end' to an online store, allowing artists to setup their own store on a custom domain, or to sell through a marketplace like Etsy.
Print on demand companies are not places that customers go to buy t-shirts – they are instead services that artists and sellers can use to fulfil orders to their customers.
Whereas Print on Demand Sites (like Redbubble) are self-contained websites where customers will go to buy products. A Print on Demand Site is a much simpler and quicker way for artists to make money from their designs than a Print on Demand company.
---
1. Merch By Amazon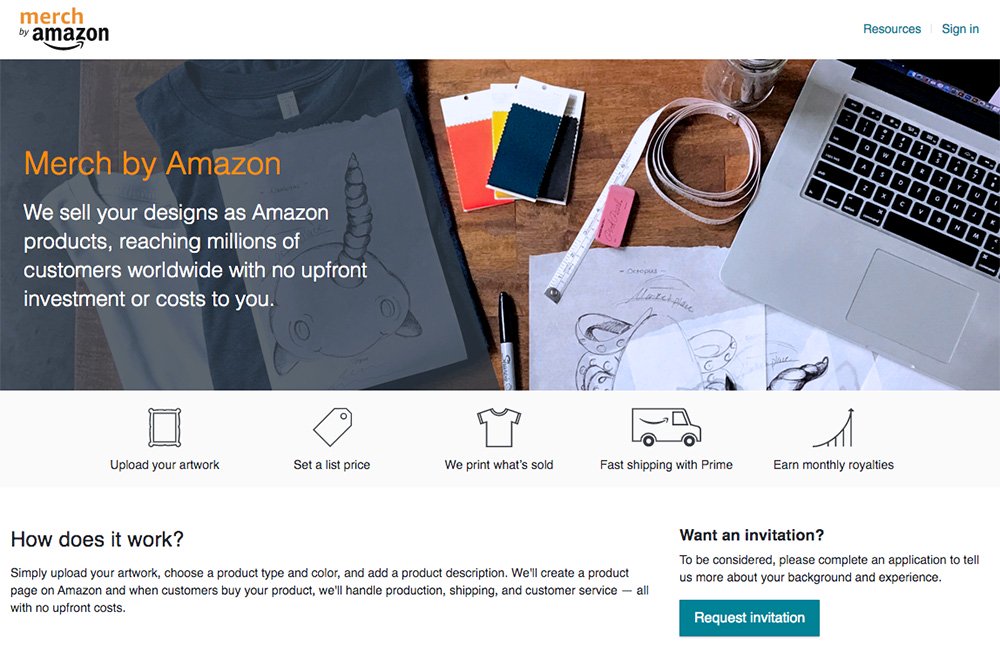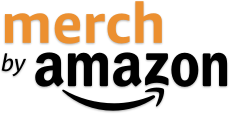 I considered leaving Merch By Amazon off this list, because technically speaking it isn't a print on demand site.
Merch By Amazon is a Print on Demand program that exists inside of Amazon (that is, Amazon's U.S., U.K., German, French, Spanish, Italian and Japanese sites currently) – it's not a standalone website like the rest of the sites on this list (sites like Redbubble, etc.) – nor is it a Print on Demand fulfilment company.
As such it's difficult to get traffic and search data about Merch By Amazon – but I think it's safe to assume that if Merch By Amazon were a standalone site (if we could cut it out of Amazon and treat it like a dedicated site) – it would dwarf all the other players here in terms of visitors, organic traffic and overall sales.
What's Good About Merch By Amazon:
It's Amazon, Duh
Merch By Amazon gives designers the ability to list several popular apparel products onto the world's biggest online store, and one of the world's most visited websites.

Amazon is both a huge marketplace and one of the biggest search engines on the internet (because people search directly on Amazon), so you should be able to reach more customers here than anywhere else (at least in theory).
Prime Shipping & Amazon as Seller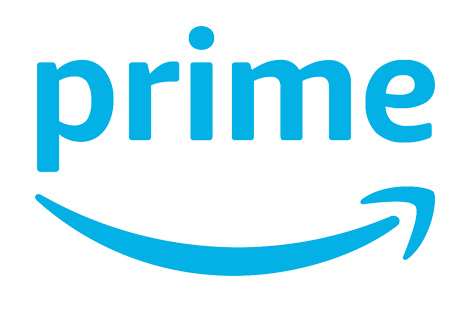 Merch By Amazon products are shipped 'Prime' – which makes Merch By Amazon one of the fastest way to get a shirt to a customer.
When you have design on Merch By Amazon – you also get all the added bonuses that come with having a product sold by one of the world's most recognised brands. (Just ask yourself – would you rather buy from Amazon – or a lesser known company?)
Flexible Royalties
With Merch By Amazon you can set the royalty you want to earn per sale.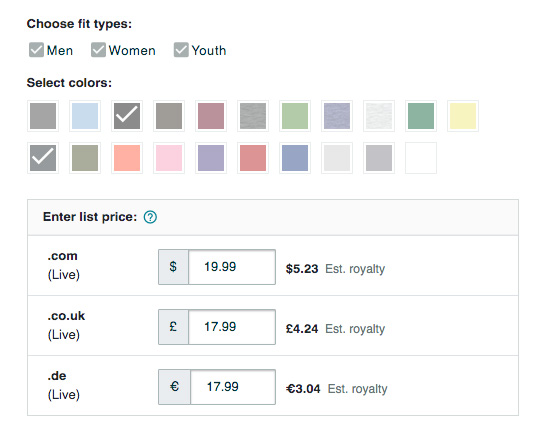 Of course you limited by the base rate of products – and you are in competition with other designers, but you aren't tied in to a fixed royalty, like with Teepublic.
What's Bad About Merch By Amazon:
Invite Only
You can't sign up for Merch By Amazon and start selling right away – you have to request an invitation and be approved first.

Many of the other Print on Demand site listed in this guide has an 'open door' policy for new sign-ups.
Merch by Amazon's turnaround on new invite requests varies, and there's no hard and fast rule on how long it might take – or any guarantee that you'll be invited at all. So if you are thinking about it – go and request an invite now.
Copycats, Improve-cats, Under-cutting, Oh my!
Due to the flexible royalties, the open nature of Amazon and the size of their marketplace – Merch By Amazon has a longstanding problem with design theft, (copycats) or 'improve-cats' (people who take another's popular design and change it slightly).
Merch By Amazon products all have a public 'BSR' rating (Amazon's internal 'best-seller' rank).

This makes it possible to see which Merch shirts are currently selling well, making it very easy for copycats and improve-cats to 'drink your milkshake'.
In other words – once you have a good seller on Amazon, it's likely to get copied very quickly and listed at a lower price – and this is likely to drive down your sales and/or profit.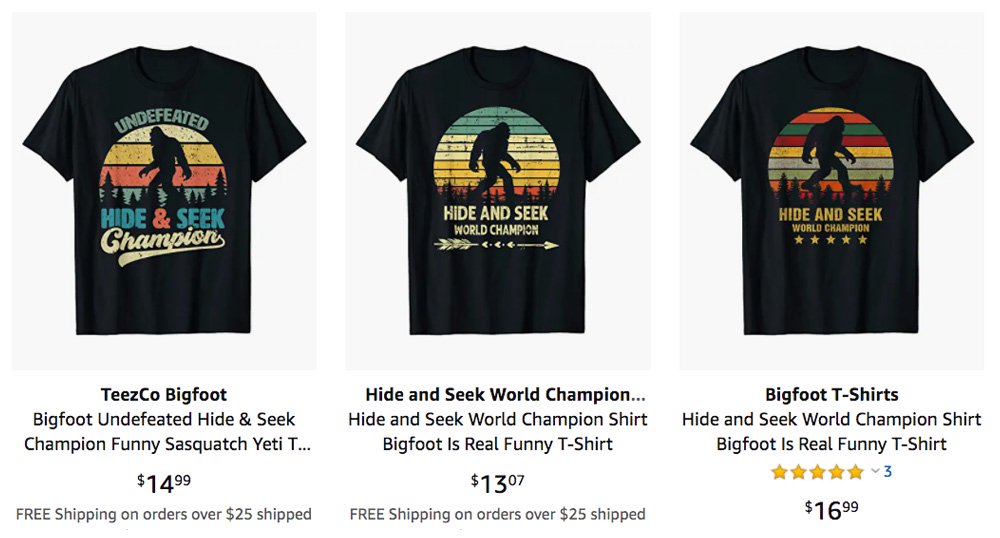 You can report Copyright infringement to Amazon, but the results are hit and miss, and Amazon doesn't do anything to stop copycats simply re-uploading the stolen design after their first copy was removed.
In reality this means that artists can spend a lot of time playing 'whack-a-copycat'; searching for and reporting copyright infringement, just to see it pop up again a few days later.
Note: I should point out that the copycat / art theft issue is by no means exclusive to Merch By Amazon, although it is more pronounced here – because of the public BSR issue, the flexible royalty rate and the size of the Amazon marketplace.

I've also found almost all other Print on Demand sites to be somewhat more consistent when it comes to removing infringing designs following Copyright takedown notices.
Limited Branding Options For Artists
Merch By Amazon has very limited branding and audience building options for artists.
When you upload designs to Merch by Amazon you are really just suppling designs to them, and nothing else.
There is no public 'profile' system on Merch by Amazon like you have on almost all other Print On Demand sites – so aside from a single line of text on each product (your brand link) – you can't really use Merch By Amazon to build your profile or attracts fans or followers. (No profile or header images, no social media links, no artist bios).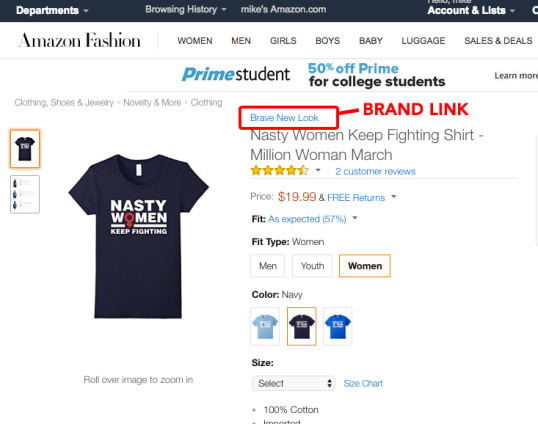 This might change in the future, but right now Merch By Amazon is really a cash-flow-only strategy for artists, albeit a potentially lucrative one.
So Why Is Merch By Amazon #1 On My List?
Merch By Amazon is still the best Print on Demand opportunity for artists because of their sheer size and reach. There is no other Print on Demand site that comes close.
What this means in practice – all else being equal – is that your designs are more likely to be seen on Amazon, and hence more likely to be purchased.
Is Merch By Amazon Profitable?
Merch By Amazon is profitable – as there are no direct costs involved for participating. It's free to get an account, free to upload and free to sell on the platform.
And with the potential for high royalties and steady organic traffic, the average artist or designer will probably make more from Merch By Amazon than from any other platform.
The big caveat here is that not everything is equal!
In reality your earnings from Merch By Amazon all depend on;
..but chances are that 100 designs uploaded to Merch By Amazon will probably earn more than 100 designs on any other print on demand site – largely because of the difference in traffic (potential customers).
Important Point: This is probably a good place for me to point out that – whilst traffic numbers are of course an important factor in estimating sales – they are no guarantee of better sales.

For example, you may find that your designs sell great on Society6, but don't make a dent on Merch By Amazon – because each site has very different customer demographics, and different levels of competition – and your designs simply work better with the Society6 crowd. In other words – traffic levels are not the be-all and end-all.

Finally – if you were able to corner a fraction of the market on ANY of these sites – you would probably be looking at a very healthy income. So – don't be too swayed by traffic numbers.
My Experience With Merch By Amazon
Unsurprisingly, Merch By Amazon dominates my royalty earnings – and has done since it first launched.
I don't see any chance of that changing anytime soon – because Amazon is the world's biggest online marketplace.
So if you can get an account invite, and you can cope with the copycat problem – then there is probably no more profitable way to license your T-Shirt designs online right now than with Merch By Amazon.
---
2. Redbubble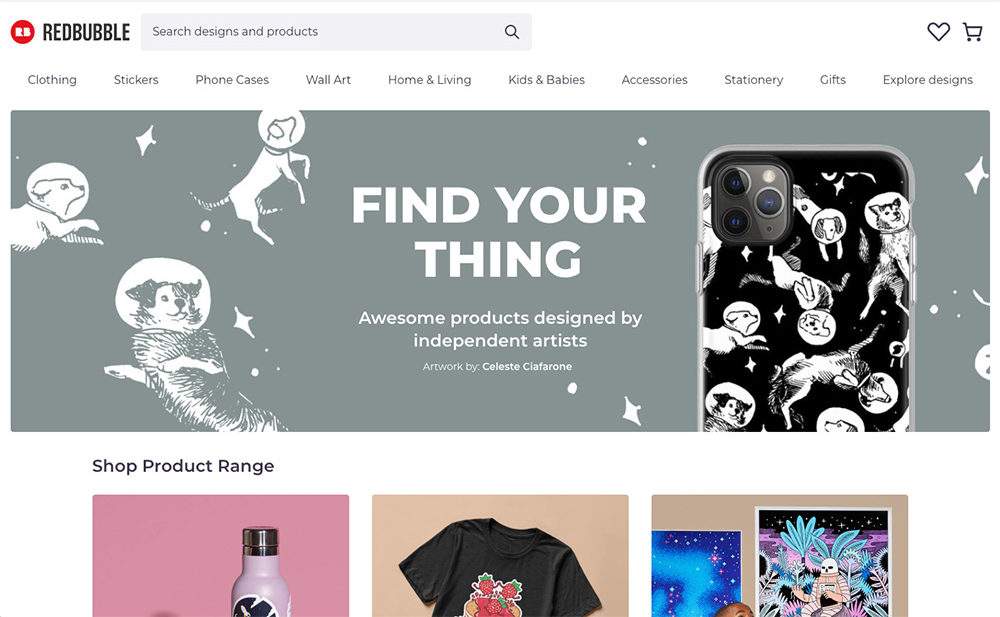 Note: Redbubble has introduced tiers for sellers, including fees for those on the 'standard' tier. This makes Redbubble a more complicated place to recommend – as many sellers will now face additional fees that eat into their earnings. To understand more about these changes, checkout the full information from Redbubble here.
Now that Merch By Amazon is out of the way, we can get into the 'true' Print on Demand sites.
Chief amongst them is Australian outfit – Redbubble.

Redbubble is the biggest standalone print on demand marketplace by total traffic and organic traffic, and has grown steadily over the past several years.
What's Good About Redbubble
Redbubble's Organic Search Traffic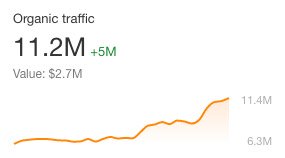 Redbubble has huge organic reach – meaning it gets a lot of traffic from search engines.
This is good new for independent designers and artists without a large following – because it means Redbubble is pretty good at getting your designs to show up on Google – especially for 'long-tail' keywords and search terms.
So right now Redbubble is probably the best, easiest way to get your designs in front of the eyeballs of people searching on Google, for free.
Redbubble's Brand Growth
Redbubble is becoming better known as a brand in it's own right.
That's good news for artists for a number of reasons – not least because it means Redbubble is likely increasing it's visitor numbers – and not just via Google searches for niche or topic related terms. And the more customers Redbubble has, the more likely you are to make sales.
Redbubble's Product Quality
Redbubble uses print-on-demand printing companies around the world to produce and ship it's products – and the quality of goods can vary significantly depending on the printing partner and the product in question.
Flexible Artist Margins
Redbubble has flexible margins on it's products, and it's customers are often willing to pay higher prices on average than on other platforms.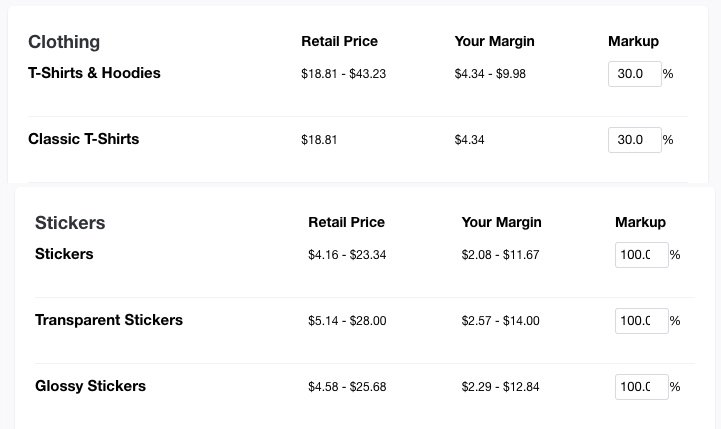 Artist Branding Options
Because it was setup with artists in mind, Redbubble gives you some branding controls – like profile images, header images, links to your social media and more.
Redbubble also has internal 'follow', 'like' and 'bubble mail' features – and they promote and feature artists on their homepage. They also have a mobile app!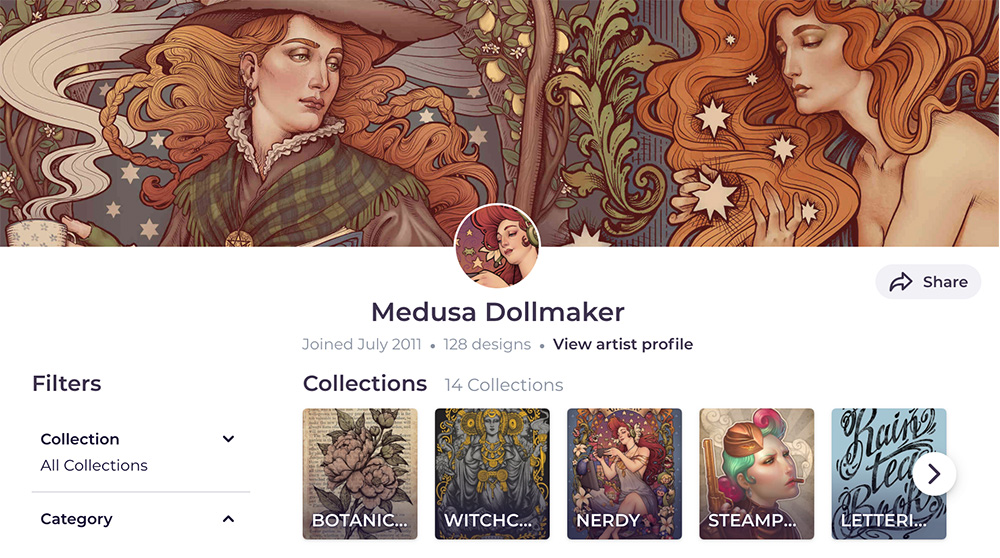 Google Shopping Ads and Re-Targeting
Redbubble uses Google Shopping ads and re-targeting to promote your designs – at no direct cost to you. This gives your designs an increased chance of being seen by those people who are most likely to buy.

What's Not Good About Redbubble
Time Consuming Upload Process
Redbubble offers a LOT of products – but this in turn means you can spend a LOT of time tweaking your artwork for each product.
In other words – the upload and configuration process for products on Redbubble is not the best. It's not the worst either – but it's no Teepublic (which is the best).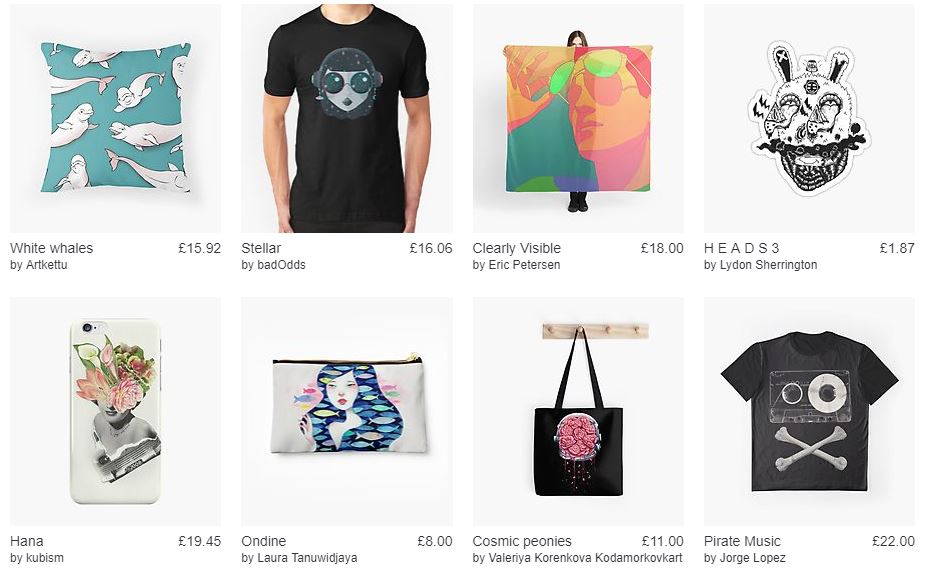 Copycats and Infringement
Redbubble is not immune to the copycat issue, and to copyright and IP infringement issues more broadly.
Redbubble currently doesn't seem to employ any automatic scanning of artwork to compare it to existing designs, which means direct copycats can and do appear, plus – because sellers have control over margins – others can undercut you, at least in theory.
But the issue is not as pronounced as Merch By Amazon – because it's nowhere near as easy to see what designs are currently selling on Redbubble.
My Review Of Redbubble
Redbubble is holding steady. Their strong organic reach means that once you have a design on Redbubble – you have a great chance of getting that design ranking on Google, and their own existing brand audience is well suited to my work.
Given the size and reach of Redbubble, it really is an ideal platform for almost any artist looking to tap into free organic traffic. It is a great place for pop culture and 'artsy' designs, but isn't limited to just that kind of thing.
For example, if you're more of a society6-style designer (florals, patterns, watercolours) – I would still get your work up on Redbubble too.
To maximise your success on Redbubble, check out my in-depth guide: How To Sell On Redbubble.
---
3. Teepublic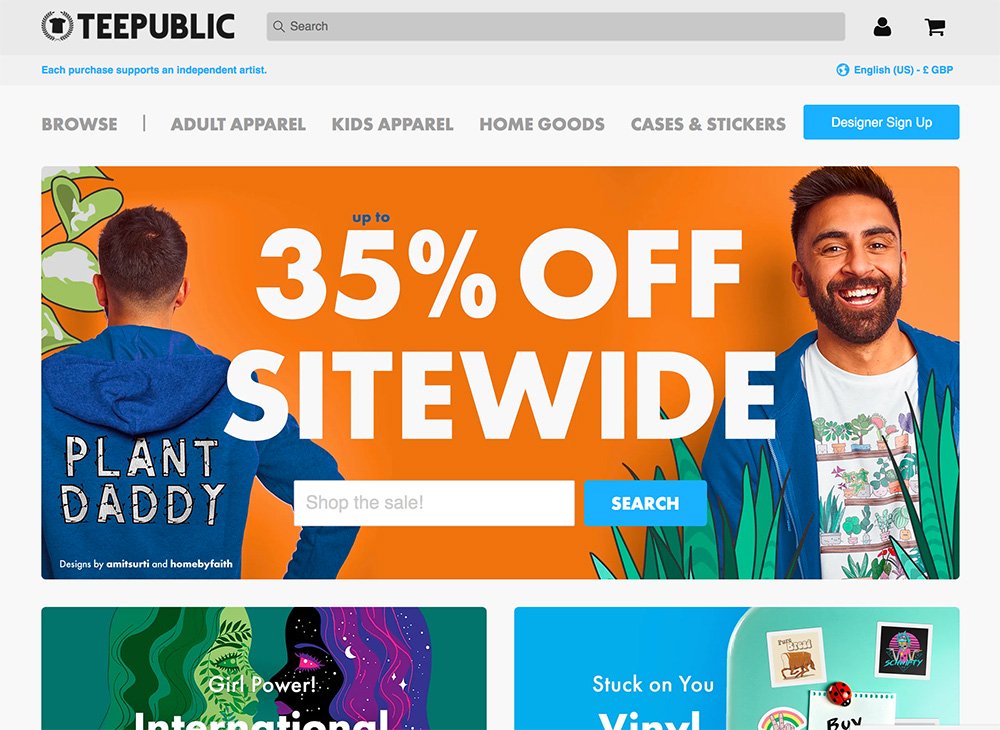 Teepublic is actually owned by Redbubble – but still currently maintains a separate site and separate accounts.
Teepublic has followed and in some ways improved on the Redbubble model – but there have been recent changes that make it less of an open-door marketplace.

What's Good About Teepublic
Great Organic Reach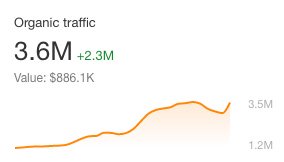 Teepublic has a high level of organic traffic, just after Redbubble.
That means Teepublic has become very good at ranking designs and categories on Google – and driving that traffic back to Teepublic.
Best Ever Upload Process
Teepublic has (in my opinion) the quickest and easiest upload process in the Print on Demand world.
They may not offer as many products as Redbubble or Society6 – but they still hit all the major categories, and manage to make configuring each product very simple. I wish others would take a leaf out of Teepublic's book – it would make uploading much less of a chore.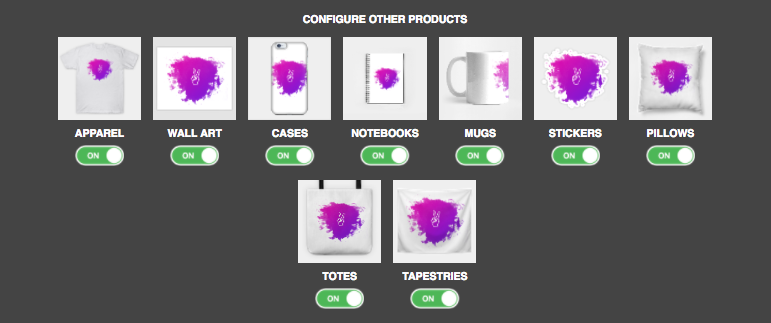 Increasing Brand Awareness
Teepublic is showing good upward growth for brand searches – as shown below. Like Redbubble, this implies Teepublic are becoming better known and attracting more visitors – and that should be a good thing for artists selling on Teepublic.
Less Incentives For Copycats
Teepublic's fixed royalty rates mean it's impossible to be undercut by copycats and improve-cats.
That doesn't mean copycats don't exist on Teepublic – it just means they have to sell their designs at the exact same price as you… so they don't have the incentive they do on Merch by Amazon or Redbubble.
What's Not So Good About Teepublic
Those Fixed Royalties Aren't High (and they can go lower)
Teepublic's fixed royalties are just $4 for T-Shirts – falling to $2 during sales times.

Despite this, Teepublic is usually matching or hovering just slightly beneath my monthly Redbubble royalties – which demonstrates that Teepublic's sale scheduling and promotions are actually pretty effective.
In other words, the royalties on individual sales may be less – but Teepublic are so good at driving traffic during those sales, that my monthly total royalties stay high.
IP & Copyright Infringement
Like Redbubble, it's not easy for copycats to see what is selling, but it is still easy for them to infringe your designs.
Also, a lot of Teepublic's designs are IP infringing, or close to infringing – which might worry you if are concerned about the long term viability of the platform.
My Experience With Teepublic
I really like selling on Teepublic. Whilst other platforms have dipped over the years, Teepublic has kept growing, or has at least held steady.
In fact Teepublic is close to surpassing my monthly Redbubble earnings, and I've heard similar reports from other artists and designers.
It's probably not the right platform for everyone – but if you're doing pop culture or funny designs primarily made for T-Shirts, then you'd be crazy not to give Teepublic a try.
For a comprehensive guide to selling your work on Teepublic, check out my in-depth guide: How To Sell On Teepublic.
---
4. Society6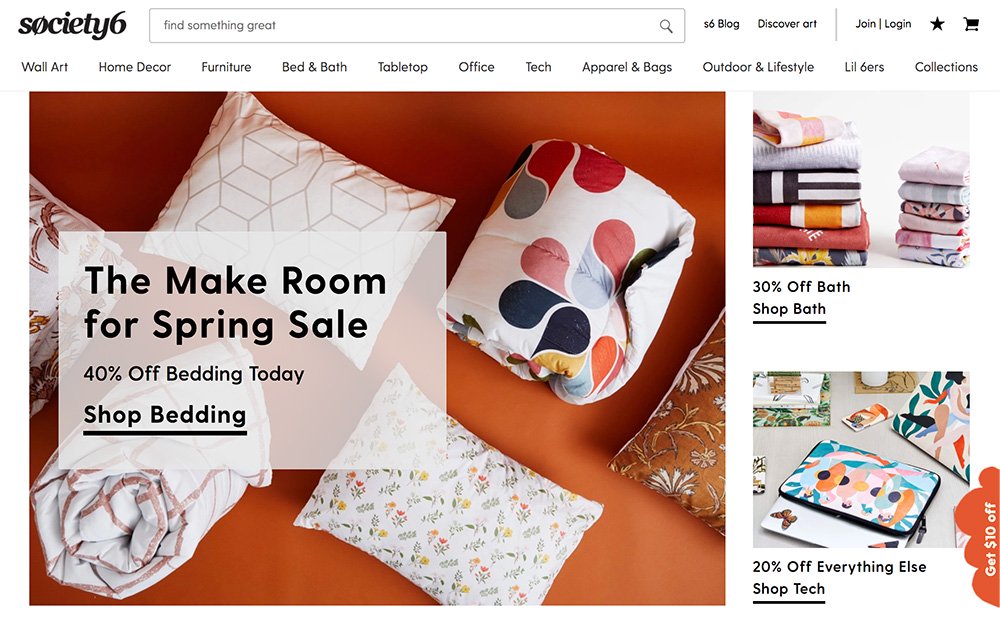 Society6 is a smaller player than Teepublic or Redbubble (with about half the traffic of Teepublic) – but it has a large social media following and their traffic and brand searches are holding steady.
Society6 may not have huge organic reach, but if you are creating work that fits with their aesthetic and audience, it could be a great place for your art.
What's Good About Society6
Society6 Knows What It Is
Society6 has a pretty well defined aesthetic – with a focus on modern home decor and wall art.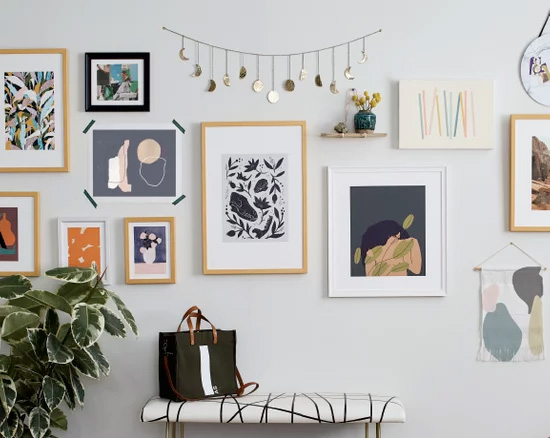 They are much less T-Shirt focused than Redbubble or Teepublic – and you'll find a lot more patterns, florals, watercolours, and abstract art – and much less pop culture, bold, traditional novelty T-Shirt style graphics.
This is good news if your artwork fits their style, and less good if it doesn't. But at least you know where you stand. (Contrast this with sites like Zazzle, Spreadshirt or Cafepress – where it is very difficult to identify a target style or demographic).
Large, Existing, Brand-Aware Audience
Regular promotional emails, and a big social media presence means Society6 can drive traffic from sources other than organic search.
This may only help you if you get your designs featured somewhere – but if you work does fit with Society6 and their style – why couldn't it be featured and promoted by Society6?
Decent Percentage Of Organic Traffic
Their organic reach is still a healthy 39% of their total traffic, which means they are doing a decent job on the SEO front.
So your work on Society6 probably has some chance of also showing up on Google, and driving some traffic from there.
Artist Branding Options
Society6 offers a handful of branding options – like an artist bio, a follow function – and the usual profile images and headers.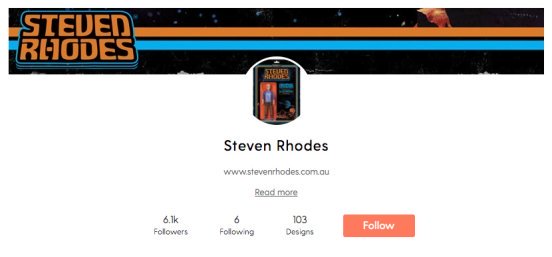 What's Not Good About Society6
Lower Overall Traffic, Low Organic Reach
Society6 just doesn't have the traffic or organic reach that Merch By Amazon, Redbubble or Teepublic has.
That makes it harder to get eyeballs on your work, unless of course you are driving your own traffic (in which case, see below).
Their Style May Not Fit Your Style
One man's meat is another man's poison – and Society6's focus on florals, pastels, watercolours, abstract wall art and homeware products does mean it's perhaps not the ideal place for your funny pop culture shirts.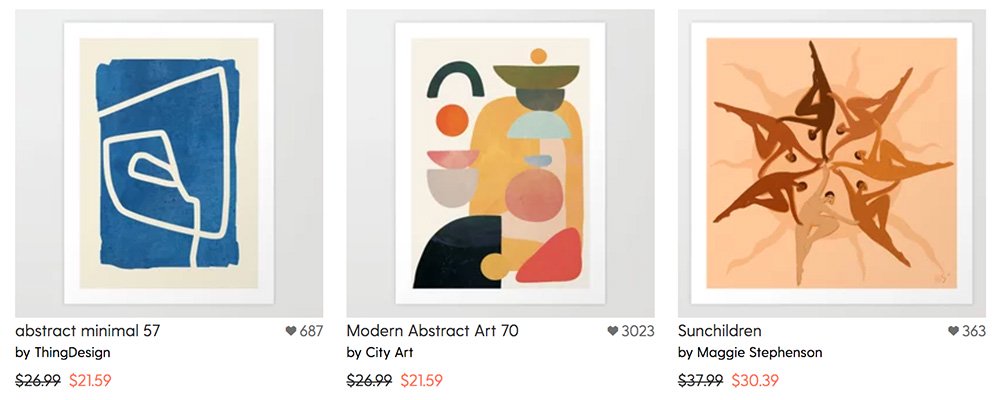 That doesn't mean you can't make sales…it just means it may be harder – if exclusively pop culture-type stuff is your design bag.
Complicated Upload Process
Society6's upload process is complicated when compared to something like Teepublic.
Sure, they have a lot more products, but it still makes uploading a somewhat daunting task.
My Experience With Society6
I've had designs on Society6 since 2015, but they've never really been a big hitter on the royalty front for me.
I put this down to my designs – as they aren't really in line with Society6's audience and overall aesthetic (I do more 'straight-forward' T-Shirt designs – and such graphics don't often translate well to Wall Art, especially if you're looking for family friendly inspirational quotes for your Kitchen).
You'll know if Society6 is a good fit for your work. If they are – invest some time and give things a chance. If not, move on.
If your work fits on Society6, you may also want to checkout Spoonflower. They are a fabric and wallpaper site that serves a similar demographic with a similar aesthetic style to Society6.
---
---
6. Displate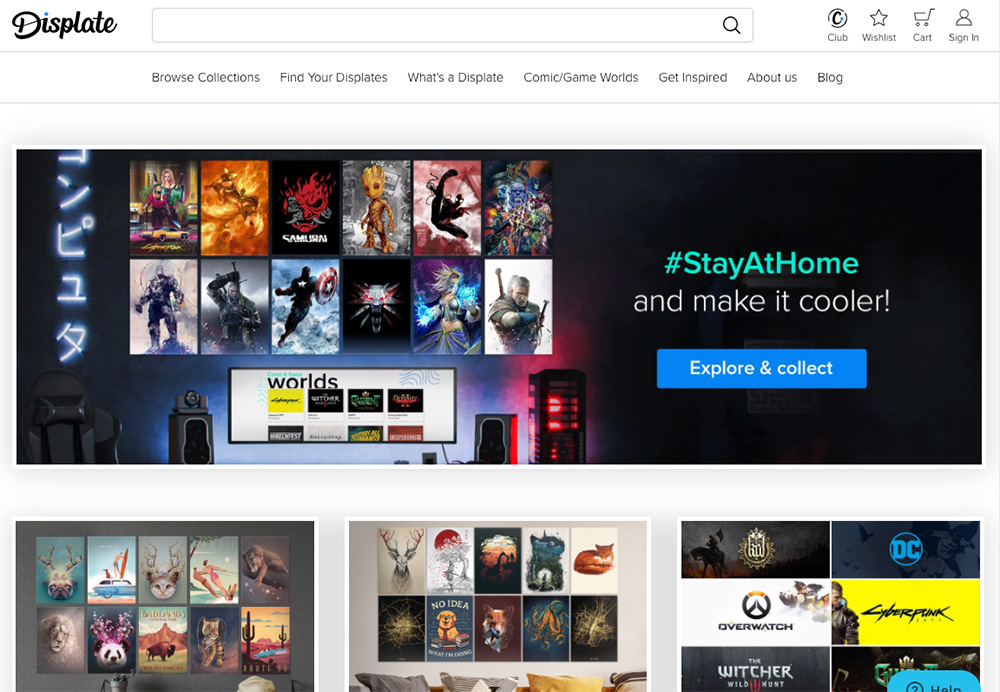 Displate are a small player, but with great growth and a very large social media following. Could they be the next big thing?
Their traffic is relatively small, but they are the dominant player in a growing product category (metal wall prints).

What's Good About Displate
Well Organised Site, Nicely Categorised
Displate is a well organised and well categorised site. When you don't have especially high organic reach, it's beneficial to have collections and categories that help customers find what they want – and gives artists a chance to figure out where their work might fit best.
Growth In Organic Traffic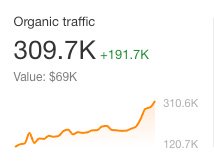 Displate are showing great growth in organic traffic.
It may represent relatively small organic traffic numbers right now compared to other sites – but they're heading in the right direction (Displate is 1 of only 4 of sites I researched to show growth in both brand searches and organic traffic).
Huge Social Media Reach and Increasing Brand Searches
Displate has great social media numbers (especially on Facebook) – and are showing good growth in brand searches.
If your work fits with their audience, you could get a slice of that action.
Easy Upload Process
Displate's upload process is nice and easy, as you would expect from a site that only offers one type of product.
What's Not Good About Displate
Still A Small Player
Those low traffic numbers mean Displate probably isn't about to be stuffing your pockets with royalty monies. But getting in at the ground floor of a growing brand is a smart move – as it means you could dominate certain corners and niches as the traffic climbs.
Some Infringing Material
Displate are a younger company and it seems their platform is still a little bit 'wild west'. There are plenty of borderline infringing designs right now, which I imagine do contribute to a lot of sales. Hopefully that won't become an issue as time goes by.
My Experience With Displate
I can't say much about Displate – because I've only had a few designs up there for a few months.
I can say that their system is slick and easy, and they seem to be running a tight ship on the promotion front.
Time will tell whether they become a decent home for my designs in the long term, but they are showing some good signs so far. The good news is that it won't take you too long to upload your designs and then simply sit back and watch.
---
7. Threadless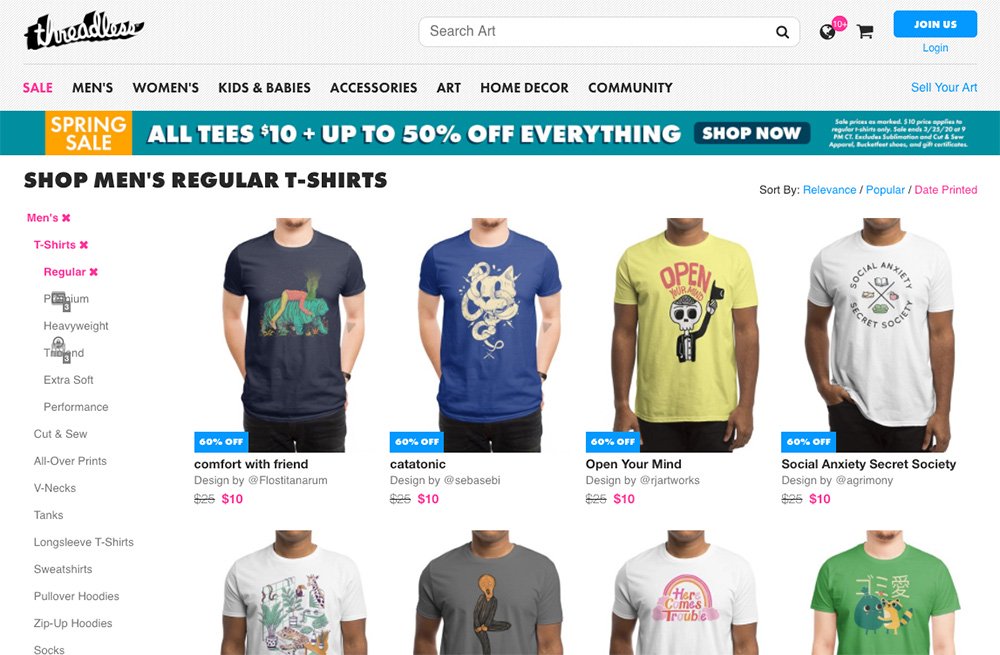 Threadless is a complicated one – because it actually offers artists a number of ways to sell their work:
So whilst options 1 and 2 are not really relevant when comparing with the other sites in this list – option 3 means Threadless just about scrapes in as a Print on Demand site.

What's Good About Threadless
Big Social Following
Threadless has been in the game for a long time – one of the first online T-Shirt pioneers and big brand names.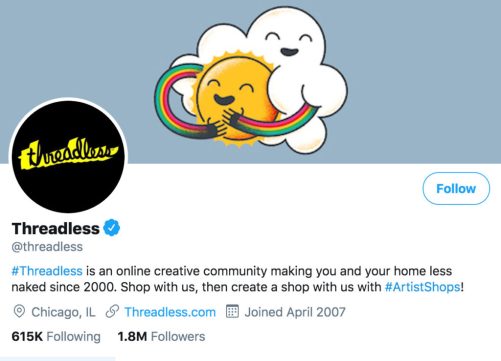 Perhaps because of this, they still have a considerable social media following – greater than anyone else on this list, and one assumes a sizeable amount of email newsletter subscribers.
Threadless does hit it hard on the promo front – with daily emails and regular sales. So if you can get designs featured on the 'regular' Threadless – you stand to benefit from that.
Consistent Style And Approach
Threadless tends to keep a fairly tight grip on it's style and the type of designs they publish.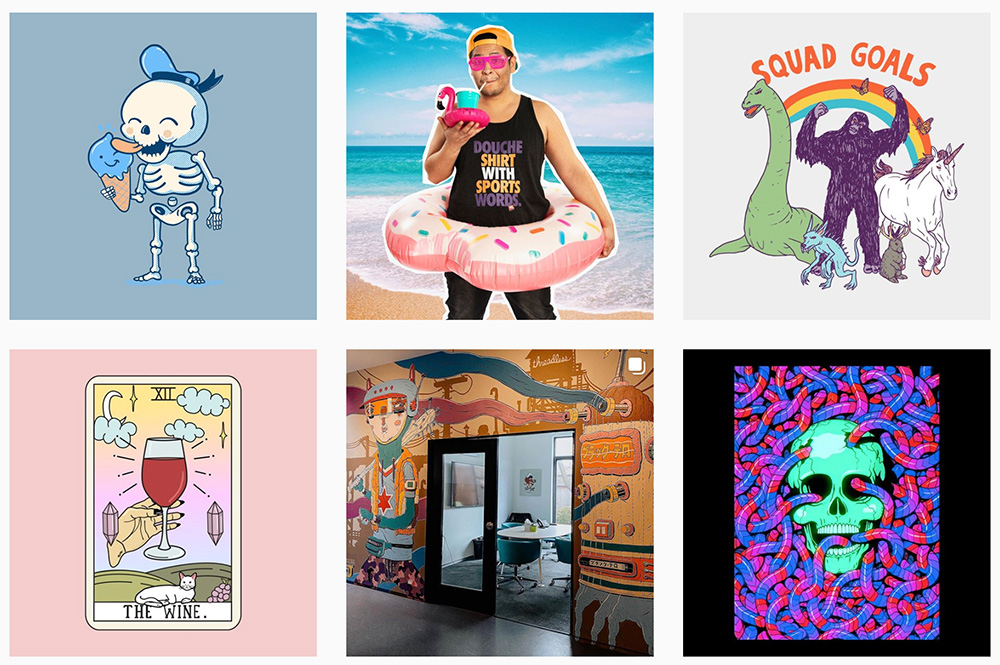 You won't find a lot of IP infringing or 'on the edge' stuff – it does tend to be home to truly independent, unique and original pop culture designs from individual designers. So if your work fits that mold, it's worth a look.
Easy Upload Process
The upload and listing process for Artist Shops (and thereby the 'discover' section) is pretty straightforward. It's no Teepublic, but it ain't a million miles behind.
What's Not So Good About Threadless
Low Traffic, Decreasing Organic Reach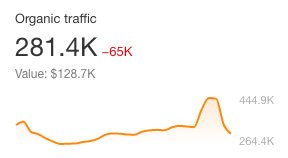 Low traffic. If the SimilarWeb stats are to believed, it's behind Displate…and closer to the traffic level of Bonfire.
22% of Threadless' traffic comes from organic…which is some distance behind Society6, FineArtAmerica and miles behind Teepublic and Redbubble. That means Threadless has to rely much more on their own marketing and promotions to drive sales.
Decreasing Brand Searches, Poor Reputation
It seems Threadless' reputation has diminished somewhat of late. It isn't growing its organic traffic, and searches for the term 'Threadless' on Google have been dropping for a while.
Low Royalties
Disappointingly slim royalties – especially if you let Threadless manage your Shop's pricing and promotions. When Threadless does a sale, they really do a sale – with shirts as low as $12 (Probably the cheapest price of any Print on Demand site listed here).
With that kind of list price, an artist can receive just $1 or even $0.50 for a shirt sale (In fact I've had shirts sell for $22 that earned just $1 – what's that about?). That's a worse percentage than Teepublic –where a sale shirt sold for $14 nets the artist $2.
My Experience With Threadless
Overall I'd say that Threadless works great as a simple storefront – and it gives you the ability to get at least some potential exposure via their 'discover' system. But if you're looking for decent organic traffic and sales, you are unlikely to get that from Threadless – unless you get your designs selected as part of their main 'Threadless' collection.
---
What About Zazzle, Spreadshirt, CafePress, DesignbyHumans… etc?
Small Print on Demand Players With Some Hope
As I've already mentioned – an independent artist doesn't need to sell on a site with millions of visitors a month to make some regular, sustainable and decent income from their art.
If you can just carve out a decent corner of a relatively small traffic site – you could still be looking at a decent chunk of income every month.
The following sites are not high on the traffic ratings, but they may still be worth your attention, depending on the match between designs and their audience.
DesignByHumans. Not a big player, with similar organic reach to Threadless. DesignByHumans brand searches looks flat, but personally they have been a steady royalty provider for myself – usually generating slightly more than Society6 every month.
TeeFury (and similar). It's worth mentioning that Shirt-A-Day sites like TeeFury haven't disappeared, and because they work on a slightly different model to most Print on Demand sites – they may be worth your attention.

Unlike most Print on Demand sites, you will have to have your work selected in order to be sold on a site like TeeFury – so it can be a good place to hone your skills and ideas – plus if selected, your design is guaranteed a certain level of exposure on their sites, social media and email newsletters (at least for 24hrs).
Other Print on Demand Options For Artists
If you're looking for even more ways to get your art on products and shipped out to customers, you could also consider the following:
A Print on Demand Storefront (see below)
Selling on a marketplace (eg. Etsy, Amazon Seller Central) – using a Print on Demand company like Printful or Printify
Selling on your own site (using a platform like Woocommerce, Shopify etc.) – again using a Print on Demand company like Printful
---
---
Other Notable Print-On-Demand Companies:
Of course there are plenty of other on-demand T-Shirt printing companies besides those I've reviewed above – so here's a list of other Printful and Printify alternatives and competitors you might want to check out:
Do you know another Print-On-Demand Company that you should be listed here? Message me and let me know.
Other POD Considerations, Tips and Advice
There's a lot of moving parts with Print-On-Demand T-Shirt Companies – so I'm going to share some tips and advice that should leave you better prepared to make a success of your POD business in 2023.
Shipping And Other Costs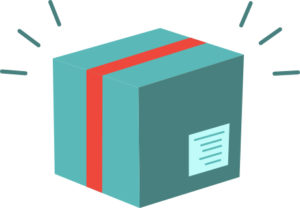 Most Fulfillment companies charge very similar shipping prices – because they're usually passing on the cost of the shipping directly.
Nevertheless, make sure you don't overlook the shipping price. A cheap t-shirt won't make much difference to your profit if you're paying significantly more for the shipping.
There are also other costs that are going to be applicable – for example – if you're using a marketplace, then you will most likely be charged a fee based on a percentage of any sales made.
If you're selling directly on your own brand store, then your payment processor (PayPal or stripe for example) are going to take a percentage of the sale too.
So bear that in mind from the get-go and work it into your projections, because at relatively low price points, it can really eat into your profit per sale.
Other potential additional costs include (but are not limited to):
monthly fees or listing fees from your marketplace (Amazon, Etsy etc.) or from your web host or commerce platform (eg. Shopify)
monthly fees from your fulfillment partner. (Eg. Printify's Premium Plan costs 29/m.)
Sales tax or other taxes
There could be other things too – like Shopify apps or other software, but for the 'bare bones' of a T-Shirt site with fulfillment partner – the above are the ones you want to look out for.
---
Production Techniques
The bread and butter for Print-on-demand fulfillment companies is DTG or Direct-To-Garment Printing – which is basically a big CMYK printer that prints directly onto fabric.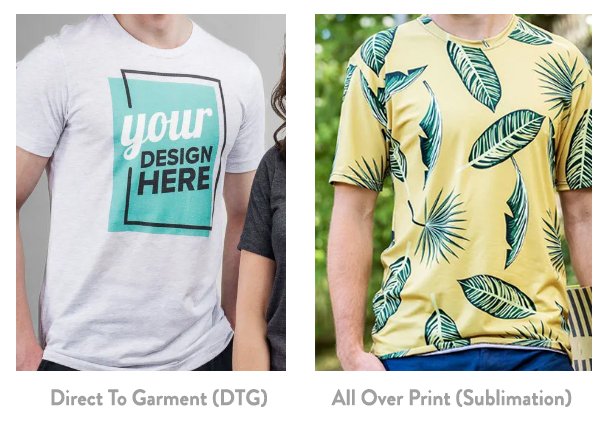 That's great for the vast majority of T-Shirt designs, but if you want to do 'All-over-printing' (Sublimation) or embroidery – your fulfillment options may become more limited.
---
Branding Options: Logos on Packaging, Pack-Ins, Custom Labels and Warehousing
This is a big one for independent sellers and artists – as we often like to give stuff that 'personal touch' – which is rarely something you can do with Print-on-demand fulfillment.

Most T-Shirt fulfillment printers will simply send the product off in an unmarked poly-bag, and your customer won't know by looking at the packaging who or where it came from.
Same goes for the shirt – the design is the only thing that will identify what or where this came from.
However, some forward-thinking fulfillers are beginning to change that.
Printful have the option to print custom labels inside or outside your garments (for a not-insignificant additional cost) – plus sleeve printing, should that interest you.
And on the packaging side Printful offer a brand logo on the package (FREE), a custom packing slip included (FREE – again, with logo – and an optional custom packing slip message) – plus the option to include 'pack-ins' like stickers or other goodies (not free – you have to produce these and have them sent to Printful, plus you pay a storage and picking fee).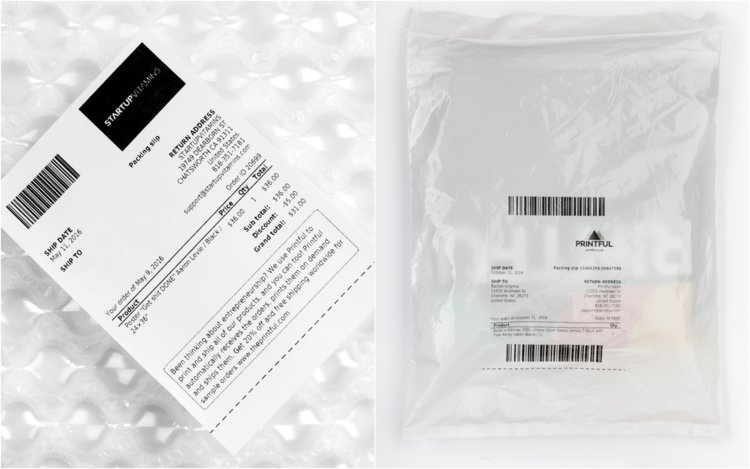 Some of these options are not cheap and will certainly eat into your profit, but if you're trying to give the personal touch, look professional and help your customer feel they've had a great experience – then it's good to know you have those options available with Printful.
As far as I know Printaura are the only other fulfillment company to offer such branding options, shown below: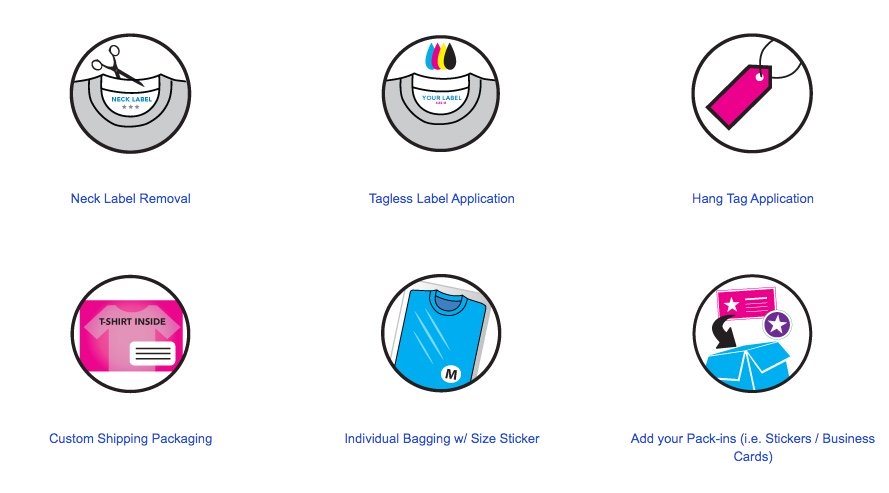 Printful also offer warehousing for non POD goods – meaning you can use them to fulfil stuff you've had produced in some other way (Eg. a bulk order of screenprinted shirts, or shipping out stickers on your behalf). Of course there are warehousing storage and other additional costs – but at least you've got the option there (and direct integration directly with your ecommerce platform of choice).
---
Refunds, Returns, Oh My!
You may be using a fulfillment company, but your customer doesn't know that.
So they're going to come to you with refund requests, complaints, questions about delivery etc.
Refunds in the world of DTG printing are not easy – because everything is custom ordered. No fulfillment company I'm aware of will offer a refund for orders unless there was an issue with the print quality or product quality.
This means if you honour a customers refund request and return their money – you'll be making a loss on that order, roughly equal to the original cost of the fulfillment and shipping of the shirt.

So you need to bear this in mind – how are you going to handle refund requests?
Are you going to say you don't accept refunds – or are you going to eat the cost?
As long as your refund rate is kept low and you make more than a handful of sales a month, you shouldn't need to worry about losing money – but it's always good to plan ahead.
I like to re-use refunded shirts where possible by asking customers to send them on to me directly (rather than back to the fulfillment company) – and then offering that shirt in a giveaway or competition on Instagram. (That way at least you get something for your trouble.)
Or you could collect all your refunded shirts at the end of the year and give them to charity – that would make a pretty good feel-good IG post also.
---
Selling Via A Marketplace vs. Your Own Store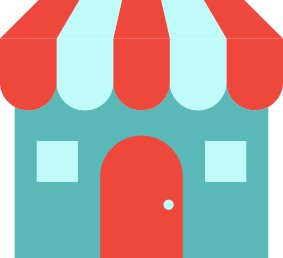 If you're interested in building your own brand for the long term (and you should be) – then you want to retain as much customer data as possible – to allow you to market to those customers in the future.
If you sell on a marketplace like Amazon or Etsy, then you have limited ability to get any customer data whatsoever.
Whereas with your own store built on Shopify or Woocommerce, you can do the following:
Get the email address and physical address data of all customers, allowing for future marketing efforts
Incentivise customers to submit their email address (eg. With a discount coupon)
Install a Facebook Pixel (or Google equivalent) that will allow you to re-target those customers in future – aswell as help you to build up audiences of similar customers who are more likely to buy your products
Offer customers the option of other interaction – such as via FB messenger or WhatsApp – again increasing your future marketing options.
..and much more besides (that's really just a taster)
So if 'brand building' is your thing – it makes sense to choose a Print-On-Demand Fulfillment partner who can hook up with Shopify, Woocommerce or some other such platform that allows you to do at least some of the things listed above.
---
Mock-Ups, Customer Customisation, APIs, Additional Services…
Mockups. All fulfillment companies will produce at least a basic mockup of the final product which you can use for the product image on your ecommerce story or marketplace listing. Printful probably offer the broadest range of possible images (shown below), though I personally prefer to use my own custom versions anyway.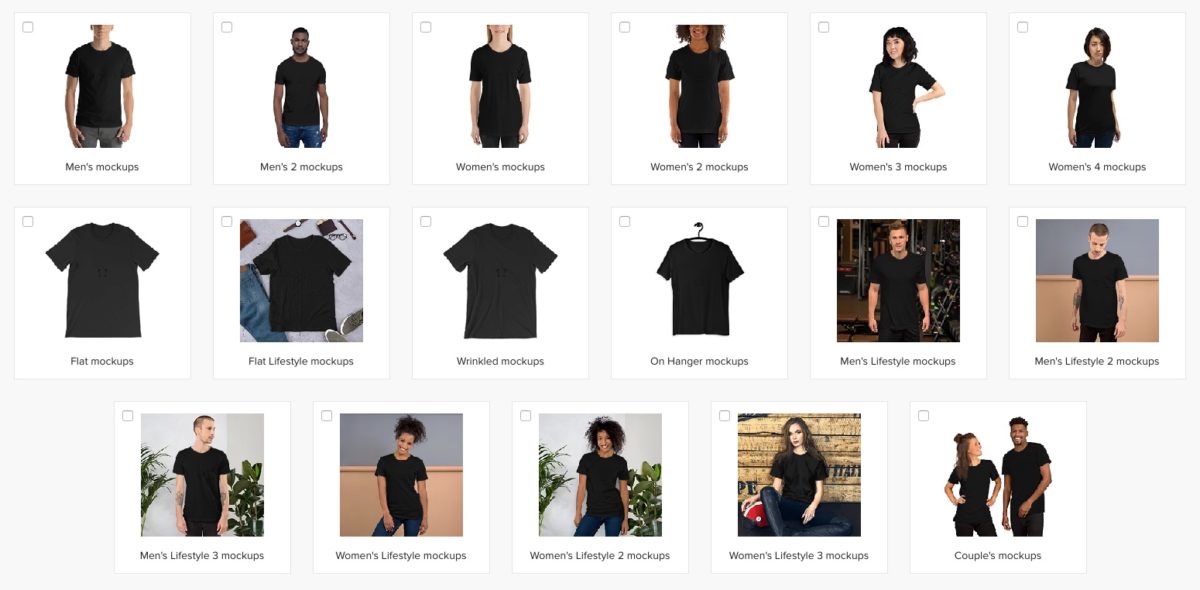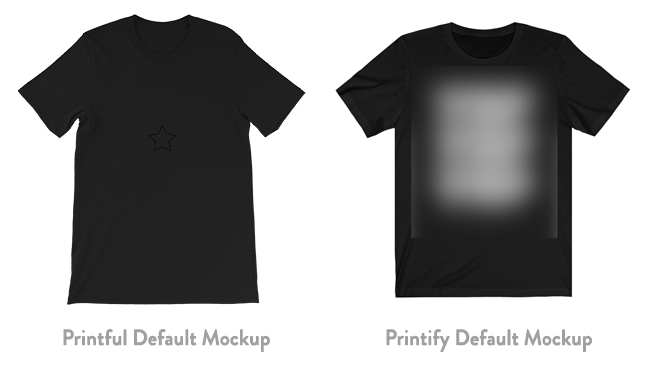 Personalisation tools. This is something currently only offered by Printful and Teelaunch, and it only works with Shopify. It creates a 'customize' button on your product page, which allows customers to change the text or upload a custom image to a template you've already created. Pretty basic in it's functionality, but it's a nice feature that I hope they'll continue to develop. Here's what Printful's looks like in action: (more info on how to set it up here)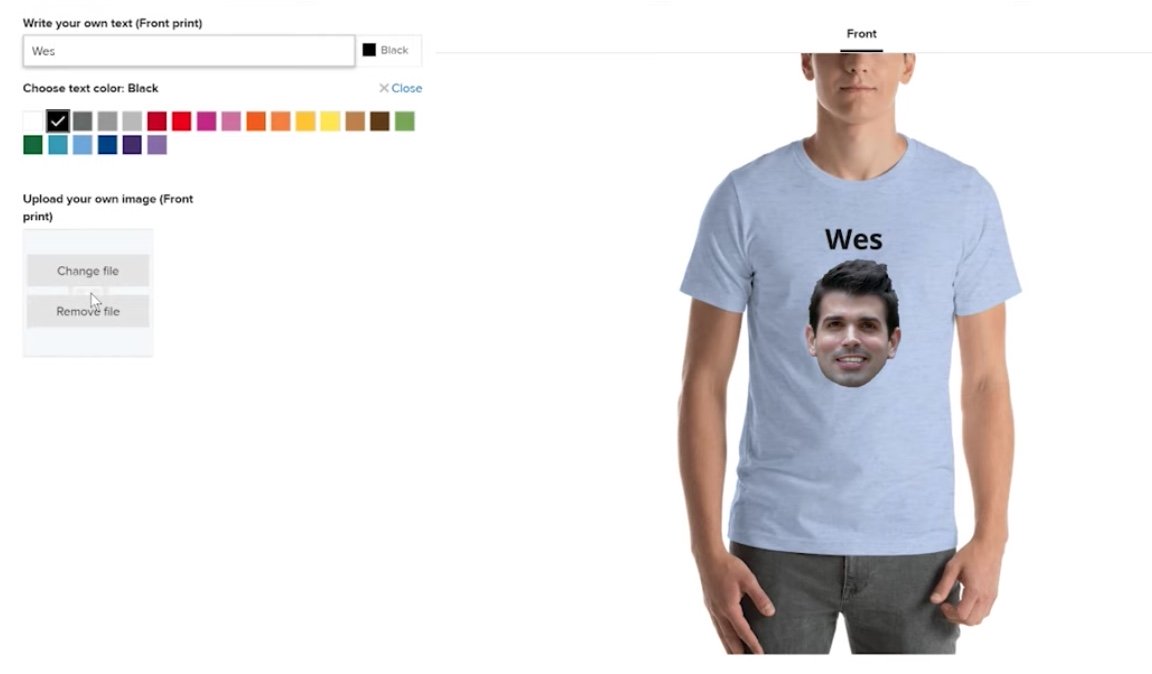 Print-On-Demand Fulfillment APIs. If you're a coder or computer genius, then you might prefer to use an API to deliver orders. The good news is that this is offered by almost all POD drop-shippers – allowing you to create whatever kind of customer integration you require. More info on that here: Printful API / Printify API / Gooten API.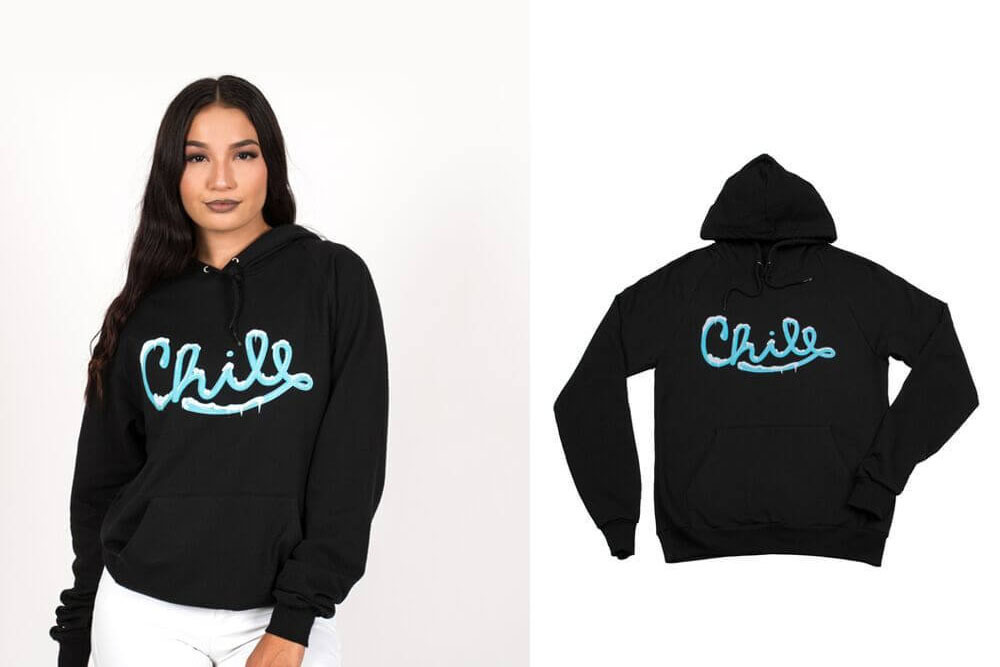 Additional services. Printful also offer a few other services that aren't directly related to fulfillment, but are pretty cool nonetheless, such as; Custom Product photography to create custom images for your store, same for video, store setup services and also design services. All of these of course cost money, but features like custom photography could be attractive for those of us who want things to look really professional but don't have a generous photographer friend with studio.
---
My 2023 Recommendations and Predictions
If you've read this far, you've probably already decided who would be the best Print-on-demand T-Shirt company for you.
But if you've skipped to the end, here's my simple advice for 2023…
---
The Best Print-On-Demand Fulfillment Company In 2023:
Printful vs Printify

Printful are the market leader and with good reason – they produce great quality prints with fast turnarounds, from multiple locations around the world (with many more added in the past year). They offer the broadest range on integrations, offer additional branding possibilities, have solid customer support and the slickest interface in the game.
The only downside is their often higher pricing – but I find this to be a price worth paying for the consistency of quality and the reliable turnaround times. Printful are the place I would recommend any artist, designer or illustrator go to when starting their own Print on Demand store. (Scroll up to read my full Printful Review ).

Printify have gained ground on Printful recently – mainly due to the flexibility of their model and their consistently cheaper base prices.
Printify's print quality is solid, they are usually speedy on turnaround, and you can choose from Print providers around the world (you can now also switch providers, even with a live product). They cover all the major integrations and have an easy to use interface.
However, as they don't actually print 'in-house' – they can't offer the extra features and branding that Printful can. For some people this will be more than made up for by the price savings available from Printify – they are usually the most competitively priced in the Print-on-demand fulfillment market. (Scroll up to read my full Printify Review ).
---
What Is A Print On Demand Business?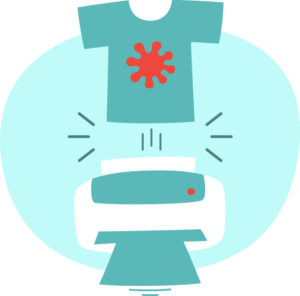 Print-On-Demand fulfillment is a relatively new industry, one that has developed only in the past several years.
So if you're wondering 'what is POD fuflillment?' or 'how does Printful work?' – then you've nothing to be ashamed of – and you're in the right place!
Print-on-demand technology is not exactly new, but the arrival of companies who will print and ship as a 'white label' service for independent sellers and designers is a recent development – and their growth has been significant.
It doesn't matter whether you call them 'Print On Demand Fulfillment companies', 'T-Shirt Drop-shipping Companies' or 'White-Label T-Shirt Printers' – it's really all the same thing.
So let's dive into what exactly they are, how they work and who would want to use them.
---
What Is A Print On Demand T-Shirt Company?
A Print-On-Demand T-Shirt Company handles the printing and shipping of T-Shirts to your customers, as and when orders come in.
You can think of them like the 'back end' or 'back of house' of your business: you receive an order from your customer – you pass the details on to your Fulfillment partner – and they print the artwork onto the T-Shirt and then ship it out to the address provided.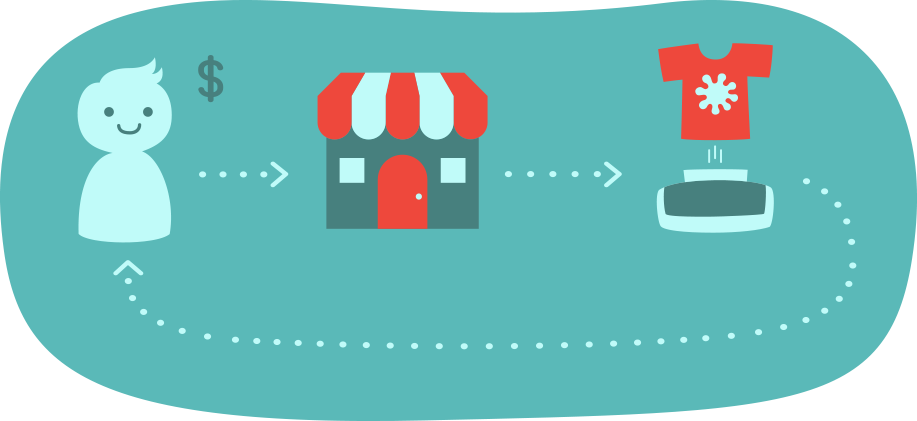 'Print On Demand' means that there are no pre-printed T-Shirts sitting in a warehouse waiting to be ordered.
And the 'Fulfillment' part means that these companies are not customer-facing – they work like drop-shipping companies.
As far as your buyers are concerned, the T-Shirt they ordered may have come directly from your house, packed personally by you.
That's because these companies provide a 'white label' service – meaning they print the product, package and ship it out to your customer. They do not handle sales or receive orders directly from your customers – that's your job.
Print-On-Demand fulfillment companies are different from Print-On-Demand marketplaces (like Redbubble, Teepublic and others) – because the fulfillment companies are only offering T-Shirt and fulfillment services – and not interacting with the customer directly: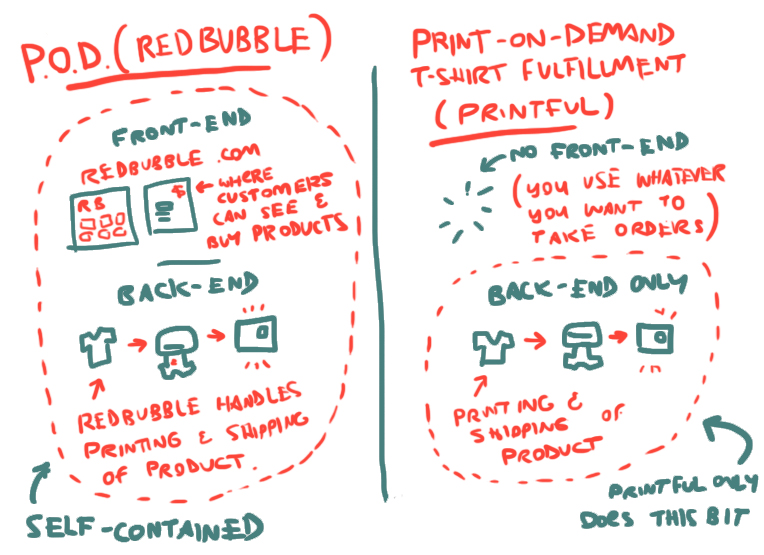 Most Print-On-Demand Marketplaces (Redbubble, Teepublic, Society6 etc.) handle everything, and pay designers a royalty on every sale.
But Print-On-Demand Fulfillment Companies only handle the printing and shipping – which means they don't pay you anything – instead you pay them, and keep whatever the difference is between what your customer paid and what you paid your T-Shirt Fulfillment company.
Many designers, illustrators, brands, celebrities, organisations and independent sellers use Print-on-demand fulfillment companies to handle their merch – because it's more convenient than doing it themselves; it allows them to offer a broad range of products, and they don't have to invest large amounts of money to get started – which means they can turn a profit immediately.
Finally – I should also point out that whilst Print-on-demand T-Shirts and other apparel items are the most popular products offered via fulfillment companies – almost all of them offer many more product categories, such as posters, mugs, cushions, hats, embroidered goods, all over printed shirts and many more.

---
Why You'd Want To Use A Print-On-Demand Fulfillment Company
There are a couple of reasons why you'd want to use a POD fulfillment company like Printful or Printify.
You want to sell T-Shirts featuring your designs, but you don't want to print shirts yourself, and you don't have the money to purchase a bulk order of screen-printed shirts.
You want to sell your products through your 'own brand' store, rather than send customers to another site (i.e. Redbubble, Amazon, TeeSpring) to purchase.
You want to sell your products through a marketplace like Amazon or Etsy, but again without having to pre-purchase stock or inventory.
Using a Print-on-demand fulfillment company allows you to do all of the above – because by using them you can offer products for sale that don't physically exist yet – and to do it with little to no upfront investment.
If your products sell, then you pass on the orders to a fulfillment partner and they do the rest.
And if your product doesn't sell – at least you haven't lost a load of cash on a pile of screen-printed shirts that are only going to take up basement or garage space.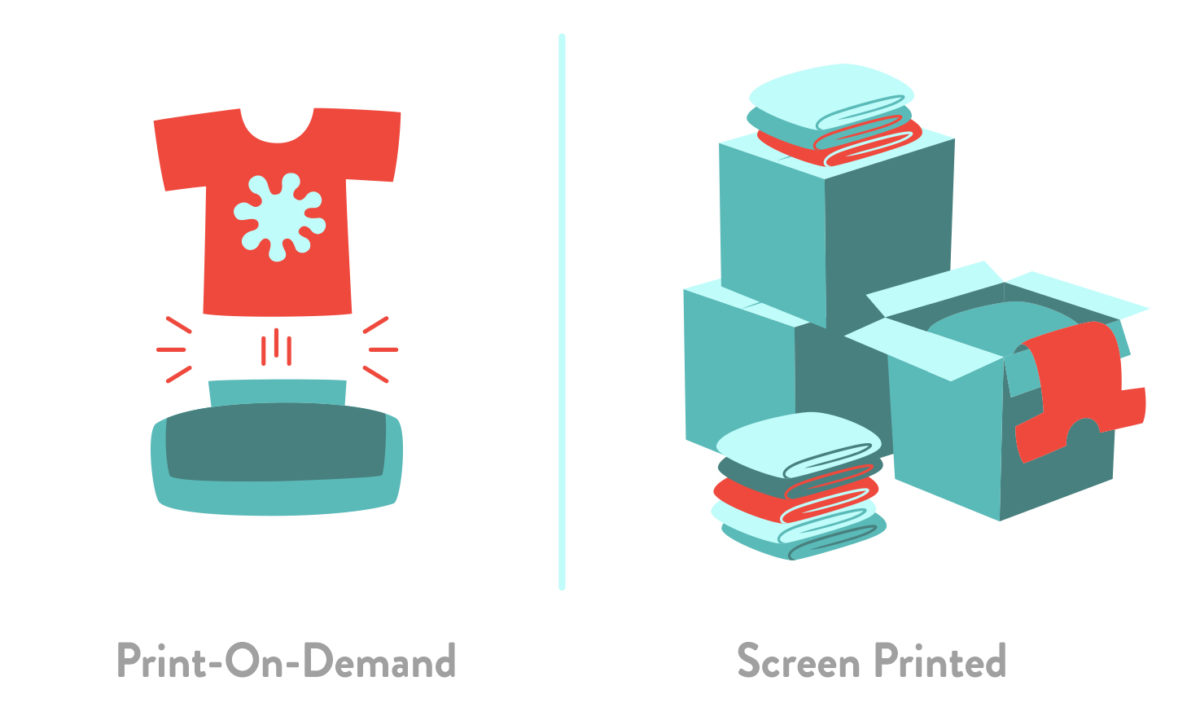 This is why using a print-on-demand fulfillment company makes so much sense for the newbie designer or artist just dipping their feet into the world of selling online: there's very little to lose.
You can use POD fulfillment companies to help you test your products and concepts to see if they will sell – all the while focusing your crucial capital on growing your audience, on marketing and advertising.
---
Print-On-Demand Fulfillment Factors
There are a lot of moving parts when it comes to print-on-demand fulfillment.
If you want to build a long-term business selling your designs online, then who you choose to handle the printing and shipping of your products is of critical importance.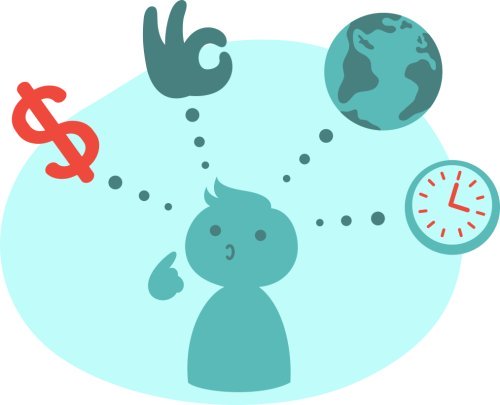 That's because choosing the wrong printing partner could do significant damage to your reputation with customers…and it can be both time consuming and difficult to switch POD providers once you're up and running.
So let's take a look at some of the factors you need to consider when choosing a Print-On-Demand T-Shirt Company.
---
Quality Of Products And Printing Quality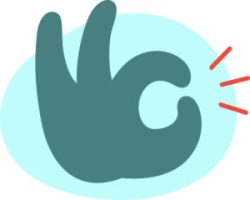 Your business exists to serve customers, and nobody likes to receive a crappy product.
The good news is that most Print-On-Demand companies use essentially the same technology, print onto identical blank shirts using near identical Direct-To-Garment printers.
And as the Print-On-Demand industry has taken off, investment into the technology has grown – which means that the quality of the prints are improving year on year.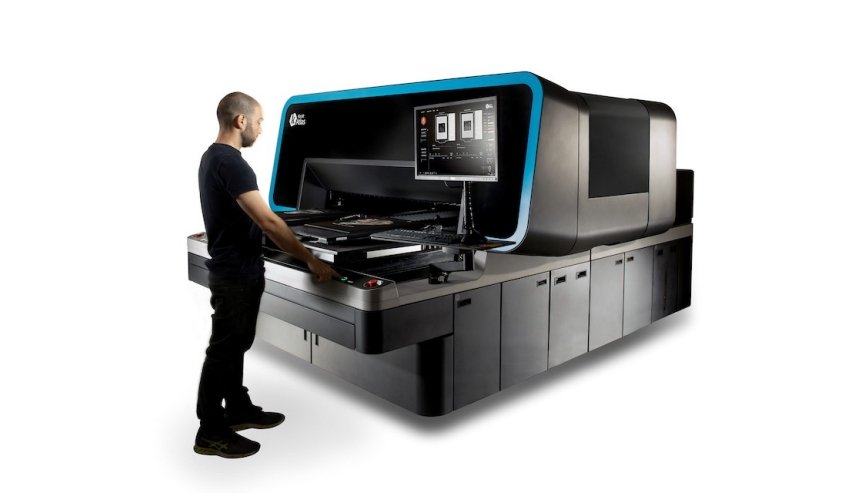 That said – there are inevitable quality differences between companies. These could range from minor colour discrepancies to crappy prints that disappears after the first wash.
The best way to test the quality of any Print-on-demand drop-shipper is simply to order a few samples for yourself directly from the companies you're thinking of using. This should cost less than $20 per shirt, and is well worth the investment to ensure you're pleased with what your potential customers could be receiving.
(In fact, most of the big POD fulfillment companies encourage you to order samples, and offer a discounted price for doing so.)
I'm pleased to say that all of the companies reviewed below deliver decent quality printing in my experience, and complaints from customers over the past few years have been few and far between.
---
The Cost Of Goods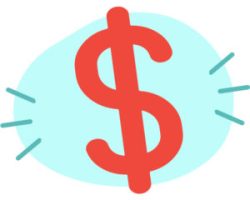 Perhaps the single most important piece of information you need when starting out – what is it going to cost you?
This is going to determine the price you charge your customers, and could mean the difference between making and losing money.
Print-On-Demand fulfillment companies usually combine the cost of the blank t-shirt with the printing, production and packaging – and charge you a flat fee for all those elements – anywhere between $6-$13+.
Here's an example of the costs you can expect to pay for a 'ready to ship' T-Shirt – from Printful (left), Printify (centre) and Gooten (right).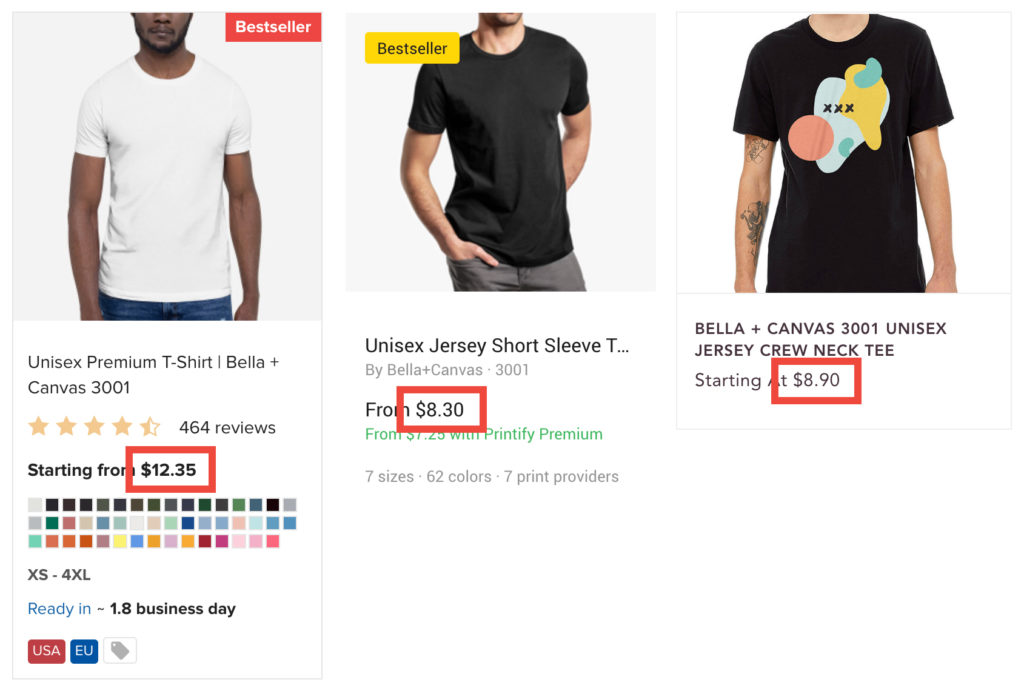 On top of that you will have to add the cost of shipping the product out to the customer – usually between $3-$6 depending on the customer's address in relation to the printers location.
This means Print-On-Demand Shirts come out much more expensive than a single screen-printed equivalent – because you are ordering one-at-a-time – as opposed to a big bulk order with a significant volume discount.
A single T-Shirt order shipped to a US mainland address will typically cost me around $12. If I sold the Shirt for $20 then that's around an $8 profit (though there will be other considerations there – covered later).
Here's an example of the maths: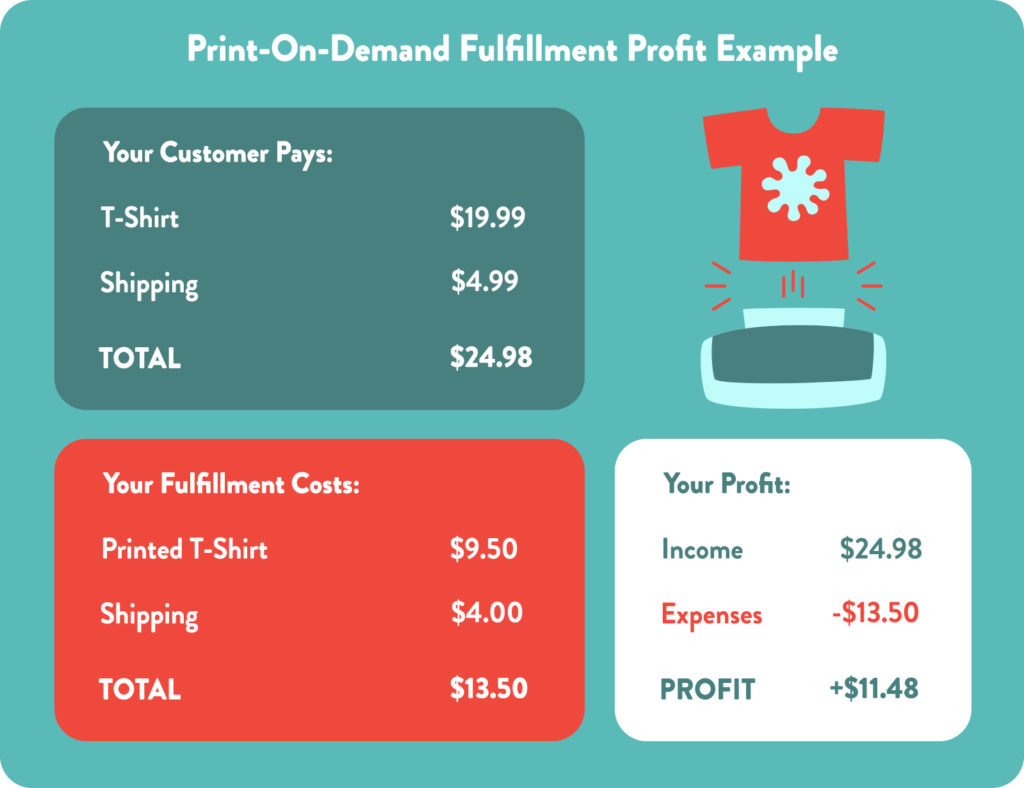 As we've already seen – prices for goods can differ greatly depending on the Fulfillment company you choose – and we'll get into that when we dive into our reviews below.
---
Your Selling Platform (Where And How and You Receive Orders)
How are you going to be receiving orders from your customers?
Are you looking for a Print on Demand Company for your Shopify or Woocommerce store?
Or are you going to sell via a marketplace such as Etsy or Amazon?
Whichever it is – most of the major print-on-demand companies offer direct integration with the most popular selling platforms – meaning that once a customer places an order it can pass directly through to your fulfillment company automatically, without your involvement.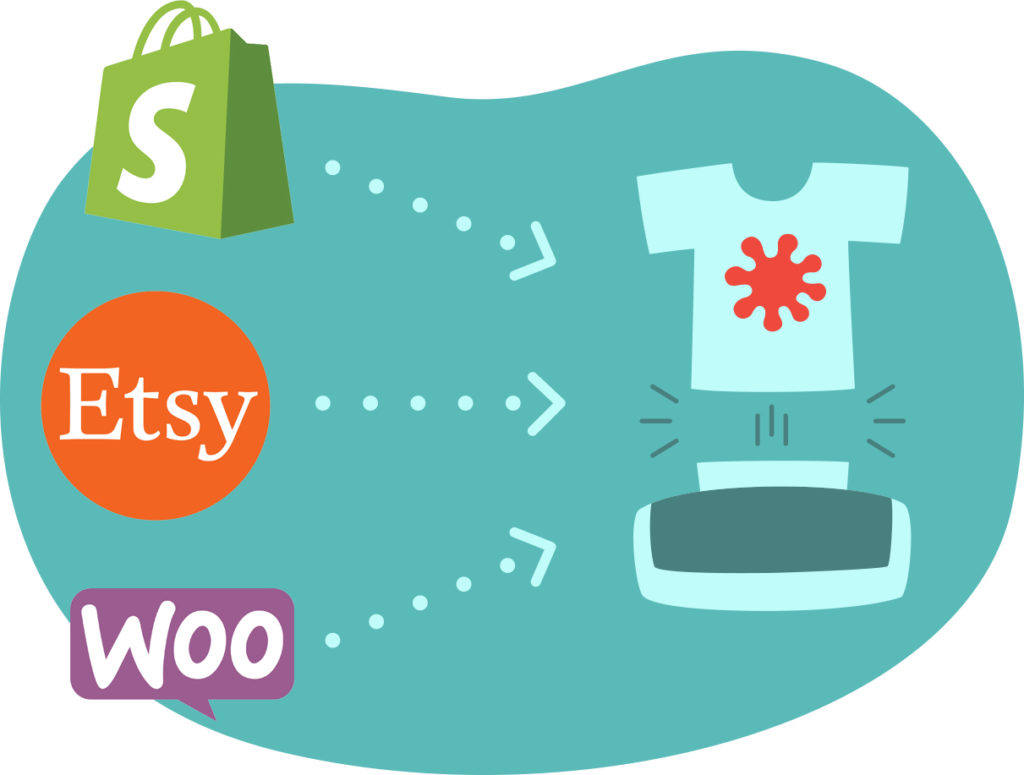 This is a great time saver and (usually) removes the possibility of humans screwing up orders.
It also means there's no delay in the process – so customers should receive the product as quickly as possible.
And another advantage – it means your POD fulfillment company can let your customers know when their order has shipped – again automatically – without your input.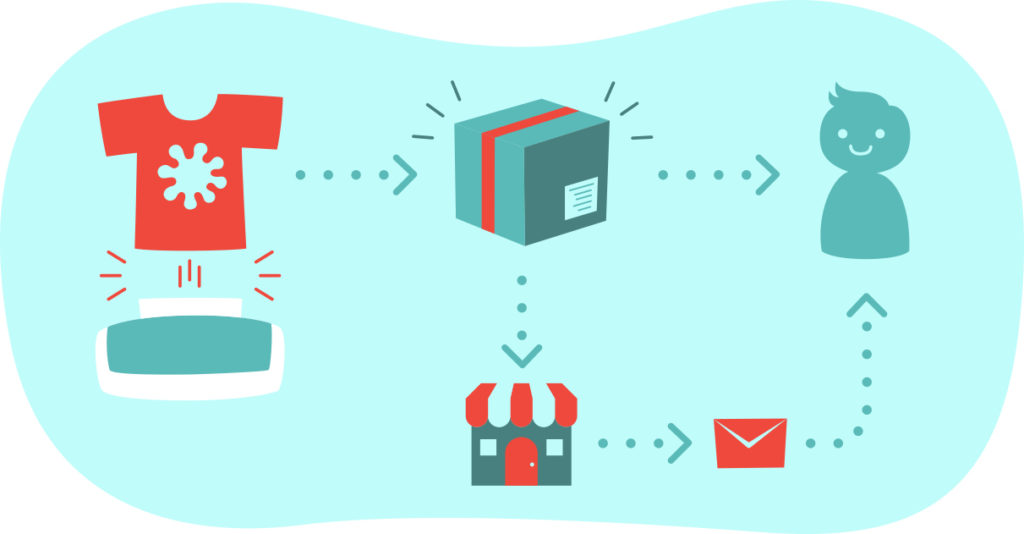 If you'd rather place orders manually, then the vast majority of Print-On-Demand drop-shippers allow this too. (This is a good option for people just starting out and testing the waters).
So if you're looking for the best Print On Demand companies for Etsy, or the best Print On Demand companies for Shopify – read on.
(Spoiler Alert: almost all the major Print On Demand T-Shirt Companies have both Etsy and Shopify Integrations).
---
The Turnaround Time (Which is the fastest Print On Demand Company?)
After quality and price, the biggest consideration for customers shopping online is how fast they will receive their order. (Amazon Prime has made super-fast delivery an expectation for many people.)
Unfortunately there are no print-on-demand fulfillment companies who can guarantee next-day delivery on orders. Instead you're usually looking at between 2-10 days to print the shirt, and then a few more days from 'shipped' to 'delivered' – in 'normal' circumstances (ie. not during Q4 or a global pandemic).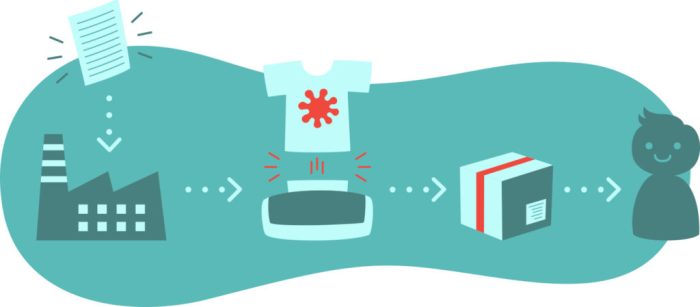 Turnaround time can vary considerably across print-on-demand fulfillment companies – though I have seen vast improvements across the board in the past year or so.
So which is the fastest Print on Demand company?
At time of writing, I'd say Printify (using MyLocker or DreamJunction) are printing and shipping products the fastest.
But the best way to get an accurate idea of the turnaround time is to place a few orders with a few companies and see how they do. Obviously you want the fastest possible turnaround to avoid angry emails or messages from frustrated customers.
Note: During Q4 (Quarter 4 – Christmas shopping season) everyone slows down and print times extend considerably. I often switch between providers depending on the season, to maintain decent turnaround times.
---
The Location Of Your Customers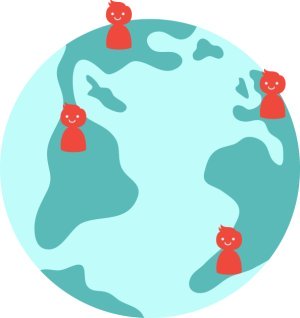 Where do the majority of your customers live?
If it's in mainland USA then you're in luck – all the biggest POD fulfillment companies have you well covered.
However, things get a little less consistent when it comes to Canada, Europe or further out still.
This is because the major fulfillment warehouses (where the goods are actually printed and shipped from) are usually located in the states – with just a couple of new providers now popping up across Europe.
If it's important to you where the goods come from – then this is something to bear in mind.
After all, your UK based customers may be frustrated and confused to discover that the UK-related Shirt they thought they had ordered from a UK company is actually slowly making it's way to them from across the Atlantic.
---
Alright – so now you know my thoughts and recommendations for the best Print on demand companies in 2023.
If you spot a mistake, or think I've missed something – please message me via my contact page so I can keep this page as up to date as possible.
Please leave a comment below to let me know which Print-on-Demand company you're using in 2023 – and why.
If you'd like to receive more content like this direct to your email inbox, make sure you subscribe to my newsletter here.
Thanks for reading!
– Michael Essek