Print on Demand UK: Is Printful The Best Choice? (2022 Review)
by Michael Essek · Updated: May 13, 2022
Printful are arguably the biggest player in the Print on Demand scene – and in 2022 they've launched a brand new fullfilment centre in the UK.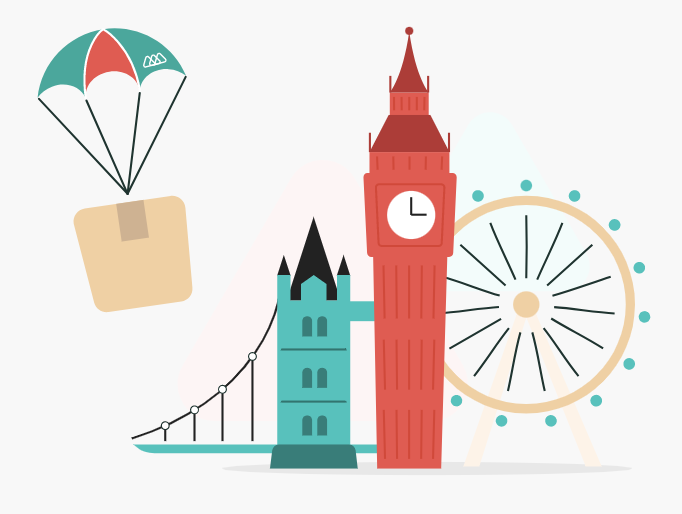 But while Printful were taking their time getting across the Atlantic, the UK has produced a number of top quality POD providers of their own.
So will Printful be able to live up to their top tier reputation and provide the POD services the UK needs?
I've ordered a stack of Printful Print on Demand products to find out – so read on for my full review…
Note: On top of using Printful for the majority of my Print on Demand stores, I am also an affiliate for Printful – so this article includes affiliate links.
Who are Printful?
Latvian owned Printful was born from the founders' need for top-quality prints for their motivational poster business. When they couldn't find anyone to match their quality standards, they launched Printful.
Fast forward 9 years and Printful are now the market-leader in the print-on-demand world, with 16 fulfillment centres spread all over the world they reportedly print over 1 million products per month.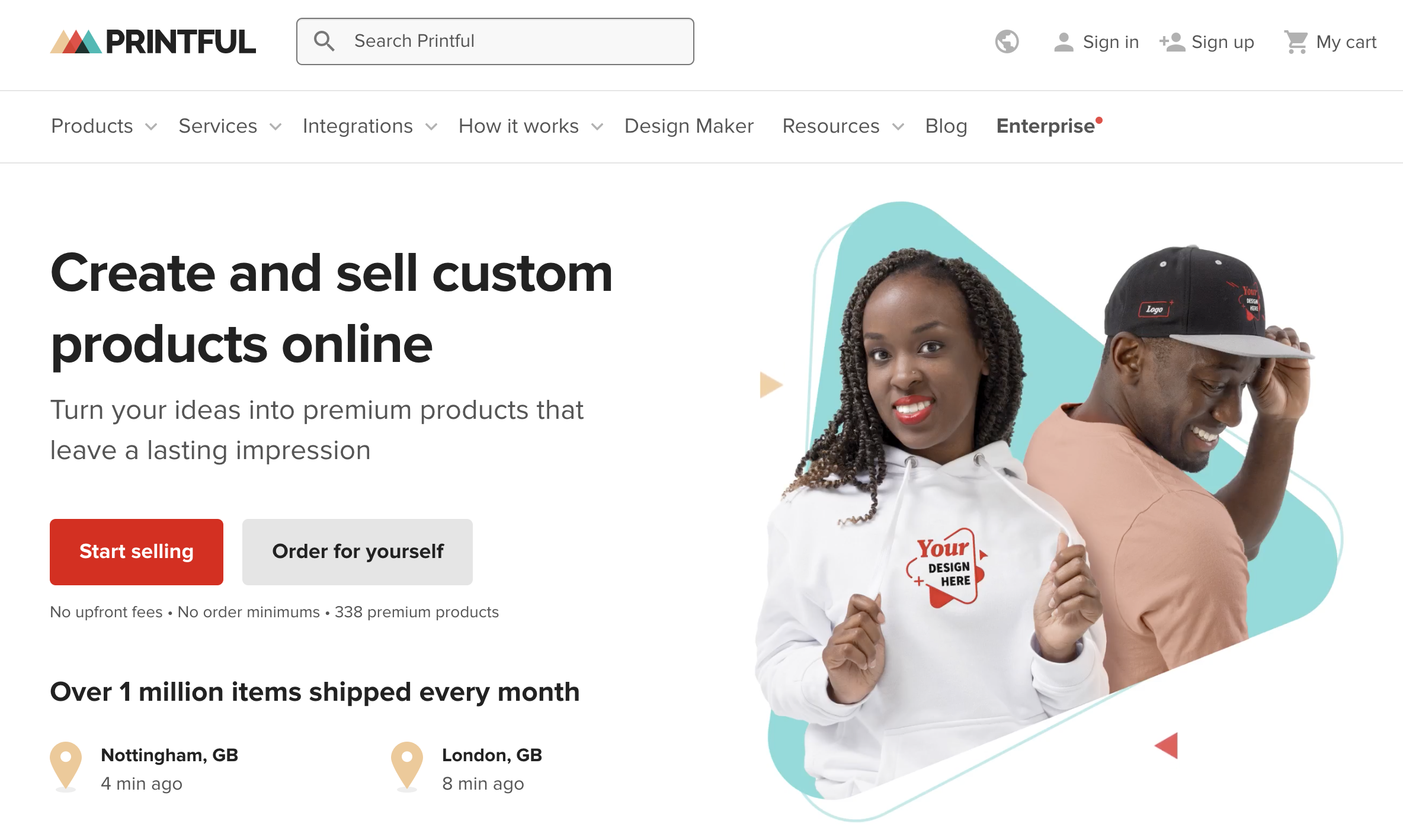 What Do Printful Do?
Printful are a Print-On-Demand Fulfillment company – meaning they are the 'back-of-house' for your store. They hold the stock, handle the printing, packing and shipping of a product to your customers, on-demand.
You can submit orders to Printful manually, or you can use one of their many integrations that allow orders to be sent to Printful automatically, directly from your Shopify, Amazon, Etsy or Woocommerce store.
---
What makes Printful UK different from other UK Print On Demand providers?
The biggest difference between Printful and most other POD providers is that they own all of their fulfillment centres – whereas the majority of their competitors outsource printing to local providers.
This ownership of everything from top to tail means;
customer service is super snappy and they are able to resolve things quickly

stock inventory can be easily accessed and usually up to date

interface is slick and easy to use (which makes it ideal for beginners)
…and most importantly they can guarantee top quality prints no matter which of their fullfilment centres your product comes from (though of course in this case, it's coming from Printful's UK centre).
The one downside of using Printful is that their top quality comes at a price. At the time of writing, a Bella and Canvas 3001 will cost you around $4 more than a leading competitor equivalent (Printify).
---
So, will Printful's new UK print-on-demand fullfilment centre be able to deliver the top quality products and service we all love them for? Let's find out…
Printful's Print on Demand UK Products
Printful UK is well stocked with at least one variation of the most common POD merchandise including T-Shirts and other popular apparel, mugs, posters, hats and phone cases.
Click here to see all the Printful UK products currently on offer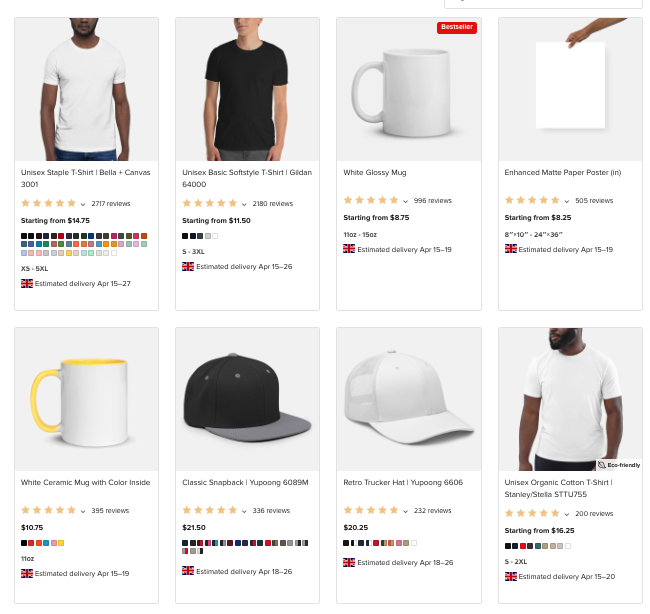 For this review I chose some of my most commonly sold POD items. I ordered two t-shirts and a sweatshirt, an embroidered hat and two posters: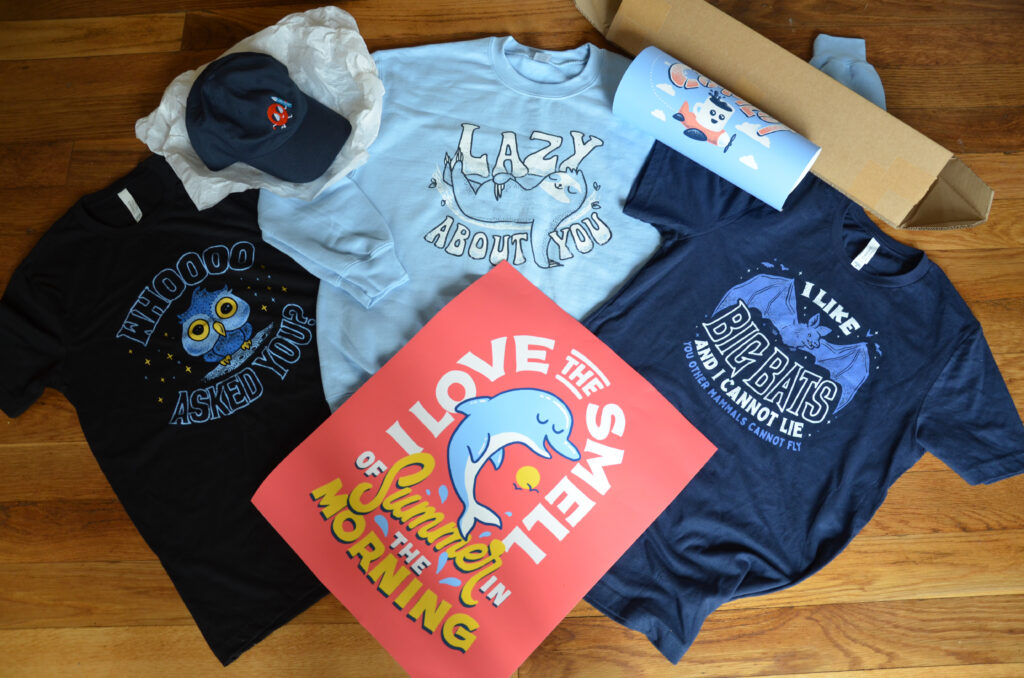 The designs I printed:
---
Printful Print on Demand UK's Processing and Delivery Times
Printful are quoting 2-5 business days for processing UK orders, plus 2-day domestic shipping to your UK customers.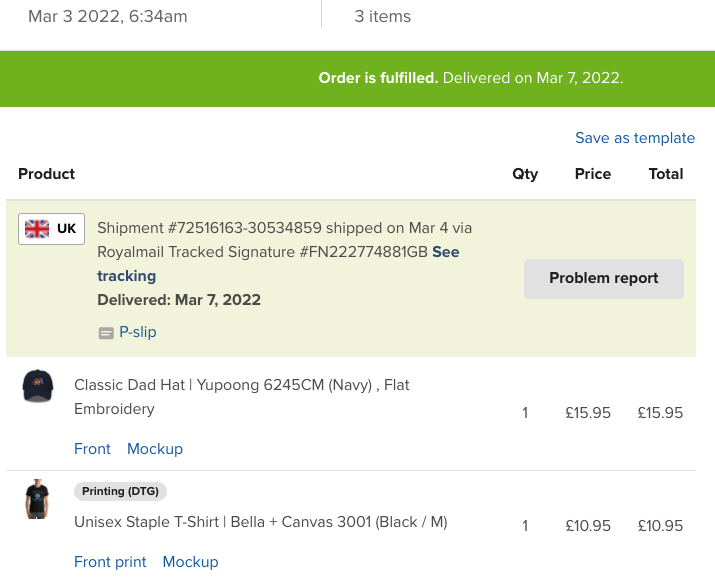 As you can see from my order above, all of the items I ordered were shipped within 1 or 2 days of ordering. And shipping took a further 2-3 days after that. Certainly within their quoted times, and faster than many competitors.
---
Printful Print On Demand UK Prices and Costs
Ok, here's the part you've all been waiting for – what did it cost?
Printful have never been known for being the cheapest POD option – and that hasn't changed with their UK offering.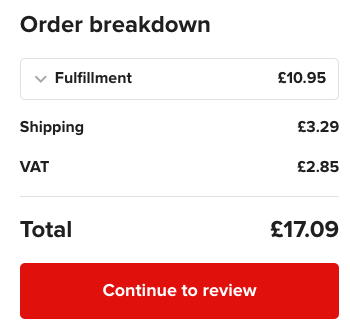 For example, a Bella and Canvas 3001 T-Shirt printed with printful will cost you:
T-shirt and Fullfilment – £10.95
Shipping – £3.29
VAT – £2.85
Coming to a total of £17.09.
I would normally charge around £24.99 for a T-Shirt on my UK Etsy stores, plus at least £2.99 shipping. Therefore printing with Printful UK would get me close enough to my desired profit margin of around 40%.
However, there's no getting away from the fact that Printful are more expensive than other UK POD providers.
This same order would cost me £15.57 (including VAT and shipping) with UK-based T-Shirt and Sons via Printify. Or even a super tasty £12.39 (including VAT and shipping) with Gelato.
Here is a full breakdown of costs for each product I ordered. (These prices are before VAT and shipping)
---
Printful UK Print on Demand Product Reviews
Ok, let's talk turkey and dive into the quality of these goods…
Printful UK's T-Shirt Print Quality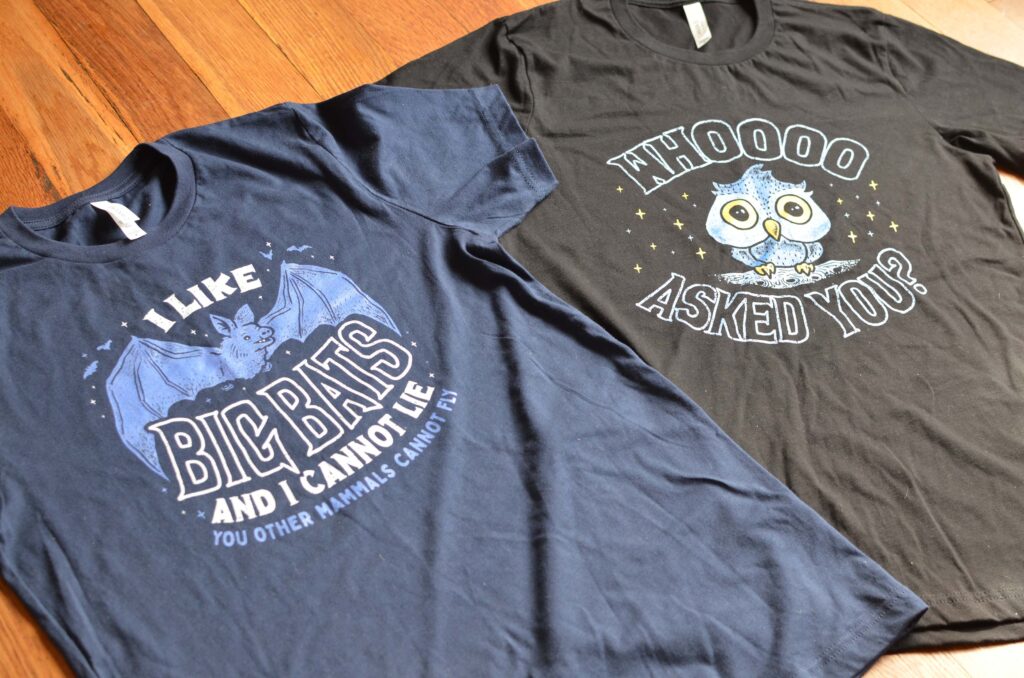 I'm very pleased with how these two T-Shirts turned out.
The print is spot on – nice clean edges, accurate print size, bright colours that are true to the design, and no smudges or imperfections in the print.
These are Shirts that I'd confidently send out via my Etsy or Shopify stores to customers. When it comes to T-Shirts – Printful UK know what they're doing.
Gildan 18000 Sweatshirt
The sweatshirt I ordered is a Gildan 18000, it's super soft and a nice comfortable loose fit style. It cost £16.50, which considering I tend to sell sweatshirts at £35 or more, these can provide you a healthy profit margin.
Again, I cannot fault the print. It looks completely professional and doesn't feel sticky or thick to the touch.
Embroidered Baseball Cap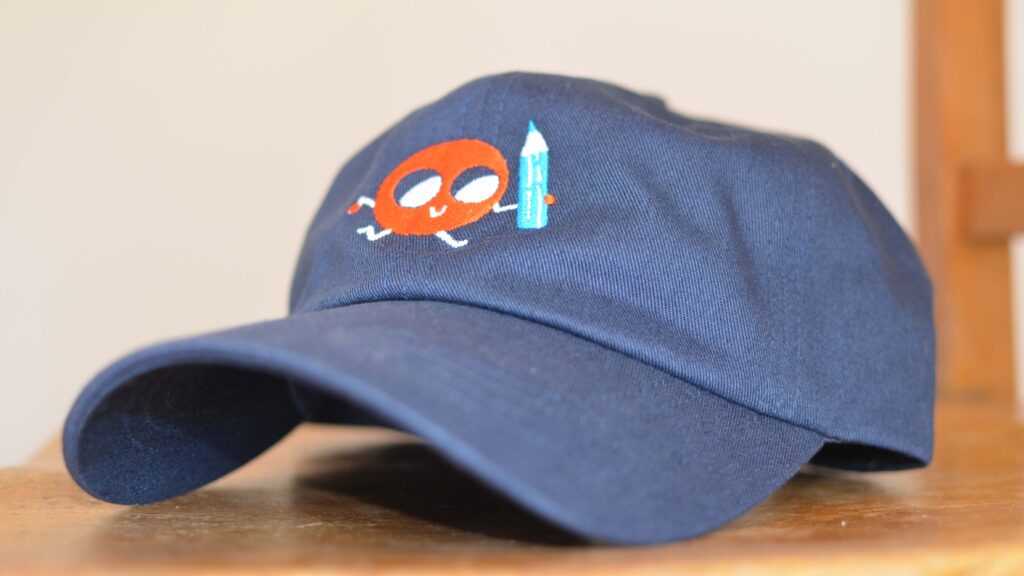 As a pale, ginger white man, a cap is a necessity for summer time.
Therefore, I decided to order myself my own Michael Essek "dad-cap"; The Classic Dad Hat (Yupoong 6245C) in navy with embroidered logo – cost £15.95.
I was pleasantly surprised with the quality and fit of the cap. It has a metal clasp and the fabric is soft yet weighty.
As you can see the embroided logo looks great and totally professional.
The pencil in this design has some quite detailed thin lines, which I was concerned would not be visible on an embroidered product. However the detailing is perfect, and there are no imperfections in the stitching.
This was also super-simple to order using Printful's embroidery interface. I'll be looking at doing more embroidery products in future thanks to this.
Posters and Prints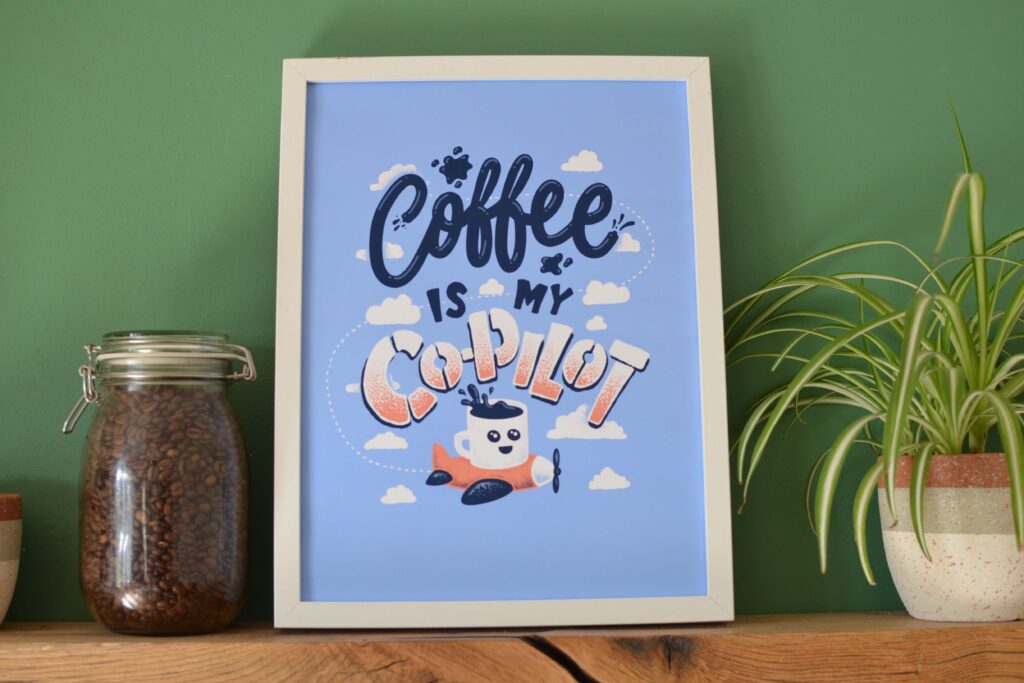 Posters can be a great option if you want to maximise your profit margin. You can easily charge £30+ for a print – but you must make sure the quality is high for such prices.
Thankfully, these posters (Enhanced Matte Paper Posters) feel premium quality. Thick paper with a touch-ably soft matt finish.
The print quality is great too – crisp lines and bright colours make these posters pop against any background.
My daughter has already claimed the dolphin design for her bedroom.
---
So – Is Printful the best Print on Demand option for UK Designers?
Are these the best quality POD products I've ordered in UK? Yes.
Are they also the most expensive? Probably.
Is it worth it? In my opinion, yes.
The peace of mind is really what I'm paying for. I've always had good experiences with Printful's Customer services – they are the best at quickly resolving issues and answering questions, because they are in charge of the whole process. (This is in stark contrast to some other UK providers who are difficult to contact via Printify or similar).
So should YOU chose Printful UK for your Print on Demand UK store?
Well, that depends.
If you want top quality print on demand products that come with great customer service and reliable processing times then Printful UK is for you. But If you're happy to settle for less in return for a higher profit margin, you might need to look elsewhere.
For example – maybe you have a premium store and need your products to match the price you will charging. You want an easy life with your POD stores – knowing that orders will almost always be out on time, and any issues can be resolved quickly and easily. If this sounds like your situation, I think Printful UK would be the best option for you.
However, If you are just starting your POD store, run a lot of sales or want to offer products at a lower price point, then you might balk with Printful's high prices, and may want to consider an alternative Print on Demand company.
Even so, it's worth bearing Printful UK in mind – as there have been a few occasions when I have moved all of my orders over to Printful from another provider to save me the hassle of unreliable partners (despite starting out with a different provider).
So in my view, Printful UK offer the best UK Print on Demand fulfilment, at reasonable but not-hugely-competitive prices.
If you want to try out Printful UK for yourself, you can sign up for free right here.
Looking for more Print on Demand options? Checkout my exstensive guide here: My Top Print on Demand Companies.


Not sure where to start with Printful? checkout this guide: How To Place Your First Order With Printful The Right Way (with FREE Shipping & 20% Off)