Merch by Amazon Phone Cases: 6 Tips To Boost Sales
by Michael Essek · Updated: January 5, 2023
Phone Cases have landed at Merch by Amazon – allowing artists to create designs for iPhone and Samsung cell phone cases, across various models.
In this article I'll cover the basics of the phone cases, show you how to setup your artwork for optimum results, and share 6 tips and tricks to help you identify target markets for your designs.
---
Merch by Amazon Phone Case Basics
The first thing to know about Merch by Amazon Phone Cases is that there are 2 different product types:
iPhone Cases
Samsung Galaxy Cases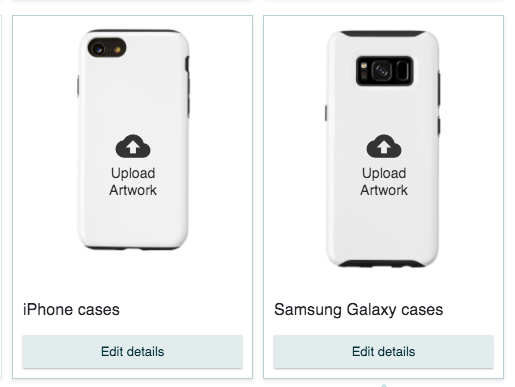 Each product type contains within it several different models, so the artwork you upload will apply to all models within that product type.
Phone Case Royalties
Here are the sample royalty rates for the Merch by Amazon Phone Cases:
| | | | | | | |
| --- | --- | --- | --- | --- | --- | --- |
| Purchase price: | $14.99 | $15.99 | $16.99 | $17.99 | $18.99 | $19.99 |
| Royalty: | $0.80 | $1.50 | $2.19 | $2.89 | $3.59 | $4.28 |
At time of writing the lowest possible price you can list a Phone Case (for a $0.01 royalty) is $13.85.
These royalty rates apply to both iPhone and Samsung models.
For the most up to date royalty data, check out the official Merch by Amazon Product Royalties page.
---
Phone Case Artwork Templates
Artwork templates for Phone Cases are available from the Merch by Amazon product templates page.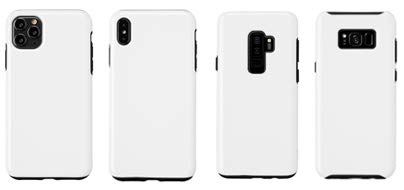 The dimensions for the Phone Cases artwork are 1800px by 3200px.
These dimensions apply for both the iPhone and Samsung cases – although you will often need to create different artwork files for each – as I'll explain below.
Phone Case Template Artwork Tips
As you can see in the artwork template below – each Phone Case product has a different 'safe zone'.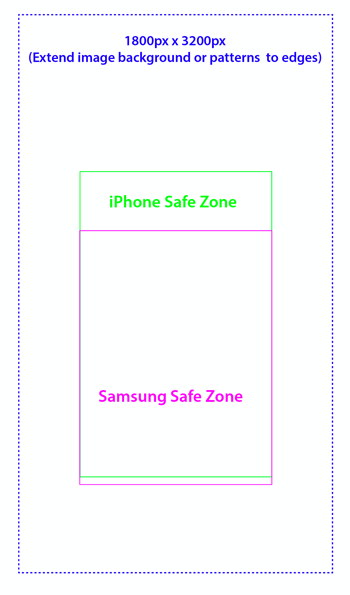 The Safe Zone represents the area into which you would want to keep the most important elements of your design. For example – any text, primary illustrations etc.
Artwork outside the safe zone will still be printed, but runs the risk of being covered by a camera opening, or of appearing on or around the edges of the case.
As each phone case product has a different safe zone – you probably won't be able to use a single artwork file for both products.
If you do – your design could be eaten into by the camera openings on the Samsung models – or appear too low down on the iPhone models.
Where To Position Your Artwork
In general, positioning artwork towards the top of the Safe Zone – and then filling the full Safe Zone width – seems to produce the most natural looking results across most models: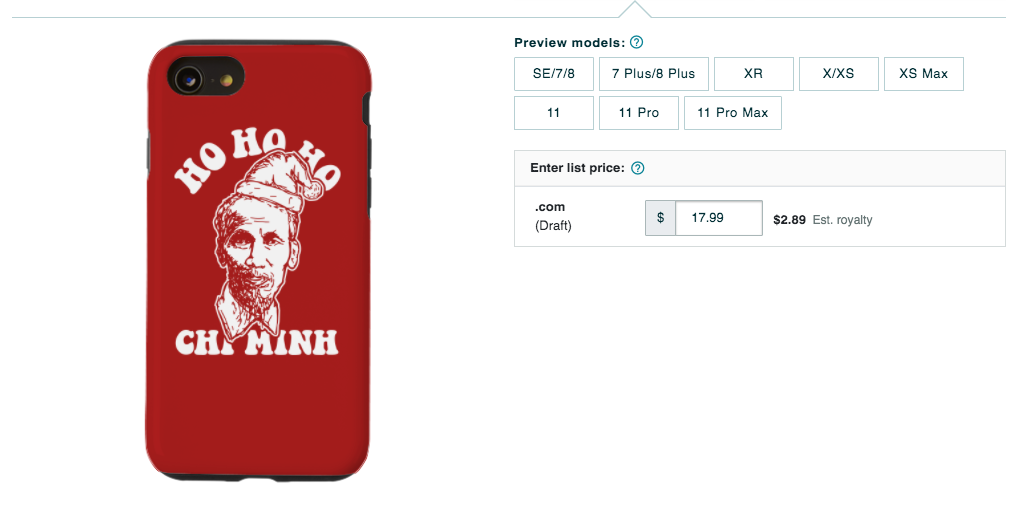 However, when you have artwork that is wider than it is tall, this will leave a lot of dead space on the case: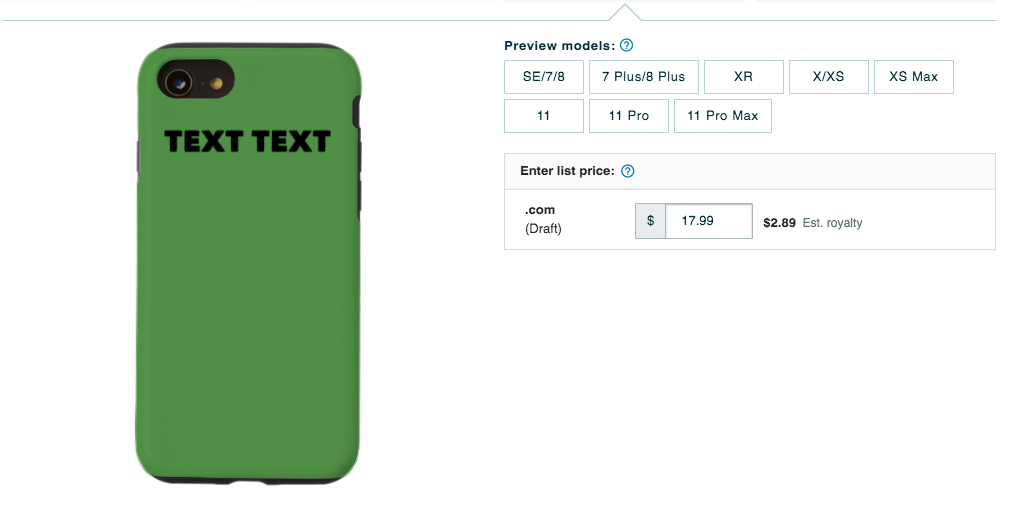 So in the above example – with artwork or a design that's wider than tall – or even artwork with an equal height/width ratio (a square) – you would want to move that artwork down towards the centre of the Safe Zone – to make things look more aesthetically pleasing on the case: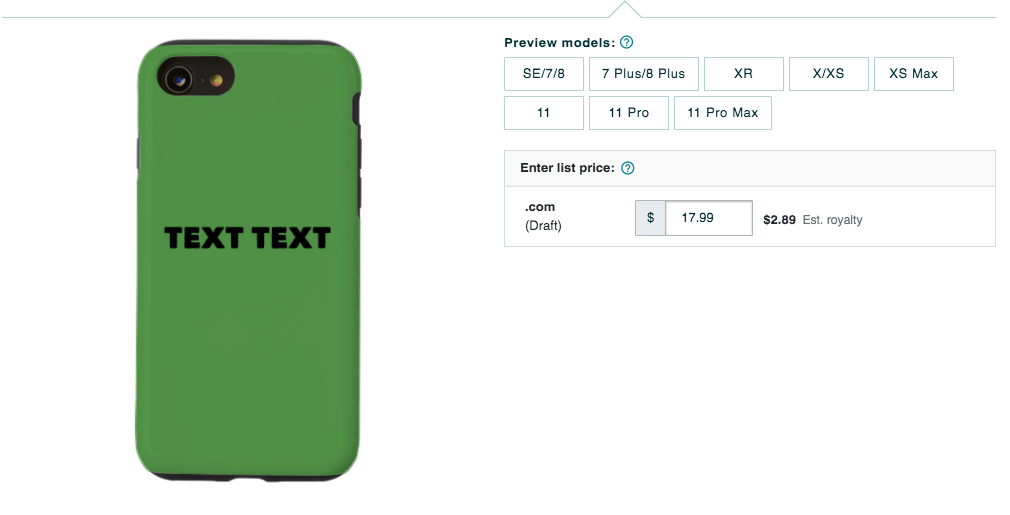 ---
7 Tips to Boost your Phone Case Sales
We've covered the basics – so let's get into some tips for helping you sell more Phone Cases on Amazon.
Tip 1: Start With Your Bestsellers
If you want to get Phone Case sales coming in as soon as possible – it's usually best to prioritise your existing best-selling designs.
Simply identify which designs are your best performers across your other Print on Demand sites or channels, and create those Phone Cases first.
You already know that these designs are popular with customers – you have proven demand – so it's likely to be the lowest-hanging fruit for jump-starting Phone Case sales.
Tip 2: Think Patterns
Many of the best selling Phone Cases across Amazon, Redbubble, Society6 and more feature patterns, repeating artwork or other abstract art that fills the canvas: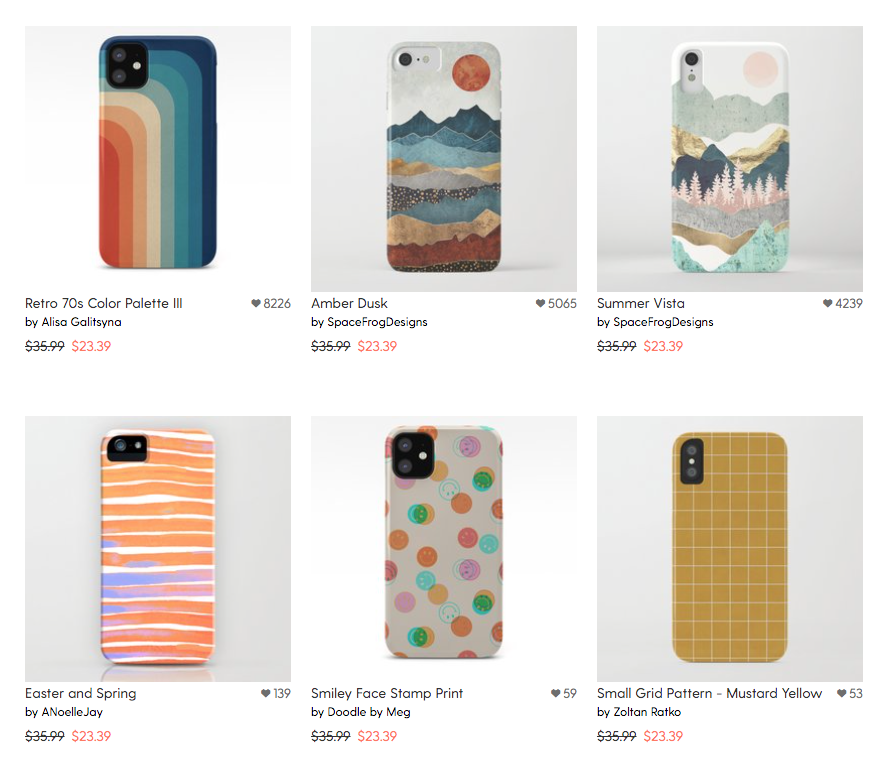 So when you're thinking about what kind of designs to create for Phone Cases – think along these lines.
T-Shirt designs may or may not work when whacked on a Phone Case – instead you'll likely find more success creating artwork especially for Phone Cases – usually artwork that is less explicit than a standard T-Shirt design – and is more abstract and aesthetic-based.
Tip 3: Use AMZ Suggestions Expander
AMZ Suggestions Expander is a free Chrome Extension that expands the number of search suggestions from the Amazon search bar.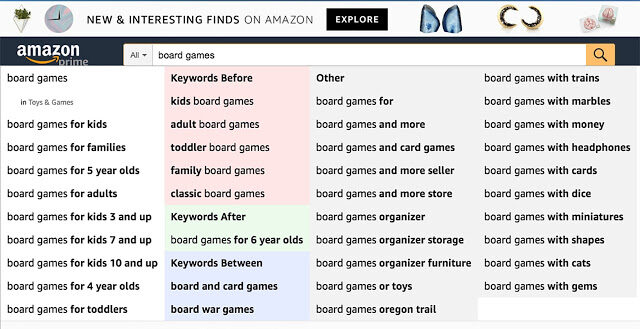 This allows you to identify potential ideas and markets for Phone Cases – because it shows you related searches that customers are already typing into Amazon.
Simply type 'Phone Case' into the Amazon search bar once you have this installed, and scan the results for any hints that would suggest potential markets for your designs.
Tip 4: Use The A-Z Trick
To help find as many ideas as possible, you can use the A-Z trick inside the Amazon search bar.
To do this, simply type 'Phone Case' followed by 'a', 'b', 'c', etc.

The auto-expander will kick in, and you'll be presented with a variety of keyword ideas, such as:
Phone Case Aesthetic
Phone Case Blue
Phone Case Cute
…and so on.
For best results, try variations of 'Phone Case' – such as 'iPhone Case', 'Samsung Case' etc.
Tip 5: Auto-Suggest + 'With', 'For' etc.
Another Auto-suggest tip is to use conjunctions such as 'With' or 'For' when looking for keyword ideas.
For example, 'iPhone Case With A…' returns the following suggestions:

Running through the A-Z trick once again (this time following your 'with' or 'for' is a great way to identify more Phone Case markets and potential design ideas for you to work on.
Tip 6: KeywordTool.io
KeywordTool.io is a free tool for generating keyword ideas.
Just type in a keyword, and it will display search term suggestions.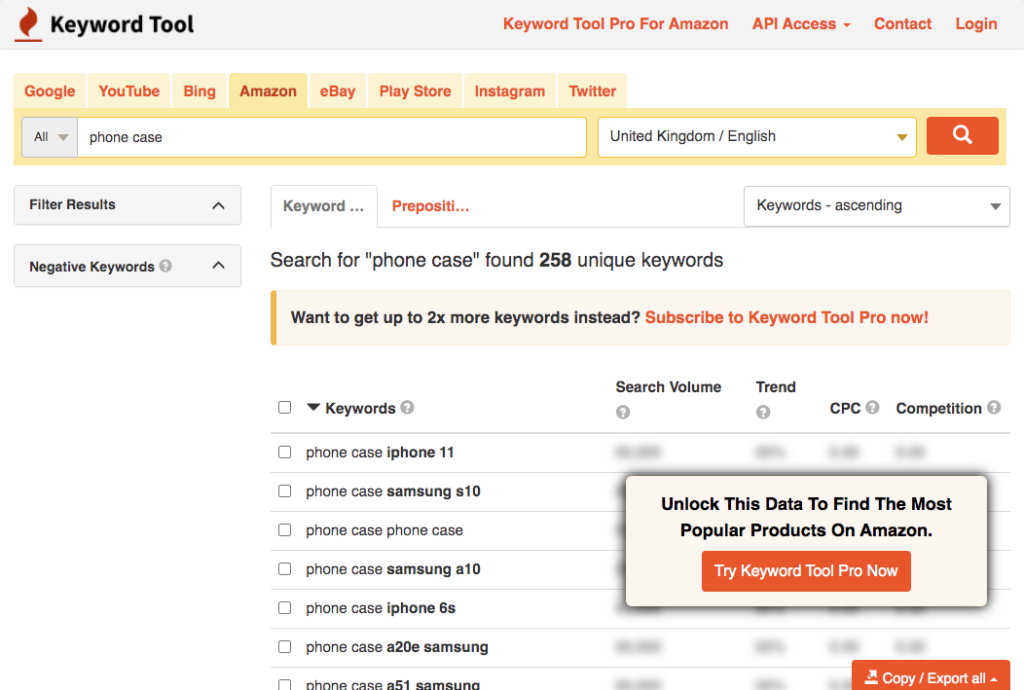 Using this tool along with our previous seed words (Phone Case, iPhone Case, Samsung Case) can lead you to new keywords you wouldn't have found elsewhere.
If you want to see the estimated Search Volumes and other data you will need to upgrade, but you can view the actual search terms for free.
---
Bulk Creating Phone Case Artwork
Bulk or batch creation of re-sized or re-positioned Artwork – say from your existing designs – is often not easy to do.
You may use something like Photoshop Actions or Batch Processing – but that process is difficult and resource heavy.
If you're looking for a comprehensive solution to your bulk artwork re-sizing needs, then check out my dedicated class on the subject: Artwork Automation.
This is how I've been able to quickly (and almost automatically) create the required Artwork for Phone Cases – and for almost any other new product that arrives and requires custom sizes artwork – whether at Merch by Amazon or anywhere else.
Other potential solutions to help you re-size your designs for Phone Cases include:
MerchWizard – which has a built in on-page Phone Case re-sizer for Pro accounts.
MerchResize – a free option for resizing in the browser.
---
Conclusion
I hope this article has given you a good introduction to Merch by Amazon Phone Cases – and provided you with some useful practical tips.
Is there something you think I've missed? Feel free to comment below to let me know.
Happy Phone Case selling!