How To Sell More Shirts! Strategies, Tips And Tricks To Help You Sell T-Shirts Online With Merch By Amazon And More [eBook]
by Michael Essek · Updated: January 5, 2023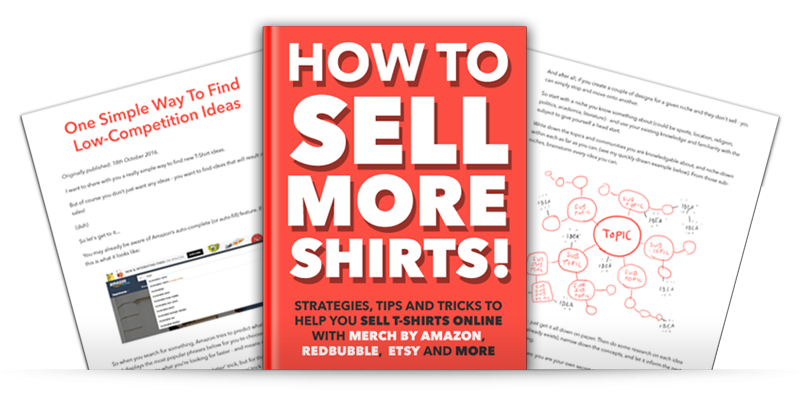 Are you a designer, illustrator or artist selling T-Shirts online?
Do you want to sell more Shirts?
Who doesn't, right!?
For the past 3 years I have been making money online from my T-Shirt designs. In the past year that income has been super-charged by Amazon's new print-on-demand platform: Merch By Amazon.
I'm now making a steady $10k a month in profit from selling T-Shirts online on Print on Demand Sites.
I believe any competent designer can achieve similar results, and in a much smaller time frame than I did.
But…
…the online T-Shirt market is becoming increasingly competitive.
New designers and non-designers alike are flooding in, making it all the more critical that you have an advantage over the competition.
This book outlines strategies, mindsets – plus practical tips and tricks – that will help you think and design for long-term sales and recurring income.
It combines over 10 weeks worth of my secret email newsletter content, compiled and edited for easy reading and quick application.
---
Who Is This Book For?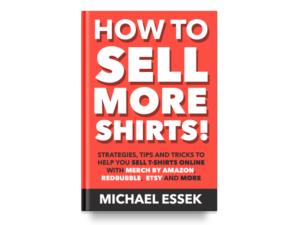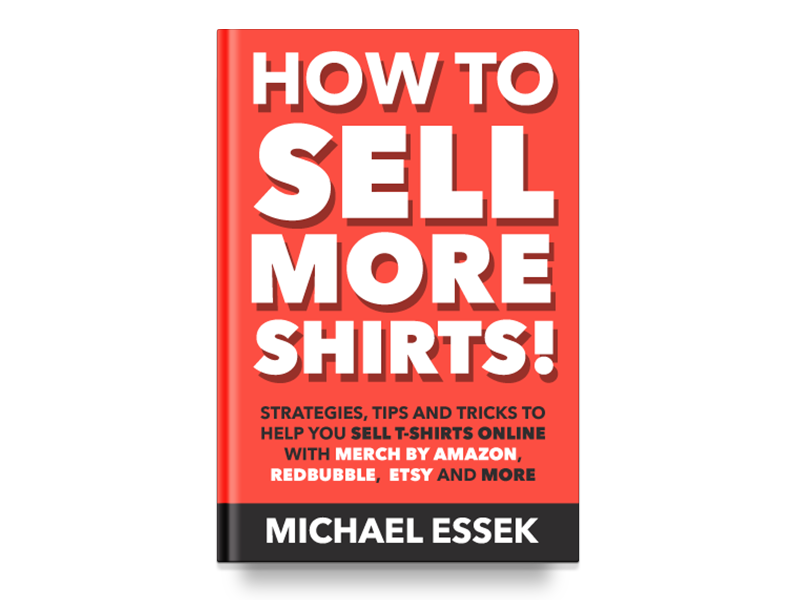 This book is for anyone who wants to increase their online T-Shirt sales…
…but this is not a beginner's guide!
If you want an introduction to selling Shirts online, or to platforms like Merch By Amazon – I recommend you look elsewhere. I do not explain the basics of how these sites work, walk you through the process of setting up accounts, or tell you how to use Photoshop.
This book is really for those who have already started selling Shirts online – who know and understand the basics – but want to take their sales and earnings to the next level.
As someone who has been marketing t-shirts for a few years now – and using merch since the beginning – I found a great amount of information in your ebook, for novices and more intermediate users. It is well written in a clear and concise manner and should be beneficial for all. I particularly enjoyed the information about other marketplaces – and some of your research methods are different from everything else being taught. – Craig Summers
---
What Will I Learn?
The book is jam-packed with valuable and practical information, covering topics such as:
How to identify the types of T-Shirt Markets you should be targeting (and those you should ignore)
The kinds of T-Shirts you must create to make decent money – long into the future!
How to develop a strategy for generating solid ideas that are much more likely to generate regular sales
Quick and simple ways to "upgrade" your designs so that you are the "premium" option
How to stand out in crowded niches and super-hot trends (without just lowering your prices)
How to use social media to find popular design ideas that you won't find anywhere else
How to use Amazon's search function to bring ideas to YOU
The often-made mistakes that newbie sellers make, and how to avoid them
It's obvious that Michael knows what he's talking about, with not just merch but t-shirt design and sales in general. The content in the book is practical and easy to follow along with if you're new to merch/t-shirt sales, and also goes deeper for people with a little more than basic knowledge. – Shannon Copstead
---
Full Chapter Breakdown
Over 10 Chapters, 45 pages and 11,000 words – this book is a full on 'brain dump' to provide you with strategies, mindsets and practical advice.
Here's how the chapters breaks down:
Different T-Shirt Markets & How To Tap Into Them
Why Your Text-Only Shirt Designs Are A Liability
My Halloween Sales & Why You Must Be Original
3 Tips On Niches And Idea Generation
3 Ways To Level Up Your T-Shirt Designs
How A Stolen Design Made Me Money
3 Simple Ways To Stand Out In Trending Niches
One Simple Way To Find Low-Competition Ideas
3 Simple Mistakes That Are Hurting Your Sales
One Super Easy Way To Find Shirts That Are Selling
…plus a detailed introduction and 'Final Thoughts' chapter.
2017 Update: 'How To Sell More Shirts!' has recently been fully revised and updated – including 6 brand new chapters!

Click Here to view all the information about the updated Second Edition, or Click Here To Buy It Now
---
Get The First 3 Chapters For FREE!
Yes that's right – I'm giving away the first 3 chapters for free – for a limited time only! – when you subscribe to my secret newsletter.
To get your sample chapters now, just click the link below!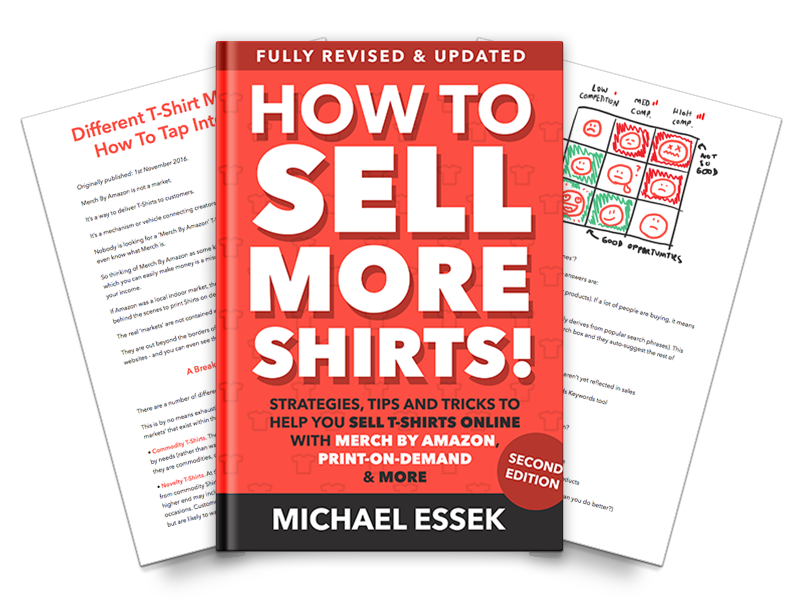 or Click Here To Buy Now for $29.99
---
Questions, Comments, Feedback?
I'd love to hear what you think of the book and any questions or comments you might have.
Just contact me here or drop me a line on twitter or facebook.
Comments
comments