Merch By Amazon Tools and Resources for Noobs
by Michael Essek · Updated: January 5, 2023
Are you a complete Merch By Amazon newbie?
Then you're probably overwhelmed with all the information being thrown at you.
Everybody's using abbreviations and talking about plugins and stuff – things you know nothing about.
So I thought I'd run through some of the basic Merch By Amazon tools that every newcomer should know about – before you go a-diving into the world of Merch By Amazon.
Disclosure: There are some affiliate links in amongst the following – because Shakespeare got to get paid, son.

Oh and before you dive in, make sure you understand my 3 key principles for Print on Demand Success.
---
1. Design Software And Resources

If you're going to be designing T-Shirts yourself, you need some software fit for the task.
Probably the most popular programs for designing T-Shirts are Adobe Photoshop and/or Illustrator – both are paid professional applications that start from $9.99/month individually, or around $40/month for both (also includes the rest of Adobe Creative Cloud suite).
But if you don't fancy dropping 40 big ones a month from the get-go – there are some free or cheaper options available.
GIMP is a free Photoshop alternative with a good supportive community and plenty of free online resources to help you get started.
Inkscape is to Illustrator what Gimp is to Photoshop – a vector program that is completely free and open source. Both Gimp and Inkscape are available for all major operating systems.
Other notable mentions and design-related resources include:
Affinity Designer – an up and coming vector program (alternative to Illustrator) that retails for $40 (one off fee).
Over App – This is an iPad/iPhone app that some people are using instead of Photoshop or whatever. The basic app is free but there are add-ons for additional fees. Some more info in this video playlist from Chris Green.
Commercial Use Fonts – FontSquirrel is my go-to for free commercial use fonts (meaning you can safely use them in your designs without worrying about copyright infringement).
Wordmark.it – View all the fonts on your machine in an instant with this handy website. Great way to quickly scan fonts that might be appropriate for your design.
Shirtoid Tutorials – This is a great collection of free tutorial vids for T-Shirt designers. Especially useful are those that cover adding 'distressed' effects to your designs, or using halftones.
Vector Graphics – Vector graphics are often the best types of elements to use in your designs, as it should mean your design is crisp and clean whatever the size of the canvas. CreativeMarket is a great place to get low cost vector artwork, as is Design Cuts. FreePik.com is another great place for vectors – but with all the above be sure to check that you have commercial rights before you use any of them in your designs.
2. Research Plugins and Tactics

It doesn't matter if your designs are some Leonardo-da-vinci level stuff – if you aren't designing T-Shirts that people are searching for and want to buy – you aren't going to get great results with Merch By Amazon.
So what tools exist to help you tackle this most important of problems?
The first thing I would recommend is a BSR rank checking plugin.
BSR stands for 'Best Sellers Rank' and refers to Amazon's internal score – which it gives to every product.
The higher the number, the lower the amount of sales.
So for example – a T-Shirt with a BSR rank of 20,000 might make between 5-10 sales a day.
Whereas a Shirt with a BSR of 500 might make 100-200 sales a day.
(these numbers are for illustration purposes only – plus Amazon's rank is a constant rolling and subjective number so there's no hard and fast data on this).
So – the ability to quickly see whether there exists a sufficient or attractive market for a particular type of design is a valuable one.
To this end – I recommend the use of a BSR checker plugin – such as:
The main purpose of these plugins is to display the current BSR of any given product in the Amazon search results page.
So you simply search within Amazon.com for your given phrase or keyword, and these tools will help you see – at a glance – what is selling, and how well they are selling.
I have used all of the above tools, and find them essential for doing research into any T-Shirt market, and helping me decide which niches to target.
The Amazon research / analysis industry is a pretty big one, and there are some relatively expensive software services you can use – such as JungleScout, Helium10, Asinspector and others. But for my purposes – the above plugins tell me 90% of what I want to know.
Other notable mentions in the world of Merch Research:
Merchant Words. This is a paid subscription service that's supposed to let you see what people are searching for on amazon, and at what volumes. I've used it, but found it to be somewhat unreliable and pretty limited in it's applications. May be worth checking out, but I no longer use it as part of my regular research.
My eBook! Perhaps more important than the software tools you use is the ability to know what you should be looking for, and where to look for it. You need to have the right strategies and mindsets to make regular sales – and I cover a lot of tips and tricks to do this in my ebook: How To Sell More Shirts! It's still free (limited time only) so go and grab your free copy while you still can.
3. Where To Get Help And More Info

Once you have the basics in place, you'll probably find you have a bunch more questions.
So where are you going to turn to get help?
For 'official' support – you can consult the Merch By Amazon forum, where the Merch Team occasionally (or regularly – depends how busy they are) may be able to answer your questions.
Finally you can check out the following sub-reddits: AmazonMerch and MerchByAmazon.
Other Notable Mentions:
---
Have I Missed Something?
Probably.
If you have something that deserves a mention, please comment below.
Those that get the most likes will be added to this article.
Thanks!
---
Supercharge Your T-Shirt Sales With My Top Strategies, Tips & Tricks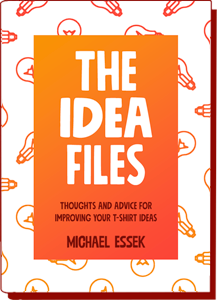 The best way to improve your T-Shirt sales is to improve your T-Shirt design IDEAS.
In my free eBook 'The Idea Files' I show you how to improve your Idea ability, and profit from trends using exclusive techniques and strategies you won't find anywhere else!
Get it free, here:
Comments
comments