Where Can You Sell T-Shirts Online? The Ultimate Guide To The Different Types Of Shirt Sites
Last Updated: January 22, 2020
As a newbie designer who wanted to sell T-Shirts online, I felt overwhelmed with the number of websites out there selling Tees.
There's just so many to choose from!
Which ones have the highest royalties?
Which will bring the most sales?
Which ones have the biggest audiences?
Which ones are right for my style and my designs?
I wanted to make money selling T-Shirts online, but I didn't really know where to start.
Well after 3+ years of trying and testing almost every T-Shirt site out there, I've found out a little about what works and what doesn't.
So I've divided T-Shirt websites into the following major categories;
…and now I'll tell you what I know about each, and how – and why – you should use them (or not) to sell your T-Shirts online.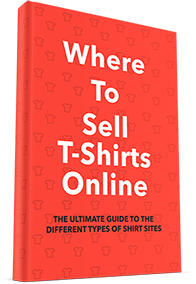 No Time To Read It Now?
This article is a bit on the long side – around 4k words to be exact.
So if you'd prefer to download the full 'Where To Sell T-Shirts Online' article as a PDF file for easy reference later, I've got you!
---
Print-On-Demand Sites
Examples:
Print-On-Demand sites are plentiful and popular – you've probably heard of some of those in the list above, even if you aren't already selling on them.
These sites allow you to setup an account and upload your designs, while they handle the selling and the production of the T-Shirts – and pay you a royalty per Shirt sold.
Simple, right?
Customer lands on Redbubble.com (for example), sees a cool Shirt that you designed, and buys the Shirt, paying Redbubble $30. Redbubble prints and ships the Shirt, and credits $3.50 (for example) to your account. At the end of the month, you'll get a paypal payment from Redbubble that includes all your royalties from the previous month.
Can Anyone Use These Sites?
Yes, in general these sites are free and easy to join. You could have your first design up and ready to buy within minutes.
Advantages of Print-On-Demand Sites
Existing Audience and Traffic. These sites often have high levels of regular online traffic that should translate into high sales for you and your designs.
Complete Solution. Everything is handled by them – from production and shipping to customer service. This frees you up to focus on coming up with great ideas and killer designs.
Disadvantages of Print-On-Demand Sites
Low Profits. Royalties per-Shirt are usually around 10-20% of the purchase price, which means you need to sell in large numbers to make significant income.
No Customer Data. You won't know who your customers are, and you won't be able to reach them post-sale. Few opportunities to create a mailing list, or otherwise market and advertise to your customers in the future.
Their Game, Their Rules. If Redbubble or Teepublic decide they don't like a design for whatever reason, they can simply remove it, or they could ultimately cancel your account. The bottom line is that with POD sites you are always subject to their rules and decisions – which could hit you in the pocket at anytime.
What Kinds of Designs Sell Best On Print-On-Demand Sites?
Usually pop culture, funny, trending, fan art and mash-up type stuff does well on Print-On-Demand sites. (Please do not take that as a recommendation – and be especially careful with 'fan art' and 'mashup' designs – as you may risk trademark or copyright infringement).
Who Should Use Print-On-Demand Sites?
Designers who are just starting out and want to test the waters. You can use these sites to see if your target market exists and if your designs will sell consistently.
Those with large portfolios of designs will also likely do well with such sites, as the more designs you have up, the more money you are likely to make.
Who Shouldn't Use Print-On-Demand Sites?
Designers and Artists with original work that doesn't tie into some existing trend or market. In my experience you are unlikely to see much profit from such sites, and you could even be de-valuing your work in the eyes of potential fans.
If your style is especially artistic or 'high-end' then I would recommend you go down the marketplace or own-domain (own brand) route. That way you can charge higher prices, and focus on appealing to a very specific group (your fans) rather than attempting to sell to a mass market audience.
Also if you have an existing fan base or following, you can probably get higher profits by selling on your own site, or using a Campaign type site. (More details below).
Which Print-On-Demand Sites Do You Recommend?
I would start with Redbubble 100%. It has a large online presence and sells to a number of countries (USA, Australia, Europe) – so if you can't sell on Redbubble there is something wrong with either your targeting, designs, or your listing details. It is also pretty easy to get started and list products – which is why I don't include sites like Zazzle and SpreadShirt in my recommendations (the upload process is just too complicated).
Next up I would go with Teepublic. They aren't quite as big as Redbubble, but they aren't far behind (at least for the funny/pop-culture type markets). Royalties can be lower at $4 for a standard Shirt – but Teepublic does have a regular sale every single month (you cannot control or opt-out of this) – and that brings in quite a rush of sales. Beware though, your profit per Shirt will be only $2 during that time (the Tees sell for $14 during the sale).
For a full breakdown of the Print-On-Demand sites I use, check out my article about the sites that deliver the best income for Designers.
What About Merch By Amazon? Merch By Amazon is essentially a Print-On-Demand site that exists within Amazon.com – so it is really a kind of hybrid between a Print-On-Demand site and a wider Marketplace. It has all the benefits of both…though a handful of downsides too. The main reason I haven't included it in my main list of Print-On-Demand sites is that you have to receive an invite to join, so you can't get started right away. Check out my other Merch By Amazon articles here.
---
Online Marketplaces
Marketplaces are sites like:
You probably think of Amazon as a big online store, but it's also a marketplace – home to thousands of independent sellers who sell via Amazon to customers around the world.
These sites allow you to sell your product to their audience & customer base. The major difference between such sites and Print-On-Demand sites is that you will have to fulfil the orders yourself (eg. Ebay will not create, print and ship a T-Shirt for you, whereas Redbubble will).
Can Anyone Use These Sites?
You may find limits exist depending on your country of residence, but in general anyone can setup a 'seller account' on such sites – providing you jump through the necessary hoops (Sign up forms, setup costs, monthly fees etc).
Most of these sites charge fees – on a flat monthly basis, as a percentage of sales, or as a combination of both. So do your research on the fee structures of each site and work out if it makes economic sense for you to sell on each.
Advantages of Marketplaces
Huge, and I do mean HUGE traffic (translates to greater exposure – higher sales). And it's not just traffic; the kind of audience you get on these sites tends to be very engaged and ready to buy. Traffic on sites like Amazon, Ebay and Etsy usually dwarfs what you would find on even the biggest POD (Print-On-Demand) sites.
Positive Association. Sites like Amazon have a strong brand that customers trust implicitly. Less effort is required to convert a customer when they are purchasing on Amazon.com – cutting your marketing costs and giving you higher profits.
Control of profits. As Marketplaces do not print T-Shirts on your behalf, you are free to set your own prices and hence your own profit-per-Shirt. Of course you will need to price competitively in order to sell, but you could make significantly more per order than with a POD site.
One Step Closer to Customer. You won't get the same level of customer data that you might do if you had your own website – but with Marketplaces like Etsy you do deal directly with the customer, and can start to build trust with them – and a reputation for your brand.
Disadvantages of Marketplaces
Fulfilment. Delivering the product to your customer is now your responsibility. Help is at hand with Print-On-Demand Fulfilment companies like Printful, Printify and others – but this is not without a degree of complication and setup.
Management And Cost. Higher profits are possible with Marketplace sites, but you will have the extra expense of monthly costs and listing and sales fees. You will also be responsible for customer care, plus management of inventory and listings data. More profit usually means more work!
They're In Control. Much like POD sites – marketplaces can kick you out anytime they like, hike fees, change their search algorithms or make any number of other changes that could harm your business.
What Kinds of Designs Sell Best On Marketplace Sites?
It depends on the site, but if a design or idea is ever going to sell, then it will sell on Amazon and to a lesser extent, eBay.
Etsy seems to work best for original and artistic style work, but also delivers well for 'generic' novelty T-Shirts and gifts.
Storenvy targets a more trend-focused and younger, fashion-focused crowd.
Who Should Use Marketplace Sites?
You should look to use Marketplace sites when you're seeing regular sales from your POD accounts, and have some cash to spend on the potential setup and fees that Marketplaces entail.
The costs and hassle of setting up on most Marketplaces should keep you away until you are confident that you can make regular sales from your designs, and until you have the time and ability to tackle it.
In terms of design styles – almost everyone should consider Amazon because it is currently the great big gorilla in the room and can deliver huge sales numbers.
Ebay tends to sell at the lower end of the market, so prices are much more competitive and profits lower. Only tackle eBay if you have mass-market designs and can deliver the finished product at super low prices (probably won't be possible with print-on-demand fulfilment partners).
Etsy is great for almost all styles, but particularly for the more artistic, trendy and pop-culture related designs. It has the added advantage of being super-easy to get started, has relatively low fees, and usually attracts customers who are willing to pay higher prices.
Who Shouldn't Use Marketplace Sites?
Brands and designers that want complete control over the relationship with their customers.
People will go to Amazon and eBay for funny Shirts and gifts, but they won't usually go there to find original, independent work from high-end, designer-style brands or artists.
If you want to build a brand identity that stands alone and is completely under your control (and are willing to forsake mass-market sales to do so) – then steer clear of marketplaces and go straight for your own website. (Etsy may be the exception to this – as they offer a lot more control to sellers than Amazon and eBay; for example, you can setup coupons, customise your brand page, send custom messages after sales etc.)
What Marketplaces Do You Recommend?
I would go with Etsy first, as it is easy to launch and the fees are low.
Amazon next, but be prepared for a lot of fiddly work. If you have never sold on Amazon before it can be quite a minefield. Checkout this article from Printful about how to sell on Amazon.
---
Shirt-A-Day Sites
These are sites offering a specific T-Shirt design for a super-low price, usually for just 24hrs only. Artists can expect to make around 10-20% of the list price for every T-Shirt that sells, which can be as little as $1 per Shirt.
The target market tends to be pop-culture focused; with movie and tv references, mash-ups and other potentially-trademark-violating designs a regular theme.
Sites include;
A few years ago, Shirt-A-Day sites were hotter than a very hot potato. Now they seem to be on the decline, with many branching out to offer different products, multiple designs per day, and offering past designs to customers at higher prices (without the time-limitation).
Can Anyone Use These Sites?
No. The designs on Shirt-A-Day sites are selected from submissions – so unless your design is selected, you cannot play.
The submission process is usually simple – requiring a small jpeg of your design and some basic info. But whether your design is picked is completely out of your hands – it depends what a site thinks will sell – so your designs must be both high-quality and appealing to a specific trend or audience (that the site in question feels they can sell to).
Advantages of Shirt-A-Day Sites
Exposure to a Large Audience. The biggest of these sites (TeeFury/Ript/ShirtPunch) have large mailing lists that receive a daily email showcasing the latest design. That usually translates to a bunch of sales, and can also be a great way to get exposure for yourself and gather new fans as an independent artist.
Ease of Use. Like the major Print-On-Demand sites, Shirt-A-Days need little more than a print file – and they'll do all the rest. If your design is selected, you send them the artwork, sit back and watch the sales come in, and wait for your royalties.
Honing Your Skills. Shirt-a-Day sites are ruthless judges of quality – so if you can't get a design selected after multiple submissions, you'll know you need better ideas and/or better design skills.
Disadvantages of Shirt-A-Day Sites
Low Royalties. $1 per Shirt is pretty sucky, but you are relying on the existing audiences of these sites to make it worthwhile. Any time I have had a design featured on a Shirt-A-Day site it has made me at least a few hundred dollars.
Short-Term Sales. Shirt-a-Day sites sell your design for 24hrs only, so you get a short, sharp blast of exposure and sales, which immediately ceases. No long term passive income from these sites (Note: Some of these sites are now offering designs on a POD basis, but even so you are unlikely to find the same levels of sales).
Technical Fiddling. Most of these sites screen-print their Shirts (rather than using Direct to Garment printing) – so they will usually request a colour-separated Photoshop or Illustrator file. If you know what you're doing then this is fairly straightforward; but it adds an extra layer of complication on to the process, especially if you are used to producing only flat PNG files for your designs.
What Kinds of Designs Sell Best On Shirt-A-Day Sites?
Pop culture, trending topics, current events, funny stuff, movie and tv and video game references and mash-ups.
Bear in mind that Shirt-a-Day sites tend to have only high quality designs.
I have heaps of pop-culture designs across Redbubble and Teepublic that sell regularly, but I wouldn't bother submitting them to TeeFury – as I know the design quality level isn't of a high enough standard.
Especially illustrative and artistic designs can do well on these sites, but they usually will need some kind of hook into an existing trend, topic, franchise or show.
Who Should Use Shirt-A-Day Sites?
Illustrators with a comic or cartoon-style and a good sense of humour.
Designers who are especially good at picking up on trends and popular topics quickly.
Artists who want exposure to help them grow their own audience of fans, and want a quick blast of short-term income.
Who Shouldn't Use Shirt-A-Day Sites?
Those with limited design or illustration abilities. Focus on your strengths – if you are a better ideas-man than a designer, don't waste time submitting to Shirt-a-Day sites.
Designers looking for long-term residual income from their designs. Spend your time designing for the bigger Print-on-Demand sites and/or marketplaces.
And If you have your own audience already, you don't really need the exposure that comes from these sites.
What Shirt-A-Day Sites Do You Recommend?
If you have the chops, then TeeFury is still the biggest (at least as far as I know).
Next Up would be Ript or ShirtPunch, though Woot is also a good one for more generic funny stuff.
It really comes down to the design and the concept. Check out the sites and their previous prints, and you'll quickly get a feel for their market and style.
---
Campaign Sites
By campaign sites, I mean places like TeeSpring, TeeChip and the other numerous clones that now exist.
Basically these are like Print-on-Demand sites, except they will (usually) only print the Shirt when a specific number of orders are placed, and they will offer it for a limited time only (between 3-21 days, though campaigns can be re-started once finished).
They tend to be the sites of choice for people selling Shirts via Facebook, or some other direct method (eg. a celebrity selling direct to their fans, a high school team or charity fund-raising).
Can Anyone Use These Sites?
Yes. Very simple and easy to get started, which is their whole deal really.
Just upload your artwork file, set your minimum sales numbers and length of campaign, and away you go.
Advantages of Campaign Sites
Quick And Easy To Use. Which is why lots of non-designers turn to these sites when they have a T-Shirt design they want to sell.
Limited Edition. TeeSpring really pushes the scarcity aspect to encourage customers to purchase – before the campaign ends. This can lead to higher sales for you, compared to other platforms that don't employ this tactic (because their products are available all year 'round).
Disadvantages of Campaign Sites
Limited Edition. Customers who arrive after the campaign has ended will usually find they cannot purchase the Shirt. (There may be exceptions depending on the site, but this is the way TeeSpring works at least). You won't be getting long-term income from TeeSpring, unless you are regularly logging in to re-start winning campaigns and re-boot the process each time.
No (Or Minimal) Organic Traffic. Campaign Sites don't tend to have an engaged audience in the way that Print-On-Demand and Marketplaces do. Your Campaign may rank in Google if you have a low-competition phrase and get lucky, but otherwise you are going to have to drive every bit of traffic yourself (Through social media, email, etc.)
No Customer Data. Everything is handled by the site, so you won't be getting emails or any other info you can use for your future marketing efforts.
What Kinds of Designs Sell Best On Campaign Sites?
This is hard to answer, as Campaign sites rely on the seller/designer to provide the paying customers.
So in that sense, any design that appeals well to your existing fan base will likely sell well.
TeeSpring (and others) have become associated with the lower-end 'It's a Sally Thing – You Wouldn't Understand' type designs – targeting niches such on names, locations, occupations and hobbies – and driving traffic via Facebook ads. But that shouldn't really matter to your campaign, as you should only be using such sites if you have your own audience anyway (or at least have a reliable way to reach a target audience).
Who Should Use Campaign Sites?
Designers with existing audiences that are easily reached (eg. Via your social media channels or Facebook Ads).
Organisations such as schools, churches, sports teams and others that want to fundraise, or otherwise sell a big batch of Shirts at a low price.
Also Public figures or celebrities (including of course internet celebrities – bloggers, vloggers etc.) who can drive a large amount of traffic to a campaign in a limited time. You don't really need to be a designer to use these sites – they usually have built-in designer software – so you can throw together a simple text-based design all by yourself.
Who Shouldn't Use Campaign Sites?
Those without an existing following who can be quickly reached. If you have zero twitter or instagram followers, and no advertising chops, you might want to think twice.
Anyone looking for steady 'hands-off' income for months and years into the future should also steer clear. Campaigns usually require you to manually re-start them, which may not be a huge hassle, but you will also need to keep an eye on your marketing efforts – so compared to Print-On-Demand sites, Campaign sites are fairly high maintenance.
What Campaign Sites Do You Recommend?
I have only ever used TeeSpring. I don't have a super-large existing audience, so it simply doesn't make sense for me.
However, I sometimes list a design on TeeSpring simply to grab the spot and take up space in the Google SERPs; TeeSpring does tend to rank well initially for new designs.
---
Curated or Original Brands
The major distinguishing factor of Curated or Original brands is that you have no sure way of getting a design onto such a site (A bit like Shirt-A-Day sites).
Curated brands would be sites like Threadless and BustedTees.
Threadless is essentially an ongoing T-Shirt design competition, where designers upload their work and the best designs are picked and printed. You can't just 'sell' a design on Threadless, it needs to be submitted and then picked by the Threadless gods (much like Shirt-a-Day sites – but Threadless designs are not limited to 24hr sales).
BustedTees is a site that sells the designs of various artists, but has no official route for artist submissions. Designs on BustedTees are either commissioned (ie. Busted contacts a designer and requests they produce a particular design) – or they are picked from designs that the Busted team has seen around the web (secret note: Busted Tees and Teepublic are owned by the same people).
Original brands may sell the work of other artists, but usually produce everything themselves (ie. The designs on original brand sites will not be available on other websites). Original brands will not take design submissions in almost all cases. Original brands would be places like Johnny Cupcakes.
An Original brand is what I would call your site if you setup 'mybrandname.com' and sold exclusively on there. Typically original brands will only sell via one or two main channels, always under the same brand name, and charge higher prices than the vast majority of POD, Marketplace, Shirt-A-Day or Campaign T-Shirt sites.
Can Anyone Use These Sites?
No.
Well, anyone can upload a design to Threadless. Having that design picked and printed is another matter.
With Busted Tees, you may get a request for a design if you have something that is selling well on Teepublic that also matches the brand and style of Busted Tees.
Original brands are unlikely to print your designs…but you could of course setup your own Original brand (not as hard as it might sound).
Advantages of Curated and Original Sites
Sites like Threadless and Busted have large audiences that will receive promotional messages and other marketing from them (eg. re-targetting, Facebook Ads). As such your designs are likely to be seen by thousands of people, and this can mean greater sales.
There could also be a 'status' effect from such sites – you got picked, and that associates you with the quality and size of these sites. Like Shirt-a-Day sites, you may also get some social media traffic and extra likes/follows from the exposure.
Disadvantages of Curated and Original Sites
Well the biggest 'disadvantage' is that you aren't guaranteed to get a design onto such a site. But assuming you do…the downsides are few…
Curated brands will occasionally 'test' designs in small runs to begin with (most of these sites will be screen-printing the designs, rather than using direct to garment printing). As such, if your design doesn't perform and sell as well as they would like, your design could be shouldered out of the way or even dropped from the site entirely. No such danger exists with Print-On-Demand sites.
What Kinds of Designs Sell Best On Curated and Original Sites?
That really depends on the site in question, and you would have to check them out individually to see what their overall style is. Most brands have a recognisable leaning or message that you would do well to appeal to if you want to get a design featured by them. For example, Threadless tends to have a lot of funny 'pun' type designs or visual gags with a semi-cartoony style.
Who Should Use Curated and Original Sites?
Top level designers and illustrators who have a proven track record of sales on other sites or through other channels. Such sites may give you some additional exposure and sales…but if you already have a following or audience you may not want to bother at all.
Also designers with an original and recognisable style that is not easily replicated – for example intricate and detailed 'artsy' designs seem to do well on Threadless.
Who Shouldn't Use Curated and Original Sites?
Beginners and amateurs should stay away…as only the best-of-the-best tend to get picked on Threadless. The constant rejections and negative scores can get you down after a while. (I know this from experience).
Simplistic and 'slogan' type designs rarely make it big on such sites, so don't waste your time on such sites unless you have the skills to produce high-level designs including detailed graphics and original illustrations.
---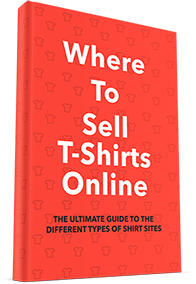 Want To Keep This Article As A PDF?
Download it and keep it forever for easy future reference.
Or send it to a friend who needs to know this info!
---
So there you have it – my breakdown of the 5 major types of T-Shirt sites, and how and why you should use them.
Now you should know a little more the sites that are right for you, and what kind of results you can expect.
---
Supercharge Your T-Shirt Sales With My Top Strategies, Tips & Tricks!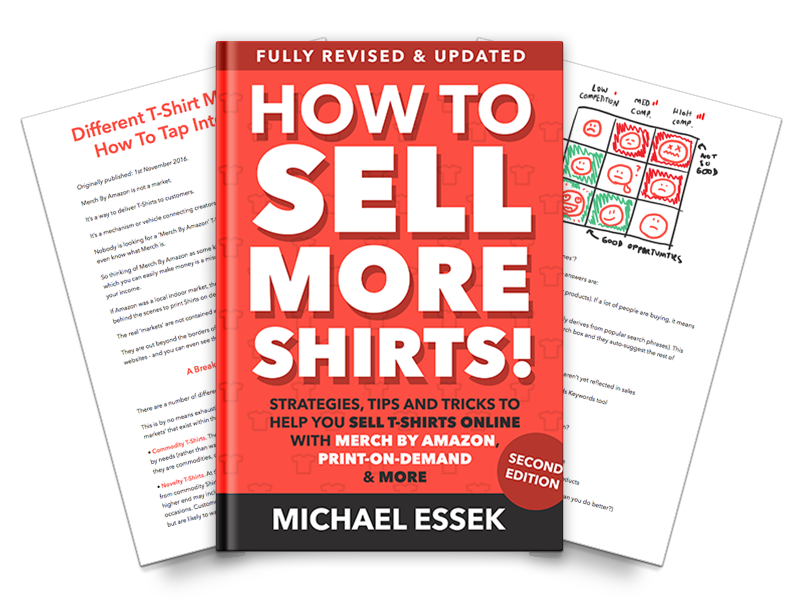 If you want to sell more T-Shirts online, then you'll love my book 'How To Sell More Shirts'.
You can get the first 3 Chapters for FREE when you subscribe to my newsletter today!
Get them here:
Alternatively you can check out the full book (along with my other books) right here
Comments
comments