Print-On-Demand T-Shirt Fulfillment – Which Company Should You Use?
Last Updated: July 28, 2017
Update: I've written a new article for 2017 that goes into a bit more detail on the various Print-On-Demand T-Shirt Fulfillment Companies and why you would want to use one – with some new recommendations. You can check it out here: The Best Print-On-Demand T-Shirt Fulfillment Companies To Use In 2017
Print-on-demand T-Shirt Fulfillment Companies seem to be popping up everywhere.
When I started designing T-Shirts in 2013, there were only a couple of options. But now you have several T-Shirt printing and Fulfillment companies with various app and integrations, many of them also offering additional print-on-demand merchandise and products – beyond the standard T-Shirt.
In this post I review and explain some of the differences between the T-Shirt drop-shipping companies that I have used – so you can find the right one for you and your T-Shirt business.
Printful vs PrintAura vs CustomCat
These are by no means the only POD T-Shirt drop-shippers, but they are the only three I have used directly – and therefore are the only ones covered in detail in this post:
(Disclosure: The above are affiliate links, so if you do sign up via them, I'll get a commission.)
Comparing Costs Of A Drop-Shipped T-Shirt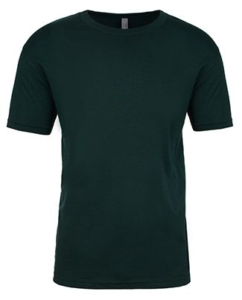 As cost is likely to be one of your major considerations when choosing a T-Shirt Fulfillment partner – I've used the same model of Shirt to compare the prices of all three sites – the Next Level 3600 Premium Fitted Short-Sleeve T-Shirt.
It's a popular brand, a nice soft Shirt, and it's one I use for a lot of my designs.
(Note: For the sake of a fair comparison we are comparing the cost of a single Next Level 3600 T-Shirt in Black, size Large – shipping to a single US address).
What About Quality?
Honestly I have never had any serious complaints with the quality of any of these three suppliers.
Of course there is the occasional issue such as a rip in a garment, or the odd misprint – but with the volume of T-Shirts I sell that is to be expected.
Personally I can't distinguish between a T-Shirt that has been printed by Printful, PrintAura or CustomCat. I guess this is because they are all using essentially the same technology – but as it stands I have nothing to add on the product quality aspect.
All good? Then let's get into our review!
---
Printful

The big (and relatively new) kid on the block is Printful.
Based in California – they launched in 2013, and have quickly become a force to be reckoned with in the world of print-on-demand T-Shirts.
They are one of the few T-Shirt drop-shippers to offer sublimation T-Shirts (all over printing), and also offer an impressive list of app integrations for platforms from Shopify to Gumroad.
Printful Positives
No setup costs or monthly charges
Wide range of products and brands (check their catalog here)
Good choice of platform integrations via their apps
API for custom solutions
Sublimation available for T-Shirts and Tanks
Mockup generator for easy creation of products and Mock-up images
Direct manual ordering option
Easy to use, good reputation, useful tutorial docs and support system
Printful Negatives
Expensive products and shipping. Our Black Next Level 3600 T-Shirt comes out at $14.50 + $5 US shipping = $19.50 Total.
No direct integration with marketplaces like Etsy and Amazon – although this is offered via a work-around using ShipStation. ShipStation is a paid service that starts at $9/month.
Sign Up For A Free Printful Account Here
---
PrintAura

Probably the main competitor to Printful, PrintAura are now based out of New York and were the first company I used for T-Shirt Fulfillment. They are still my main supplier, due to their Etsy integration and relatively cheap prices.
PrintAura Positives
Cheaper than Printful. Our Next Level 3600 Shirt comes in at $13.50 + $3.50 US Shipping = $17 Total. (It may not seem a huge saving, but those couple of dollars add up when you are selling at volume.)
Etsy Integration. This is a big plus for me – as Etsy is responsible for a significant portion of my monthly sales. However, Printaura's Etsy App is not straight-forward – you will need some technical know-how in order to get it setup correctly, and there will be some minor costs involved. But once up and running it does the job perfectly.
No setup costs or monthly charges
Wide range of products and brands available (take a look here)
Good choice of platform integrations via their apps
API for custom solutions
Mockup generator for easy creation of products and Mock-up images
Direct manual ordering option
Relatively easy to use interface (though not quite as slick as Printful), with good tutorial docs and support system
PrintAura Negatives
No sublimation products yet (at time of writing)
Interface and ordering process isn't as slick as Printful
Still pretty expensive, especially for those looking to sell at the lower end of the market
Sign Up For A Free PrintAura Account Here
---
CustomCat

Based in Detroit, CustomCat is essentially a campaign site that now offers a Shopify print-on-demand app.
As it stands, Shopify is the only way you can use CustomCat for print-on-demand T-Shirt Fulfillment – so if you aren't using Shopify or don't want to – this won't be for you.
CustomCat advertise 2-3 day shipping times (as opposed to the standard 3-5 / 2-7 stated by PrintAura and Printful respectively) – and offer a budget Shirt for the shocking price of just $6.
CustomCat Positives
Cheap products and cheaper prices. If a $6 Shirt doesn't interest you, then compare our Next Level 3600 Shirt – which comes in at $11 + $3.99 US Shipping = $14.99. That's $2 cheaper than Printaura and a whole $4.50 cheaper than Printful.
Quick Turnaround – stated shipping times of 2-3 days. In my experience this is a little longer on the first order of any design, but still very competitive when compared with PrintAura and Printful (Note: Both PrintAura and Printful seem to be improving their shipping times right now. Just yesterday I had a Printful order ship out within 24hrs, and PrintAura have been shipping within 2-3 days. So maybe they are just covering their backs with their estimated shipping numbers).
BIG product choice – including a lot of sportswear products, jackets, hats, bags, pet accessories and more. You probably won't find another Print-On-Demand Drop-shipper with this range of inventory. Unfortunately at time of writing there is no public webpage were you can see a full list of their products – so you will need to have the app installed within Shopify to check this out.
Active and helpful Facebook Group – which can come in handy when you need to check something or get some support.
Bulk import option – if you have a bunch of designs that are going onto the exact same products/colours then CustomCat has a feature to make that process easier. It isn't foolproof but it works pretty well and could save you hours of work.
CustomCat Negatives
Monthly Cost. CustomCat's Shopify App requires a monthly subscription at $30/month – which sets it apart from the free-to-use Printful and Printaura alternatives. That $30 kicks in after a 30 day free trial, and you can install it on up to 3 Shopify stores, but you will of course want to run the numbers to see if you think you can make the sales required to cover that monthly cost.
Shopify only. There is no manual order functionality with CustomCat – there isn't even a website where you can login and check orders – everything exists within Shopify. So this means you have your $30/month CustomCat fee, plus your $14/month (minimum) Shopify cost. So you'll be paying at least $44/month just to run CustomCat (before you print and ship a single T-Shirt – which of course you have to pay for as normal). This may be fine if you're a Shopify user already, but if you haven't launched yet you may want to go with one of the free options first (Printaura/Printful) before trying CustomCat.
No Sublimation T-Shirt Printing – yet (rumours abound in the Facebook Group).
Interface and ordering process isn't as slick as Printful or Printaura, and still seems a little buggy. This is a minor complaint though – in general the system seems to work well and I've never had a problem with an order or anything significant.
Get The CustomCat Shopify App Here
---
So Which Print-On-Demand T-Shirt Fulfillment Company Is Right For Me?
For complete beginners, I would recommend you setup an account with both Printful and Printaura, and order a sample T-Shirt from each with your design on. (This shouldn't cost you more than $20 each, of $40 total – and of course you get to keep the Shirt!)
Once you've done this you'll be familiar with the process of placing an order on each site, and the quirks and potential issues you might run into with both. You'll also be able to directly judge the quality of their product and printing (and their shipping / packaging game).
If you have already decided on your selling platform of choice, then of course that will direct your decision – so for example…
CustomCat only makes sense if you are selling on Shopify – whereas Printful and Printaura have several more integration options.
If you're selling on Etsy, then Printaura is your only direct option (Printful workaround does exist, but costs money), and likewise if you're selling on Gumroad, BigCartel or Tictail, Printful is your only option.
But it's also worth pointing out that with both PrintAura and Printful there is a manual ordering option (and API) – so technically you can sell anywhere and still use them – as long as you are prepared and able to manually input the order info each time. Sure, this isn't ideal, but if you are just starting out and testing the waters this is a handy feature (because you don't have the hassle of syncing and setting up products – which can be a pain, especially if you have a lot).
Other Print-On-Demand Fulfillment Sites To Consider
These aren't the only players – so here's some links to other options you may want to check out (Note: I know very little about each of these – so don't take this as an endorsement of these services):
and some potential UK T-Shirt Fulfillment suppliers:
---
Got Something To Add?
I hope this information has proved useful to you.
If you're currently using (of have used) any of the above companies and have thoughts or points to share, please comment below. And if you notice that any of the above information is incorrect or out of date, please contact me and let me know so I can correct it.
---
Supercharge Your T-Shirt Sales With My Top Strategies, Tips & Tricks!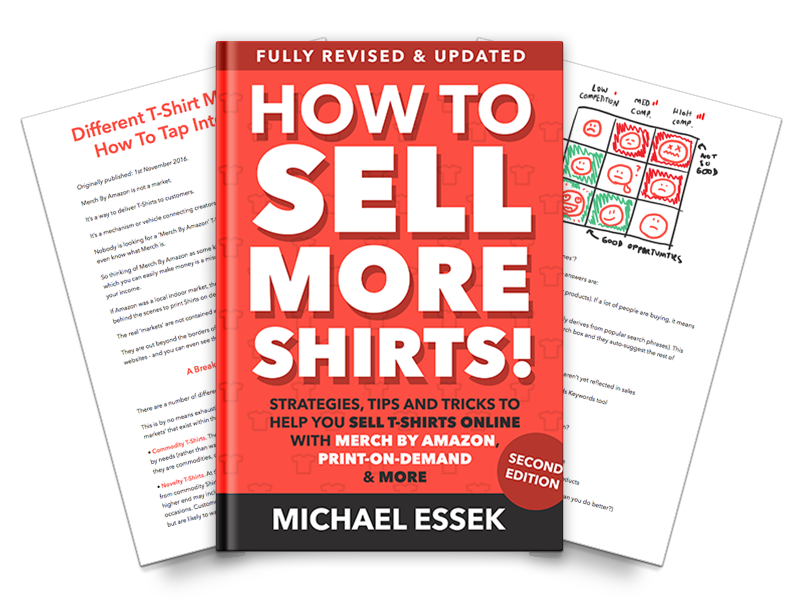 If you want to sell more T-Shirts online, then you'll love my book 'How To Sell More Shirts'.
You can get the first 3 Chapters for FREE when you subscribe to my newsletter today!
Get them here:
Alternatively you can check out the full book (along with my other products) right here
Comments
comments