Merch By Amazon Review: Merch vs. Redbubble vs. Teepublic vs. Etsy – Where Is My Income Coming From?
Last Updated: January 22, 2020
Merch By Amazon is all the rage right now – but the business model of Merch is nothing new.
Sites like Zazzle, Cafepress, Redbubble and Teepublic have allowed artists to make money from their designs for several years.
So how does Merch compare to these other sites? That's what we're going to look at in this Merch By Amazon review – as we delve into my income from various T-Shirt websites.
Where Is My Money Coming From?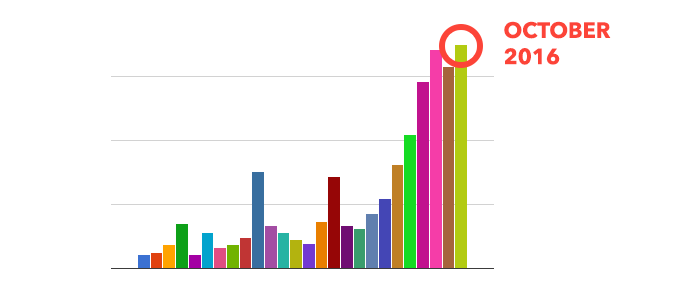 So we're currently approaching the end of October 2016. This is already my best month ever – and it isn't even over yet!
That growth in sales is not entirely unexpected, as we are now well into the 4th Quarter (retail time baby!) plus we've got Halloween – which has given me a nice boost.
Having said all that, my numbers – or at least percentages between the various sites – haven't really shifted significantly for the past few months.
Before we take a look at the raw numbers – I should point out that not all my designs are present on all sites.
For example, I have around 1400 designs on Amazon, whereas I only have around 500 on Redbubble/Teepublic/Etsy. A lot of the smaller sites (design by humans etc.) don't even have all those 500 on, so it's not exactly a fair comparison. (I'll talk about why there is this difference later in this article.)
Why not Zazzle / Spreadshirt / Cafepress etc? There are hundreds of print-on-demand sites that you could sell on, if you wanted to. I have tried most of them, but I have found Redbubble, Teepublic and a few others do best for me. This may be because of the kind of designs I tend to produce (pop-culture based stuff). I have tried most of them, and I found Zazzle, Spreadshirt and others to be difficult to use, without producing the kind of income that would make it worthwhile.
Show Me The Money!
So let's take a look at the raw numbers for October 2016: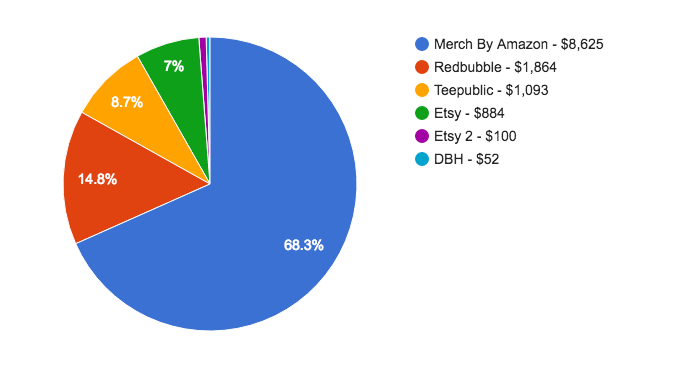 This is pretty much what a 'standard' month looks like now – at least in terms of the percentage breakdown between sites (as stated above this is my best month ever – though not by much).
So let's breakdown the sites and talk a little about each…
---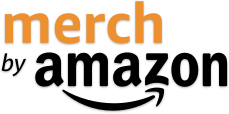 Merch By Amazon – $8,625 (68%)
There's no hiding the fact that Merch By Amazon is the gorilla in the room.
Is this because I have more designs on Merch By Amazon than on any other site?
I think that is part of the picture, but it's not the whole story.
If I had to explain why Amazon does so much better than the other sites it would come down to:
Volume Of Customers. Amazon is the single biggest retail site in the world – and you simply cannot expect other sites to bring in customers like Amazon can.
Royalty Rate Per Sale. If you sell a $24.99 Shirt on Amazon you make $11.93. With a Redbubble sale at the same price ($24.99) you would get something between $5-7. Teepublic charges a flat $20 for most shirts (expect during their monthly sale) – and you will usually make $4 per Shirt.
Reachable Demographics. Almost every kind of person shops on Amazon – it's like the Walmart of the internet. Redbubble and Teepublic are more like the Hot Topic. When you want a certain kind of t-shirt, you might go into Hot Topic – but a lot of people simply buy everything at Walmart. And so it is with Amazon Amazon reaches people that other sites simply cannot.
Demographics Is Why I Have Designs On Amazon That Aren't On Other Sites. Amazon reaches the places other sites can't – so I have certain designs on Amazon that aren't likely to do well on the other sites. Maybe at some point I will get these on some other sites, but right now I would rather create new designs.
So that's why and where Merch By Amazon wins big.
Are there any downsides?
Glad you asked…
Competition. There are a lot of buyers on Amazon, and there are a lot of sellers also. This means that when you have a new idea or try to sell to a certain market – you will rarely find you are the only seller there – and even if you are, you probably won't be for long. Competition is good for buyers, but it has already begun to drive down prices in Merch By Amazon, and that makes it harder to make big money in the busy niches.
Copycats. Alongside the valid competition of other sellers, there are also 'copycat' sellers who will flat out steal your artwork and sell it on Merch By Amazon for less. This is against Merch By Amazon policies (and is copyright infringement) – but that doesn't stop it from happening. If you want to maintain and maximise your profits from your original work, then you will have to watch out for and deal with these copycats using Amazon's 'report infringement' form.
Minor SEO Disadvantages. Amazon seems to lag slightly behind some of the other sites – at least in terms of ranking on Google quickly. Redbubble advertises on Google shopping by default (at no direct cost to you) – so a trending design could be on the front page of the Google results pages within hours. Amazon doesn't do any such advertising, and in my experience it takes a little bit longer for Merch By Amazon shirts to show up naturally in the search results – without any external help (building backlinks or pushing on social media should speed things up though.) Of course this is a minor issue because a lot of people will search directly on Amazon anyway – but if you want to tap Google for traffic for trending designs you may want to use Redbubble for that purpose alone.
---


Redbubble – $1,864 (15%)
Redbubble is my second single biggest income generator, and this is usually the case most months.
If you don't know Redbubble – it's essentially the same system as Merch (you design and upload, they print and ship, you get paid) – but obviously not within the Amazon platform. It's targeted at a younger demographic and wants to be a home for uncommon and independent artists.
Redbubble sells a bunch more products than Merch By Amazon (phone cases, posters, mugs, hoodies etc.) – and also offers sublimation clothing (aka. 'all over t-shirts') that Merch cannot.
This means you can create designs that would not work with Merch, and also sell your designs on a larger variety of products.
So why and where does Redbubble do well?
SEO Advantages. As stated above, Redbubble uses Google Shopping to rank it's products on Google – and these often appear at the top of the search results (see pic below). This means you are tapping into what is potentially a bigger audience than Amazon (Google) – and that can translate very well to sales, especially for trending products.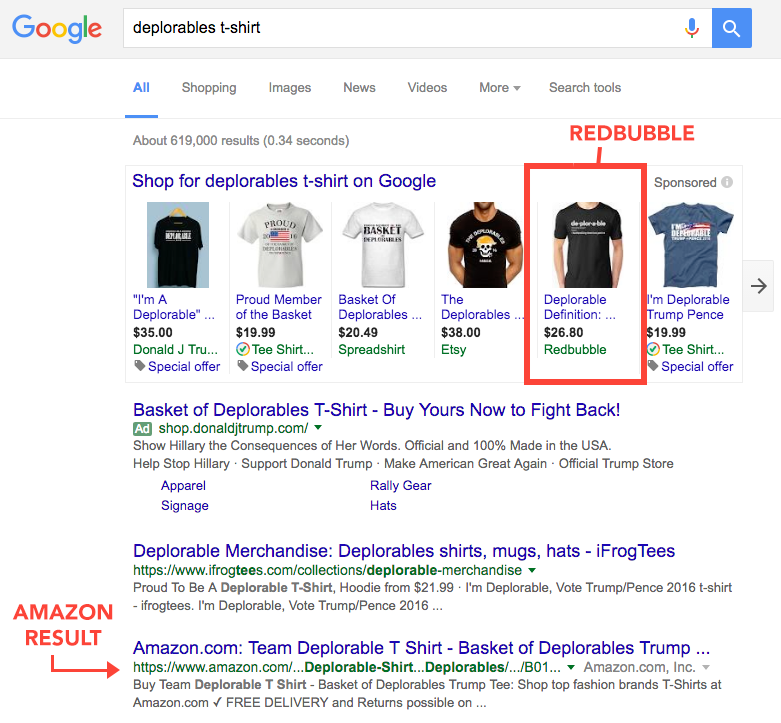 Retargeting. Redbubble also employs re-targeting ads to chase users around the internet. This may be annoying for the user, but it does seem to be relatively effective in getting people to come back and purchase a Shirt.
Lower Competition. Redbubble does have it's own search functionality and category/tag structure, which allows users to search within Redbubble – but also to land directly on Redbubble's 'search results' pages from Google (ie. User searches google for 'Deplorables T-shirt' – Redbubble ranks 2 or 3, user clicks through – user sees Redbubble's 'Deplorables' results page). If you can rank well on this page then you can pick up a lot of sales that way. This comes down to keywords and optimisation – and this is arguably easier to master on Redbubble than it is on Amazon.
Product Offering. If T-Shirts are your main focus, then Merch By Amazon is going to beat Redbubble all day long. But if someone is suddenly searching for a hoodie or mug or a poster – Redbubble can deliver that – whereas Merch By Amazon cannot (yet). It may seem like a minor detail, but T-Shirts aren't the only product that can go viral.
Analytics. This is a handy feature for finding out where and how your customers are finding you. Redbubble lets you see how many views your designs have had (under 'artist notes > work stats' on individual product pages) – and also lets you hook up a Google Analytics account for more advanced analytics.
Redbubble Disadvantages:
Lower Volume of Customers (and therefore sales). Obviously Redbubble simply cannot bring the customers that Amazon can. It may have tentacles in places Amazon doesn't (eg. Google Shopping) – but overall you won't get anything like the same volume of sales as you would on Amazon – all else being equal.
Lower Royalties. Redbubble cannot match the royalties paid out by Merch By Amazon – for whatever reason (smaller company, advertising costs etc.)
Copycats. They are nowhere near as big a problem as they are on Amazon (at least from my experience) but copycats do exist on Redbubble. The process for removal is a simple email (Rather than an online form).
Quick Redbubble Tip: You can change your default royalty with Redbubble. I increased mine to 25% from 15% – and sales remained steady (so I was actually making more, with very little drop off – if any – in actual sales numbers). So play around with this, but don't be afraid to raise it.
For more information on how to make money on Redbubble, check out my article here.
---


Teepublic – $1,093 (9%)
Teepublic is like a biscuit away from Redbubble in terms of earnings most months (this month is an exception). The royalties are slightly lower, which means Teepublic actually makes more sales than Redbubble in the average month.
Teepublic is really easy to use, and it tends to do a good job of ranking organically within Google. There's also a variety of products available (like Redbubble) – but it comes with some tradeoffs (lower royalties – monthly sales).
Every new Shirt on Teepublic is discounted for the first few days – so it sells for $14 instead of the usual $20. During that time you'll make just $2 per sale instead of the usual $4. Commissions change depending on the product (eg. A hoodie nabs you $8).
So what makes Teepublic a winner?
Ease Of Use. Teepublic beats Redbubble hands down when it comes to getting a design up. What takes mere seconds with Teepublic takes several minutes with Redbubble. It may seem like a minor issue, but if you have hundreds of T-Shirts to upload, those seconds matter.
SEO Advantages. Teepublic doesn't do Google Shopping ads, but they do seem to be able to rank high in many cases. This means your designs show up in the Google search results, and in Google images too – quickly (that's a decent advantage to have).
Self-Marketing. Teepublic has a big mailing list that they reach out to almost every day, which drives traffic back to their site. Your designs may get included in the emails, or you may just pick up a natural boost from the traffic that gets driven. They also do a monthly sale – which could be a pro or a con depending on how you view it (it always boosts sale numbers, but your royalty is dropped).
Potential Teepublic disadvantages:
Really Low Royalty. I mean $2? c'mon man! But of course nobody is making you use them, and as they are one of the easiest sites to list on it could be a decent return for relatively little effort.
Low Prices. The royalty is low because the price is low – so this can mean higher sales numbers, but with the trade-off of less money in your pocket. If you are worried about your work or brand being 'devalued' by being priced so low, then you might want to stay away completely.
---


Etsy – $884 (7%)
Etsy is a different beast from the other sites, and there a few things I should point out here:
Etsy won't print and ship T-Shirts for you – so you need to use a fulfillment company to handle all that for you. I have an article on that subject here: Print-On-Demand T-Shirt Fulfillment – Which Company Should You Use?
Etsy was originally a market for 'handmade' stuff only – so they don't really like the idea of people dropshipping via their platform. As such you will need to apply for outside manufacturing approval before you can sell in this way on Etsy.
I actually have a few different Etsy stores for a few different brands – and so my actual total earnings from Etsy this month is closer to $1000 overall.
I have just started using Etsy's own ad platform this month – alongside their new Google Shopping integration. This is all billed from within Etsy – and the amount of profit I've made from them (the $884…or $1000-ish for this month) takes this into account (meaning I've made $1000 from Etsy this month after advertising costs have been deducted).
So now that's out of the way – what does Etsy have going for it?
Decent Organic Audience. I'm not sure whether it's people coming to Etsy and searching directly, or finding listings through google or elsewhere – but Etsy does seem to have a decent audience size. Of course it's nothing like Amazon, but it's not to be sniffed at, and should at least be on your list of sites to consider selling on.
Higher Prices Are Possible. Etsy seems to attract a slightly more up-market audience – who are willing to pay higher prices that you might see on some other sites (Eg. Amazon). For example, I've only sold 80 shirts on Etsy this month, and it's returned almost $900.
Built-In Advertising. Etsy has it's own internal ad platform, and also Google Shopping integration. It's a pay-per-click system, but it does seem to be profitable, at least in my experience. This isn't something you get with Merch By Amazon (yet) – and only Redbubble includes the Google Shopping thing by default.
Sell What You Want. As you're using a fulfillment company – you aren't limited to only selling T-Shirts. I sell hoodies, sweatshirts and posters on Etsy, and some of those products have better mark-ups than the humble T-Shirt.
Analytics and Customer Data. Etsy lets you integrate Google Analytics, and it also has a decent stats system built in. You're also dealing directly with the customer – so you have a bit more scope to do things like coupons, or ask customers to join your mailing list. That direct connection with the customer can translate to future sales down the road, so if you are building a real 'brand' – it's a good place to begin doing that.
So what about the disadvantages?
Customer Service And Returns. As you are now the seller of the product, you get to deal with customer questions, complaints and returns. It's not a significant expense in my case, but it is a bit of a time suck. If you are eating the cost of a few returns a month it doesn't feel great, but now you know what it feels like to be a 'real' business (Ha!)
Time Intensive Listing Process. You will need to create your own mockup images for Etsy, plus hook the whole thing up with your fulfillment company, if you are doing it that way (you could just do it all manually, but Printaura has Etsy integration which works great in my experience). Overall I'd say it's the most labour intensive of all the sites I sell on – in terms of time required to get a product up. But once you have a process in place it isn't such a drag.
Listing Fees. Etsy charges you to list on it's platform, and charges when you sell a product. The fees are very nominal (like $1 total to sell and re-list a T-Shirt that sells for $25) but it's worth being aware of that. (And you will need a credit card to sign up with, unlike the POD platforms).
---
Other Notable Mentions
Design By Humans, Society6, Neatorama etc. I have accounts on all these sites, but I gave up months ago on keeping a close eye on them – as they simply don't bring in enough money for me to pay them much attention. DesignByHumans is probably the biggest of the bunch, but taken together I would say they don't bring in much more than $100/month. Christmas should boost that (as it should all the sites) – but I don't recommend you list designs on these sites until you've worked as hard as you can designing and listing for the other big players.
BustedTees, TeeFury, ShirtPunch etc. You can't see the income from these for this month, as I don't actually find out what I've made until I get paid (next month). But usually I bring in around $100/month from these sites combined. These are not sites you can simply list on (as you can with Merch By Amazon or Redbubble) – as you need to be invited or approved (and it's on a per-design basis – not a 'upload everything you have' basis). BustedTees is probably my best performer of these sites. You can learn a little more about such sites in this article: Where Can You Sell T-Shirts Online? The Ultimate Guide To The Different Types Of Shirt Sites
---
Final Thoughts
Merch By Amazon is clearly the dominant force when it comes to my monthly income, and there's no other T-Shirt site or marketplace that can really come close to it.
Having said that it is nice to have regular (and somewhat reliable) income from a few multiple sources. The more you sell on these sites – and the more you use them – the more you open up other opportunities: whether that's spotting trends that haven't yet 'crossed over' to other platforms – or finding certain tricks and hacks for better rankings, leading to more sales.
My advice to T-Shirt newcomers would be to find and use the platform that works best for you (by testing a few designs on each) – though of course you would be a fool not to give Merch By Amazon the lions-share of your time and attention. Just remember that millions of T-Shirts are sold everyday outside of Amazon – and so it makes sense to diversify your income and also to learn the skills and habits that would lead you to success – should Amazon make any major changes to Merch.
There are many different markets and 'levels' within the online T-Shirt industry. Find the one that you can best take advantage of, and then go all in on that.
---
Supercharge Your T-Shirt Sales With My Top Strategies, Tips & Tricks!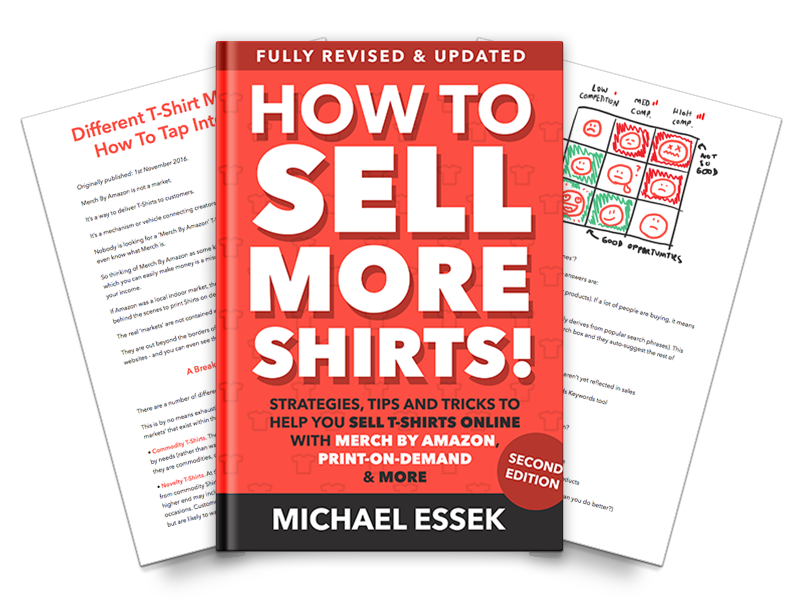 If you want to sell more T-Shirts online, then you'll love my book 'How To Sell More Shirts'.
You can get the first 3 Chapters for FREE when you subscribe to my newsletter today!
Get them here:
Alternatively you can check out the full book (along with my other books) right here
Comments
comments