The Best Print-On-Demand T-Shirt Fulfillment Companies To Use In 2017
Last Updated: June 15, 2018
Update: I've written a new article for 2018 with some more recent recommendations. You can check it out here: Comparing Print-On-Demand T-Shirt Fulfillment Companies In 2018
Last year I wrote an article comparing some of the top Print-On-Demand T-Shirt Fulfillment Companies.
But things move fast in the world of T-Shirt Fulfillment – so I though it was high time for a review / update – a kind of 'State Of Print-On-Demand 2017'
This time – instead of just reviewing the POD companies and comparing prices like I did last time – I'll talk about why you might want to use a Print-On-Demand T-Shirt Fulfillment Partner in the first place, and try and find the right partner for you.
(Fair Warning / Disclaimer: This post it littered with affiliate links to those companies that I use and recommend.)
First let's explain what a Print-On-Demand t-shirt fulfilment company actually does.
What Is A Print-On-Demand T-Shirt Fulfillment Company?
A Print-On-Demand T-Shirt Fulfillment Company provides the printing and shipping of T-Shirts to your customers.
They take the order information (that you enter manually or that they take from your store directly) – then print and ship the shirt out to the customer 'in your name'.
They differ from sites like Redbubble, Society6 and others because fulfillment companies are only doing the printing and shipping – and not the 'take the order directly from the customer' bit. (You do that yourself).
Here's a quick visual representation of that, from this previous article: Using Print-On-Demand T-Shirt Fulfillment Companies: Advice & Tips For Designers Using Printful, Teelaunch, CustomCat Etc.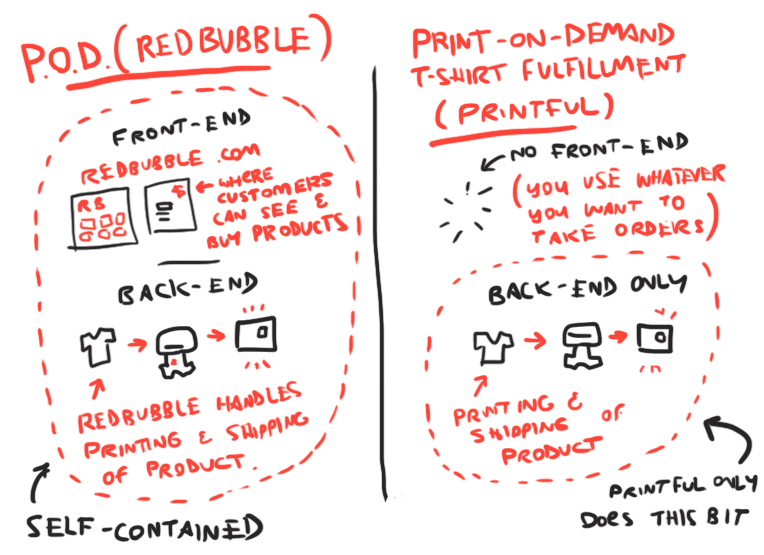 So you could also call them 'White Label T-Shirt Fulfillment' or 'T-Shirt Dropshippers' – but for the remainder of the article I'll use the catchy term 'Print-On-Demand T-Shirt Fulfillment Companies'.
So why would want to use a Print-On-Demand T-Shirt Fulfilment company?
Why You'd Want To Use A Print-On-Demand T-Shirt Fulfillment Company
Either;
A) you have (or want) your 'own brand' store (without the hassle of inventory and of managing the shipping yourself)

B) you want to sell products on a platform or online marketplace like Amazon, Etsy, eBay etc. (any marketplace that connects buyers to sellers) – (again) without the hassle of inventory or managing the shipping yourself
Either of these scenarios would require you, as the seller, to be responsible for the 'fulfillment' (ie. getting the product to the customer).
So you use a Print-On-Demand T-Shirt Fulfillment Company to do that 'fulfillment' bit for you. You focus on marketing, getting sales, managing the business, customer service, etc.
Got it?
What You Need To Consider When Choosing A Print-On-Demand T-Shirt Fulfillment Company
So – now we know the basics, let's deal with each of these scenarios in turn, because the POD fulfilment company you're gonna use depends on your specific case or scenario…
The considerations:
Where and how you will get sales
How your orders will be processed
How much you can charge and pay for your products
Any other associated and extra costs
Retention of customer data (for future marketing)
Now let's deal with each in turn…
Where And How You Will Get Sales
No matter where or what you sell, the number of sales you make is going to be relative to the amount of exposure your products get.
By exposure I mean eyeballs. If you want people to buy your stuff, then people need to see your stuff first.
And generally speaking – the more eyeballs, the more sales.
For beginners who do not have cash to invest in advertising or don't have another way to drive traffic (for example, an existing Instagram or twitter following), the best way to maximise exposure (and therefore sales) would be to list your products on a marketplace that already attracts a high number of 'eyeballs'. For example – Amazon or Etsy.
In most cases such marketplace sites are going to give you the greatest possible amount of 'free' exposure to your products.
However – if you DO have an existing following, or you are somewhat experienced or willing to invest in advertising off the bat – then it will probably make more sense for you to sell on your OWN BRAND / own domain store – built on something like Shopify or Woocommerce.
Why?
Because if you are able to drive traffic (eyeballs) yourself, you don't need to rely on the 'organic' traffic supplied by marketplace sites.
Furthermore, you will not be impacted by the competition that exists on marketplaces, and you should be able to charge higher prices as a result, and make a higher profit.
Once you make a decision about selling on a marketplace or on your own site, your options for fulfilment partners will change.
For example, only a few Print-On-Demand T-Shirt Fulfillment Companies offer direct integration with Amazon or Etsy.
Extra Relevant Bit: Where Are Your Customers? Almost all Print-On-Demand T-Shirt Fulfillment Companies will ship worldwide – but almost all of the big ones (with the lowest prices) are based in the US. So if you are dealing with customers who are primarily in Europe or the UK you will need to look at either Alloverprint or Printful (Who just opened a European base).
How Your Orders Will Be Processed
Do you want your orders to be processed automatically (on autopilot) – or do you want (or need) to have some kind of manual input in there?
For most of us, we want orders to be processed automatically. That way there is less room for human error – as details like Address and Size/Color information should be sent through directly from your store to your fulfilment partner.
But some of us – especially beginners – may want to simply process orders manually.
For example – you might want to 'test the waters' before you do all the integration work between store and fulfilment partner. That way you can see all the various considerations and any potential issues along the way.
Or maybe you want to take orders or sell your stuff on a platform that simply doesn't have a direct integration with any Print-On-Demand T-Shirt Fulfillment Company. It might be a mobile app or some other system that just won't talk directly to them.
So again, this impacts your options. Only a handful of Print-On-Demand T-Shirt Fulfillment Companies offer a 'manual order' option. (Though you could get around this by using Shopify to 'manually' place your orders, but that's an extra expense).
How Much You Can Charge For (And Pay) For Your Products
When you're using a Print-On-Demand T-Shirt Fulfillment Company, you are not receiving royalties on sales. Instead you are keeping the difference between what you charge the customer, and what it costs you to fulfil the order (what your fulfilment company charges).
So you charge a customer $24.99 for example, plus $4.99 shipping. (29.98 total).
To print and ship the t-shirt, your fulfilment partner charges you $11 for the Shirt and $4 for the shipping – or $15 total.
So you will make a $15 profit.
Obviously that profit can go up or down, depending on the moneys you receive from the Customer, and the moneys you pay out to the Print-On-Demand T-Shirt Fulfillment Company.
So if you were able to charge $29.99 for a shirt – and maintain the exact same costs as before – then your profit would go up to $20 per shirt sold.
If you were forced to drop your price to $19.99 – and again, maintain the same costs – your profit would drop to $10 per shirt sold.
So generally speaking, you want to choose a fulfilment partner with low costs, but one that still allows you to charge high prices (eg. The quality of Shirt and print must be of a decent standard).
T-Shirt blanks range in price from $7 on the cheapest end, up to $15 on the high end. (This is the for the cost of the shirt + print itself – not including shipping).
Those $7 shirts are probably not going to be as nice as the high end ones.
So this is where you need to research your market, and perhaps place some test orders, so that you can be confident in the quality you are selling – and not be overly concerned about returns or customer complaints.
Associated And Additional Costs
First off – the price that the customer pays is almost never what you'll actually receive.
If you're using a marketplace, then you will most likely be charged a fee based on a percentage of any sales made.
If you're selling directly on your own brand store, then your payment processor (PayPal or stripe for example) are going to take a percentage of the sale too.
So bear that in mind from the get-go and work it into your projections, because at these relatively low price points, it can really eat into your profit per sale.
Other potential additional costs include (but are not limited to):
monthly fees from your fulfilment partner. Eg. Customcat costs 29/m. Others are free.
monthly fees from your marketplace (Amazon, Etsy etc.) or from your web host or commerce platform (eg. Shopify)
There could be others things too – like additional Shopify apps or other software, but for the 'bare bones' of a T-Shirt site with fulfilment partner – the above are the ones you want to look out for initially.
Retention of Customer Data
If you're interested in building your own brand for the long term (and you probably should be) – then you will want to retain as much customer data as possible – to allow you to market to those customers in the future.
If you sell on a marketplace like Amazon or Etsy, then you have limited ability to get the customer data. And in fact the terms of service of these sites may also prohibit you from contacting the customer directly after any sale.
So for brand building – your OWN BRAND store is really the only game in town.
With your own store built on Shopify or Woocommerce, you can do the following:
Get the email address and physical address data of all customers, allowing for future marketing efforts
Incentivise customers to submit their email address (eg. With a discount coupon)
Install a Facebook Pixel that will allow you to re-target those customers in future – aswell as help you to build up audiences of similar customers who are more likely to buy your products
Offer customers the option of Facebook Messenger interaction – allowing you to reach out to them via FB messenger in future too.
..and much more besides (that's really just a taster).
So Who Should I Use?
So now you've considered all that, you should have a pretty clear picture of which option is right for you.
And as you can see – the biggest choice is between 'marketplace' and 'your own store'
Let's look at each scenario:
SCENARIO 1: Your 'Own Brand' Store
eg. 'myshirtbrand.com', built on top of Shopify, Woocommerce, Bigcommerce or similar.
This is where you are going to have the most options for your Fulfillment Partner, because the vast majority have direct Shopify integration. (Woocommerce slightly less so, big commerce less so and so on.)
So if you're going to use Shopify (which would be my recommendation) you can use any of the following:
…and in fact you can use a combination – or try a bunch of them out one by one (because most of them are free to use – you simply pay as you go).
If you want to test them out without signing up for Shopify, then the following offer the 'manual order' option:
My 2017 Recommendation: If you're going the 'own store' route, then I would use Shopify with either Printful or CustomCat. CustomCat costs $30/month, but has lower costs per shirt, and cheaper shipping. However, Printful is closing the gap and now offers some competitive pricing – like the Gildan Softstyle for $8.95. So it really depends on your anticipated volume: if you're going to be doing a lot of sales then use Customcat, otherwise go with Printful.
(Side Note: Printify are a company I haven't used personally yet, but they do seem to offer very competitive prices. I'll be giving them a whirl over the next few weeks and may update this advice if they meet the grade.)
SCENARIO 2: Selling Through Marketplace – Amazon / Etsy or Similar
You want orders to come in via your marketplace, and be automatically sent to your fulfilment partner. Then once shipped – you want the fulfillment company to send the shipping info back to the marketplace, mark the item as sent and send the tracking info to your customers.
In this scenario your options for a fulfilment partner become more limited.
Let's look at the options for the biggest marketplaces:
Amazon
Printful has direct integration with Amazon, but I'm not aware of any others right now that have similar 'direct' integration.
However, thanks to Shopify's recent Amazon integration, you can now effectively hook up your Amazon Seller account to any Print-On-Demand T-Shirt Fulfillment Company with a Shopify app (which, as we've seen – is the vast majority).
So if you want to sell Print-on-demand products on Amazon, you either go with Printful, or you get yourself a Shopify account and use any of the previously mentioned options.
Etsy
The only fulfilment company to offer 'direct' integration with Etsy is Printaura.
Printful offers Etsy integration via a go-between (Shipstation) – but this will cost you from $9/m (depending on the amount of orders you get).
Aside from those two – I'm not aware of any other Print-On-Demand T-Shirt Fulfillment Company that offers Etsy integration.
So if you do want to sell print-on-demand products on Etsy – you either go with PrintAura, Printful (plus Shipstation) or you handle the orders manually.
Here's what you need to consider when choosing between the two P's…
1. The 'Hook Up' Process
Printaura and Printful have very different ways of handling the initial 'sync' of products on Etsy.
With Printaura you have to set up each product on the Printaura website first – which will then be 'pushed' out to your Etsy store – and THEN you'll need to go over to Etsy to finalise the listing (in most cases). This is time consuming work, but it does mean that any future orders in will be passed straight to Printaura – without you having to do anything.
Printful on the other hand doesn't require you to 'sync' upfront – which can save a lot of time compared to Printaura. But this does means that you will need to sync products as-and-when the orders come in from Etsy (after which point that variation or product is now synced for future orders).
In other words: with Printaura you do the laborious stuff up-front – and with Printful you do it 'on the fly', bit by bit – as orders come in.
Which option is best for you? That depends on whether you like the idea of 'set and forget' – which is essentially what the Printaura system is. You do the hard work of syncing everything up front – but then you're good to go with nothing more to do.
With Printful you save yourself the hard work upfront (you just need to list your products on Etsy, which is pretty straightforward) – but you're going to need to be involved in the regular checking and syncing of products – as and until your whole product catalog is hooked up.
One final thing to note: Shipstation does not actually pass orders through to Printful automatically. It requires you to manually 'refresh' your Shipstation account, at which point it will check for new orders and pass them on. A minor inconvenience, but worth knowing about.
My 2017 Recommendation: For Amazon I would hook up with Shopify, and probably go with CustomCat. But the beauty of using Shopify as a go-between with Amazon is that you could chop-and-change Fulfillment partners if you wanted to. (But with Amazon there's a bunch of other issues – so check out my other articles on that subject here and here.)

For Etsy I am changing my previous advice and now recommending Printful. They are almost matching the prices of Printaura in most cases, and their 'do it on the fly' approach is so attractive to me that it overrides the minor inconvenience (and cost) of Shipstation.
---
I hope that has helped clear the water for you.
As you can probably gather, there's a lot of variables in the world of Print-On-Demand T-Shirt Fulfillment.
If you want to stay updated on the ups and downs with me, then subscribe to my newsletter below – and you'll also get 3 free chapters of my book!
---
Supercharge Your T-Shirt Sales With My Top Strategies, Tips & Tricks!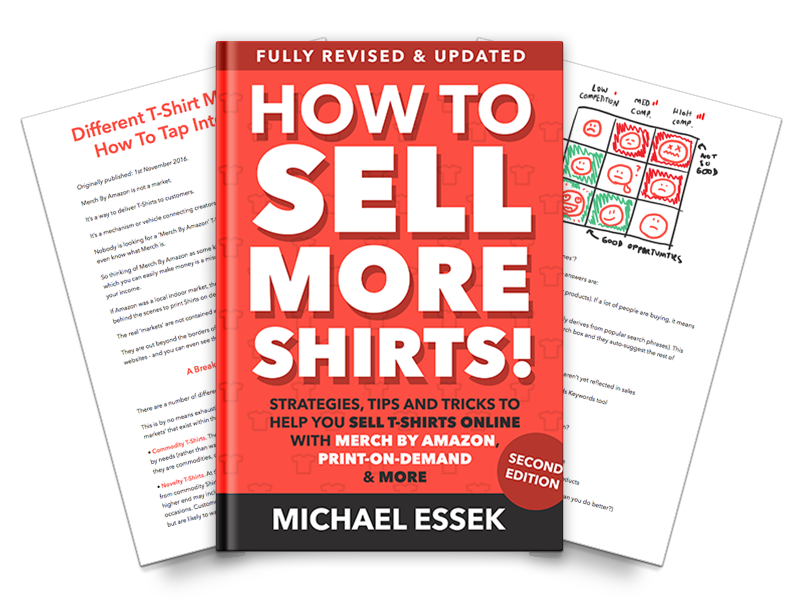 If you want to sell more T-Shirts online, then you'll love my book 'How To Sell More Shirts'.
You can get the first 3 Chapters for FREE when you subscribe to my newsletter today!
Get them here:
Alternatively you can check out the full book (along with my other products) right here
Comments
comments