Selling T-Shirts On Instagram: 3 Marketing Tips
by Michael Essek · Updated: June 30, 2020
If you've been reading my blog for anytime at all, then you'll know my main source of income – and what I write about most often – is selling T-Shirts through print-on-demand platforms like Merch By Amazon and Redbubble. (More on that in this article).
Almost all of those sales come organically.
That means I don't do much 'direct' marketing of my own, and I do almost no paid-marketing (i.e. Advertising).
Well, that is beginning to change.
I've been playing around with Shopify for a few months now, and am beginning to see some success using paid traffic via Instagram – specifically by reaching out to popular, relevant accounts and paying them for sponsored posts.
The income from my Shopify store is not about to replace that from my print-on-demand sites (it's only brought in about $2k/month for the past 3 months), but it's been a nice additional income stream, and it comes with the added bonus of a direct relationship with my customers, and the chance to re-market to them over and over again in the future.
This post is by no means comprehensive – and I'm no expert in this area – but I have picked up few tips that I think will help anyone who is looking to take things in a similar direction (ie. – your own brand store + paid traffic or direct marketing).
But beware – you will need to drop some cash to make this work.
If you're looking for ways to promote your work for free – then check out this article: How To Market Your T-Shirts Without Spending Money
But if you're sure your ready to drop the dough, then read on…
1. Understand The Process, Don't Expect Overnight Success
If you're planning to do any kind of promotion and expecting immediate results, you are likely to be disappointed.
Instagram is no different.
Almost no-one is going to buy a product from you after seeing it for the first time.
Visitors need repeated exposure to your stuff before they finally make the decision to buy.
The good news is that Instagram offers a nice way to drive targeted, relevant traffic from a trusted source (eg. an influencer with a large following) – which we can turn into re-targetable, warm leads pretty easily.
Here's what that process (should) look like: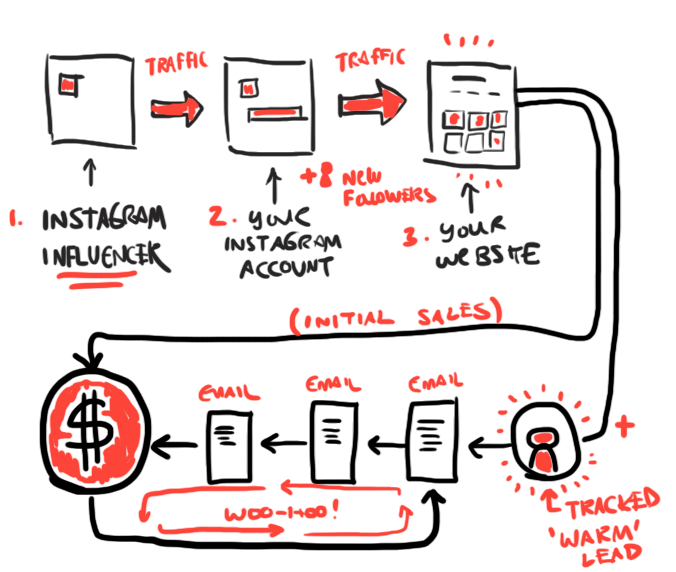 Your Instagram influencer (an instagram account with a decent following) posts an image with accompanying text, driving traffic to your Instagram profile.
Once on your Instagram profile, a percentage of that traffic should become new followers, and also click through your bio link to visit your website.
Once on your website the visitors are offered a discount code in exchange for an email address, which a percentage of your traffic should opt-in for. A minor percentage of visitors will make 'immediate' purchases.
Once you have their email address (wether they purchased or not) you can follow-up with regular emails, offer further discounts, and otherwise move them towards a purchase.
Once someone does make a purchase, the game doesn't end. You just keep on marketing to them (like all your favourite brands do). The 'woo-hoo' loop goes on and on – hopefully for a long time – as you continue to sell new products to your customers.
I forgot to include that you can also track any visitors to your website with a Facebook Pixel – which makes future marketing to them (via Facebook or Instagram) a lot easier – because you're dealing with 'warm' traffic – someone who knows you – as opposed to cold traffic.
So – it's vital that you understand this basic game-plan – because otherwise you will get discouraged.
Any sales you make immediately after your first sponsored post are a bonus.
Instead, think long-term – 'life time value'. You aren't just looking at money in vs. money out (at least not yet) – you should be thinking about the long-term value of each lead.
If you start out with this process in mind, you'll feel a lot better about it, and you'll know what and where you should be focusing your time and efforts.
---
2. Get Your Ducks In A Row
If you don't have the essential building blocks as outlined above – then you need to get all that sorted before you start.
I don't recommend paying for sponsored posts before you have your website ready and your T-Shirts ready to sell.
Get the whole operation 'ready to go' and then put your hand in your pocket. That way you'll get attention, likes, comments, new followers, trackable visitors AND email addresses – all at the same time.
So here's what you need…
Your Own Website
For me this is a Shopify store, but you could go with Woocommerce, or any other e-commerce platform really.
OK, I guess you could direct people to your Redbubble profile, Merch By Amazon Shirts or a TeeSpring campaign – but in most of those cases your profit-per-sale is likely to be lower, and you are probably going to miss out on some of the benefits of directing people to a platform you control.
These benefits include:
Email Signups. If you sell on Merch, Redbubble or TeeSpring, you aren't going to get the email address of your customer – and neither can you incentivise the sale by offering a discount in exchange for an email address. Once you have that email address, you can continue to market and sell to that customer again and again, making that simple email address worth hundreds in potential future sales.
Facebook Pixel Tracking. This is available on some platforms (like TeeSpring) – but most other PODs don't offer this, as far as I know. When you have a Facebook Pixel installed you can track and advertise to anyone who visited your site (on Facebook or Instagram). This is a great way to build a potential audience of 'warm leads' – who should be more receptive to your advertising in the future.
Discounts. Shopify and Woocommerce both make creating coupon codes super easy – and this is a great way to attract new customers and clinch that first sale. You can't offer such discounts on most POD sites.
---
A Quick Note About Shopify: I was very reluctant to sign up to Shopify at first because of the monthly cost – and also because I thought I could do everything myself with Woocommerce for free.
…And if you are a competent web designer / developer, then you certainly can (and probably should) save some cash by going down the self-hosted, Woocommerce route.
But if you're only technically minded when you have to be (like me), then I'd really recommend you save yourself the headaches and simply go with Shopify from the start.
The fact that you don't have to worry about hosting and data security is probably worth the cost alone – but when you throw in the ease of adding new features via one-click-install apps, plus the ease of integration with T-Shirt fulfilment partners AND the new Amazon integration – it's really a no brainer.
You also get a free 14-day trial, which should be enough time for anyone with even a moderately sized following to get your site setup, a few products added and make a few sales.
If you think you are ready to start your own-brand store, then I do recommend you try Shopify before anything else.
Let them worry about the tech stuff so you can focus on the hard work of creating awesome designs, and figuring out how to sell them.
Sign Up for a free 14-day Shopify trial here
That is an affiliate link – because I have absolutely no reservations about recommending Shopify.
(Whenever you see an affiliate link on my site, it's because I currently use and recommend that product / service).
---
Products To Sell
In our case, this is going to be T-Shirts.
So once you have your own store setup, you'll want to hook it up with a T-Shirt fulfilment company like Printify, Printful, TeeLaunch or one of the other several options out there.
Who do I recommend?
Printful vs Printify. I go into some more detail on them in this article – but the TL;DR version is that Printful and Printify are the biggest players in the Print on Demand companies space, and I use them both regularly.
Once you've chosen your fulfilment company, you'll need to add your products by uploading your artwork, choosing your product-type and publishing it to Shopify (this is all pretty straight forward stuff).
Top tip: With tools like Placeit you can create great looking mockups that help you stand out, and better connect with your audience.
I would like to have at least 5 or 6 products live on my homepage before I started promoting – so that we don't look like some company that just launched 5 minutes ago (!).
An Instagram Account
Instagram is obviously free to join, and setting up an account is easy enough.
Your account doesn't need to have tons of followers, though it probably helps to have a small following – just so you don't look like a complete noob.
You should also have a decent amount of recent posts – again so that you don't look like some fake account or something.
So simply sign up, post some images (I tend to post a mix of funny images, plus shots of products and close ups of my artwork) – and follow and connect with other accounts to get your follower count 'off the ground'.
Some Cash
We're talking about doing paid advertising here, so at some point you're going to have to hand over some money to someone else. (eeeek!)
I don't recommend trying Instagram marketing like this until you have a decent, regular income from POD sites, plus some money in the bank.
This is because there's probably going to be some lag between the point you hand over the money, and the time you re-coup all of that spend. And of course even more lag before you see the profit (assuming there is some!).
How much cash do you need?
Assuming you have all your ducks in a row as specified above – I would like to have at least $1000 set aside as 'advertising' spend. That should be enough to start your Instagram marketing journey – and to get the kind of exposure you'll need to make that money back – and then some.
---
3. Find The Right Influencer And Work With Them
I hope it goes without saying that you need to find an appropriate influencer for your niche or market.
If you sell Dog T-Shirts – you need to find Dog-related accounts. And so on.
I would be looking for accounts with at least 100k followers.
Reach out and ask for their prices. Most accounts that are open to sponsored posts have an email address in their bio through which you can contact them.
The people running these accounts should be pretty familiar with what their audience wants and likes – so try to get them on board with your product and ask for their help.
For example – I usually send them a bunch of designs and ask them to choose the ones they think will 'go down best' with their followers.
Also give the account owner some freedom as to how they post your content.
You want your sponsored post to look as natural as possible – as this is most likely to drive engagement and traffic. If people think or know they are being sold something then they tend to stay away.
---
Ok, here endeth my lesson in Instagram Marketing 101.
I know there's a lot more I could cover, but hey, there's only so much one blog post can handle.
Do you have some tips or comments about selling T-Shirts on Instagram? If so please chime in below.
---
Supercharge Your T-Shirt Sales With My Top Strategies, Tips & Tricks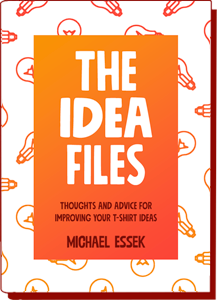 The best way to improve your T-Shirt sales is to improve your T-Shirt design IDEAS.
In my free eBook 'The Idea Files' I show you how to improve your Idea ability, and profit from trends using exclusive techniques and strategies you won't find anywhere else!
Get it free, here:
Comments
comments