Using Print-On-Demand T-Shirt Fulfillment Companies: Advice & Tips For Designers Using Printful, Teelaunch, CustomCat Etc.
Last Updated: December 18, 2019
Are you looking at using a Print-On-Demand T-Shirt fulfillment company like Printful, CustomCat or Teelaunch to do the printing and shipping for your clothing brand or business?
If so, I have some advice for you.
I've been using Print-On-Demand T-Shirt Fulfillment companies (or T-Shirt Dropshippers) for over 3 years now – and in that time I've dealt with pretty much every issue you could ever expect.
In this article I'm going to explain the difference between T-Shirt fulfillment companies like Printful and sites like Redbubbble, Merch By Amazon and TeeSpring – and delve into some of the nitty gritty with some helpful tips and tricks for YOU – the budding brand owner.
Note: I have an updated article comparing the biggest Print-on-demand fulfillment companies, you can read it here: The Best Print-On-Demand T-Shirt Fulfillment Companies In 2020
POD vs. POD Fulfillment (eg. Redbubble vs. Printful) – What's The Difference?
For newbies, this stuff can get confusing fast – because the terms used to describe websites in this space often overlap.
'Print-On-Demand' simply means that a product (in our case a T-Shirt, but could be a sweater, phone case or even a book) is only printed after the order is placed, not before.
So whereas previously (if you wanted to start a T-Shirt brand) you would have to place a bulk order with a screen-printers for a large run of shirts – now you don't have to.
You don't need to hold any inventory.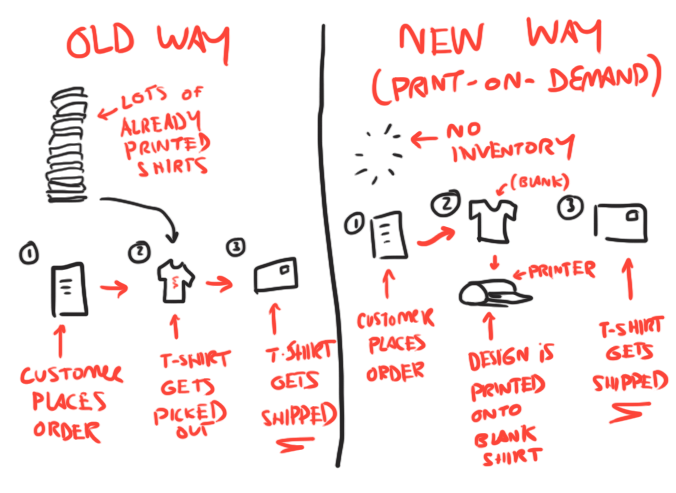 Websites like Redbubble, Merch By Amazon, Teespring and others use Print-On-Demand Technology to print Shirts after the customer places an order – and then they ship that product to the customer.
This is why sites like Redbubble, Teepublic and others are often referred to as 'Print on Demand' or POD sites.
The difference between a POD site (like Redbubble) and a Print-On-Demand T-Shirt Fulfillment site (like Printful) is that Printful provides only the 'backend' functions – the T-Shirt printing and shipping process: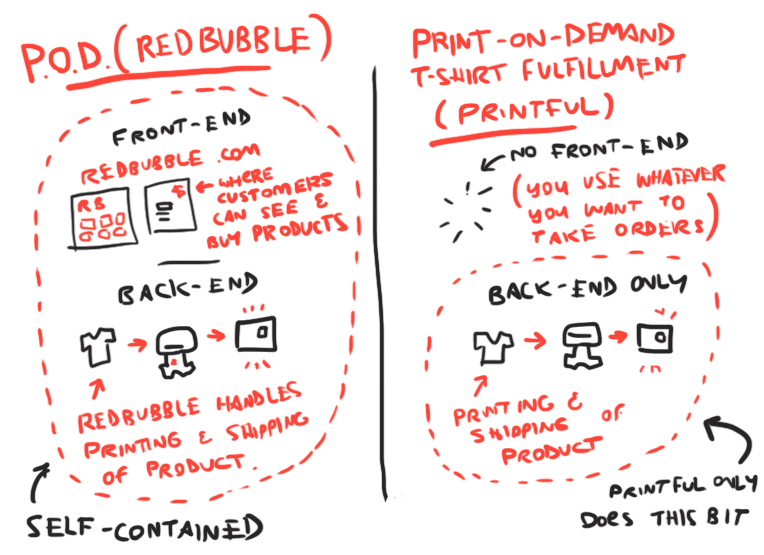 YOU as the brand owner will have to supply Printful with orders through a 'front-end' of your choice (eg. Shopify, Woocommerce, TicTail, Amazon Seller Central etc).
Redbubble is both front-end and back-end in one: they receive orders directly from the customer through Redbubble.com, and then they print and ship that shirt to the customer. As such Redbubble is the seller (and fulfiller), and you as the artist are simply a licensor of artwork.
Printful doesn't supply a front-end, and this allows YOU to take orders however (and wherever) you would like. You could even take orders out on the street and place them manually if you wanted to. But most people will hook Printful up to an e-commerce 'front-end' platform like Shopify.
So Printful are a 'white-label' provider – meaning your customers need never know that anyone other than you (your brand) was involved.
There will be no Printful branding on the order the customer recieves (as opposed to Redbubble – who cover everything in Redbubble branding).
So Why Use A Print-On-Demand T-Shirt Fulfillment Company?
Using a T-Shirt Fulfillment Company is generally a lot more hassle than uploading artwork to sites like Redbubble and others – so why would anyone want to do it?
Many potential reasons, but the big ones will be:
You Want Your Own Thing. You want to present your designs and products to potential customers as a standalone brand – not attached to another brand, and certainly not simply as an 'account' within a bigger site (as you would be doing with Redbubble).
Make More Profit Per Sale. You want more control over the pricing of your products. Redbubble and others pay you only a relatively small royalty (circa 20% of retail) – but if you sell directly to a customer you are free to set your own retail price and benefit from larger profits. Whereas you will probably only get something like 25% from a site like Redbubble, you could get upto 40% or more using a t-shirt dropshipper – depending on the product and market.
Direct Customer Interaction. You want to build your own 'brand' – with a direct connection and communication channel with customers, rather than be reliant on another site (eg. Redbubble).
Advice Time…
So let's say that you've made your decision and you're want to use a T-Shirt fulfillment company. Hooray!
(BTW, If you aren't sure which site to go with, check out my article: Print-On-Demand T-Shirt Fulfillment – Which Company Should You Use?)
…so what about all that advice I have in my for you?
Well here it comes…
Mind Your Fees
If you're making the jump from POD site (eg. Redbubble, Teepublic) to your own brand with Print-On-Demand T-Shirt Fulfillment – you're probably going to notice your initial expenses shooting up.
Here's the costs you need to consider:
Front-end Platform Costs. eg. Shopify – minimum $29/month. You could use a platform like Woocommerce which is free, but then you will have web hosting costs – probably at least $10/month.
Print-On-Demand T-Shirt Fulfillment plugin cost. This is probably only going to apply if you're using CustomCat ($30/m) as most other sites (Printful/Printaura etc.) are free to use.
Payment Processing Fees. This one caught me out big time when I started. Paypal take a decent percentage of each transaction (depends on the plan, but about 3% would be a good place to start) – so if you're using them to take money off your customers you need to factor those fees in – because you aren't going to see it! So even though a customer has paid $30 for a shirt – you won't actually be receiving the full $30. As such your profit is going to be slightly less than you may have initially assumed. Payment processing fees apply whoever you're using – Paypal, Stripe or Shopify payments (there are many others).
Returns/Refunds. Uh oh. Guess what – now that you are the one doing the selling, you're also the one responsible for customer service! And unless there is a fault with the product or print, Print-On-Demand T-Shirt Fulfillment companies are not responsible. We'll cover this in more detail shortly.
Advertising / Marketing costs. Once you setup your own store you aren't going to be getting organic or steady traffic as you might be able to expect with a site like Redbubble. So you're either going to have to do paid advertising, or do your own marketing which will cost you time, if not money aswell. (Looking for some 'free' ways to market your stuff? Checkout this article: How To Market Your T-Shirts Without Spending Money).
There are a multitude of other potential costs, but those are the big ones to be aware of.
What Should I Do About Refunds / Exchanges?
There's really only two ways you can approach this:
No Refunds. All sales are final, and because your products are printed-on-demand you simply state you won't accept returns or do free exchanges. That should ensure you don't lose out when it comes to returns/refunds – but it does mean you risk upsetting customers.
Yes Refunds. You will exchange, replace or refund orders. You ask the customer to return the order – either to you, or back to the fulfillment company (depending on your circumstances). But the important thing to realise here is that the vast majority of Print-On-Demand T-Shirt Fulfillment companies will not hold or re-use stock, so having customers return shirts is little more than a gesture to ensure that they are not attempting to take advantage of you. You won't be getting your costs refunded – so any time you get a refund/exchange request you are more than likely going to be losing money.
So which way should you go?
Personally I have always refunded or exchanged items whenever requested – and 'eaten' the cost.
I prefer to operate like a 'real' business (isn't that what we're trying to build anyway?) – to maintain goodwill with my customers and hope they'll come back or recommend my products to others.
This being the case – you should factor a 'return rate' into your projections and plans – because if you're selling anything more than a handful a month you're going to get returns and issues sooner or later.
I can't tell you off the bat what my return rate is – I don't think it is much higher than 10%, maybe 20% at the most. But let's assume that you have a 20% return rate.
So for every 10 shirts you sell, 2 ask for returns / exchanges. That means you need to make sure the profit from those other 8 shirts will cover the cost of those 2 returned / exchanged shirts. So run the numbers and see if you can handle that cost, and if not you may need to charge higher prices initially.
What Should I Charge? How Much Profit Should I Make?
As an independent brand (assuming that is what you are creating) – you should (and can) charge higher prices than large POD sites like Redbubble.
Sure, you are essentially selling the same products, but you are now incurring the extra costs of customer service, payment processing, platform fees etc. So you almost certainly need to have higher prices than them – because you don't have the volume they have that allows them to charge such low prices.
I know what you're thinking: but won't my customers see that they can get my designs (or similar designs) on Redbubble or Teepublic for cheaper? Won't they be pissed off if they see I'm charging them an extra $5 or $10?
Answer: no.
The customers you are reaching through your own-brand store are more than likely going to be completely different customers to the ones of Redbubble, Teepublic etc.
It's pretty unlikely that they will google a design they see on your own brand store, and try to find it cheaper elsewhere.
Furthermore, even if they did do this – you wouldn't hear about it. They would just go and buy it from the cheapest source.
And customers appreciate a direct connection with a brand, and like to support 'the little guy'. This applies whether you're positioning yourself as an independent artist, or even as a small brand.
Don't underestimate the desire of customers to buy from a relatable, friendly company – rather than from a big faceless internet brand.
---
OK But Seriously, Just Tell Me What To Do Next And Who To Use
Ok fine – if you aren't sure where to start, here's my advice: (complete with affiliate links to those suppliers I recommend)
Pick A Front-End First. This is the platform that you're going to use to show your products and take orders from customers. This is really a lot more important than the back-end provider (T-Shirt Fulfillment Partner) – because it's what your customers see and interact with – and you should always be focused on the customer first, and on the marketing/sales rather than the operations. I recommend Shopify because they are easy to use, offer good support, and have a lot of advanced plugins and features if you need them. You can get a free 14-day trial with Shopify here.
Place A Test Order. Before committing to a Print-on-Demand T-Shirt Fulfillment Partner Company – it makes sense to test them out first. It is not easy to switch Print-on-demand partners once you're setup, because they each have their own systems and processes. So my advice would be to place a test order with Printful to check out the printing and product quality first. Printful are very easy to use, and have a manual ordering option (meaning you can place a test order without having it hooked up to a front-end). Sign Up With Printful Here.
If you don't want to place any test orders and are happy to go right in – and especially if you're confident you're going to be selling a lot of Shirts – AND you're going to use Shopify – then I would probably use Printify right out of the gate – as they are cheaper than Printful with similar quality levels. Find out more about Printify here.
---
Supercharge Your T-Shirt Sales With My Top Strategies, Tips & Tricks!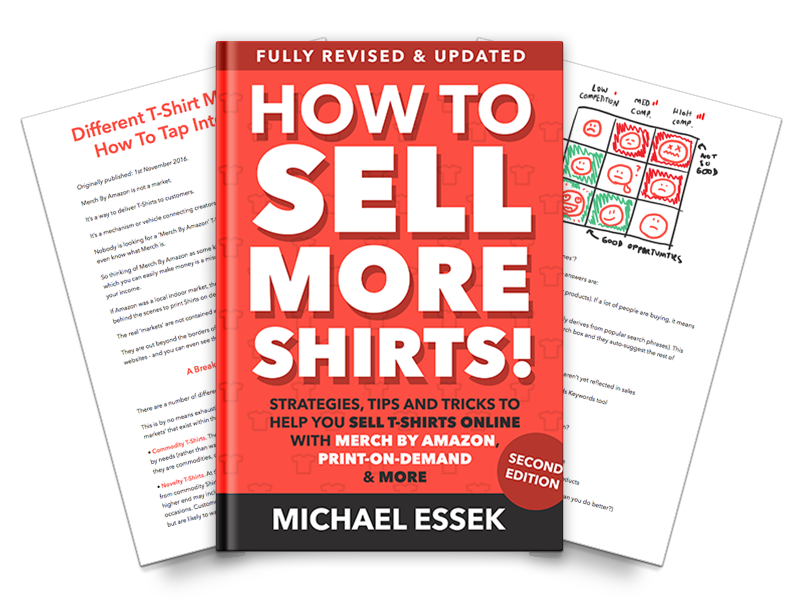 If you want to sell more T-Shirts online, then you'll love my book 'How To Sell More Shirts'.
You can get the first 3 Chapters for FREE when you subscribe to my newsletter today!
Get them here:
Alternatively you can check out the full book (along with my other books) right here
Comments
comments