Success As A T-Shirt Artist: An Interview With Anna-Maria Jung
by Michael Essek · Updated: March 7, 2020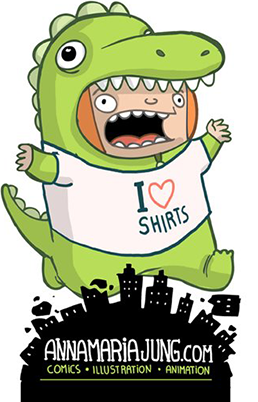 Learning from the success of others is essential if you want to fast-track your T-Shirt income – and I'm pleased to announce that one such succesful person has agreed to share their knowledge with us!
Anna-Maria Jung is a freelance illustrator (and self-confessed full-time nerd) who has been immersed in the online T-Shirt market since 2010, with considerable success.
She has had designs selected for the biggest online T-Shirt stores (Threadless, Teefury etc.) and has attracted over 10,000 followers on Facebook alone!
Anna-Maria was kind enough to answer some questions from myself – so read on for the knowledge bomb, and make sure you check out the links to her amazing blog at the bottom. (and of course follow her on Facebook, Instagram and Twitter for the latest!)
---
Q. Hi Anna-Maria! You've been selling shirts online since 2010 (is that right?) – so if you could go back to 2010 Anna-Maria – what advice would you give her?
Yes, 2010 is about right. I realized Threadless – an online shirt shop where the community scores the designs – existed and I made a typical beginner's mistake: I thought it would be easy to be chosen by Threadless. Very fast, I realized it's a lot of work, it requires interaction with the community and the will to think outside the box. The most important part was persistency. I designed around 40 designs before Threadless chose my first print. But I never gave up.
So I guess I would tell myself exactly that: Don't give up, stay persistent and learn how to halftone quickly.
Q. You sell on a lot of different sites. Would you mind giving us a rough idea of how each site performs for you? for example, do you make most of your income from POD sites – or from shirt-a-day sites?
The business changes all the time. From 2010 – 2013/14, the shirt-a-day sites were an amazing source of income. If one or two of my shirts got chosen by a SAD (Shirt-a-day) page, I could pay rent for at least two months.
The Shirt-on-demand (or Print-on-demand) pages used to be a small, steady little stream of income for me, but now they are the major income for me. There are so many SAD pages out there, and so many people designing: The market is over-saturated, and my designs only reach about a forth in sales numbers compared to 2013.
The best part is, with a few exceptions, most pages have switched completely to a non-exclusive model. It pays less, but the artist keeps the right and can sell the design anywhere else. The shadow side of that is that this way, a lot of pages feature the same design which contributes to the market being over-saturated.
But all of this is not necessarily bad: It helps to keep sharp and focused. If a business becomes too easy, we tend to get lazy. So I'm trying to improve each day, keep learning and keep studying the business of the licensing market.
(by the way, if you check out my blog entries "Shirt pages out there" and "Exclusive vs non-exclusive" I say more about this topic there)
Q. Do you do much in the way of marketing for your own shirts, and if so to what extent do you think this contributes to your sales?
It's been very hard for me to keep track of which activity of mine contributed to sales in the past, I didn't pay much attention to tracking.
Facebook used to be a great place to market shirts on SAD pages, I am sure a bunch of sales were generated through posts there. But FB has reduced the organic reach of posts to a fraction of what it used to be. It's especially bad once you add a sales link. If you don't pay FB to boost, barely anybody will see the post.
So right now, I try to figure out what's best, while at the same time I try not to focus too much on it, after all, the most important part is creating the art.
Q. Copyright infringement and stolen artwork is a big issue for a lot of designers. Has this been a problem for you, and if so how do you handle it? do you spend a lot of time sending takedown notices?
It has not been a huge problem for me. Lately, I had to send out a bunch of DMCAs to on-demand pages where users uploaded stolen artwork. I also had a bunch of FB posts taken down via the official FB copyright complaint form.
It's annoying, but so far it's manageable. I try not to get angry or make myself crazy about it, because the people who steal don't care about my emotions anyway.
A friend of mine took pictures of ripped shirts of mine at a Bangkog market, whcih was rather funny almost. I don't see the point of perusing those people, so I rather smile at it and try to feel "honored" to be "famous" enough to be ripped 🙂
Q. A lot of your designs are inspired by movies and tv shows. have you ever run into legal issues with any of your designs? have you seen any change in the attitude to these kinds of designs from shirt sites or IP owners over the years?
Thankfully, I never had huge problems with copyright claims. I usually use a very cartoony style, and a lot of my art refers to very general figures of pop culture (ninjas, dragons, monsters), others refer to content where to owners are very laid back (Monty Python).
I did have designs taken down, usually when TV shows are very new or a movie gets a reboot the IP becomes restricted ground. That's ok though, because it reminds me to strive after original content.
Q. Finally, what are the biggest things you think a designer considering getting into t-shirts should know?
Keep on trying and trying and trying!
I submitted almost 30 designs before my first one was printed. Persistency and the will to learn and accept critique by others is vital. Open your mind for new concepts, but don't leave your own style and love for certain topics – don't bend to the Star Wars theme just because it might sell well. Study other people's art. Read articles. Deal with the industry. Be an artist AND a businessman/woman.
And sometimes, it's ok to sell yourself out a little. Just don't do it too often 😉
By the way, I wrote various blog entries about the shirt business and my progress. Here are all the links:
– Anna-Maria Jung
---
Thank You Anna-Maria!
I especially recommend you check out those blog posts, as they are a gold-mine for the budding T-Shirt artist.
To check out more of Anna-Maria's work, visit her website or click the links below to visit some of her different stores (buying a Shirt is a great way to thank Anna-Maria for sharing her knowledge!):
And you can follow her on:
Related Reading:
---
Supercharge Your T-Shirt Sales With My Top Strategies, Tips & Tricks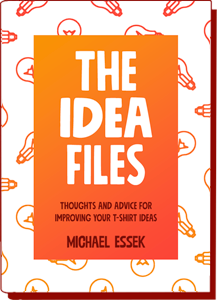 The best way to improve your T-Shirt sales is to improve your T-Shirt design IDEAS.
In my free eBook 'The Idea Files' I show you how to improve your Idea ability, and profit from trends using exclusive techniques and strategies you won't find anywhere else!
Get it free, here:
Comments
comments