3 things to do while you wait for your Merch By Amazon invite
by Michael Essek · Updated: June 5, 2020
Nothing good ever comes from sitting on your bottom.
So when your Merch by Amazon invite finally comes, will you be ready to hit the ground running?
Every new account gets just 25 design slots. Once you get an account you'll want to fill those slots fast – because you want to make 25 sales as soon as possible – so you can tier up and get your royalties snowball rolling!
Contrary to what you might be hoping for, making sales on Merch By Amazon is far from guaranteed.
If you've never sold a T-Shirt online before, then you need a plan.
So here's my advice for those wanting to hit the ground running when that Merch invite finally drops into your inbox.
1. Start Designing Now and Perfect Your Craft
Never designed a T-Shirt before? Now is the time to learn. A good looking Shirt is always going to outsell a poorly designed one, even at a higher price point. In other words – it pays to produce quality designs.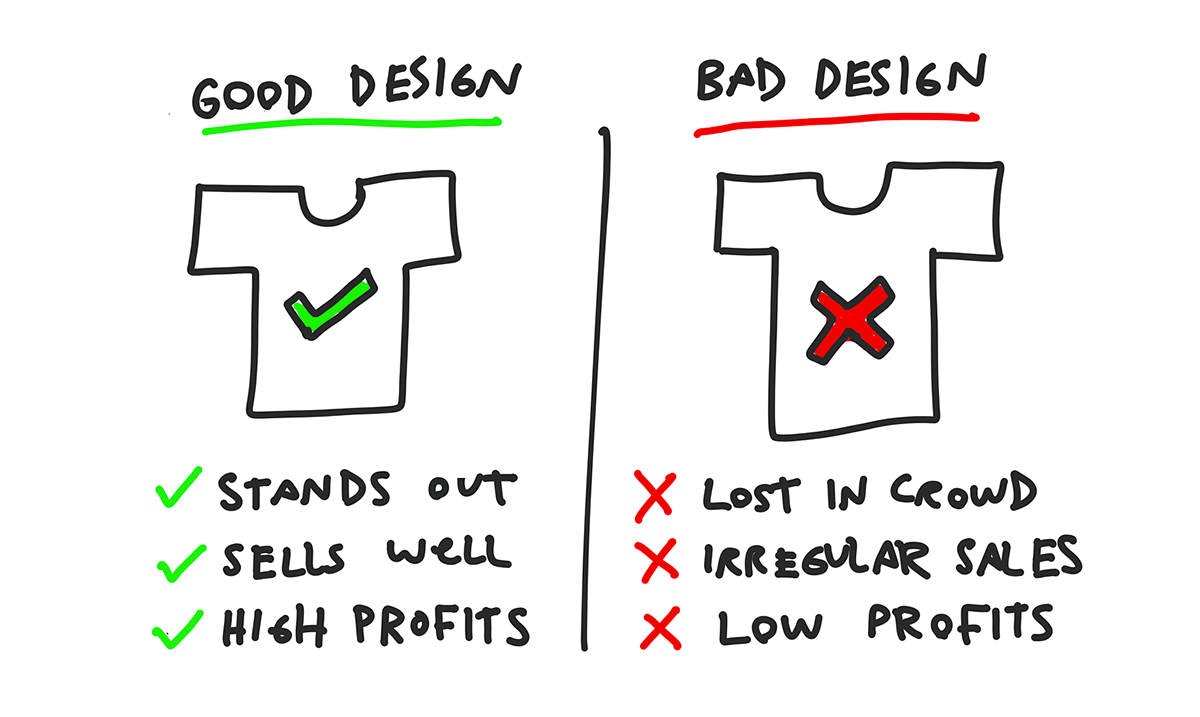 Photoshop and/or Illustrator are the most popular software packages to use, but there are free alternatives avaialable such as Gimp. Whatever you use, you'll want to be a proficient user in order to create T-Shirts that look great and sell well. Perhaps most important for a system like Merch By Amazon is that you are able to create good looking designs in as short a time as possible.
There's no shortage of Photoshop and Illustrator tutorials on YouTube – so with a bit of application you should be able to grasp the basics and even become a competent designer with a few weeks of dedicated work.
If you want to take it to the next level and really become a T-Shirt designing ninja, then be prepared to spend at least a few months honing your skills. Check out some of the following resources for serious designers.
Quick Tip: To give your designs that extra polish, check out these tutorial vids on Shirtoid about adding textures, effects and halftone gradients. These kinds of finishing touches can help you stand out from the competition – meaning more sales and higher royalties!
2. Upload To Other POD (Print On Demand) Sites
Merch by Amazon isn't the first Print-On-Demand platform for T-Shirt designers. In fact it's relatively late to the POD party – and you can make some good income from the other big players – while you wait on that invite.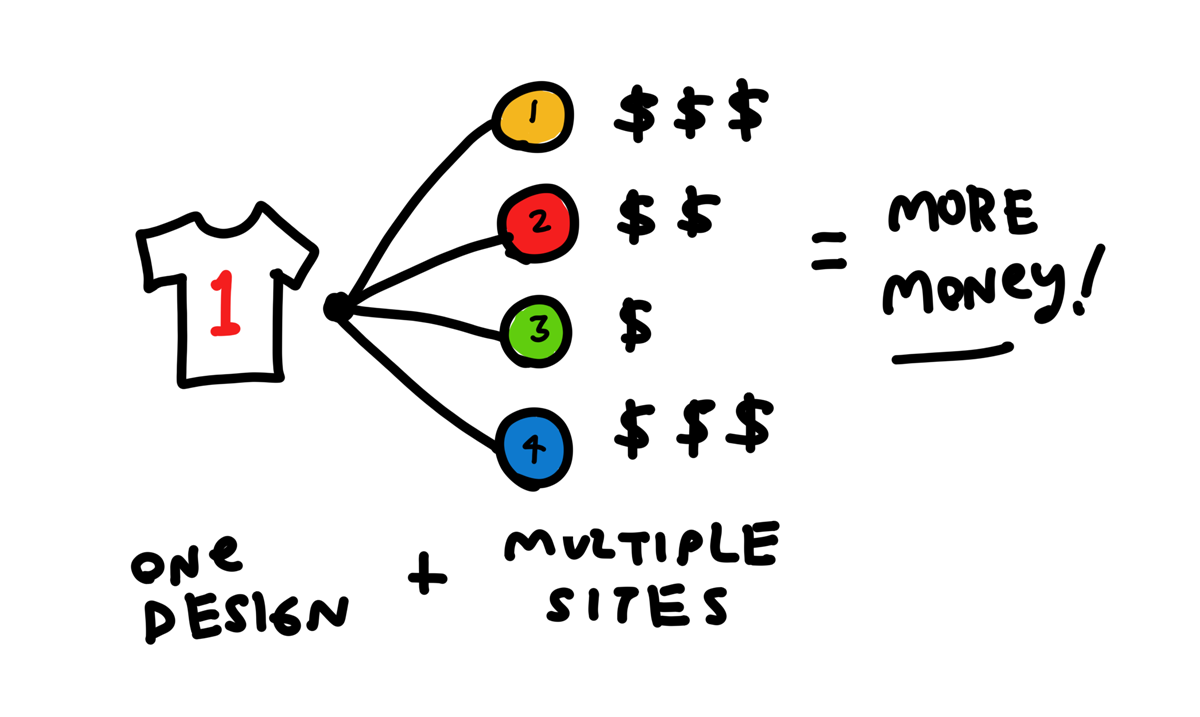 Here's a few reasons you should totally get your designs on other POD sites;
MONEY! The royalty rates and sales numbers may be lower than what you can expect to get on Amazon, but those fees add up quickly (If your shirts are selling).
MARKET RESEARCH – Making a sale is just about the best kind of market research you can get. Someone has reached into their pocket and paid their hard earned cash for something you designed. Chances are there are others who would do likewise. If you can make sales on POD sites like Redbubble and Teepublic, then it's likely those same designs will sell well on Amazon too. Double down on the concepts and trends that work, and create similar pieces. This way you'll be ready to rock when Amazon opens it's doors to you – with designs that you know have a proven, organic market.
EXPERIENCE – If you're a POD virgin, then there are a lot of things you are likely to discover that haven't crossed your mind yet. Use the experience of these other POD sites to knock those edges off. Find out what placements and positions work best…what colours work on what colour shirts…and what terms and keywords you need to use to get higher rankings and higher sales.
The sites I recommend, in order of personal earnings I receive, are;
All of the above sites mirror the Merch By Amazon process – you upload one print-ready PNG file, and they handle the rest.
Royalty rates and policies differ between sites (for example – DesignbyHumans are especially strict on potential copyright infringement within designs) – but all will offer you a taste of what's to come with MBA.
Quick Tip: Teepublic is the easiest to get started with – it has a very simple upload and listing process, and automatically enables your design on a set number of simple products (t-shirts, hoodies, tanks, mugs, posters). If you are completely new to the world of Print-On-Demand T-Shirts, I would definitely start here.

Checkout my complete guide to selling on Teepublic.

After that you can try Redbubble – checkout this article for more on that: How To Sell On Redbubble.
3. Launch A Website For Your T-Shirt Brand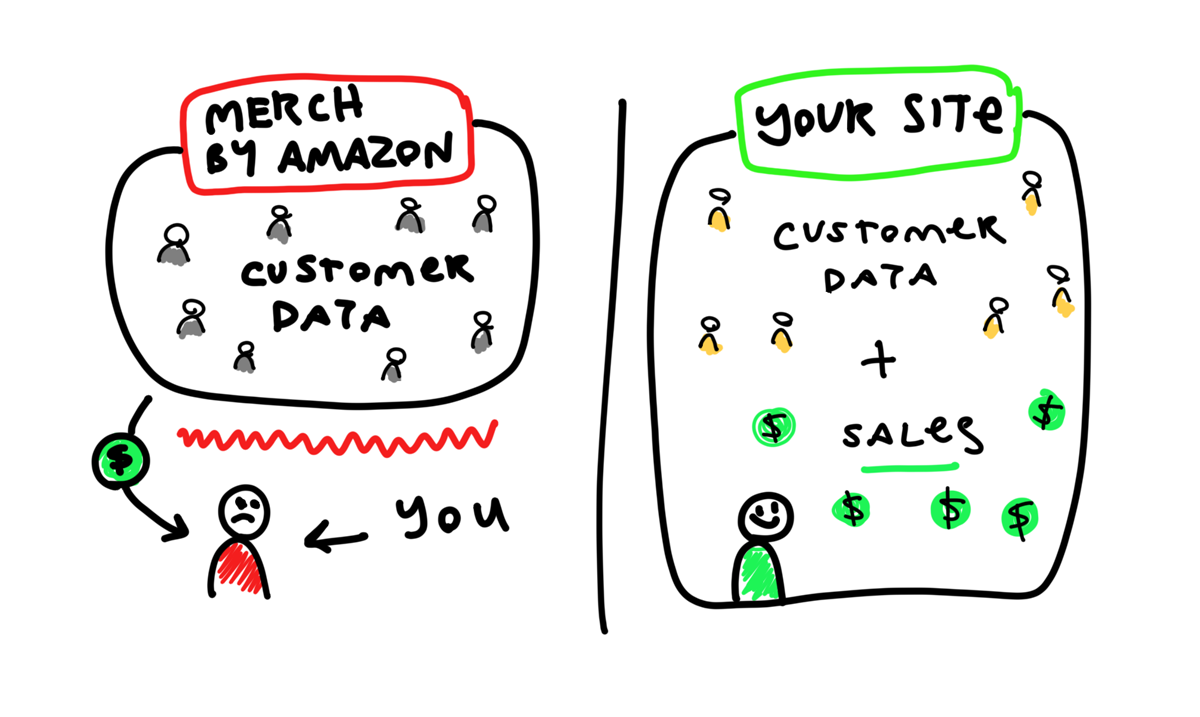 Having a dedicated site for your designs can be a huge advantage for any new Merch By Amazon seller. Don't believe me? consider the following;
SEO – A dedicated site cataloging your designs offers SEO advantages – and that can lead to more sales. Assume you have a webpage for each of your designs – that dedicated page is likely to rank in google for it's key terms (results may vary – but this is especially likely for first-movers with new and trending designs/concepts). Furthermore, a link from your site can be recognised by google as a vote of confidence in any destination page – pushing your product pages on other sites (Redbubble, Teepublic, Merch by Amazon eventually) up the rankings.
Copyright Protection – In my experience it is much quicker and easier to get copycats removed if I can provide a link to my copyrighted design on my personal site. It might be the impression of professionalism, the time-stamp data or some other factor, but in general the use of my own site as a foundation for copycat removals increases my takedown results significantly.
Audience Data – Start building your own audience! Amazon can be one heck of a cash cow – but they sure aren't going to share customer data with you unless absolutely necesarry (Hint – for Merch By Amazon – they don't give you anything!). At first you may think – so what, who cares? – but if you want to build a sustainable and long-term brand then customer data is a critical piece of your armoury. With your own website you are able to track visitors, re-target them with relevant adverts, and offer them incentives to hand over their email addresses. This direct link between you and your potential customers is a foundation that can grow and develop into a sustainable income – entirely independent of Amazon.
Quick Tip: If you are especially focused on developing a 'brand' – then consider selling T-Shirts directly on your own site. You could use Shopify or Woocommerce as your ecommerce platform of choice – employing Printful or Printaura to fulfil the orders on your behalf – as they come in.
---
Closing Thoughts
The worst thing you can do whilst you wait for Amazon is twiddle your thumbs. The opportunities to make money from T-Shirts online do not start and end with Amazon, however great a platform it may be.
In order to hit Merch full speed ahead, and tier up with enviable swiftness, you need refined skills – a proven approach to successfully selling shirts – and an eye on the future. Don't let Merch be another wasted opportunity – grab it with both hands by becoming a t-shirt selling ninja before the Amazon doors swing open.
For more advice about making money from Print on Demand, checkout my article: How To Make Money Selling Print on Demand T-Shirts
---
Supercharge Your T-Shirt Sales With My Top Strategies, Tips & Tricks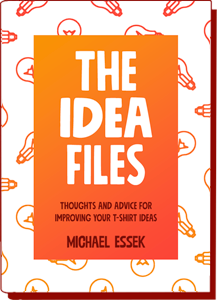 The best way to improve your T-Shirt sales is to improve your T-Shirt design IDEAS.
In my free eBook 'The Idea Files' I show you how to improve your Idea ability, and profit from trends using exclusive techniques and strategies you won't find anywhere else!
Get it free, here:
Comments
comments