Dalle 3 Prompts: Getting Started with DALL-E-3 Prompts For Designers
by Michael Essek · Updated: October 6, 2023
Dalle 3 (or, to give it's proper title and branding: DALL-E-3) is an incredible tool for visual brainstorming and concept generation for designers.
Like all text-to-image AI tools – Dalle 3 requires the right type of prompt to return the best results – and Dalle 3 Prompts are no different.
In this article I'll share some of the best DALL-E-3 Prompts I've found so far, so you can use and experiment with them to help you brainstorm new and original designs.
Note: I wouldn't recommend you take outputs directly from DALL-E-3 (or any AI) and use it in a final design or product – but it is very handy for brainstorming layouts, colours, font choices, etc.

But fun as it is – as you'll soon see – Dalle is no replacement for a flesh and blood artist, illustrator or designer.
---
1. Atari Video Game
Dalle 3 has an interesting relationship with brand names, trademark and celebrity names. However, this 'Atari' prompt didn't seem to cause any issues.
Here's the Dalle 3 prompt:
an Atari video game cover showing [a young lady using a private jet to get a coffee]. The title text reads ["SWIFT COFFEE PICK UP SIMULATOR"]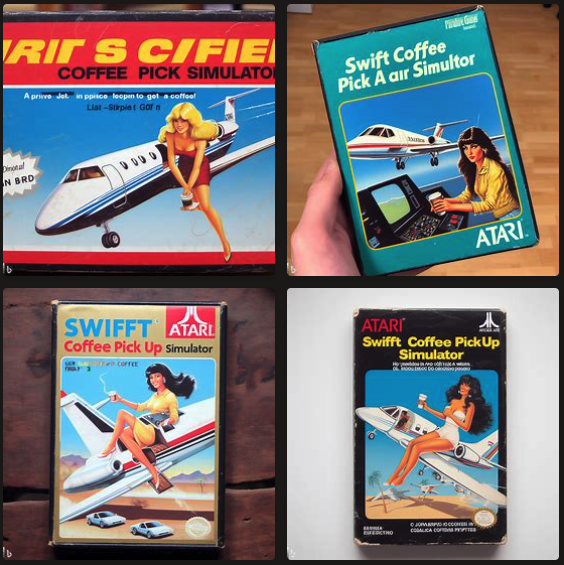 ---
2. Vector Sports Team Logo
If you like your vectors 'almost there' – then this Dalle 3 Prompt is for you.
a sports team logo of a [reindeer] the text ["NORTH POLE REINDEERS"] is under the logo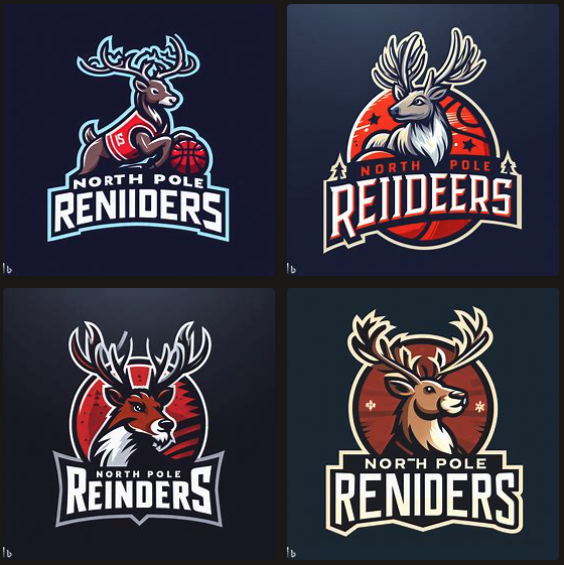 ---
3. Boy Scouts Badge Dalle 3 Prompt
a boy scouts badge of a [reindeer]. the text reads ["NORTH POLE REINDEERS"]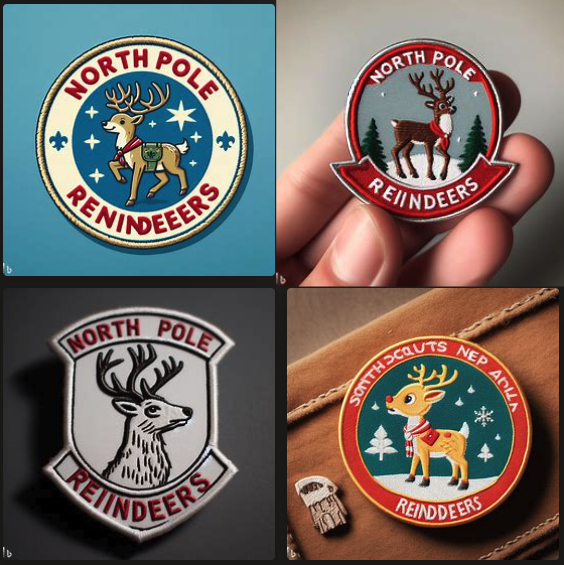 ---
4. Heavy Metal Logo Dalle 3 Prompt
a heavy metal band logo of a [reindeer] the text ["NORTH POLE REINDEERS"] is under the logo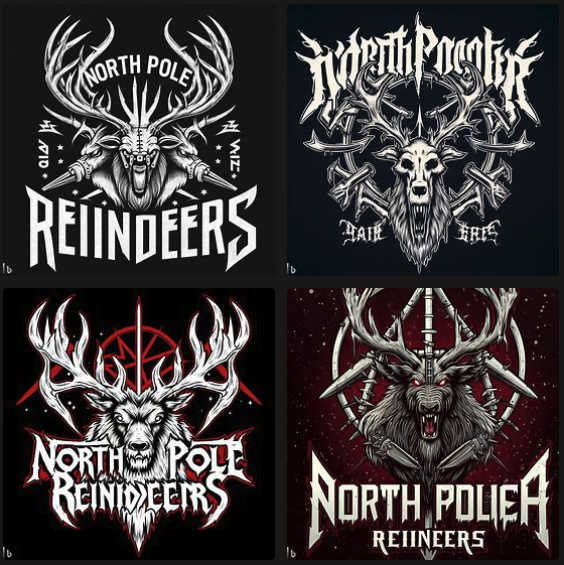 ---
5. Ugly Christmas Sweater Dalle 3 Prompt
an ugly christmas sweater design with [computers] and the text ["ALL I WANT FOR CHRISTMAS IS DALLE 3"]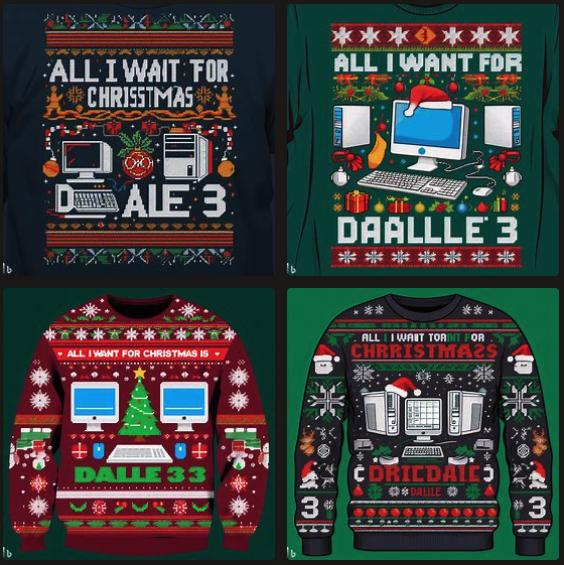 ---
6. Vintage Travel Postcard Dalle 3 Prompt
vintage travel postcard from [the North Pole] with the text ["GREETINGS FROM THE NORTH POLE"]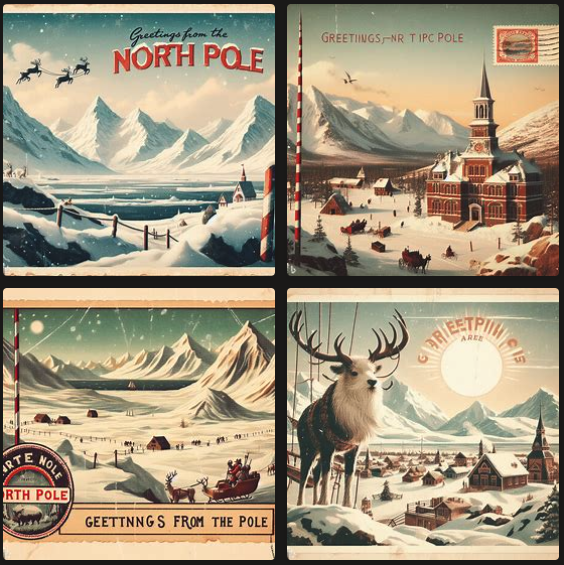 ---
7. Children's Alphabet Poster Dalle 3 Prompt
Children's Alphabet poster with the text ["R is or RACOON"]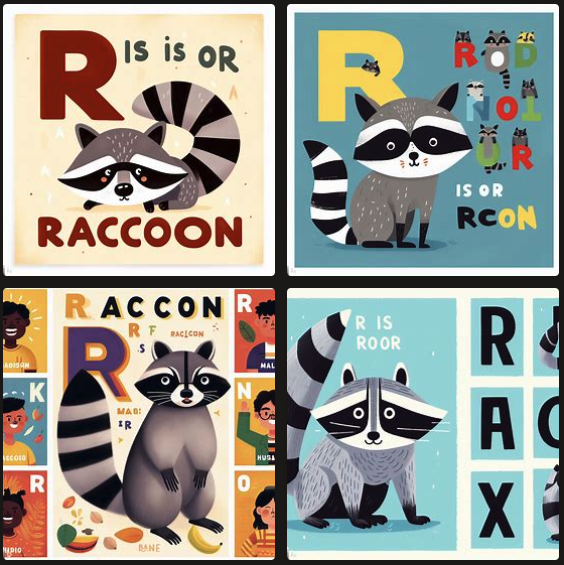 ---
8. Breakfast Cereal Dalle 3 Prompt
Children's breakfast cereal design: ["OOPS – ALL PTERODACTYLS"]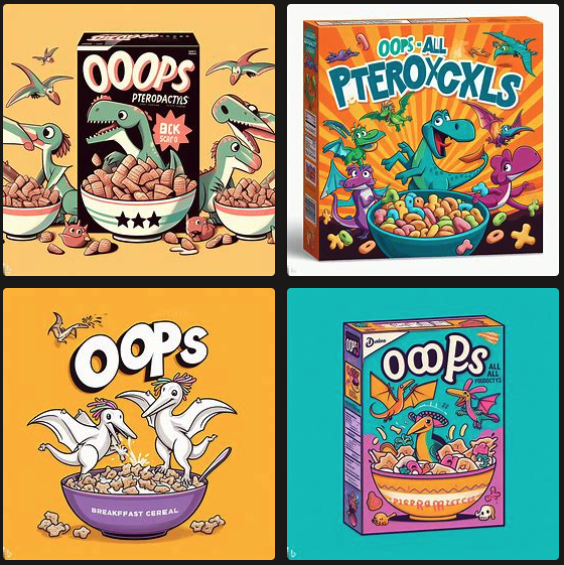 ---
9. IKEA instructions Dalle 3 Prompt
Design of IKEA instructions for [building a terminator]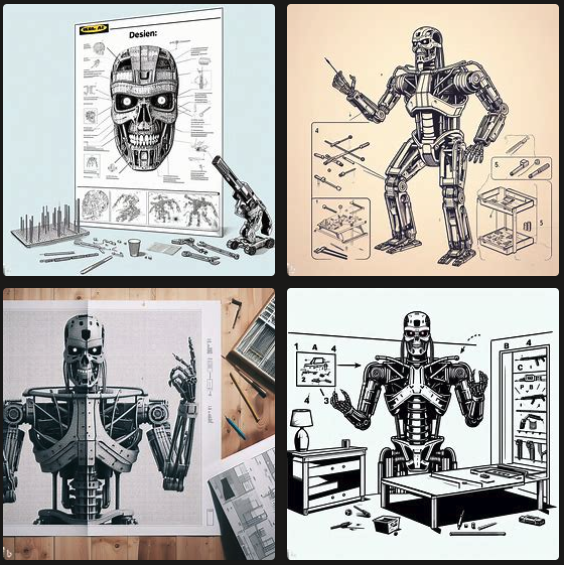 ---
10. Typography Dalle 3 Prompt
design typography – text: [live, laugh, lasagne]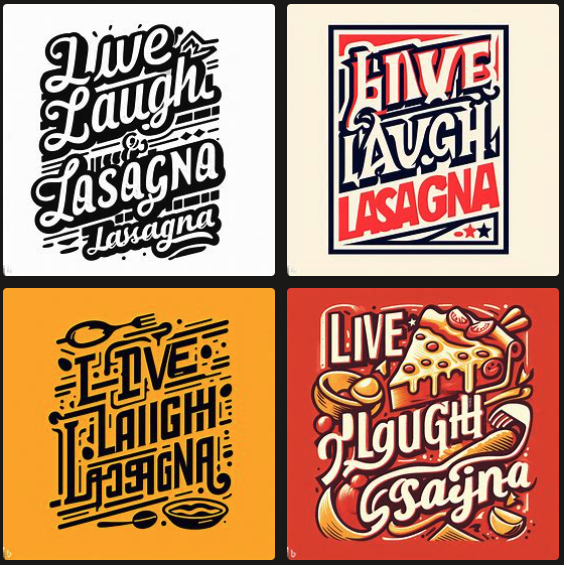 ---
…as you can see, very little of what you'll get from these prompts is 100% there.
Instead these are great 'jumping off points' for you (the designer) to modify, tweak and improve into a final product.
But for the best results – you need to have great, original ideas.
If you'd like to learn how I come up with original funny and witty design ideas- then check out my FREE eBook: 5 Ways To Improve Your Design Ideas: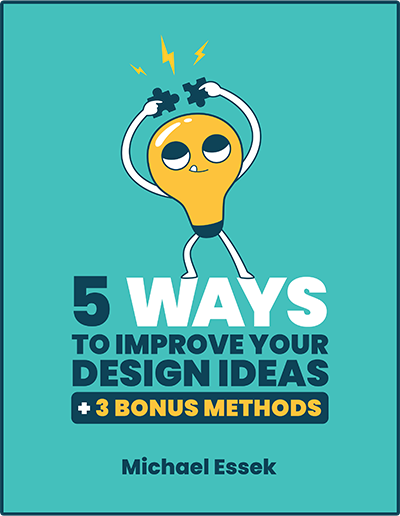 this includes 5 different step-by-step methods you can start using right away – plus 3 BONUS methods you won't find anywhere else.