Artist Interview: Michael Buxton AKA DinoMike
by Michael Essek · Updated: May 27, 2020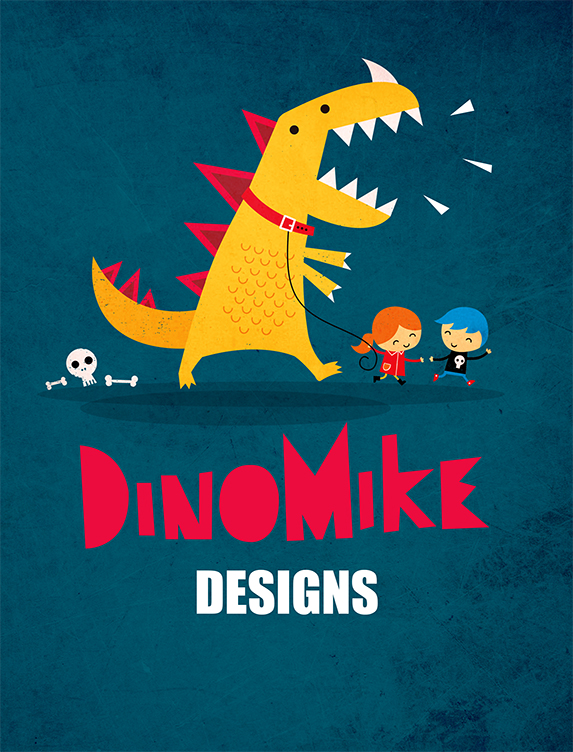 Have you ever had a great idea, turned it into a great design – and then had someone else copy it, sell it under an official license, and then turn around and demand royalties from YOU??!?!
Michael Buxton has!
Michael (AKA 'DinoMike') is a fellow UK native who has been at the online T-Shirt game for over 6 years – with bestselling designs on Threadless, TeeFury, and of course all over Redbubble and Teepublic.
Mike was kind enough to answer some questions from me – and I think there's a lot of great value in here for both the newbie and the seasoned T-Shirt designer alike.
I'll share some quick thoughts at the bottom of this article – where you can also find links to Michael's stores and social media.
Enjoy!
---
Q. Hi Michael! Can you tell us a little about yourself and how you got into the online t-shirt game in the first place?
No problem!
So my first design job after I graduated was for a greeting card company here in the UK. After a while I'd worked my way up to a studio manager, but found that I wasn't really doing much actual design any more, which seemed like a bit of a waste of what I originally wanted to do.
In that time I'd become really interested in t-shirt design and had a fairly worrying obsession with buying tees, so I decided to give it shot in my spare time. I started submitting to Threadless competitions, but I was absolutely awful, so gave up for a couple of years and really worked on developing my illustration skills, then came back with a bit more focus.
Q. What was your first t-shirt related success?
My first success was a submission into Design By Humans, when they were still taking exclusive designs.
This was way back in 2012 with a design called 'Bear Essential' which featured a large print bear with some funny type overlaid inside it.
I remember the actual email telling me it had been selected went into my junk mail folder, and I didn't spot it for a few days, so I really thought I'd blown it! But it went on to be a good seller, which gave my confidence a huge boost and convinced me I could make a success of t-shirt design.
Q. Can you tell us about your creative process? How do you come up with ideas, and then how do go about turning them into designs?
It's a bit of a mix really.
A lot of the time I try to play around with different puns and slogans to see what I can twist them into and other times it's choosing subject matter I'm interested in and finding an angle that way.
I love horror films so they tend to feature quite heavily in my work, and it's the same for animals (especially cats).
I also find it useful to keep a list on my phone for when ideas pop into my head. They're 90% terrible, but sometimes it's enough to spark something off in your brain later down the line.
Q. What does your usual working day look like?
I'm not very good in the mornings, so I usually start working around 10am.
If I don't have any agency work to do, I usually have an idea chosen to work on, so I'll spend as much time as it needs to get it finished. And then any time left I'll usually spend uploading designs to various sites. Also, trying to remember to post stuff to social media!
Q. How many designs you do produce a month or a week? do you set targets or just go with whatever?
I try to get at least a new design finished every day.
However, if I have a project from my agency then that becomes my priority.
I do try to set out a rough schedule for things like that as I think it's a bit more satisfying having targets to hit.
Q. You are represented by an agency. Do you have any advice for illustrators who are looking at the getting representation, and what would you say are the benefits of this?
Well when I was studying illustration at University, I really wanted to break into illustrating children's books, and that itch never really went away. But getting into that side of illustration is almost impossible to do without an agency representing you, so that was my main reason for seeking representation. Plus it never hurts to have another source of income.
As for advice, I'd say to do your research and find an agency that seems to fit in with the work you produce, and then get in touch with a polite email with a few (under five) samples of your best work. And don't be put off if you get a few rejections along the way.
Q. Are t-shirts your full-time thing or do you also work a day job, do freelance, or have other royalty income?
I've been freelancing full-time now for a couple of years, so it's a mix of t-shirt designs, greeting cards, children's books, even a bit of logo design.
I think variety is really important as it stops you from getting stagnant and pushes you out of your comfort zone.
Q. You design under the moniker 'DinoMike' – do you think it's helpful or important for artists to have a pen-name like that? would you change it if you could start over?
I think it depends. If I had a really memorable and cool-sounding name, then I probably would have just stuck to that.
But I think having the 'DinoMike' moniker helps with having a consistent branding across different sites, and I definitely think it makes my designs easier to search for.
Q. You can obviously create proficiently in a variety of styles, but recently it seems you do a lot more of the 'cute character' type stuff. Is that a deliberate decision, or do you just prefer to work in this style?
To be honest it's probably been drilled into me by working for a greeting card company for ten years.
Working on character stuff for cards usually means cute and appealing, so I think that's where I default to. Also a lot of my humour designs have a slightly dark edge to them, and when it's contrasted with a really cute style, I think it adds to the joke.
Q. Could you tell us a bit about the t-shirt sites that work out best for you in terms of royalty income?
When I first went freelance I think it was definitely Threadless that led in terms of income. I'd had a couple of really successful designs printed and had won a few competitions on there.
But things can change quite quickly in the t-shirt world and I've seen sites like TeePublic become increasingly popular. Tee sites can change their strategies pretty quickly, so it can be a bit of a roller coaster ride for artists sometimes.
Q. What advice would you give to someone who wants to follow in your footsteps, and successfully make money from creating original t-shirt designs? What are the most important things they should focus on?
That's a tricky one! I'd say to try and stick to subject matter your comfortable with and have fun with what you're trying to create.
You should always ask yourself 'who would wear this?' when thinking up designs. For example, I'm not the target audience for a lot of my designs, so I'm creating stuff that I think would be popular for other people.
And there's nothing more important than practising!
Q. re: Ip infringing stuff – you have a few things that reference movies and tv shows. Are you worried about things being removed by IP holders? Do you think things are changing at all in this regard?
So this is something that I find to be a massive grey area.
Whenever I design something that references a movie or tv show, I always make sure the message of the design is commenting on the IP in a way that parodies it. I think if you're going to use someone's IP then you need to make it your own and not just do a lazy mash up for example. So personally I think my pop culture stuff firmly falls under Fair Use laws, however I've had work taken down by sites following requests from the original IP owners. A lot of the time this is simply due to having tags on the work which reference that IP.
One crazy thing that has happened to me with a couple of my designs is that I've been ripped off by a company that's bought the rights to the IP I'm parodying, reproduced my design and sold it to established retailers! It happened with my 'Always Follow Your Dreams' and 'Free Hugs' designs and in both cases the design was an inferior copy. My ideas are obviously being stolen, but fighting a company that holds the rights to that IP could get quite messy, so it's a really complex situation.
Where this goes in the future is anyone's guess, but right now it's super inconsistent. It would be cool if the IP owners saw the value in some of these designs and approached the artists to licence them, but I guess there's so much stuff out there it would be almost impossible to keep track.
Q. Anything else you'd like to talk about or advice you'd like to add?
Just to say thanks for great questions! And if anyone is interested in chatting about any of the stuff I mentioned, then my Instagram is a great way to get in touch!
---
Thank You Michael!
Couple of big takeaways here from me;
Designing Daily. Michael tries to produce at least a design a day, which is quite impressive when you see the quality of both his ideas and his work (lots of detail, textures etc). It just goes to show that there are no shortcuts to success – and the only surefire way to get better at something is to keep doing it, day in, day out.
Variety. Michael doesn't just do T-Shirts – but also does freelance work, greetings cards, logos etc. I think this is a good model to follow – as a lot of us have T-Shirt tunnel vision – and could be missing out on other product opportunities and licensing deals outside of the online Print-on-demand world. Another benefit to doing a variety of work is that you just get to change things up every now and again – and as they say, a change is as good as a rest.
The IP Issue. As Michael says – this is still a big grey area – and his experience with the 'Follow Your Dreams' design goes to show there is always a degree of risk when you produce something that references the IP of someone else. As Michael points out – the ideal solution would be something that hooks up IP owners (or even retailers/manufacturers) directly with designers. We are beginning to see this with Merch Collab and other Officially Licensed Print-On-Demand programs from Redbubble, Design By Humans and others. It's my view that this will be one of the big growth areas for POD in the next few years – and long-sighted designers would do well to think about how they can take advantage of that.
To check out more of Michael's work, visit his stores below (and pick up your favourite design for a friend or loved one! – 'tis the season after all 🙂 ):
And you can follow him on:
---
Supercharge Your T-Shirt Sales With My Top Strategies, Tips & Tricks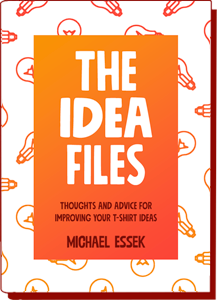 The best way to improve your T-Shirt sales is to improve your T-Shirt design IDEAS.
In my free eBook 'The Idea Files' I show you how to improve your Idea ability, and profit from trends using exclusive techniques and strategies you won't find anywhere else!
Get it free, here:
Comments
comments