One (Easy) way to come up with better pun ideas
by Michael Essek · Updated: March 28, 2023
Today – I have a website to share that can help you come up with better ideas.
So – if you're just getting started creating designs for products – and have no idea what to design around – read on for a neat exercise to help you prime your idea muscles.
You know the whole 'sharpen your axe first' thing? That's good advice.
Far too many designers get caught in the weeds early on – obsessing over 'research' and 'keywords' and 'niches' – and missing the more fundamental principles of what makes for a great design:
Humour, a strong concept, and the right design approach.
Don't get me wrong – it makes sense to understand the market you are trying to sell to – I'm all for that. But if you don't bring something new, original, unique or high-quality to the market – it really won't matter how good your 'keywords' are – people are unlikely to respond in the way you'd like.

So, I stumbled across this website which could help you learn and grow some of these fundamental skills.
The site is thingdb.io – and it's a 'thing database'.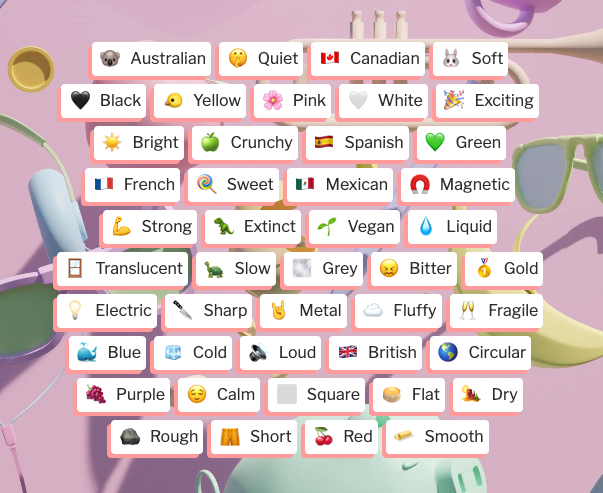 More helpfully, it's a list of lists of things that share a certain characteristic – such as;
There's a few ways you can use these lists:
(EASY MODE) – Open up any list that catches your eye, and look for a subject you think is interesting or funny – and just start brainstorming ideas around it. Look out for subjects that 'stand out' from the others.

For example – I was looking at the list of things that are fluffy – and it's mostly animals and different breeds of dogs and cats. Then all of a sudden I see pancakes – and that stood out. Maybe I could do a few funny pancake designs using the term 'fluffy' somehow?

So just follow your nose, see if any ideas come.

(HARD MODE) – Look through the 'list of lists' on the homepage for words that are likely to appear in well-known idioms, phrases or sayings.

[ OR – look for terms that have multiple meanings (eg. sweet means 'sugary' but also 'kind') ]

for example:

From there, look through the list to find a subject you could illustrate alongside such a phrase.
For example – the phrase "lazy bones" could be accompanied by an illustration of the skeleton of a sloth.

Another: You could do a sad blueberry for "feeling blue"…or even – to refer to previous subject – "I'm feeling blue" alongside blueberry pancakes. now that's sweet! 🙄
So there's a mini homework project for you to try.
Remember – we're letting our brains run wild, following rabbit trails – NOT obsessing over whether anyone is actually looking for a design like this…yet. It's like Steve Jobs said: "people don't know what they want until you show it to them."
So go out there – stretch your idea muscles – follow some rabbit trails – and produce something fun for the heck of it.
The ability to do that well – to produce an engaging, witty or creative design you have imagined in your head simply because you want to realise it – (without the direction of others) – is a truly valuable skill that pays dividends.
---
I hope you found this article useful.
This is a sample chapter from my new book 'Get The Right Idea' – which is a collection of my best articles on Idea Generation, explaining why original concepts are the key to regular sales.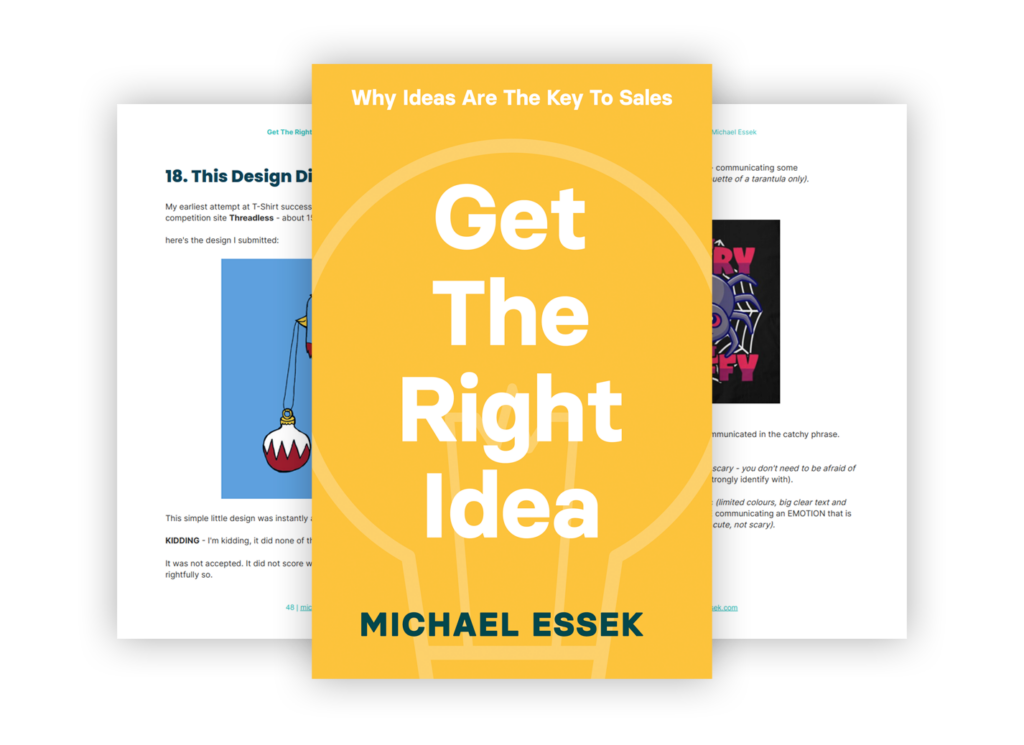 Comments
comments