Why You Should Sell Your Art On Redbubble
Last Updated: April 10, 2017
Do you wish it was easier to make money from your art?
For the past 2 years I have been making money online from t-shirt designs. One of my main sources of income is Redbubble – though there are a number of other POD (Print on Demand) sites that I also use.
If you are a Graphic Designer / Illustrator / Artist / Creative (delete as appropriate) – you should have an account with at least one such site. If you don't know where to start, I recommend Redbubble.
(Note: For the remainder of this article, when you see 'Redbubble' you can substitute this for Teepublic, Design by Humans, Society6 or really any other POD site – as they all perform essentially the same function).
An Introduction to Redbubble & Print On Demand
Redbubble is one of the leading Print-On-Demand (POD) websites. Thousands of independent designers and artists upload their artwork onto the site everyday. When a customer makes a purchase, Redbubble will print the artwork onto the product and ship it to the customer. The designer will receive a royalty, usually between 10%-20% of the purchase price (you have a degree of control over the royalty percentage).
Redbubble is completely open and free to join. It costs nothing to start an account, upload work, or receive a royalty payment. When your royalty payments reach a certain level Redbubble will send the money to you via paypal.
Redbubble has a large audience of potential customers. The site ranks well in google, which boosts your chances of being found and making a sale. Assuming you have good ideas and good artwork you can simply let Redbubble do all the work – and within a short space of time you should begin to see sales and royalties building up.
Why You Should Sign Up with Redbubble
1. Make Passive Income
Redbubble is a business, and it exists to make money by selling products to customers. Every sale produces a royalty for someone, and that someone could be you.
Royalties of between 10-20% may seem low, but you need to consider the following factors:
You don't have to do anything except upload an artwork file and add some descriptive text
they already have a large and primed audience (something that would take you a long time and a lot of money to replicate)
they advertise your products for you – including re-marketing (so if someone views your designs, redbubble's ads will follow them around the internet), and email marketing
they handle customer service, returns, complaints etc.
they will offer your design on several different products, with hundreds of different variations (phone cases, pillows, notebooks etc. – in many different sizes and formats.) As they expand and add new product options (this happens regularly), your designs are (usually) applied to these new products automatically.
It's true that you need to sell a lot of products every month in order to make decent income from these sites – but that is exactly what Redbubble specialises in.
I know first hand that selling hundreds of products on Redbubble is not only possible – it is also relatively simple to achieve. It took me less than 3 months to break the $100 barrier on Redbubble.
2. You'll Learn New Skills
If you're a graphic designer, you probably spend most of your time designing the same things: logos, printed materials, websites, apps.
Print-On-Demand sites allow you to design for something completely different: physical products.
You may think that the process of designing a logo and a t-shirt are almost identical – but whilst there are similarities, there are also major differences. For example, you will find out that certain print colours do not work well on the some shirt colours. Or that the method used to print the shirt means that certain designs and techniques make for crappy t-shirts.
Through the process of uploading your designs to Redbubble you will see (thanks to real-time mockups) what designs work on what kind of products. As an example – phone cases and mugs use a different printing technique to shirts, meaning phone cases can handle much more subtle details, and therefore more ambitious and detailed designs that your average t-shirt.
Should you ever want to launch your own product range or clothing line, this kind of information will give you a head start and keep you from making expensive mistakes.
3. You'll Learn What Does and What Doesn't Sell
A fancier term for this might be 'market research'.
With your own products on Redbubble you get real-time information about what people are buying or not-buying. Redbubble send you an email whenever when you make a sale. You can also view your monthly earnings online, and see what your next paypal deposit will be.
You can see at a glance what designs have sold, and which haven't. Redbubble also lets you know how many views each of your designs have had – so you can see what kind of conversion rate you are getting per design.
What use is this?
Knowledge of the market is a great advantage for increasing your income or expanding into new opportunities. For example, let's say you produce a shirt design that sells well. Beforehand you had no concrete evidence that the shirt would do well (even if you thought or hoped it might). But now you know some things – such as;
there is a market for this kind of design (eg. the subject matter or design style)
the platform on which you are selling is able to reach and convert that market (ie. the customers)
This information can inform your next design. Instead of your next product being a stab in the dark, you can create designs targeting the same reachable market – with simple variations or expansions.
You could also expand into other platforms or POD sites with these same designs. After all – you know there are people out there that will buy these designs. By uploading these designs to other sites you increase your chances of making sales.
4. You'll Find New Paying Clients
Redbubble can greatly increase the exposure of your work. This can lead to sales, fans, and also to new potential clients. Redbubble essentially allows you to tap into their large, engaged audience.
This is especially appropriate if your portfolio contains works of a consistent style, or of a particular design approach. Assuming your work is of good quality, potential clients will reach out to you, if they are looking for a custom design similar to what is in your portfolio.
I have personally picked up at least two or three paying clients over the past year who originally saw my work on Redbubble.
To make the most of these opportunities, be sure to make it easy for potential clients to find your contact details on Redbubble (link to your social media pages and personal website, and include a paragraph about the best way to reach you).
5. You'll Learn About SEO
In order to make sales from your designs you will want your shirts to 'rank' highly on the search results pages (Including Google, but also on the internal search pages of Redbubble).
This means giving these platforms as much relevant information as you possibly can – via titles, descriptions and tags.
Experimenting with these options will improve you knowledge about what does and doesn't effect your rankings – and how that ultimately effects your sales. This knowledge is applicable to other POD sites, and can be helpful if you want to rank well in Google overall.
The sooner you start, the sooner you see results
When I decided to simply 'see what happened' by signing up with Redbubble, everything changed (though not overnight).
Those few initial sales gave me the encouragement to keep going – to become a better designer, to grow my portfolio of designs, and to expand into other opportunities online.
So don't waste time reading hundreds of blogs or books, just sign up today and get a design up there. Learn on the job, and soon you'll see why a Redbubble account is a great tool for every graphic designer and illustrator looking to make progress.
---
Supercharge Your T-Shirt Sales With My Top Strategies, Tips & Tricks!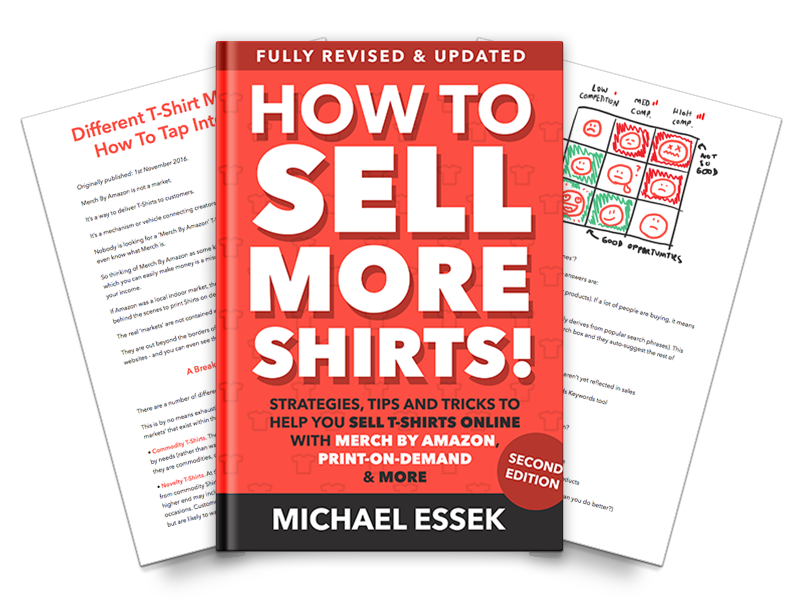 If you want to sell more T-Shirts online, then you'll love my book 'How To Sell More Shirts'.
You can get the first 3 Chapters for FREE when you subscribe to my newsletter today!
Get them here:
Alternatively you can check out the full book (along with my other products) right here
Comments
comments