Last Updated: December 18, 2019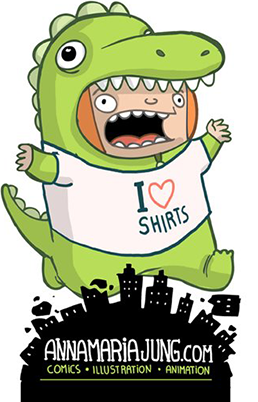 Learning from the success of others is essential if you want to fast-track your T-Shirt income – and I'm pleased to announce that one such succesful person has agreed to share their knowledge with us!
Anna-Maria Jung is a freelance illustrator (and self-confessed full-time nerd) who has been immersed in the online T-Shirt market since 2010, with considerable success.
She has had designs selected for the biggest online T-Shirt stores (Threadless, Teefury etc.) and has attracted over 10,000 followers on Facebook alone!
Anna-Maria was kind enough to answer some questions from myself – so read on for the knowledge bomb, and make sure you check out the links to her amazing blog at the bottom. (and of course follow her on Facebook, Instagram and Twitter for the latest!)