2016 Year In Review [$100k Profit, Channel Breakdown and 2017 Plans]
Last Updated: April 10, 2017
2016 is over – so it's time for a review post.
This isn't going to be a particularly long or exhaustive article – more of a brain dump. I just want to share my raw numbers and pull out some major headlines, plus explain my thinking and plans for 2017.
2016 was a big year for me.
In 2016 I…
left my full-time job to go full-time on T-Shirts
started this blog, alongside an email newsletter and a Facebook group (secret, message me if you want in 😛 )
wrote a book called How To Sell More Shirts! and released it for free (updated, non-free version is coming soon)
designed at least 300 T-Shirts
made a lot of new friends 🙂
and the big one…brought in over $100k in T-Shirt profits (not just revenue).
How did I do it?
Read on my fellow T-Shirt traveller…
Let's Talk Money!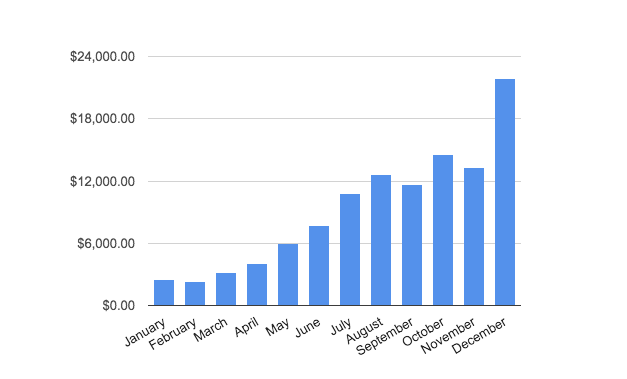 (2016 Growth Chart, month on month)
In 2016 I made just over $110k in total from T-Shirts, including profit from my Etsy stores.
The vast majority of that income is from royalties (about $95k), and the vast majority of that royalty income came from Merch By Amazon ($70k).
I have a few expenses that aren't accounted for in these figures (Adobe software subscriptions, Dropbox, Google Drive, Web hosting etc.) but broadly speaking that headline figure ($100k) is almost pure profit. I don't pay for designs (more on that later) and I don't do paid advertising to generate this income.
So almost all my income came via organic traffic, and the only real investment from me was the time spent researching, producing and listing designs – rather than in direct money spent.
This is good in many ways, but bad in other ways. Anyway we'll get to that…
2016 vs 2015
In 2015 I made around $30k in total from T-Shirt sales, so 2016's numbers represent at least a 300% increase on the previous year.
Why the huge difference?
Pretty simple really:
Merch By Amazon. Amazon launched their print-on-demand program at the end of 2015, allowing me to sell my designs directly on Amazon.com – with Amazon handling the printing, shipping and processing (oh and they ship it Prime too). Without Merch, my earnings would have only increased by about $10k on the previous year. Amazon's reach and power as a sales channel have super-charged my sales.

Number Of Designs. Contrary to what you might think (or wish, or imagine) the online T-Shirt game is not a 'set it and forget it' type of deal (at least not anymore). If you want to experience consistent growth in your sales, you need to maintain a consistent level of new designs. I upped my production big time in 2016 (from 200ish to 600ish designs), and I believe this has allowed me to maintain strong sales, especially in the final 6 months of the year.
Let's Talk Channels
Here's a cute gif showing the percentage breakdown of my income over the course of 2016:
As you can see there are minor fluctuations but Amazon has been dominant throughout. Some of the smaller channels I simply stopped tracking towards the end of the year…so that's why you'll see them disappear.
Nothing really to add here that I haven't covered in my previous income report article.
Merch By Amazon has never been responsible for less than 50% of my income in any given month, but never more than 70%.
That's the power of Amazon – the traffic and conversions you can expect are unlike any other single sales channel.
Is it healthy for me to be so reliant on Amazon? Probably not. So, for the start of this year I'll be focusing on diversifying and getting my designs onto other sites – such as TeeSpring and others.
What About December?
December was both good and terrible.
On the 'good' side, the sales were great (best month ever!) and December alone is responsible for about 20% of my total 2016 income/profits.
On the 'terrible' side, I lost a lot of designs on Amazon through a combination of the new 60-day rule and Amazon's crackdown on inappropriate content. This meant December was less than what I'd hoped it could've been…and means I start 2017 with a depleted inventory of designs on my biggest single sales channel.
Etsy did great throughout December, and the other channels held up about as I expected them to. Teepublic was lower than I might have hoped, so we'll see how that plays out in January. I am yet to see income from a few of my smaller sites like TeeFury and BustedTees – but hopefully they will have done pretty well over Christmas too (so December may actually still be a little better than it currently looks).
Looking Ahead To 2017
I learnt a whole lot in 2016.
I feel I could've done a whole lot better in the past year if I would have worked harder and smarter, but overall I feel pumped to hit 2017 with my eyes wide open.
What About The Merch By Amazon Changes?
OK, so there's a lot that's been going on with Merch in the past few months.
The new 60-day rule, tightening of policies leading to design removals (and account bans), shortage of Shirts over Christmas, and now the pause in publishing.
Some people are asking if Amazon will ever open the doors again – either to publishing or to new accounts.
I don't have any inside information, but I do think we can see a general trend emerging from the actions of Amazon.
Here's what I think:
Merch By Amazon has been the wild-west for the past 12 months. Amazon clearly had no idea what was going to hit them when they launched in 2015, and they were overwhelmed both in terms of demand, designs and unforeseen problems. Amazon is now in clean-up mode, and until it gets it's house in order I wouldn't expect to see any new accounts approved, and probably limited uploading. Maybe Amazon is just about finished cleaning house, or maybe they have some months left, I don't know.
Amazon is not going to entertain questionable content (designs) of any kind. Profanity, controversial topics (weed), Parody, Mash-Ups – these are all places that have become no-go areas. Amazon doesn't like being sued, and isn't going to let designers drop them in it. If you don't want to play it safe – then Merch is probably not the platform for you.
Amazon is looking to work with genuine, original, talented artists, designers and brands. They don't want to become a wasteland full of low-quality artwork and crappy looking T-Shirts. They don't need to let everyone and anyone into their eco-system, and they aren't going to. If you can't deliver quality that sells, then Amazon doesn't want you.
That's what I think…so what does it mean for you and me, the humble T-Shirt designer?
Don't put all your eggs in the Amazon basket. Diversify – get your designs up on any and all relevant sites – as long as it is economic and sensible to do so. (For example – I don't put my work on Zazzle, because I find the whole site incredibly difficult to use and therefore time consuming. TeeSpring is straightforward, so I will happily list my designs on there). And of course for real long-term security you want to think about developing your own brand, on your own domain.
Stop wasting time on content that is not going to be acceptable to Amazon. Parody-type stuff was a big winner for me last year – and I made a lot of sales focusing on controversial topics, whether they be current events or politics. But Amazon has made it pretty clear that they don't want to play in risky areas – and so you put your account at risk by doing so. I'm not gonna bitch and complain about this – I'm just gonna focus on creating family-friendly designs that are unlikely to cause me potential headaches with Amazon in the future.
Start thinking like a brand, and stop thinking like an opportunistic teenager in his parents basement. Don't chase the latest hashtags and trends – instead craft a range of designs that are coherent and cohesive. Ask yourself: If I took these designs to a high-street store, would they be interested in stocking by brand? Why or why not? What would I have to do to look like a 'real' clothing brand? It may be time to ask whether you need help on the design side, and to look again at the quality of your designs. I know that some designers can produce great work at $5 or less per design – but many cannot. Are you proud of your designs? In the long term I believe quality will win out – especially as the market gets more and more saturated.
Amazon will probably charge for Merch access, eventually. I have no idea when this might happen or how much it might cost. Charging a monthly fee for access (as they do with Seller Central etc) would weed out a lot of the low-quality and copycat sellers, and should ensure that those who sell and design for Merch are serious about delivering quality to customers. I'm not saying this is imminent – but it is something to think about. If Merch was a paid service, how much would you be willing to pay? Think on, young padawan.
My Focus In 2017
Thankfully (and I don't mean that lightly) – I still have my Merch By Amazon account.
I don't take it for granted, though I do intend to make the most of it in 2017.
1. Increase Production
That means churning out a lot more designs – and to that end I am employing a couple of designers to help me hit my targets.
I'm not giving up the design side completely, but I will be focusing a lot more on research, finding opportunities and long-term planning for certain holidays and big events.
As discussed in this previous article, volume is the single biggest factor affecting sales and income, and it's one thing you have control over.
So now I have some cash in the bank, I'll be investing that in new designs to replace those lost to the Amazon gods – and to help maintain some growth in the coming year.
2. Increase Exposure
My income is spread across 4 main channels right now (Amazon, Redbubble, Etsy, Teepublic) – and that's simply not enough exposure.
My designs are good, my ideas are solid – so I just need to get them in front of more people.
To that end I am making it a priority to get my design inventory up on more print-on-demand platforms: TeeSpring, DesignByHumans, Society6, Skreened, RageOn and others.
This is no small task when you have hundreds of designs – so I am employing some help on this side too.
So as you can see, investment is the name of the game, at least for the first part of this year.
3. More Help For Others
I know there are a lot of talented designers out there who could be making a decent income from their designs – they just don't know how to do it.
This blog, plus my weekly newsletter, are just one small effort to help others make progress selling their art online.
So this year I want to do more.
That starts with updating my eBook – How To Sell More Shirts – which will be happening soon.
Following that I'm going to distill my knowledge into a video course to show others exactly what I do, and how I do it. (Trust me, if I can do it, anyone can.)
I don't want to make any promises yet about deadlines and such, but make sure you are subscribed to my newsletter to get all the latest info (and early-bird discounts!)
---
So there you have it – my 2016 in a nutshell.
Thank you for coming along for the ride. 2017 promises to be even better – and I hope you'll be making progress right alongside me – whether you're making $1000 a year or $1m.
If you have questions, comments or feedback – please leave them below. And of course you can contact me here if you so desire.
Here's to your success in 2017!
---
Supercharge Your T-Shirt Sales With My Top Strategies, Tips & Tricks!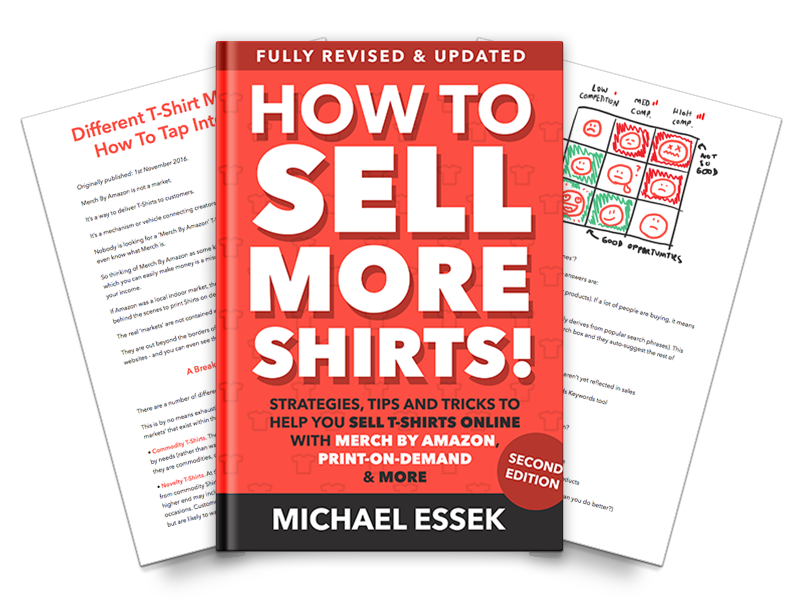 If you want to sell more T-Shirts online, then you'll love my book 'How To Sell More Shirts'.
You can get the first 3 Chapters for FREE when you subscribe to my newsletter today!
Get them here:
Alternatively you can check out the full book (along with my other products) right here
Comments
comments