Why You Should Start Building Your Own T-Shirt Brand Today
Last Updated: April 10, 2017
Merch By Amazon started a serious crackdown on policy-violating designs and sellers in the past few weeks, and it's made everyone a little bit jumpy (me included).
I love Merch By Amazon – it's responsible for about 70% of my current income, and the system Amazon has put together is slick and easy to use. It's a god-send for independent designers like myself, and for all it's issues (it's still only a year old remember) it is still an incredible platform and opportunity for those who can, and will, use it right.
But Merch is ultimately just another vehicle for taking the ideas from my head, and putting it into the hands of a customer, in the form of a T-Shirt.
And it isn't the only vehicle available for doing this.
There are other near-identical websites that perform exactly the same function in almost exactly the same way: Redbubble, Teepublic, Zazzle, CafePress and so on.
And there are T-Shirt fulfillment companies that will perform the same printing-and-shipping functions (just like Merch) – which allow me to sell T-Shirts on any platform I could think of. (Etsy, eBay, my own website, etc.)
My point is this: when it comes to the business of delivering T-Shirts to customers – there are a variety of ways you can skin the cat.
Merch is – without a doubt – one of the best ways to make money from T-Shirt designs.
But like anything, it has it's downsides:
No Customer Data. I can't track conversion rates, ad campaigns, or do any kind of re-targeting or list building from my Merch sales. I am simply a provider of designs (and ideas/concepts) to Amazon – and they pay me for this in the form of royalties. I am not a 'brand' or business that sells on Amazon – I am effectively a licensor of intellectual property and design inventory to Amazon.
Amazon's House – Amazon's Rules. Merch has it's own policies – against copyright infringement, bad language, controversial topics and so on. A lot of these rules may seem frustrating or worse for designers, but they make perfect sense from the POV of Amazon (an enormous company that cares immensely about it's reputation and any potential legal backlash).
Next To No Control. If Amazon tweaks an algorithm, or decides that a certain type of design is no longer kosher – I could be taking a bit hit in the pocket. That's simply the risk you run when you sell on such platforms (the same applies to almost any online platform btw). Of course there is no such thing as an income stream that you have complete and eternal control over – but platforms like Merch are especially sensitive due to the way they are setup.
One point I'd like to make before moving on: Amazon isn't necessarily in the business of making it easy for you to make money online. It is not their goal to allow any designer to sell any design to any customer.
Their goal is to make more money, by providing more products to more customers: but not at any cost.
They cannot (or will not) bear the cost of a thousand copyright infringement lawsuits – or the cost of the damage to their reputation that might be caused by an offensive or illegal design being sold on their platform and under their name.
What this means is that there are certain markets that Merch By Amazon will perhaps never move into.
The 'adult' market for example – of profanity and bad language on shirts – seems now to be off limits for Merch sellers. But the buyers of such T-Shirts have not disappeared. It isn't illegal to want to buy – or sell – a T-Shirt with bad language on it. People will still want to buy such Shirts – and they will still be able to get them – on Amazon (just not on Merch) and on other platforms and websites.
Now you may see that as a big loss for Merch – or a big loss for you – or a great opportunity. But Amazon have their own reasons and motivations for allowing or not-allowing certain designs. My advice would be to use Merch where you can – and use other sites – or your own platform – for those designs that are no longer Merch-appropriate.
And yes, I know that Merch is incredibly vague in their language and policies, and that they remove Shirts that you think should stay up. (This is, incidentally, just another reason why you need a lot of designs).
It really is pretty ridiculous to expect an ecommerce website (even a giant one like Amazon) to handle the nitty gritty of legal issues like copyright complaints and fair-use vs. parody (and so on) – but this is where things are right now. You can either adapt and give Amazon and it's customers what they want – or you can move on to something else.
It's Never Been a Better Time To Be The Little Guy
The good news is that the opportunities for quality creators to make money online have never been more plentiful.
Besides the increasing variety of print-on-demand platforms – there are groundbreaking new ways for you to advertise and market your designs – plus a whole new industry (print-on-demand fulfillment) that allows you to focus on your designs and leave the product and shipping to someone else.
And of course there are the marketplaces like Amazon and Etsy that can deliver you targeted organic traffic for free or really-cheap.
Plus, of course, the technology that allows you to take payment from customers around the world, track them, re-target them and advertise to them for peanuts.
So what is lacking in this equation?
Simply the creator (you!) with the ideas and the creative skill to bring it into reality – plus the drive and determination to tell the world about their work and sell their goods.
People love independent brands. They like to support the little guy.
And the little guy can get away with a lot that the big guys simply can't!
Little guys fly under the radar – they don't tend to have the legal and reputation worries that the big guys do.
Little guys can charge higher prices – because they aren't competing with others on a marketplace. You have the customer on your website – and you are the only one producing your designs. They know it's you because you send daily instagram and snapchat updates, and you tell them exactly where to get the latest design on a Shirt or a Phone Case or whatever.
Little guys aren't under the same pressure as the big guys. I am still surprised at the low rates of returns and complaints I get, considering the volume of orders I fulfil through Etsy and other 'direct to customer' routes. I believe this is because customers have different levels of expectations when it comes to independent sellers – they don't expect next-day shipping, because they aren't buying a commodity item (so you don't need to be super-competitive on pricing aswell).
Overall there's a heap of reasons to 'go it alone' with your own site and your own brand.
I would just say that you need to be 'all in' on it – in a way that you really don't need to be when selling on Merch or Redbubble or whatever.
Customers can smell half-ass – and so if your brand and website looks rushed or your products look cheap – and your designs are clearly not well thought out or lacking in quality – then you aren't going to win big in the long run. If you can't go 'all in' on your own 'brand' – then don't start it in the first place. Only do something you can really put your whole heart and head into – because that's the level of commitment and quality that today's consumers are looking for.
So Where Do I Go From Here?
If you are a designer with a bunch of T-Shirt designs that are spread across mutliple niches and markets – and that wouldn't 'make sense' under a single brand or website, then leave those to the side (but of course – make the most of them on print-on-demand platforms in the meantime).
But you should really try and pick a niche or market for your own brand and for future designs.
I know a lot of people struggle with this – because it seems like you're cutting off a lot of potential ideas and limiting yourself – but it's only by niching-down and becoming a specialist at something that you'll be able to develop a high-value brand with quality work.
And your niche could be as broad as 'funny t-shirts' – brands like BustedTees and Snorg are no more specialised than that.
Once you have your brand identity and market roughly figured out – focus on designing things for that market alone. You can still sell these on print-on-demand platforms – but in the meantime setup your own store (I would use either Woocommerce or Shopify) and start to build your brand using social media like Instagram.
If you're posting quality pictures and your designs are cool – then you will attract followers.
But remember: you need to be all-in on this thing – you're building a proper business after all (or at least, you should be).
Dedication and consistency are important factors: you must produce good stuff – but you must also produce it consistently.
Volume is key when it comes to platforms like Merch, but when it comes to your own brand, quality matters a lot more than volume. Think deep and narrow rather than shallow and wide.
If you start this journey with the right attitude and an understanding of what it takes – you are much more likely to succeed. People out there are looking for quality designs and meaningful brands – and if you can deliver that to them, you stand to reap the rewards – of a long-term, steady and stable income-producing asset.
---
Get 3 Chapters From My Book For Free!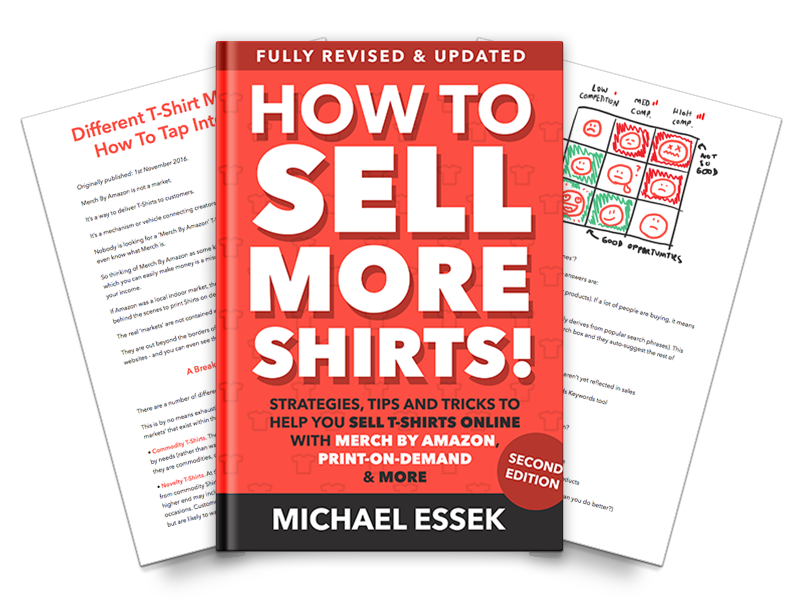 If you want to sell more T-Shirts online, then you'll love my book 'How To Sell More Shirts'.
You can get the first 3 Chapters for FREE when you subscribe to my newsletter today!
Get them here:
Comments
comments