Why You Should Start Building Your Own T-Shirt Brand Today
Last Updated: May 8, 2017
Merch By Amazon started a serious crackdown on policy-violating designs and sellers in the past few weeks, and it's made everyone a little bit jumpy (me included).
I love Merch By Amazon – it's responsible for about 70% of my current income, and the system Amazon has put together is slick and easy to use. It's a god-send for independent designers like myself, and for all it's issues (it's still only a year old remember) it is still an incredible platform and opportunity for those who can, and will, use it right.
But Merch is ultimately just another vehicle for taking the ideas from my head, and putting it into the hands of a customer, in the form of a T-Shirt.
And it isn't the only vehicle available for doing this.
There are other near-identical websites that perform exactly the same function in almost exactly the same way: Redbubble, Teepublic, Zazzle, CafePress and so on.
And there are T-Shirt fulfillment companies that will perform the same printing-and-shipping functions (just like Merch) – which allow me to sell T-Shirts on any platform I could think of. (Etsy, eBay, my own website, etc.)
My point is this: when it comes to the business of delivering T-Shirts to customers – there are a variety of ways you can skin the cat.
Merch is – without a doubt – one of the best ways to make money from T-Shirt designs.
But like anything, it has it's downsides:
No Customer Data. I can't track conversion rates, ad campaigns, or do any kind of re-targeting or list building from my Merch sales. I am simply a provider of designs (and ideas/concepts) to Amazon – and they pay me for this in the form of royalties. I am not a 'brand' or business that sells on Amazon – I am effectively a licensor of intellectual property and design inventory to Amazon.
Amazon's House – Amazon's Rules. Merch has it's own policies – against copyright infringement, bad language, controversial topics and so on. A lot of these rules may seem frustrating or worse for designers, but they make perfect sense from the POV of Amazon (an enormous company that cares immensely about it's reputation and any potential legal backlash).
Next To No Control. If Amazon tweaks an algorithm, or decides that a certain type of design is no longer kosher – I could be taking a bit hit in the pocket. That's simply the risk you run when you sell on such platforms (the same applies to almost any online platform btw). Of course there is no such thing as an income stream that you have complete and eternal control over – but platforms like Merch are especially sensitive due to the way they are setup.
---
Thank You For Your Interest In This Article!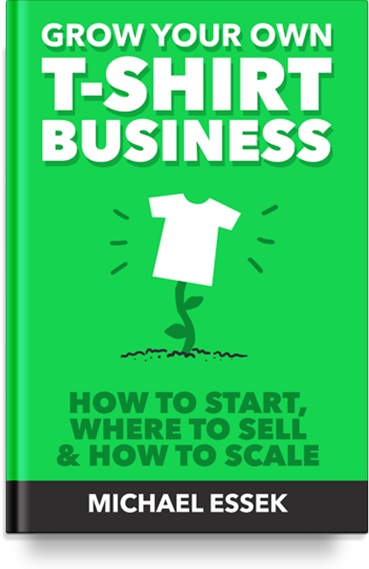 You can read the full article in my new book 'Grow Your Own T-Shirt Business'.
It contains over 180 pages of step-by-step advice on how to develop your own T-Shirt business - from developing a side income from Print-On-Demand sites like Merch By Amazon and Redbubble, all the way through to growing your own Clothing Brand.
Comments
comments