How To Outsource T-Shirt Designs The Right Way (+ Mistakes To Avoid)
Last Updated: April 10, 2017
With the increasing growth in the Print-On-Demand T-Shirt industry – and platforms like Merch By Amazon – demand has increased for cheap and easy T-Shirt designs.
This has flooded the market with designers offering T-Shirt artwork at very low prices (eg. from $5 per design through sites like Fiverr) – which can appear very tempting for newcomers looking to get a lot of designs for as low a price as possible.
And although what constitutes a 'quality' design is subjective, there are a lot of ways in which cheap designs can be a liability, rather than an asset.
In this article I'm going to give a few tips on finding a good designer, what to beware of, and how to approach the outsourcing of your designs to help build a long-term and sustainable business.
Cheap Isn't Always Best
Volume is key in the world of print-on-demand T-Shirt platforms…especially if you are relying on (or expecting) organic traffic to drive your sales.
With this in mind, it seems to make sense to look for the cheapest price when it comes to outsourcing – and therefore get as many designs for as little money as possible.
But going cheap can cost you.
First off – you have the danger of unscrupulous designers who will rip-off the work of others – delivering copied designs which they claim to be original.
This could lead to the removal of the design (best case scenario) or to the banning of your account, plus PR and reputation problems – or even legal action.
Secondly, you could find that what a designer implies in their marketing spiel is not what is actually delivered.
For example, some designers on low-cost platforms like fiverr will advertise $5 for a T-Shirt design – but require an additional fee to release the final, full quality vector (or editable files).
Finally you could be caught out by the small print around 'commercial use' or 'extended licenses'.
When a designer creates a work, the copyright (legal ownership of that design) stays with them, unless otherwise stated or agreed explicitly.
As such, your use of their work for re-sale or commercial purposes (eg. when you upload it to a platform like Merch By Amazon or a site like Redbubble) – could land you in hot water.
Technically you shouldn't be licensing the work of another for commercial purposes unless you have the license agreement in place to do so – so in theory the original designer could issue a takedown request to the platform in question for their design, and get it removed.
So… how do we avoid these problems?
Focus on designs, rather than price. My starting point when looking for designers is scanning for a certain style of work that fits my requirements – not looking at cost straight away. If you're in this for the long-term (which you should be) – then you will want to develop an ongoing relationship with a designer – giving them plenty of work for weeks and months (and years) to come. So look for the right designer, not the right price. Negotiate the price later.
Be as explicit as possible in your requirements and in your agreements. Get assurances that the price you pay will include the full quality, editable artwork files, and the transfer of copyright – or an extended license agreement – that allows you to use these designs for re-sale. Don't take anything for granted.
Run the numbers. Figure out what a 'reasonable price' looks like for you. Most designers are looking for ongoing, reliable work – and if you can promise or deliver on this then you can negotiate better prices. But you also need to check your own figures to work out what you can afford to pay – based on what you expect to make per design in your catalog. This is going to be different for every individual – so take some time on it.
Bad Brief, Bad Design
Commissioning quality designs and creating good design briefs is a skill in itself.
If you take some time to develop this skill, your designers will appreciate it, and your future income will reflect it.
Once you've struck up a relationship with your designer and agreed some initial terms, it's time to put your ideas into motion – and this requires effective communication if it's going to produce good work at the end.
Here's some tips:
Don't Be Lazy. Don't just say 'do something like this' – with a link to another shirt design. This is a recipe for getting ripped-off work, potentially copyright infringing designs, or other undesirable PR problems. You can't build a serious long-term income or business if you're constantly piggy-backing on the work of others. Get busy coming up with original ideas instead.
Note: You should always put your own 'twist' on any concept or design idea. Amazon (and other platforms) are not looking for hundreds of semi-identical designs that bamboozle customers. I'd prefer to play in a lower competition field than in an overcrowded one.
Give as much information as you can. Designers (especially those in countries other than your own) are not going to be familiar with the terms, references and meanings behind the ideas you send their way. So be as explicit as you can – and provide them with reference information and something to provide context if at all possible.
Note: My designers get a crudely draw sketch of what I have in mind, a couple of reference images, information about the colors I would like used, and a written description of what I want. The more information you provide, the happier the designer, and the better the final piece will be.
Get your vision clear upfront. It is a designer's job to design – not to come up with – or develop – ideas. Every idea I commission is developed, at least to some degree. I don't just say 'hey, make me some funny dog designs'. Instead I say: "I want a design created in a style similar to this. But the cat image should be replaced with a dog – in particular a bulldog like the attached example. The text is to read "My Bulldog Is Super Cool" and should be in this font. The colors should be x,y, z, and the background should be black." The more explicit your brief – the happier you and your designer will be.
Note: By the way – not every idea is ready to be realised right away. It's okay to let things 'simmer' in your head for a while. Just make a note of it and come back to it later.
Take Responsibility
It's your business, so it's your responsibility.
If a designer rips-off someone else's design, that's on you to make it right.
If they use copyrighted material or infringe Intellectual Property – that's on you too.
If they mis-spell a word, or use an unreadable font – guess whose responsibility it is!?
The point is: you need systems in place to catch all of these problems. You need to review designs for potential problems. A 'quality check' if you like.
And I can guarantee you will have problems. It takes time to get into a rhythm of working with others, and there's going to be a lot of back-and-forth – especially in the early days. Prepare for it now.
Bear in mind that for many of the cheapest designers available online right now (through platforms like upwork) – you are dealing with people for whom English is not their first language. So keep your communication as clear as possible – short, simple sentences – and as much helpful visual information as you can provide.
Communicate with them as much as you can. If they make a mistake, let them know, and try to explain how they can avoid these mistakes in the future.
If you do this right, then you should have a relationship with a designer that lasts a long time, produces a lot of effective and profitable designs – that will continue to deliver income for you way into the future.
---
I hope that has been a useful primer on working with designers.
If you approach it the right way – understanding that outsourcing well often requires more work and not less – then you'll be better prepared to deal with any potential problems as they arise.
When it does work well, it should of course pay dividends well into the future. Having a designer (or designers) who can turn your ideas into profitable artwork is an asset in itself.
---
Supercharge Your T-Shirt Sales With My Top Strategies, Tips & Tricks!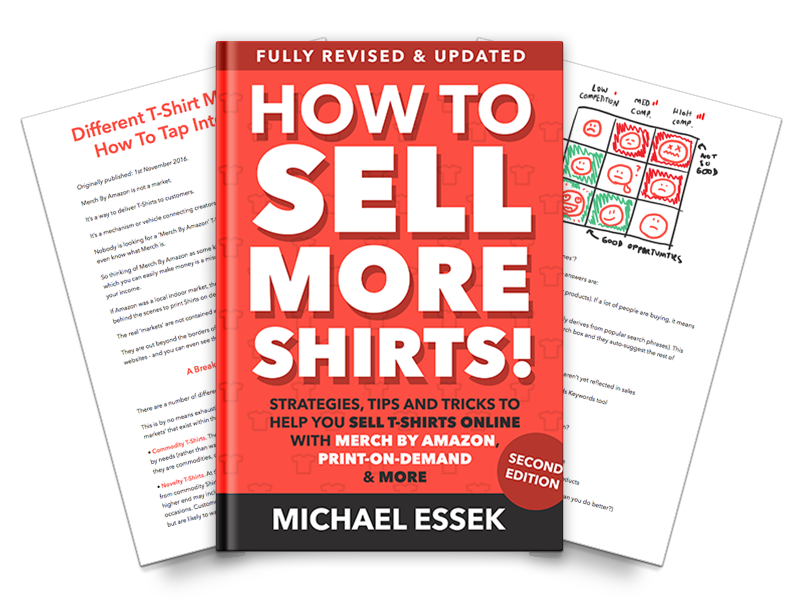 If you want to sell more T-Shirts online, then you'll love my book 'How To Sell More Shirts'.
You can get the first 3 Chapters for FREE when you subscribe to my newsletter today!
Get them here:
Alternatively you can check out the full book (along with my other products) right here
Comments
comments