Is Merch By Amazon Preparing For A UK Launch?
Last Updated: April 10, 2017
In this week's Merch By Amazon update, there's really only one story worth talking about: Rumours of a UK launch.
Since it's inception, Merch By Amazon has been limited to Amazon.com – so you cannot find or purchase any Merch Shirts on Amazon.co.uk… or the other international Amazon sites. The principle problem would seem to be Amazon's ability to produce the T-Shirts within 'Prime Eligible' limits.
There has been no official word from Amazon, but it seems clear Amazon is at least testing the Merch platform in the UK, judging by this thread in the official forums.
Merch By Amazon UK Launch Speculation
A Seller asks if his Merch UK royalties will be mixed with his Merch USA royalties – which implies Amazon has been testing the UK platform with a limited number of sellers (presumably top-tier sellers based in the UK – though this is purely speculation on my part).
Other sellers have reported spotting Merch-style listings on Amazon.co.uk – which would corroborate the story that Amazon is already testing a Merch UK soft-launch.
When asked about this, Amazon simply said:
Merch by Amazon may periodically test new markets or products. These beta programs are closed to the public and we cannot provide additional information.
…so no solid info yet.
But this would certainly imply Merch UK could be around the corner…and we could also be seeing new Merch products anytime now (who knows – but winter is around the corner).
When Merch UK does launch (which does seem certain – the only question being when?) – it remains to be seen if all existing Merch designs will follow over to Amazon.co.uk automatically. Perhaps we will get an 'enable for UK' button or some equivalent. Either way, the potential for increased earnings will be an exciting prospect for many Merch By Amazon creators (Especially those of us based in the UK!).
---
Supercharge Your T-Shirt Sales With My Top Strategies, Tips & Tricks!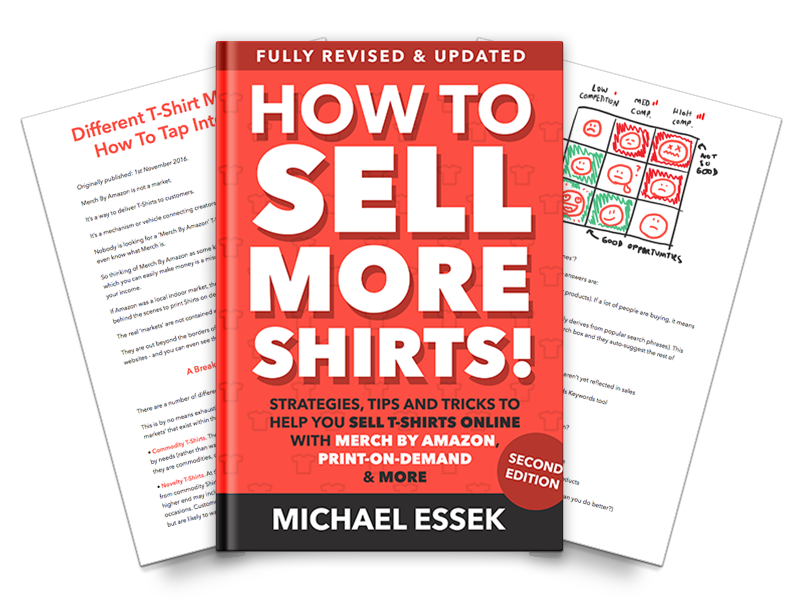 If you want to sell more T-Shirts online, then you'll love my book 'How To Sell More Shirts'.
You can get the first 3 Chapters for FREE when you subscribe to my newsletter today!
Get them here:
Alternatively you can check out the full book (along with my other products) right here
Comments
comments