How To Dominate A T-Shirt Trend (And Keep The Competition At Bay)
Last Updated: May 8, 2017
Wouldn't it be great to dominate the next big T-Shirt trend?
Trends come in all shapes and sizes – from serious political statements and movements to trivial fly-by-night jokes.
But one thing that is almost certain: there'll always be trends.
Pop culture moves fast – and that's good new for T-Shirt designers – because the T-Shirt is one of the most popular and versatile mediums for communicating a message (whether that's support for a particular political candidate, or knowledge of a specific pop culture joke).
But how can we dominate in a trend when there is so much competition – with new sellers and new designers entering the market everyday?
I don't pretend to be an expert at this, though I have had some limited success.
I can't tell you how to predict the next big trend (I wish I could – but I don't have a crystal ball) – but I can give you some tips for ways to maximise your earnings from the next big trend – especially if you have spotted it ahead of the competition.
Don't Chase Horses That Have Bolted
We all know the online T-Shirt market is a busy place, where designs that sell well are easy to spot – and so they get 'jumped on' by other sellers and designers.
Some of this is legitimate competition, other times it is [copyright infringement][1] (or 'copycats').
But the point is that this does happen, and is unlikely to change. You can't stop someone creating a similar design to yours – and if your design is about some trending or popular topic and it's sales suddenly go through the roof – you are going to attract a lot of competition.
What you don't want be is one of those competitors.
You don't want to scrabble around with hundreds of other late-to-the-party sellers (where you have to compete on price) – you want to dominate the trend and be the person everyone else is following and imitating.
So don't try to hop on a trend that's already hit – unless you spot a very specific opportunity that no-one else is taking advantage of.
Instead you want to develop techniques and strategies to get ahead of trends; ways that will drive sales for you that aren't easily eaten into by the copycats or the competition.
So rather than chase already popular designs – let's talk about how you can be 'in front' of the competition.
---
Thank You For Your Interest In This Article!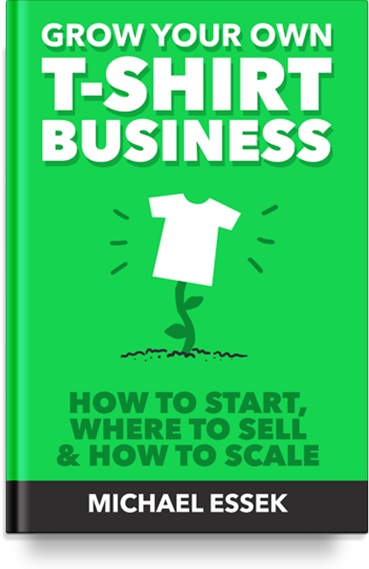 You can read the full article in my new book 'Grow Your Own T-Shirt Business'.
It contains over 180 pages of step-by-step advice on how to develop your own T-Shirt business - from developing a side income from Print-On-Demand sites like Merch By Amazon and Redbubble, all the way through to growing your own Clothing Brand.
Comments
comments