5 Mistakes To Avoid When Selling T-Shirts Online
Last Updated: May 8, 2017
I've been selling T-Shirts online for 3+ years, and have made a lot of mistakes along the way.
Thankfully I've learnt from those mistakes, and now I make a decent living from my T-Shirt designs.
If you want to make a good income from selling T-Shirts online (and believe me, it is possible to do so – and has never been easier) – then you'll want to avoid these mistakes.
---
But first I want to get a few things straight:
I am not talking here about how to make money from starting your own T-Shirt 'brand' – for example setting up your own T-Shirt store on Shopify or similar. (I do have a shopify site, but the majority of my income comes in the form of royalties from print-on-demand sites such as Merch By Amazon, Redbubble, Teepublic and others). If you want to start your own site and deal with customers directly – then you will still get something from these tips, but that is not the type of T-Shirt income I'm discussing primarily.
I'm talking here about how to make money from T-Shirt designs – not about how to design them, or how to make the best T-shirt design the world has ever seen. Design is obviously important when you want to design T-Shirts that will sell – but I'm not giving photoshop tips and tricks in this article. Rather I'm telling you the principles you need to make decent money from your work.
So with that out of the way, let's get into the 5 mistakes you should avoid…
1. Not Enough Designs
When I started producing designs for T-Shirts, I focused on quality over quantity.
I took my time over every design, because I wanted it to be the best it could be, and I wanted it to be picked for a shirt-a-day site like TeeFury. (where the quality of artwork is especially high).
But as time has passed I have realised that the money isn't really in one or two 'killer designs' – rather the money is in the list.
Or to put it another way: the more designs you have – the more money you will make.
So my single biggest piece of advice to T-shirt newbies would be: produce a lot of designs.
Set high (perhaps even unreasonable) targets for the creation of designs, and work hard to hit them (then surpass them).
In creating a lot of work, you will improve your quality, refine your style, and be almost guaranteeing and increase in your earnings – because more designs means more money (In the short and long term).
If you're disappointed at your earnings from your current portfolio, but you only have 10 designs up – this is the problem. If you can't – or don't want to – produce hundreds of designs, then making a living from selling T-Shirts online may not be for you. (Or you may be better off looking into starting your own brand, investing in paid advertising etc.)
---
Thank You For Your Interest In This Article!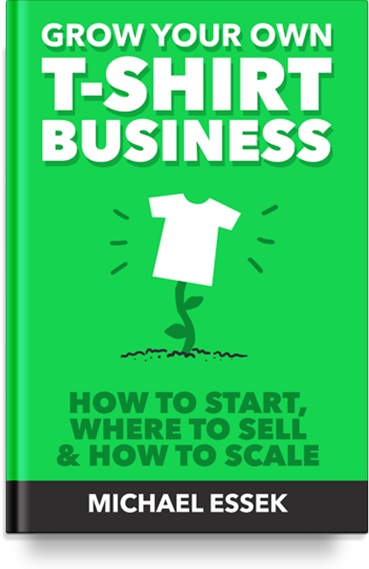 You can read the full article in my new book 'Grow Your Own T-Shirt Business'.
It contains over 180 pages of step-by-step advice on how to develop your own T-Shirt business - from developing a side income from Print-On-Demand sites like Merch By Amazon and Redbubble, all the way through to growing your own Clothing Brand.
Comments
comments