2017 Q2 Review – Merch By Amazon Income Review + 2 Big Lessons
Last Updated: July 6, 2017
Woah, we're halfway there.
Yes friends, 50% of the year is up and that means it's time for my Q2 Review.
Here's how things have been looking for the past 3 months…
Show Me The Numbers!
Here's my month-by-month from Q2 2017, compared with Q1 2017: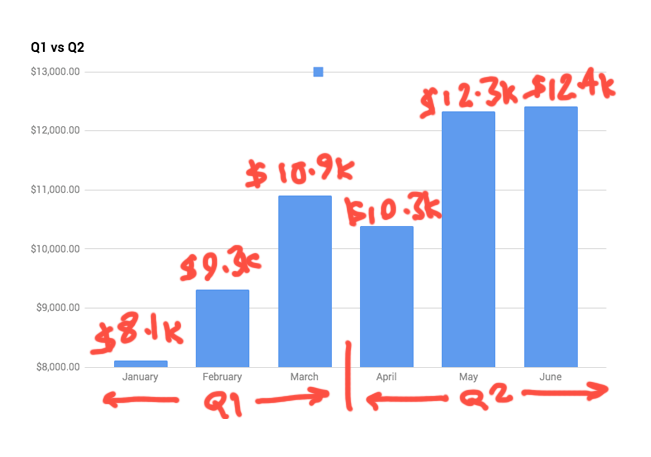 So – a pretty decent uptick from March to June.
I guess the only negative is that there hasn't been much of a lift from May-June – but at least the numbers are holding steady.
How about the breakdown?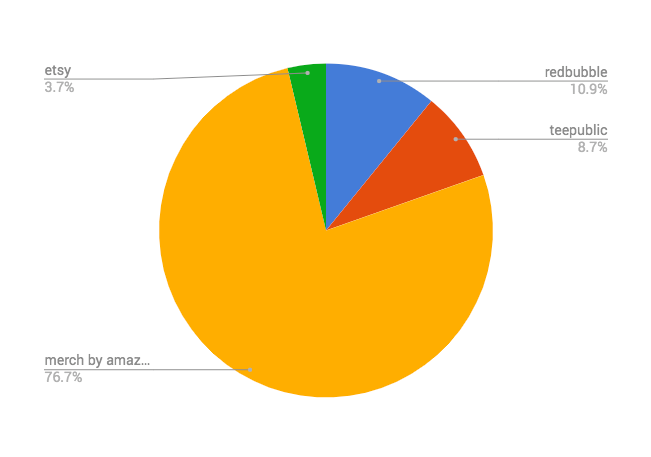 Well, if you're familiar with previous review posts, then there's nothing new here.
Merch By Amazon has increased it's share slightly, and the others have dropped off a little.
Redbubble has been a little up and down – with a disappointing June (this was the same with Teepublic – both sites made me less in June than in either April or May).
Etsy is simple bringing in a trickle of income, because I'm not giving it any attention or adding new designs on there. The time consuming nature of listing and hooking up Etsy with my print-on-demand fulfilment company is what puts me off 🙂
What About Other Sites?
Great question. I'm not yet tracking other sites consistently, simply because very few bring in anything that is significant enough to warrant tracking. But I am listing designs on other sites, and here's how I feel they're doing…
TeeSpring. It did ok for the first few months of Q2 (like maybe a few hundred a month) – but now that seems to have dropped off. I gather they have had issues with their Amazon integration, so right now I'm not sure I would recommend listing on TeeSpring unless you are driving your own traffic profitably.

SunFrog. SunFrog was always going to be an experiment, but I think I can safely say it's been a failed one. As far as organic traffic and sales go, SunFrog is a dead duck. They don't seem to gather any organic traffic, and their internal search function is entirely un-fit for purpose. Again, if you're looking for a site that can deliver sales without you driving the traffic, SunFrog ain't for you (unless and until it fixes things).

DesignByHumans. This has been a ray of light, at least for the past month. Maybe it's something about the nature of my designs – but after beginning to list everything on DBH again I'm seeing some positive growth. A couple hundred dollars last month, so I'll be keeping an eye on that.

Society6. Very little movement here, but I've only just recently started getting all my designs up. I don't expect this to do as well as DesignByHumans, but we'll see.

TeeFury. I've had a few daily tees features on TeeFury for the past few months – so this has brought in another couple of hundred dollars at least. Obviously this is a different scenario to other print-on-demand sites (read this article about different T-Shirt sites for more info) – but if you have quality artwork and a pop-culture focus then you should consider submitting stuff regularly to TeeFury.
What About Amazon & Shopify?
So I'm not pursuing the Amazon Seller Central thing with any gusto. I have some designs up and they sell here and there, but it's not significant and I'm not likely to be giving it any more attention until Amazon initiates some real brand protection from listing hi-jackers.
As for my Shopify Store – I'm back on it again after a too-long hiatus (moving house, holidays etc). I'm testing some Instagram Promotions (ie. paying Instagram directly – not using 'influencers') – but so far I'm just dipping my toes in the water and trying to nudge the sales up bit by bit.
I should probably mention that – even without any advertising spend for the past month or two – my Shopify store has brought in at least $500 profit a month. In other words, it still makes more than some Print-on-Demand sites that have hundreds of designs up, without any attention whatsoever.
2 Big Lessons From Quarter Two
1. Organic Growth Is Hard (Once You Reach A Certain Level)
My basic plan since January has been to crank out designs, and hope that the sheer volume of work would lead to natural, organic growth in income.
It might be too early to say definitively whether this plan has failed, but it doesn't look like things are growing at quite the levels I once hoped.
Things are steady but not rocket-powered. Maybe that's the competition and saturation in the market kicking in, or maybe it's something to do with my design choices and niches. But either way, it seems pretty clear that to seriously super-charge my income I'm going to need to look beyond the organic-only strategy.
To be fair to myself – this was always part of the plan anyway – and that's what the Shopify store was about (learning to drive traffic myself through paid advertising, rather than relying on organic traffic).
So I guess the lesson is this: Organic can only take you so far.
(Or at least – it can only grow so much, month on month).
What I mean is that there is a 'limit' to all markets. The demand in the marketplace does not necessarily increase just because you are creating more designs. And as the supply of those designs increases and begins to outstrip demand, the prices are going to fall (meaning you're looking at less profit).
What's the solution?
Don't be reliant on a completely organic model. Learn to market and sell for yourself – whether that's through free social media platforms or through paid advertising. That will give you something you can control and grow with a lot more certainty than you can achieve using only organic traffic.
2. Always Be Looking For New Opportunities
If growth is the name of the game, then you shouldn't limit your thinking to simply 'more designs' or 'more POD sites'.
The way people buy T-Shirts will continue to evolve, and sites and platforms will come and go. Just because a site was delivering high incomes last year doesn't mean in will continue to do so.
So ask yourself: How can I increase the income from my artwork in other ways?
The obvious or immediate thoughts will be 'more sites'. But that's a lazy answer.
Here's just a couple of 'outside of the box' ideas:
Stock Image sites. If you've produced original work (Which you should be doing) – then you could license that artwork on stock image websites like iStock and others. This would give others the chance to pay you to use your art for their projects or products.

Collaborations and deals. What communities and niches might like my designs, and where can you reach them? Are there Instagram Accounts that would be interested in cutting affiliate deals for sending traffic your way? Or maybe there are existing brands that could use new designs?

Switch Focus To Another Product. T-Shirts aren't the only print-on-demand product. Mugs, phone cases and greetings cards are all examples of products that can be produced on demand, and that may represent areas of relatively low competition. You could tweak and re-use your artwork for the Mug market, or you could focus on creating designs that are intended – first-and-foremost – for Mugs.
I'm just trying to get your old noodle working really.
You know your own work better than me, and if you just push yourself to brainstorm for a while I'm sure you can think of at least a dozen different ways you could deploy the artwork you've already got towards producing future income.
What Of Q3?
Quarter Three is 'game time'. There's very little point leaving it till October to start ramping things up – because by then it's too late.
So, I'll be working on getting all designs up on all worthwhile platforms, whilst going hard on growing my Shopify store.
There are some other opportunities I'm looking into also, and hopefully I'll be able to share more about those in the coming months.
My advice to you would be: get thinking now about how you will make the most of Q4.
That might mean targeting certain niches and types of designs, or it might mean laying the groundwork on your own Shopify store. Maybe you just need to crank up your output, so that your Q4 will be as bright as it could be.
But whatever you do – don't leave it 'til October before you start thinking about it. Start planning now!
---
Ok – that's all for me for now!
I've started doing a Weekly Live Video AMA ('Ask Me Anything') in my Facebook Group – if you aren't in there already then you can get access right here.
Otherwise make sure you're signed up to my newsletter for all the latest, and I'll catch you next time!
---
Supercharge Your T-Shirt Sales With My Top Strategies, Tips & Tricks!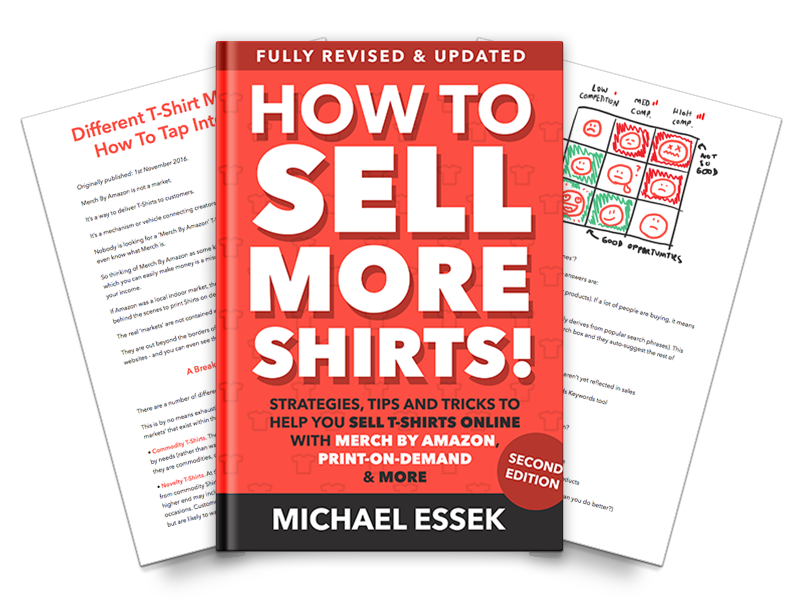 If you want to sell more T-Shirts online, then you'll love my book 'How To Sell More Shirts'.
You can get the first 3 Chapters for FREE when you subscribe to my newsletter today!
Get them here:
Alternatively you can check out the full book (along with my other products) right here
Comments
comments